Jamie Lynn Spears, Kevin Federline, & Sam Asghari All Praise Britney Spears For Seeking Mental Health Tre
Britney Spears' loved ones are showing her support amid the pop star's mental health battle.
As we reported, the Toxic singer checked into a mental health facility last month following her father Jamie's recent health struggles. Fans immediately sent love to the 37-year-old after the news broke — and those close to Brit were quick to follow suit.
Jamie Lynn Spears took to Instagram on Wednesday to pay tribute to her big sis, naming the elder Spears her "#WCW" in a cute throwback post. Captioning a photo of the two of them exiting a school bus, the Zoey 101 alum wrote:
"Yup, she rode the bus home with me after my first day of school, cuz she's the fn best #WCW."
Awww! See the 28-year-old's adorable post (below):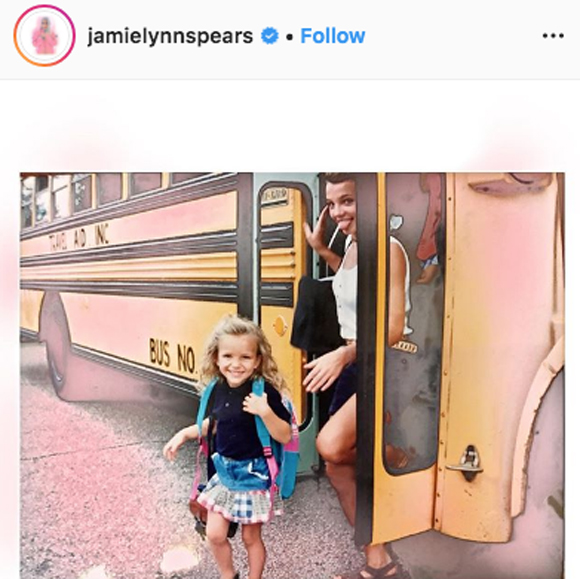 According to reports, Britney will stay in a wellness center that prioritizes physical, mental, and spiritual well being for 30 days. Her sons Sean and Jayden, in the meantime, are said to be in the full time care of their father, Kevin Federline.
Britney's ex is reportedly more than happy to look after their 12 and 13-year-old sons while the songstress takes some much needed "me time" to focus on self care, as he praised her — via his attorney — for recognizing that she needed to get help.
K-Fed's lawyer, Mark Vincent Kaplan told The Blast:
"Kevin commends Britney for recognizing that she needs to take a step back and that she is taking the reasonable steps to deal with her situation in a responsible way."
It's great he's supporting her, especially seeing as the two just wrapped up a long round of child support negotiations that ended with Spears paying the former dancer thousands more per month, plus his legal fees.
Sources close to the situation tell the outlet that Britney's ex has taken 90% of the custody while the superstar works on herself, noting that Sean and Jayden are currently "safe" while being cared for by their father.
Britney's boyfriend Sam Asghari also praised the singer for making the courageous decision to give her mental health a tune up. Shortly after the news broke, the 25-year-old revealed how "inspired" he was by his girlfriend's strength, writing in his Instagram Stories:
"It isn't weakness. It's a sign of absolute strength, people should only be inspired by this, at least I am."
A source told E! News that Sam has been Britney's rock throughout her recent struggles, confirming that the couple are "very much still together" as she continues to work on herself.
The source explained:
"Sam has stuck by her side throughout all of her recent struggles and knows that this is just a phase in Britney's life that they will have to adjust to right now."
Get yourself a man who wants you to be the best version of yourself!
The insider also added that Asghari has been "very helpful in making sure Britney did whatever she needed to feel better," which included him checking in on her and being "by her side."
Sounds like Brit couldn't have asked for a better support system to help her through these tough times. Keep focusing on you, gurl!
Source: Read Full Article