Maluma's Rep Defends The Singer's Controversial Kiss Photo With Mom — 'It's Norm
Maluma made waves on Mother's Day, and he's standing by his action!
After the Colombian singer shared a photo on Instagram planting a kiss on his mother's lips, many were confused by his display of affection, and his rep is here to school you.
Related: Madonna Drops Spicy New Track 'Medellín' With Maluma
First, ch-ch-check out the controversial photo (below):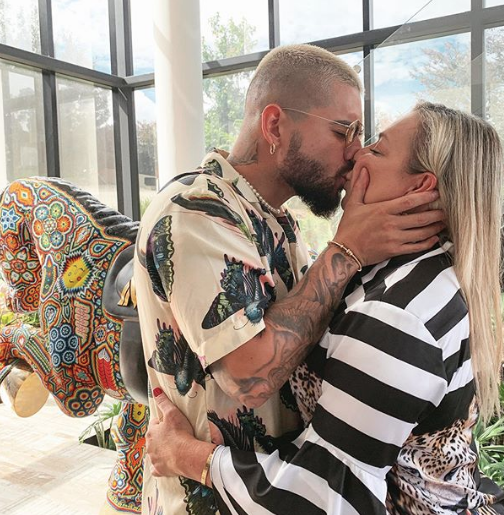 The 25-year-old's caption translates to:
"Happy day love of my life, Happy Mother's Day. ❤️"
But did he take it too far? Many commenters thought so:
"I kiss my baby on the mouth but at a certain age that shit gotta stop cause it don't look cute"
"WTF?! Is your mother or your girlfriend?!😂"
"What in the name of lannisters is going on here??🙆‍♀️"
"I know in some countries its normal to kiss your relatives on the lips.. but that looks like a full on makeout sesh fixing to happen"
"Maluma what is this behavior"
"The Lannisters send their regards"
But there were also commenters who didn't see anything wrong with the affectionate post:
"Can y'all just let a person live peacefully. There's no need to always make a comment on others life.. that's his mom.. so is that a big deal to kiss your mom… it's a part of that culture.. maybe it was a little passionate but it lasted for a few sec though in the photo it looks like it's prolonged..and for those people who're saying 'he's white' 'white things'..he is Colombian.. plus y'all aren't suppose to make fun of any community periodt… loving and kissing your mom is thousand times better than ignoring and hating your her PERIODT @maluma te amo don't care about the haters"
Following the budding controversy, his rep issued a statement to People on Tuesday:
"The beautiful thing is that he has been accepted in the American music market with open arms, and I think, now, where we are in this world with music, it's really global. Now people are going to be able to see different sides of our culture in different ways. It's normal in Latin culture especially if you're the only son or the baby of the house. It's affection and a form of respect. He's open about who he is and his cultural values, this is just part of it."
We don't see anything wrong with it…
https://www.instagram.com/p/BxY04iJpgc6/
https://www.instagram.com/p/BxY04iJpgc6/
View this post on Instagram
Who did it better: #Maluma and his mom or me and mine???? PerezPodcast.com
A post shared by Perez Hilton (@theperezhilton) on
What do U think about the smooch, Perezcious readers? Sound off with your thoughts (below) in the comments!!
Source: Read Full Article