The New Sakara Life Cookbook Will Legit Make You Want To Cook Vegan
If you were invited to a vegan potluck tomorrow, what would you bring? Tofu cubes? Carrots? Uhh…plain lettuce?
Important PSA: You don't need to resort to sad, lackluster options to satisfy a plant-based diet. There are countless inventive, delicious dishes you can make without animal products.
Danielle Duboise and Whitney Tingle, founders of the plant-based meal delivery service Sakara Life, are two key players in that movement to make plant-based meals more accessible. Their entire ethos centers around helping clients eat whole-food, plant-rich meals made with fresh, nutrient-dense ingredients. Oh yeah, and those meals actually taste really freaking good.
And now, the duo are translating their popular meal program into a cookbook, so you can whip up their satisfying plant-based meals at home, whenever you'd like. The book, Eat Clean, Play Dirty features over 100 plant-based and gluten-free recipes, including options for breakfast, lunch, dinner, dessert, snacks, dressings, and even cocktails. So whether you're a part-time plant-eater or full-time vegan, this cookbook is going to make your life a whole lot richer.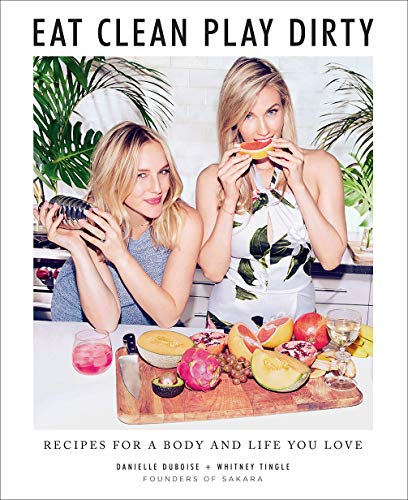 For a little taste of what you'll find in the cookbook, try these plant-based recipes: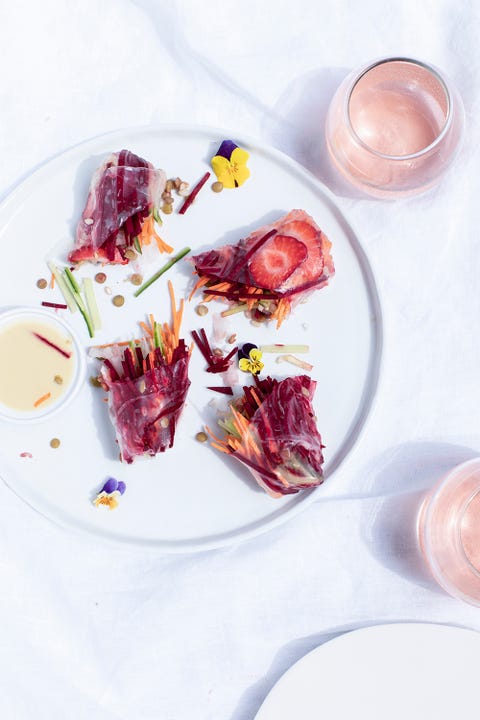 Caitlin Mitchell
Rainbow Wrap
Ingredients:
For the vinaigrette
1½ tablespoons ume plum vinegar
2½ tablespoons brown rice vinegar
⅓ cup (15 g) roughly chopped fresh ginger
¼ cup (60 ml) plus 1 tablespoon fresh lime juice
1½ tablespoons tamari soy sauce or Bragg Liquid Aminos
½ cup (120 ml) extra-virgin olive oil
2 tablespoons plus 1 teaspoon toasted sesame oil
For the wraps
¼ cup (55 g) brown rice
¼ cup (60 ml) plus 2 tablespoons toasted sesame oil
¼ cup (50 g) green lentils
4 (10-inch/25 cm) rice paper wrappers (plus a couple of extras, in case one tears)
½ cup (25 g) chopped fresh cilantro
1 avocado, pitted and sliced
1 cup (150 g) grated red beets
1 cup (150 g) grated carrots
1 cup (150 g) grated daikon
½ cup sliced strawberries
Directions: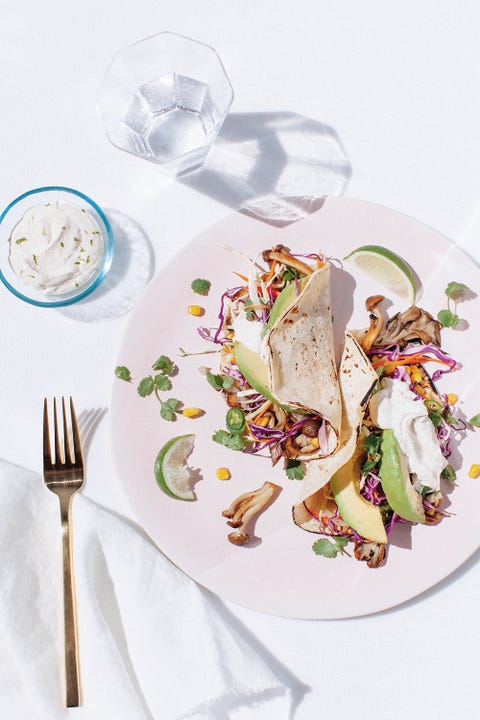 Caitlin Mitchell
Wild Mushrooms And Corn Tacos With Spicy Slaw And Cashew Crema
Ingredients:
For the cashew crema
1 cup (120 g) raw cashews, soaked overnight and drained
Juice of 1 lime
½ teaspoon cayenne pepper (less if you don't like spice)
¼ teaspoon Himalayan salt
For the spicy slaw
¼ small head purple cabbage, shredded
¼ small head green cabbage, shredded
1 medium carrot, shredded
½ cup (25 g) fresh cilantro leaves, roughly chopped
½ jalapeño, seeded and thinly sliced
Juice of ½ lime
1 teaspoon Himalayan salt
For the wild mushroom and corn filling
2 tablespoons extra-virgin olive oil
1 shallot, sliced
4 cloves garlic, sliced
8 ounces (about 4 cups/500 g) wild mushrooms, such as shiitake, maitake, or oyster, wiped clean with a damp cloth and cut into bite-size pieces
Himalayan salt
1 cup (175 g) sweet corn kernels, fresh or frozen
For serving
8 corn tortillas
2 avocados, pitted and sliced
Fresh cilantro, for garnish
Directions: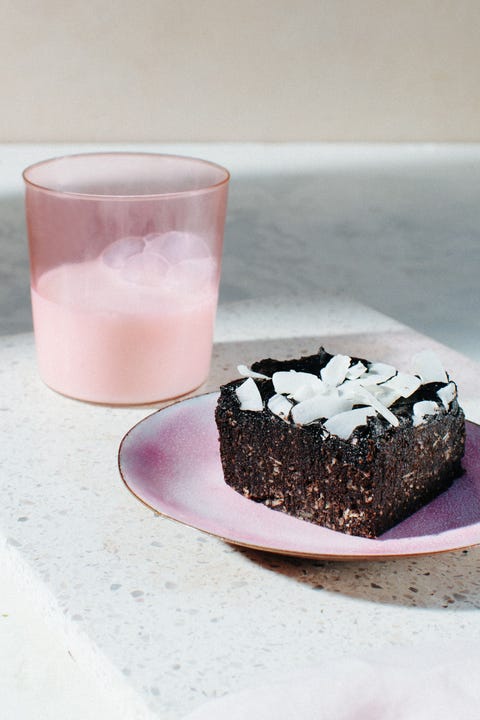 Caitlin Mitchell
Cacao Power Brownies
Ingredients:
For the brownies:
2 cups (350 g) pitted dates
1¼ cups (140 g) packed almond flour
¾ cup (75 g) raw cacao powder
3 tablespoons shelled hemp seeds
1 teaspoon Himalayan salt
2 cups (200 g) rolled oats
1 cup (100 g) raw walnuts
3¼ cups (275 g) unsweetened shredded coconut
½ cup (120 ml) plus 1 tablespoon maple syrup
½ cup (120 ml) unsweetened almond milk
2 teaspoons pure vanilla extract
For the ganache and topping:
¾ cup (180 ml) maple syrup
1 cup (100 g) raw cacao powder
2 tablespoons maca powder
2 cups (170 g) shredded coconut flakes
Directions:
Source: Read Full Article