10 Black-Owned Beauty Brands You Need To Try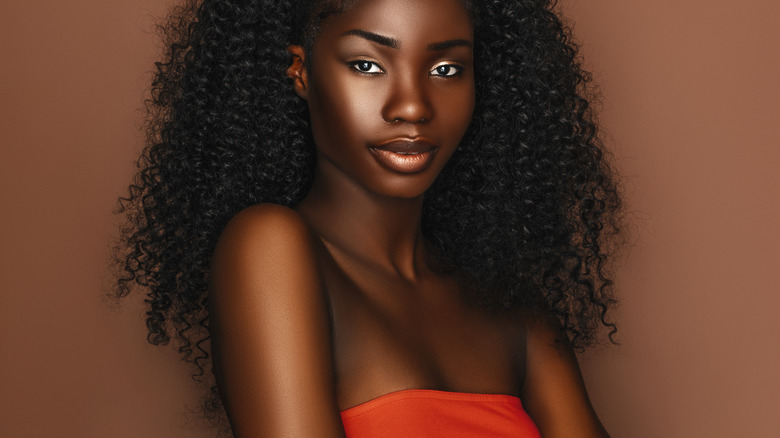 There's a plethora of brands in the beauty and wellness aisles these days that cater to all hair types and skin tones, but this wasn't always the case. Not too long ago, hair care brands usually didn't carry products for textured hair, and foundation shade ranges at the drugstore often didn't include darker skin tones (via Marie Claire). Beauty felt exclusionary and unattainable to a significant part of the population, especially affecting Black women (via Access by NKC).
By identifying underserved populations in the community, Black entrepreneurs were able to fill in those gaps by providing inclusive product lines that catered to everyone and their unique beauty needs. So it's no surprise why several Black-owned brands have successfully become mainstream now, with people across the world praising their products.
Besides adding game-changing products to your routine, activists say it is imperative to support, and to continue to support Black-owned beauty brands — so that diversity doesn't just become a passing trend, and no one feels excluded from feeling beautiful (via Access by NKC). That's why we've compiled a list of Black-owned beauty brands below that you need to try.
Say hello to soft hair with Briogeo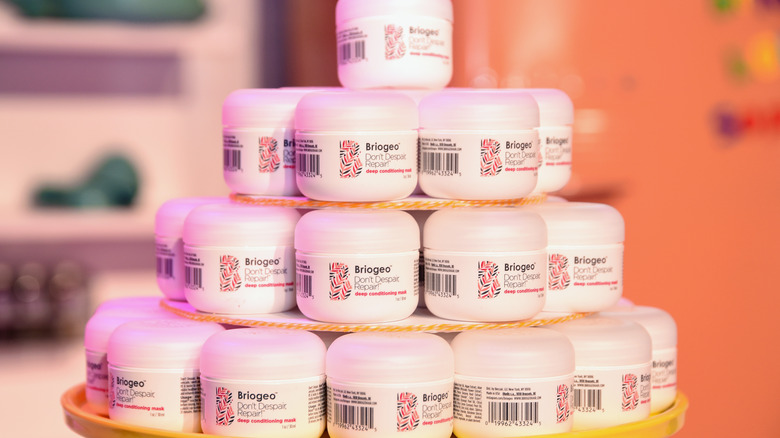 Briogeo has become a mainstream hair-care brand, often touted by beauty gurus of all hair types and ethnic backgrounds. Briogeo founder and CEO Nancy Twine was a young, successful woman working on Wall Street — a Goldman Sachs vice president at the age of 27, per The Cut. But Twine's real passion was clean beauty. Growing up, she tried out her grandmother's homemade hair care recipes with her mom, a physician (via Marie Claire).
In 2013, she stopped working on Wall Street and founded Briogeo, initially selling one shampoo and three conditioners specific tohair types. According to Marie Claire, Twine is the youngest Black woman to have a hair care brand carried in Sephora. Lexi reviewed Briogeo products on her YouTube channel, KandidKinks. Lexi especially recommended the Curl Charisma Rice Amino and Shea Curl-Defining Conditioner and the Chia and Flax Seed Coil Custard on her 4C hair.
The key to clear skin is Keys Soulcare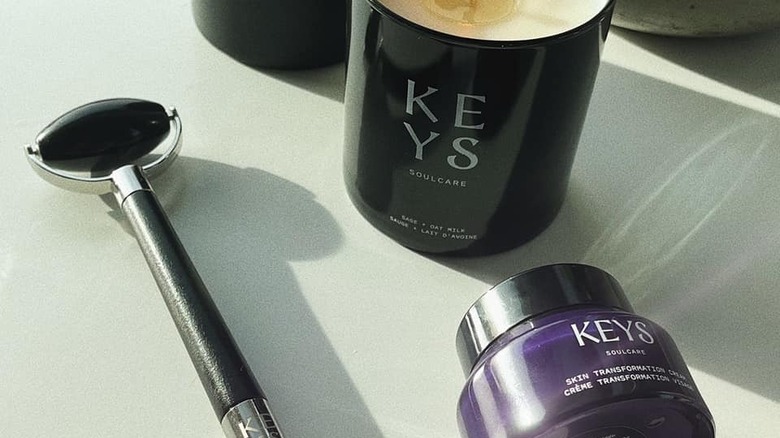 In 2016, Alicia Keys made headlines when she stopped wearing makeup (via Glamour UK). Last November, Alicia Keys clarified her position on makeup, telling Glamour UK, "Having to constantly be in this crazy cycle of putting on makeup to cover the bumps and scars and then because I had makeup on under the hot lights, there were more bumps and scars. I felt like I had to hide everything and I felt really self-conscious." This cycle made her feel dependent on makeup. Now she wears makeup occasionally, but doesn't feel attached to it, per Today.
While she went makeup-free, Keys adopted a wellness routine that helped her de-stress and detox her skin. Keys partnered with Elf Cosmetics last year and created Keys Soulcare, which provides some of her skin care secrets to the public (via Marie Claire), with ingredients like honey, turmeric and bakuchiol (via Keys Soulcare). According to Harper's Bazaar, some of the brand's star products include their Golden Cleanser, Harmony Mask, and Skin Transformation Cream — Fragrance-Free.
Find your inner beauty with Uoma Beauty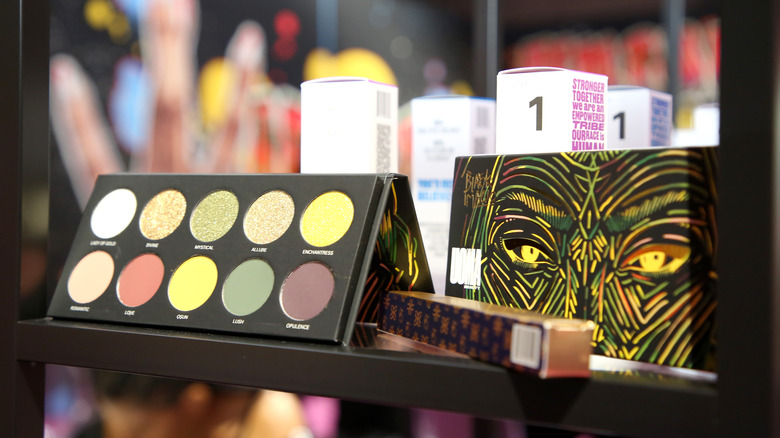 Uoma Beauty had a strong launch at Ulta in May 2019, initially releasing a 51-shade foundation range just under $40, concealers, lipsticks, and much more (via Byrdie). Per Ulta, they've now expanded their range to include metallic lipsticks, multiple eyeshadow palettes and mascara.
Founder Sharon Chuter, a veteran executive in the beauty industry, worked at brands like Revlon and L'Oreal (via Forbes). Chuter was often the only woman of color in the board meetings. Seeing the lack of diversity in beauty leadership and how that trickled down into the lack of beauty products for people of color, Chuter created her own makeup line. Chuter found inspiration in her Nigerian roots, calling the brand Uoma, which means "beautiful" in the native language of southeastern Nigeria, Igbo (via Refinery29).
According to Glamour, the 51 foundations are divided into six custom formula categories. Each shade category has skin care ingredients that help address issues specific to the respective skin-tone. Makeup artist Robert Welsh recommended the product on his YouTube channel saying, "The foundation sits really, really nice on the skin. I feel like it's one I'm going to use often when I'm filming."
Mented offers universally flattering pigmented makeup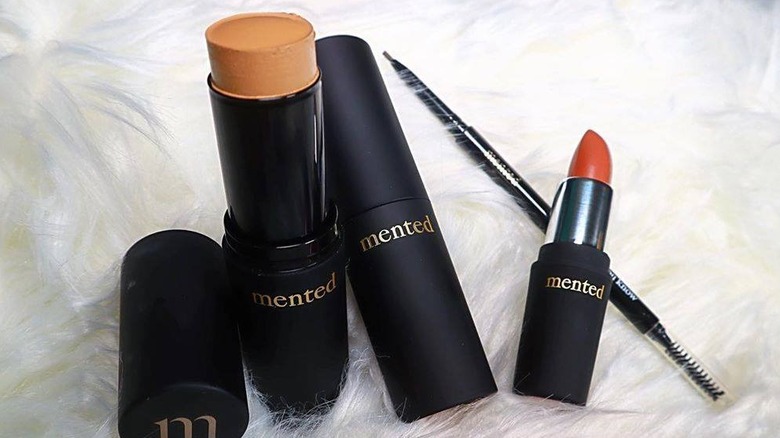 Trying to find a nude lipstick that isn't ashy, as a woman of color, can often feel like looking for a needle in a haystack. Mented, which is short for "pigmented," wanted to tackle this problem, per Glamour. According to a Medium article, co-founders K.J. Miller and Amanda Johnson met at Harvard Business School and came up with the idea. Johnson told Start It Up, "We launched with the idea that every woman should be able to find herself in the world of beauty. We so often felt neglected when shopping for beauty products."
Their initial launch included a diverse range of neutral-toned lipsticks, with the idea that everyone's skin tone, and therefore, everyone's perfect "nude" shade is different. The line has grown to include foundation, blush, and brow pencils, which are available at Target and Ulta. The brand's range is universally flattering, but prioritizes centering the shade range on women of color. Johnson recommends their lipstick in Dope Taupe, while Miller recommends the shade Mented #5, per the company's website.
Use Coloured Raine to pack a punch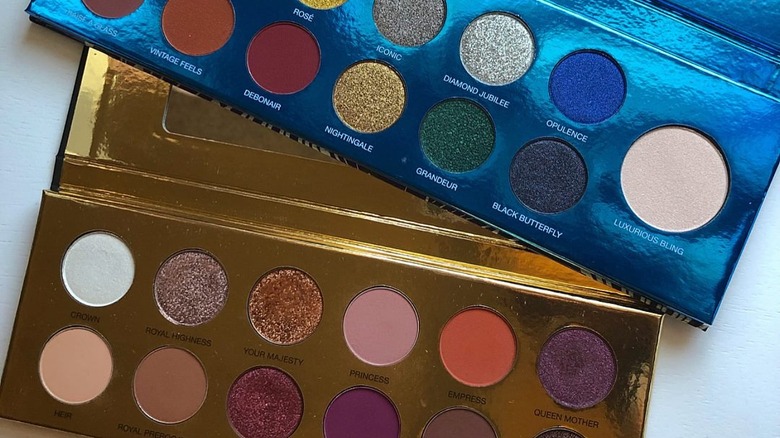 Speaking of pigmentation, Coloured Raine is a brand known for pigmented products with their statement-making color stories that are equally beautiful, as they are bold (via Allure). In 2013, founder Loraine R. Dowdy left her corporate job in finance to pursue her passion of launching her own makeup line, with the goal of creating products that were rich in color and universally flattering on all skin tones.
The brand now has multiple eyeshadow palettes, lip products, and bronzers (via Coloured Raine). The company's standout product is the Queen of Hearts Eyeshadow Palette, per Allure. The palette is a warm-toned palette carrying both metallic and matte shades in neutral colors, with a pop of orange and berry.
Protect your skin with Black Girl Sunscreen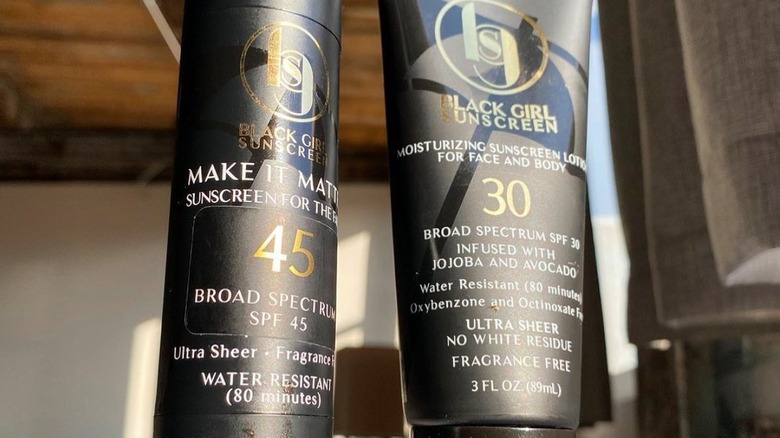 Sunscreens that won't leave a gray cast, especially on tan-to-deep complexions, can be few and far between. Luckily, there's a brand that has solved the issue so that you don't have to worry about that dreaded flashback in your pictures: Black Girl Sunscreen (via Marie Claire).
Shontay Lundy founded Black Girl Sunscreen in 2016 with the goal of educating Black people on the merits of wearing sunscreen and dispelling myths around sun protection, per Insider. Lundy told the outlet, "We still burn and are susceptible to sun-induced damage such as sunspots, premature aging, wrinkles, hyperpigmentation, and cancer." The sunscreen is available at Ulta and Target, with a version for kids also available at Target.
Make everyday a good hair day with Vernon Francois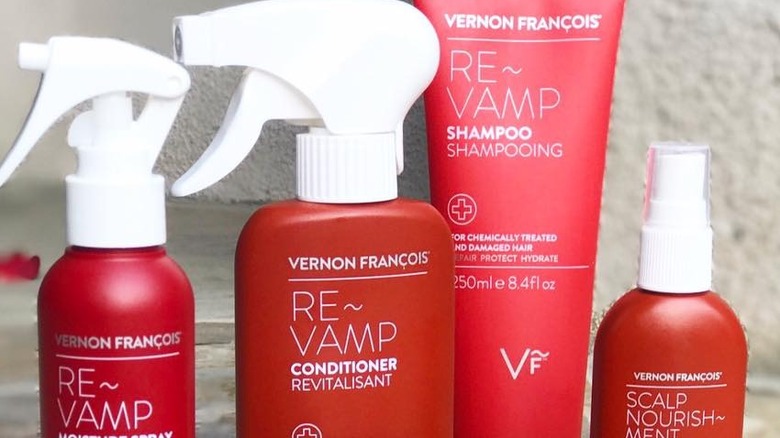 Celebrity hairstylist Vernon François is a global consultant and educator for Redken, as well as a global inclusivity and education advisor for Kerastase (via Vernon François). François launched his own hair care line creating products with the expertise he gained working in the field, per Allure. His products are vegan and cruelty-free, featuring natural oils and plant extracts.
The line is inclusive and carries products that work for all hair types, with a specific emphasis on coiled, curly, and wavy hair types. François has used his products on several A-list celebrities, such as Lupita Nyong'o. According to the company's website, their Co-Wash and Re-Vamp Conditioner won Cosmopolitan Beauty Awards in 2017. Vernon François also offers an affordable silk cap and microfiber towel that will help protect curls.
Lip Bar offers a diverse range at drugstore prices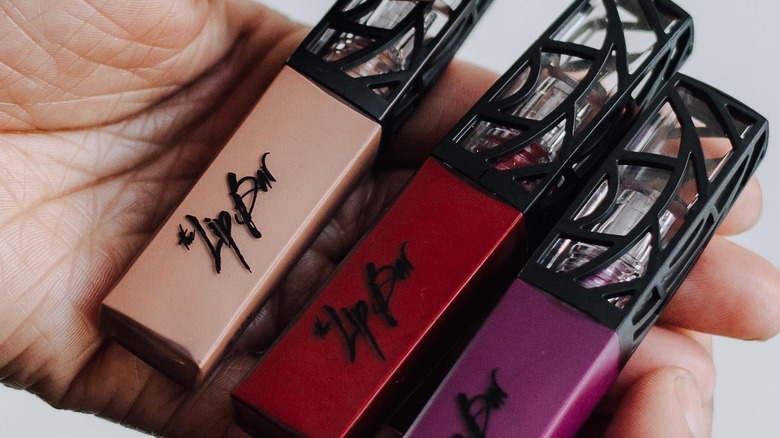 Founder Melissa Butler, left her career in finance to pursue her passion for beauty. In 2012, she started making vegan lipsticks out of her kitchen. Now, her makeup line is available to purchase from Target and Walmart. Lip Bar offers several lip products — lipsticks, liquid lipsticks, and lip glosses. The line has also expanded to include a full face of makeup products from primer to mascara. There's a diverse range of lip colors that can suit a multitude of skin tones.
Beauty guru Kelly Gooch called Lip Bar one of the most inclusive brands available at the drugstore in a recent YouTube video. She stated that while several makeup companies have improved their foundation shade ranges, many have not improved their shade range in color cosmetics like bronzer or lipstick. "The reason I think the Lip Bar is fantastic is because they have a face palette that comes in six shade variations," adding, "They have nude lips for every skin tone."
Range Beauty offers an inclusive range of foundations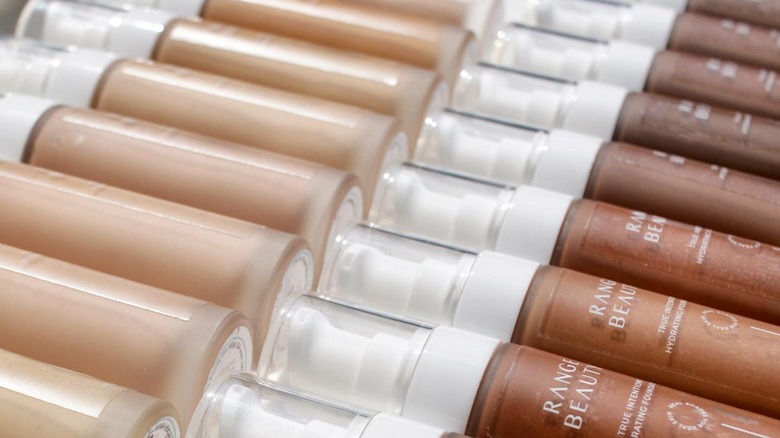 While there are several makeup brands offering a wide shade range of foundations, they don't always cater to skin sensitivities. And that's where Range Beauty founder Alicia Scott saw a gap in the beauty market that needed to be filled (via Allure). Scott not only struggled to find a matching foundation shade, but she also struggled to find a foundation that did not cause her eczema to flare up.
Working in the fashion industry, she saw that makeup artists didn't always carry foundation shades that would match the darker-skinned models. The need for a foundation line that was friendly to sensitive skin and offered a diverse shade range drove Scott to start Range Beauty. The line's True Intentions Hydrating Foundation comes in 21 shades and has soothing botanical extracts that make the product suitable for acne- and eczema-prone skin. Range Beauty is available at Target and also offers loose setting powders and highlighters.
Achieve an out-of-this world eye look with JD Glow Cosmetics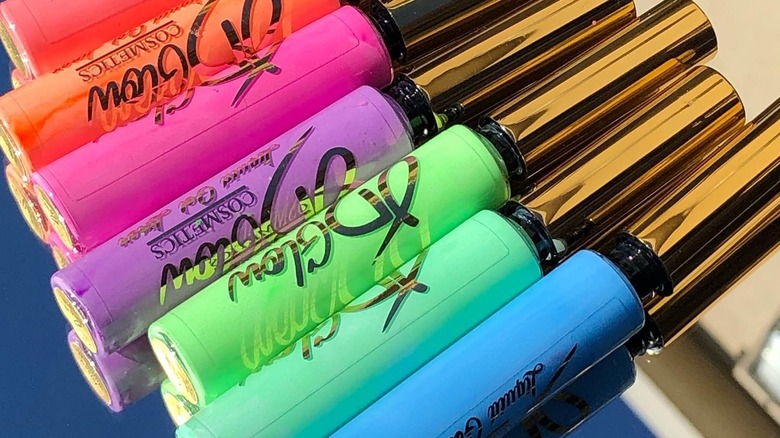 If you want an eye look that can be seen from outer space, you will definitely want to try JD Glow Cosmetics. JD Glow is a Black-owned makeup company based out of Baton Rouge, Louisiana, and was founded by two nurses in 2015 — Jennifer Clifton and Deandra Craig (via 225 Magazine). They are known for their eyeshadows, highlighters, and lip glosses that all have super sparkly finishes.
Their multi-chrome eyeshadows that have a metallic finish and shift multiple colors were featured in Allure. Jackie Aina recommended their glosses that come in duo-chromatic finishes, saying she likes to layer it on top of a nude lipstick. Their multi-chrome, neon, and pastel neon eyeliners on their website are especially eye-catching and are unique ways to add a pop of color to your look.
Source: Read Full Article