Huda Beauty Just Launched The Shiniest Lipsticks You Have EVER Seen
Where there's tinsel and twinkling lights, there's makeup inspired by anything that glitters and glows to match the holiday spirit. Unless you make it your job to sparkle, glitter infused makeup is pretty next level extra. However this time of year calls for it, especially since Huda Beauty launched its new Metallic Power Bullet Collection. Think of them like your favorite Huda Beauty shimmer eyeshadow in lipstick form. So yeah, it's extra AF.
The owner, Huda Kattan revealed the news on the brand's Instagram to unveil the glitter infused lipsticks. The collection is a trio of three bold, but shimmery metallic holiday shades that's sure to make your guests ask where you got the lippie in the first place. Anything that glitters is begging for a celebration, and this collection should do just that.
According to the Huda Beauty product reveal on its site, the tio is formulated with long-wear capabilities to eliminate any chance of reapplication. Each of the lipsticks are infused with some favored oils of the brand's owner, Huda Kattan. It uses Brazillian Nut and Sweet Almond oil in the diamond-shaped bullet "to protect, nourish, and lock in moisture."
Any festive lipstick that can also moisturize already exfoliated lips is a contender for a spot in the makeup drawer. But also glitter is hard to stay away from.
Huda made this cute (yet low-key extravagant) set for every kind of celebration. Which is kind of helpful to coordinate outfits to your lip color. The three lipsticks come in shades named for every occasion (but you will probably switch it up how you please).
"NYE" is described by the brand as "A dramatic red with vampy undertones and sparkling flecks of gold and red glitter." But let's be real. You had everyone at "vampy", Huda. Think Dorothy's ruby red shoes from the OG Wizard of OZ, but on your lips. It's a color that will make your foot pop at stroke of midnight.
The shade "After Party" is described as a daring purple with berry, blue, and silver glitter. So if you're planning on staying out late at the club and getting into mischief, this is your color, hunty.
The last shade in the collection is named "Cake Day", which, you guessed it, is made for attending your next b'day bash. The deep pink lippie is a magenta color that's also infused with blue and silver glitter.
While you may not be able to get away with wearing these shades during your regular nine to five, you'll want this in your pocket once closing time hits and you're off the clock.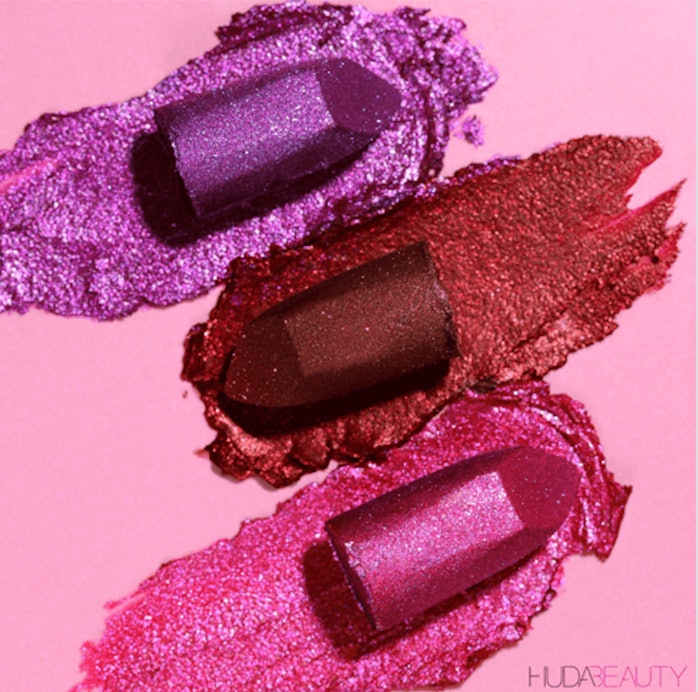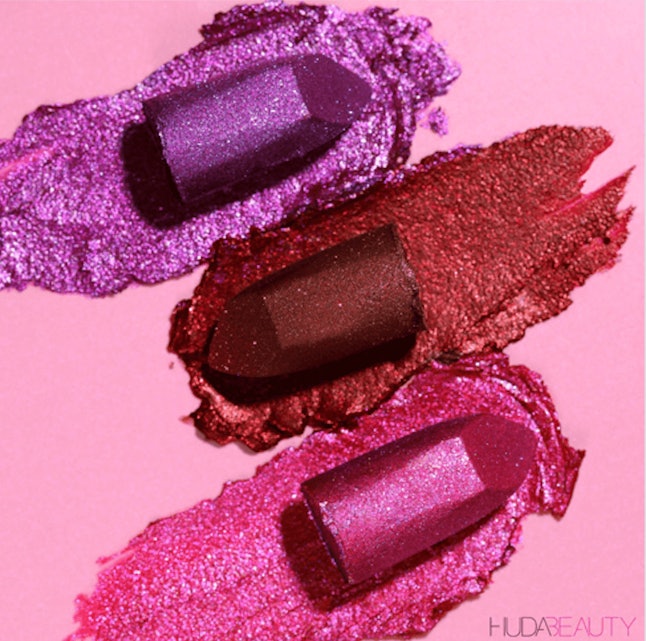 Kattan describes her brand's new holiday collection to leave your lips smooth after applying its satin-like formula. Glitter in a satin smooth formula is calling you to nab this shiny lipstick.
Each Power Bullet will retail for $20 when the entire collection officially drops on Monday, Dec. 3 at ShopHudaBeauty.com and at Sephora.
Everything that glitters is not gold, but it definitely makes for a sickening holiday lipstick.
Source: Read Full Article