Lady Gaga's 10 Most Outrageous Dresses
Not only is Lady Gaga an amazing singer and musical artist, but she also became an internet sensation with her unbelievably bold style and unapologetic beliefs. Her recent role in A Star is Born only goes to show how talented an actress she is as well. With a net worth approximated at $300 million, it follows she would want her outfits to be both unique and luxurious. They are what helped her become a household name. Fans are always desperate to find out what her stylist plans for any social event and Lady Gaga never disappoints. Today, we'll be taking a look at ten of the most outrageous dresses in the icon's closet.
Click the button below to start this article in quick view
10 All-hard-edges metallic look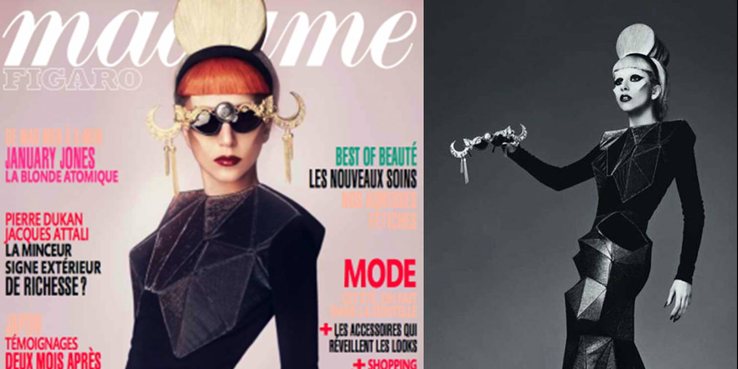 First up on the list is a blue-black geometric number that Gaga wore when she appeared on the front cover of Madame Figaro magazine. Although the magazine isn't widely recognized in America, it's a hugely popular French beauty and pop culture read! The bold design of the dress is perfectly paired with intriguing sunglasses to provide Gaga with the unique French chic image for the issue. Although the hard edges may seem unflattering on others, Lady Gaga pulls it off and manages to look smoldering. While the starting price of the dress wasn't specified, the dress was put up for public auction with the range estimated to be at least $10,000 to $20,000.
RELATED: 10 Most Expensive Katy Perry Outfits
9 Keeping' track of time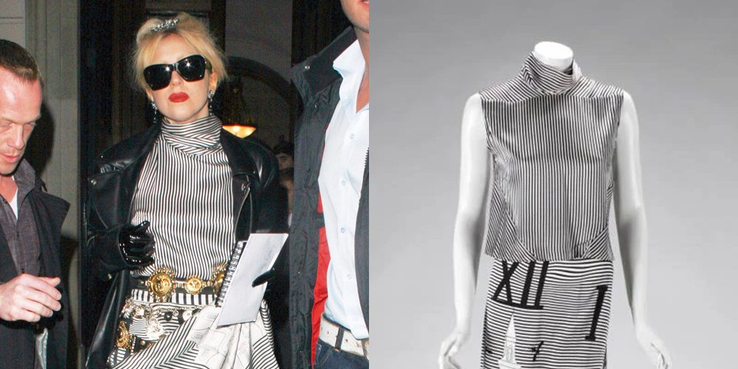 Although this refined dress doesn't scream "crazy" like some of Gaga's other outfits, it is unique both in its price and in its design. The black pinstripes paired with the elegant roman numeral clock gives off an air of sophistication and grace. Lady Gaga completed the outfit with a sleek gold belt, a sick leather jacket, and some cool shades. While the dress on its own wouldn't be more than several thousand dollars, Gaga's appearance in it boosted it all the way up to over $28,000 big ones during the auction. Belgian designer Toon Geboers has really outdone himself on this one, making Gaga appear sexy and classy all at once.
8 The Meat Dress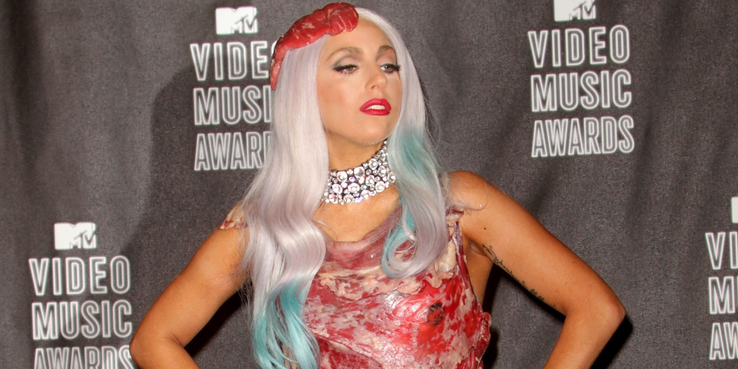 Perhaps the strangest dress that Lady Gaga has ever put on remains the infamous meat concoction. Made out of real raw meat from a steakhouse, the dress is 112 pounds, including a rib-eye steak hat and filet mignon shoes. The star chose this outfit in protest of the U.S. military policy of "don't ask, don't tell" in regard to gays in the service. Nowadays, you can purchase your very own Gaga meat dress from the same steakhouse for a whopping $100,000. The original, on the other hand, has been carefully preserved and stored for future generations to see.
7 Disco, baby!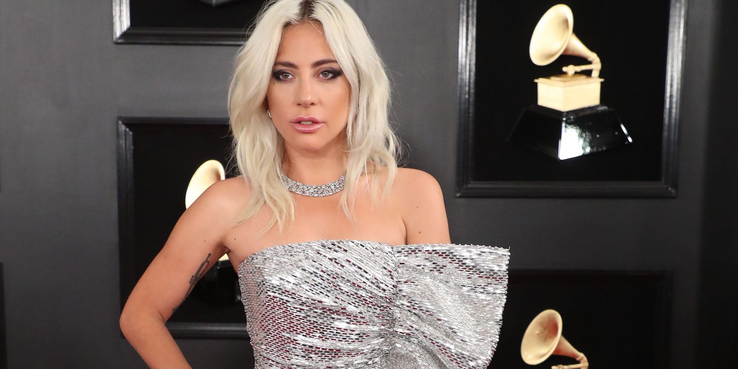 Lady Gaga was a head-turner at this year's Grammy Awards yet again, although it isn't due to her over-the-top flamboyance this time. The star of A Star is Born is dressed accordingly in a shining silver gown, causing her to truly glow like a star under the rounds of camera flashes. The beautiful dress resembles a disco ball in the most flattering way possible, outlining Gaga's bold style while still showing the world that she's sexy, brave, and drop-dead gorgeous. Lady Gaga paired this gown with a stunning Tiffany's diamond necklace that took over a year to make and some Jimmy Choos.
6 Blue cotton candy dream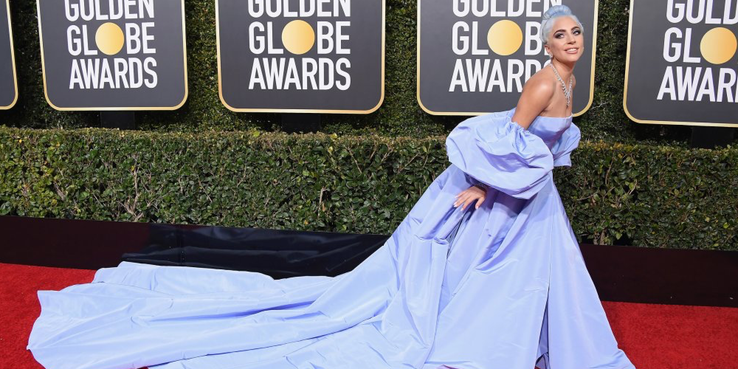 The Golden Globe Awards is one of the highest honors bestowed upon stars who depicted unbelievable excellence in film and television, so of course, anyone would dress up for it! Lady Gaga's outfit for the 2019 Globes combined nostalgia with other-worldly beauty for a head-turning masterpiece. The baby-blue gown bunches loosely around the star's arms and trails behind her as if it's a soft cotton candy cloud. This Valentino gown is sure to have cost thousands of dollars, as Valentino gowns go. However, the truly interesting note about this dress is the fact that it almost reflects Judy Garland's gown in the original A Star is Born movie, representing the modern interpretation.
RELATED: 10 Crazy Expensive Things DJ Khaled Has Bought
5 Leather on leather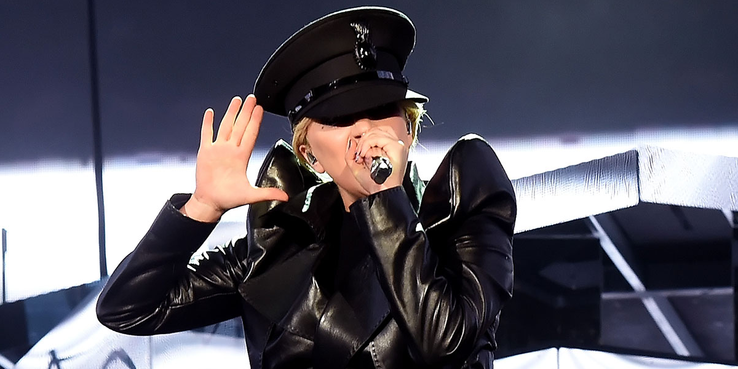 There are always surprises when it comes to Lady Gaga's outfits! For her 2017 Coachella performance, she came out fully clad in leather, much to the approval of her fans. The full-length leather jacket is accompanied by a wide-cinched waist belt, bad-ass boots, and a newsboy cap (also in leather). The full look gives Gaga a dominatrix appeal coupled with a rock and roll energy, which she lived up to with her energetic performance of hype songs. The coat alone reportedly cost more than $5,000, but the look is so worth it. During that performance, Gaga kept costume changes to a minimum, choosing to flaunt her leather instead.
4 Marc Jacobs embellished blazer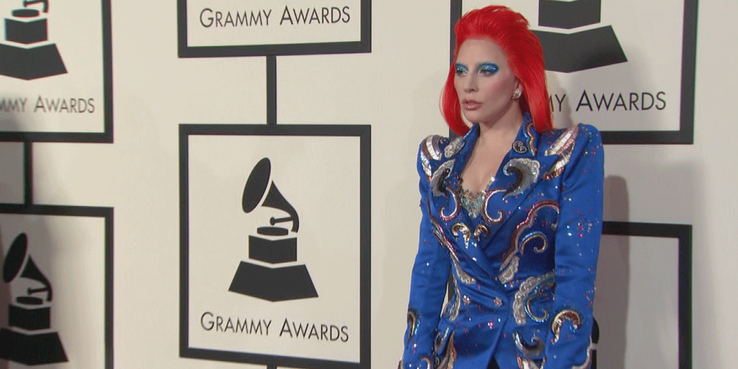 Aside from holding a passion for art within clothing, Lady Gaga is also known for using her outfits to represent a deeper meaning. Her custom-made Marc Jacobs embellished blazer gown for the 2016 Grammys is a perfect example as a tribute to the late David Bowie. With fiery orange hair coupled with dramatic makeup and a gorgeous midnight blue blazer gown, it's clear that Gaga was going for one of Bowie's alter egos, Ziggy Stardust. It was the perfect outfit to go along with her musical tribute later that night, and the act touched the hearts of many fans. This outrageous gown is hard to price, as it was custom made for the event, but estimates go at about $15,000.
3 Pink bird of paradise
If you watched the premiere to A Star is Born, then you're sure to understand when I say that Lady Gaga blew everyone away with her spectacular entrance, featuring a giant pink ball gown, almost covered from head to toe in flowing pink feathers. Valentino Couture shocked everyone with this custom-made dress that shines with the usual unique boldness of Gaga while it accentuates her natural beauty. The superstar chose to go for a very light makeup look with her hair pulled up to complete the style. While custom made gown is, again, very difficult to price, it had to have cost tens of thousands, judging from the other prices on Valentino list.
2 Under the sea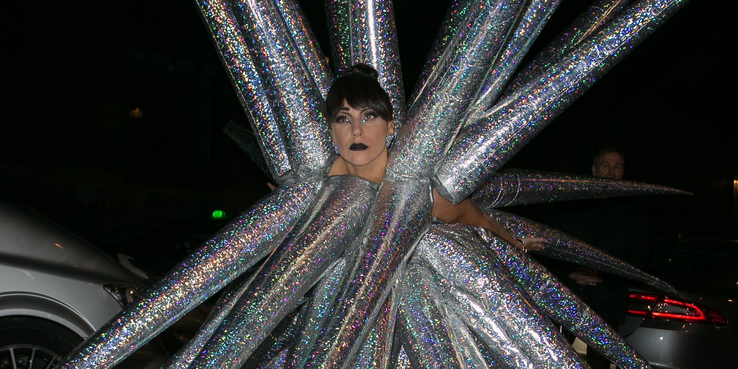 While some outfits are inspiring and some are outrageously expensive, this one is just plain crazy! In what is known to be arguably the most fashionable city in the world, Lady Gaga decided to go for her boldest venture yet. During her Artpop tour in Paris, Gaga emerged in what seemed to be a shimmering silver dress. However, she soon revealed the rather spiky situation by inflating each "arm" one by one, until her sea urchin look was complete! Apparently, the crazy dress was designed by a fresh out of college student rather than Gaga's usual designer team. One thing's for sure, Lady Gaga certainly shook up the night with that eye-catching costume!
1 Interstellar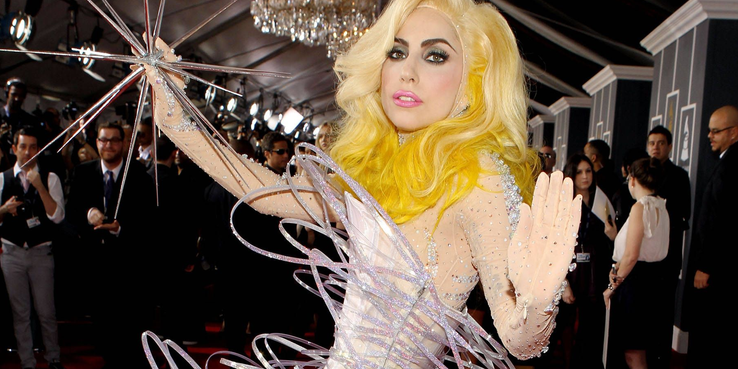 Last but not least, we have a dress that simply takes Gaga out of this world. The purple number seems to imitate Saturn's rings, accentuating Gaga's waistline and flaring out for a planetary look. Under the skirt, Gaga is seen in jewel-encrusted tights and heels, adding to her glamour. Like her other bold endeavors, this purple number draws attention and captivates the star's unique beauty at the same time. Although there isn't a set price for this custom made gown, it must have cost a pretty penny, judging by the usual thousands that Giorgio Armani charges for his custom designs.
NEXT: 10 Crazy Expensive Things Gal Gadot Has Bought
Source: Read Full Article