Meghan Markle's Oscar De La Renta Dress Is A Totally New Look For Her & It's Scary Good
It's obvious Meghan Markle is keen on a good sheath dress. On any given outing, you can spot the Duchess of Sussex rocking some iteration of a cinched waist, high neckline, below-the-knee style frock. But at the Australian Geographic Awards in Sydney, Australia, she wore a style completely different than what she's usually photographed in, and I truly can't get enough of the photos. Meghan Markle's Oscar de la Renta dress still has a high-ish neck (although that part is completely sheer, giving the illusion that she's wearing a strapless neckline) and a tapered waist, but it's unlike most other things we some from her closet.
This particular dress offers a brand-new silhouette and, well, everything else. It flares out into an A-line shape, and the best part is the nude tulle is covered in a black print made up of silhouettes and shadows of birds — so many birds. Considering how most kin under the Queen's reign stray away from bold prints, this is a major fashion move for the royal newcomer.
The dress in question was designed by Oscar De La Renta — if that's not a princess-approved designer, I don't know who is. The tulle gown, which is somewhat similar to this $6,000 style by the designer, is most likely a one-of-a-kind gown designed especially for the Duchess. While there's no word yet on the why the black birds became the motif of choice, I think that silhouette was actually pretty perfect given how close it is to Halloween.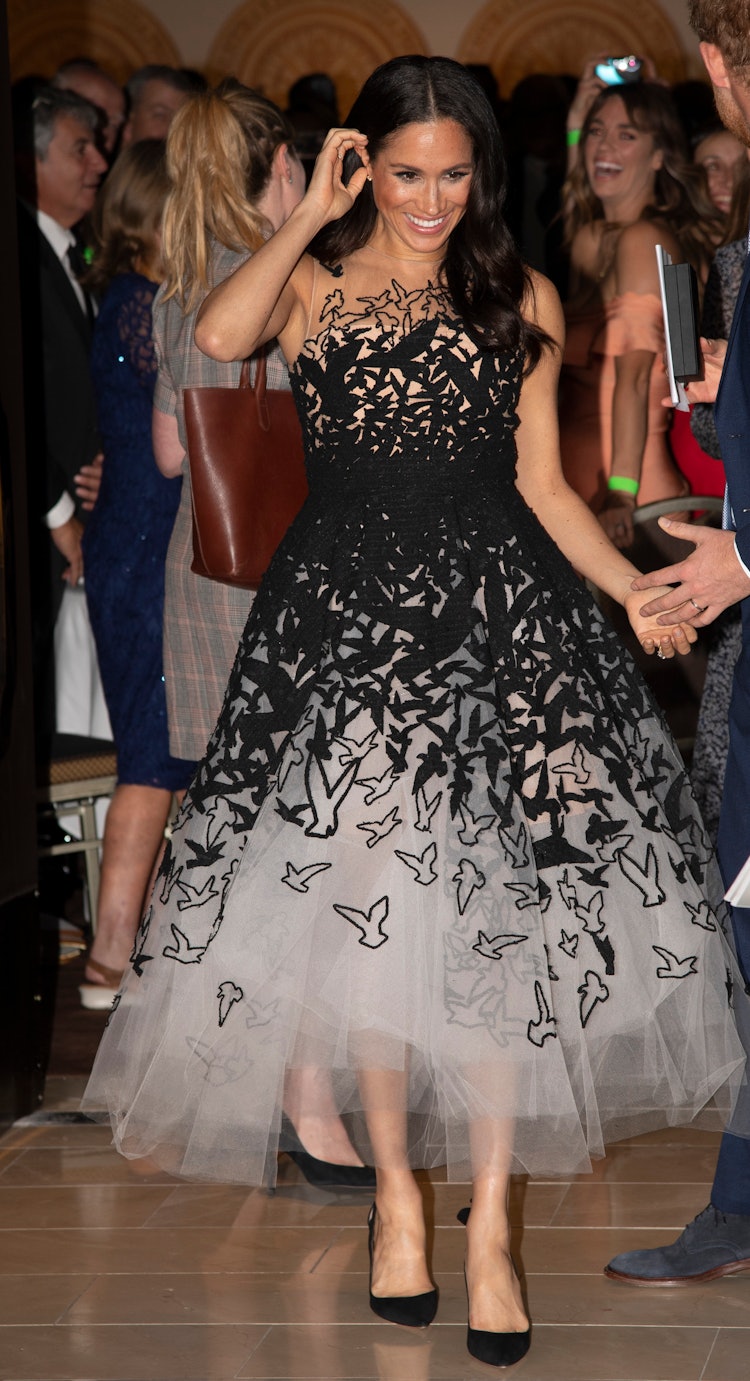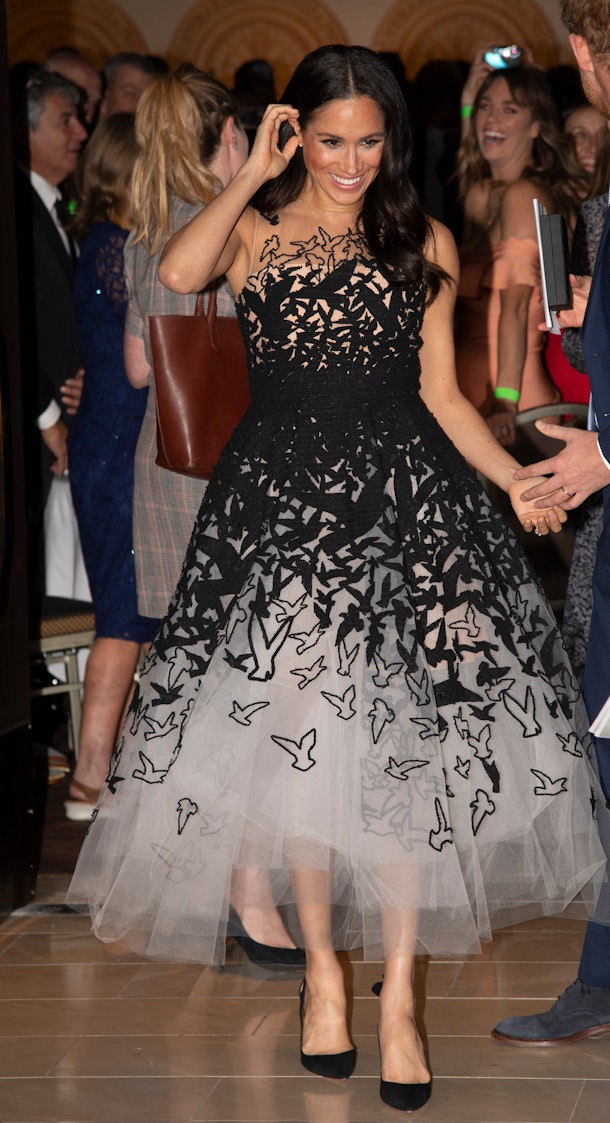 As far as I know, royals don't typically attend costume parties, so perhaps this was Markle's low-key way of celebrating the spooky holiday? I mean, the crow print seems to be straight out of the Alfred Hitchcock film The Birds. Regardless, though, it was refreshing to see Markle sport a riskier dress like this, because obviously, she still rocked it like no other. What can't this Duchess do?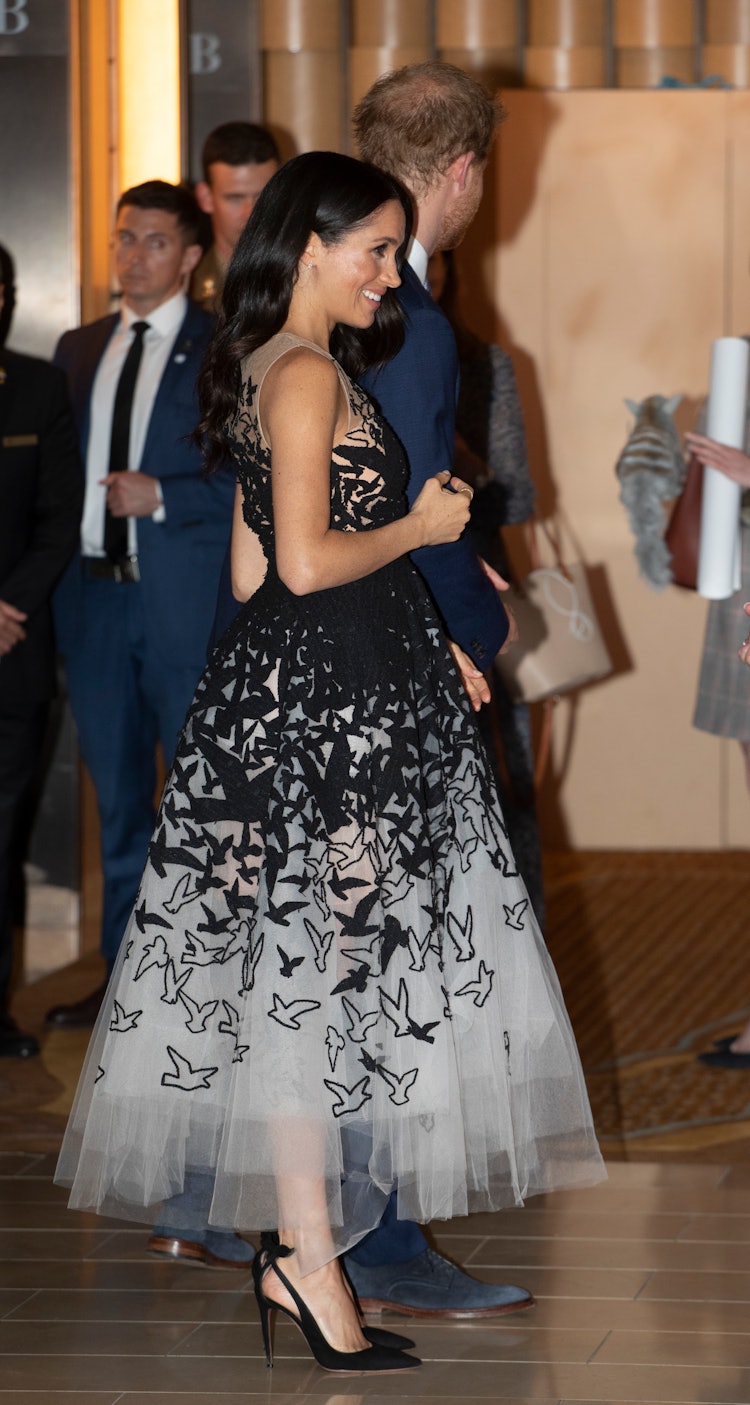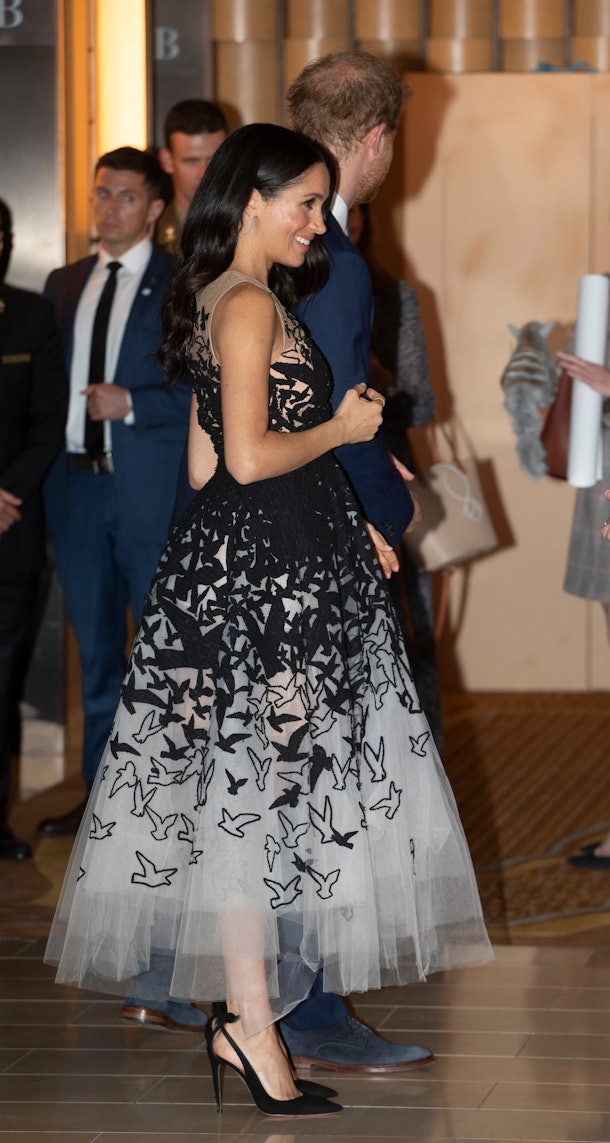 Markle paired the stunning gown with a pair of simple black suede pumps from Aquazurra — ones she seems to love considering how often we'll see her out with them — and kept accessories to a minimum. Well played, considering this dress is enough of a conversation piece on its own. Although her dress might be a huge departure from her typically minimalistic style, she wore her hair in polished, soft curls cascading down her back, and her makeup looked fresh and natural, as per her usual classic style. While some might have their opinions on her easy hair and no-makeup makeup looks, those judgements are strictly for the birds. (See what I did there?)
Just recently, Kensington Palace confirmed the newlyweds Meghan Markle and Prince Harry are expecting a baby due in the spring of 2019. Still, that naturally hasn't slowed down Markle's fashion game in the slightest. The Duchess has rocked a plethora of different silhouettes following the announcement, all of which she looked absolutely glowing in. It'll surely be interesting to see how Markle's style evolves during her pregnancy, if at all.
Source: Read Full Article