"Mermaidcore" Is the Beauty Aesthetic of the Summer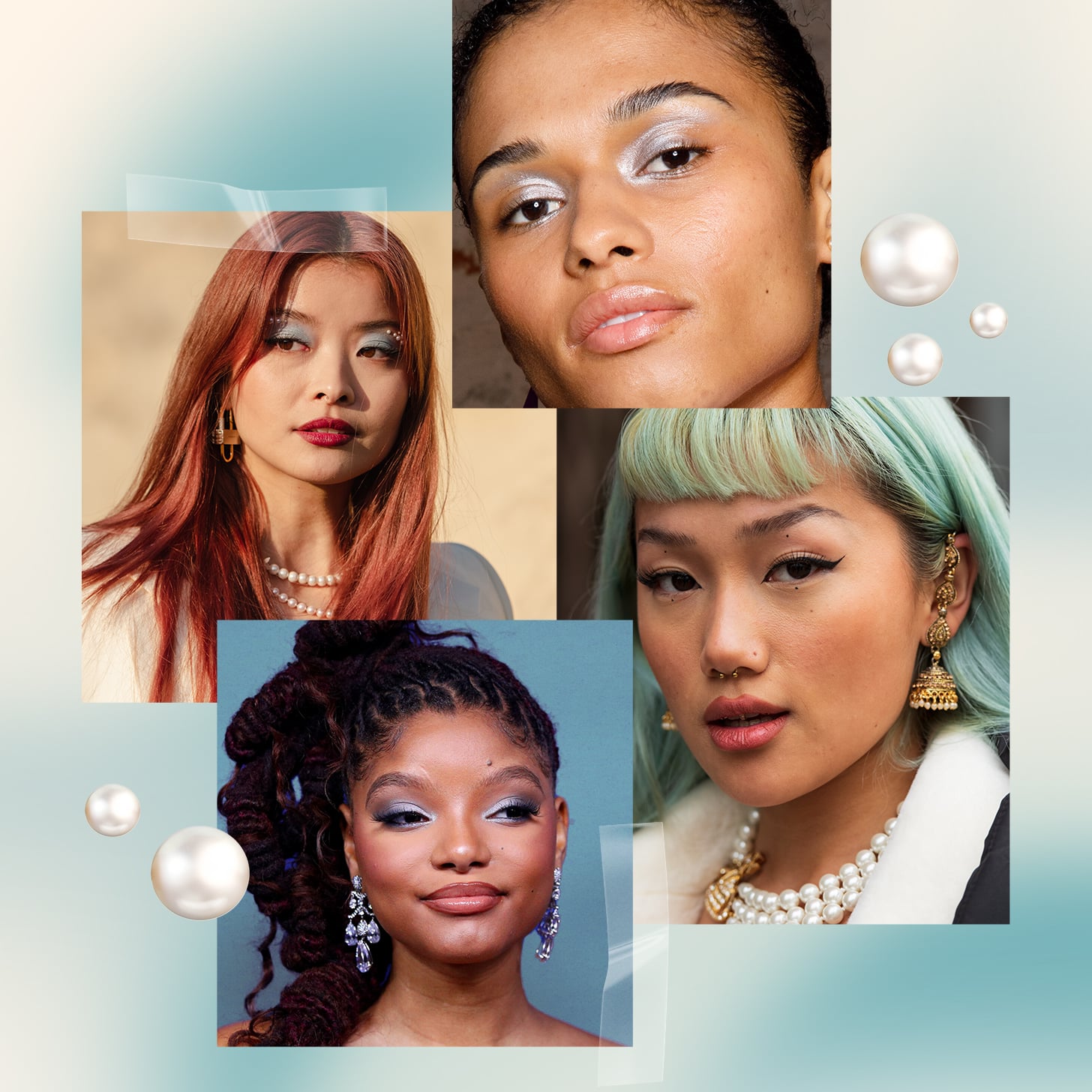 Image Source: Getty / Don Arnold / Kirstin Sinclair / Rosdiana Ciaravolo / ToscaWhi
When we first got a look at Margot Robbie and Ryan Gosling in the upcoming "Barbie" movie, we quickly saw the pink "Barbiecore" aesthetic take over. Now, months later, with the recent release of Disney's live-action "The Little Mermaid" starring Halle Bailey, we're primed and ready for a new wave of "mermaidcore."
As we head into the summer season, it feels particularly appropriate to embrace all things mermaid-inspired, from our nails and makeup to even our hairstyles. You can expect to see a lot of pearly, iridescent finishes — especially in manicures. (Just look at how mesmerizing these "seashell" nails are, which have already made it onto the fingertips of a few celebrities.) For something a little more subtle, see pearl french manicures and "sea glass" nails.
In the hair department, the ever-trendy "wet" hairstyles we've been seeing all over red carpets will likely stick around a little longer, but that's only the beginning.
https://www.instagram.com/p/B-P-6q9lIVh/
"We are going to not only see longer hair, but longer hair in more of its natural state," Shannon Gainey, educator coach at the Aveda Arts and Sciences Institutes in New Orleans, tells POPSUGAR. Summer's "mermaid haircut" is a great example of this. "The cut focuses on minimal loss of length to give a soft, flowy finish to the hair," hairstylist and Verb ambassador Juli Akaneya previously told POPSUGAR.
Bailey's version of Ariel wears gorgeous goddess locs for a boho, laid-back, and effortless feel. For even more variety, microbraids and half-up, half-down styles fall into that same category of breezy looks.
"Embrace loose waves, enhancing your own texture, adding random small braids, even bubble braids," says Brandie Devillier, platform educator at the Aveda Arts & Sciences Institute and certified color educator at Elevate Hair. Accessories will be another easy way to mermaid-ify any look.
https://www.instagram.com/p/CtGyAQmtxkC/
For makeup, you can take it literally by adding pearl accents to your eyes à la Joey King for the "Bullet Train" premiere or Storm Reid at the 2021 Met Gala. For a more wearable approach, glossy or shimmery lips and coral hues will do the trick.
This summer is all about embracing that beachy, uncomplicated aesthetic — a look that is, as you might call it, out of this world.
https://www.instagram.com/p/CsA3mG8u_YC/
Source: Read Full Article