Patrick Starrr's MAC Holiday Collection 2018 Means Patrick's Powder Is Officially Back — EXCLUSIVE
There is not a time of the year when I love wearing glitter and sparkles more than around the holidays. I don't know whether it's because I need a little bit more light during darker days or because it's my personal mission to outshine my own damn Christmas tree. Regardless, the holidays are everyone's time to shine. And no one knows that better than powerhouse makeup artist and beauty YouTuber Patrick Starrr. Now releasing his fifth and final MAC collaboration, Patrick Starrr's MAC Holiday Collection 2018 is coming to give you all the glitz and glam you could ever want.
Describing the inspiration behind this year's "ultimate holiday" collection, Starrr says he "just wanted to be this year's Santa." "There's nothing more iconic than red and white and sparkle. Last year, my first holiday collection — which is so crazy to say — was all sparkle and glitter, so I thought, why not bring the glitter back, but with color," he tells me. "This is the biggest, most celebrated collection I've ever had. It's truly iconic to holiday, and it's so, so huge."
When Starrr says huge, he means it. This collection, set to drop online on Dec. 3, 2018, and in select MAC stores on Dec. 6, 2018, boasts so many drool-worthy products, including three MAC Pigments ($23 each, MAC Cosmetics), three matte MAC Lipsticks ($19.50 each, MAC Cosmetics), two six-pan eyeshadow palettes ($33 each, MAC Cosmetics), five Dazzleglass glosses ($18.50 each, MAC Cosmetics), a huge Mineralize Skinfinish Highlighter ($42.50, MAC Cosmetics) and none other than fan-favorite setting powder, Patrick's Powder ($29, MAC Cosmetics).


The two eyeshadow palettes, one filled with warmer colors and the one filled with cooler shades, are so cleverly named "Oh, Holy Eyes" and "Smoky Sleigh," respectively. Both palettes are filled with matte and lustre shades to give you the most dimensional eye look you could ever want.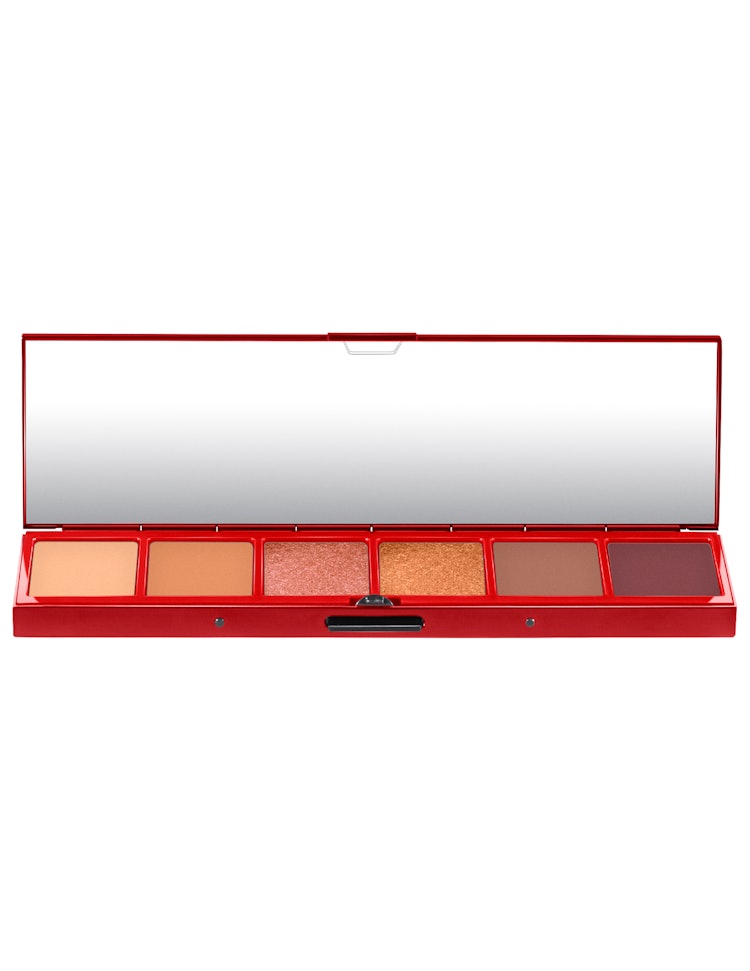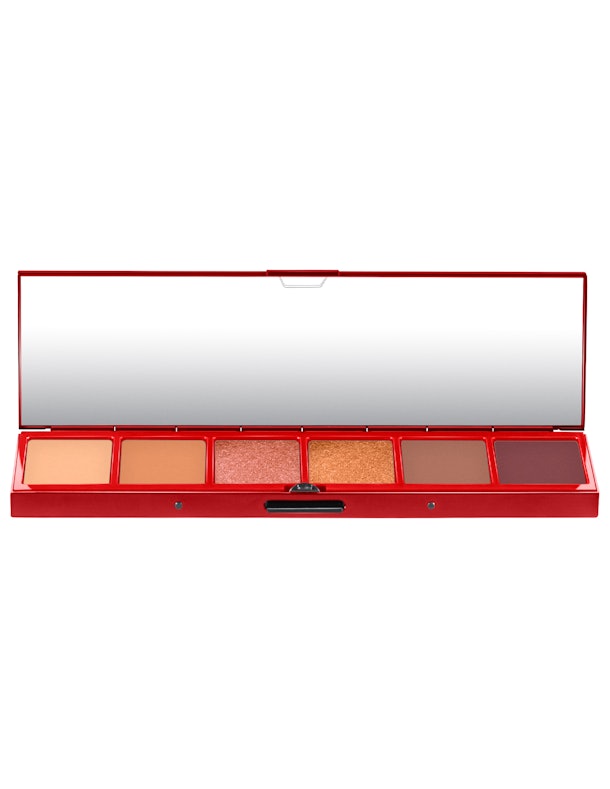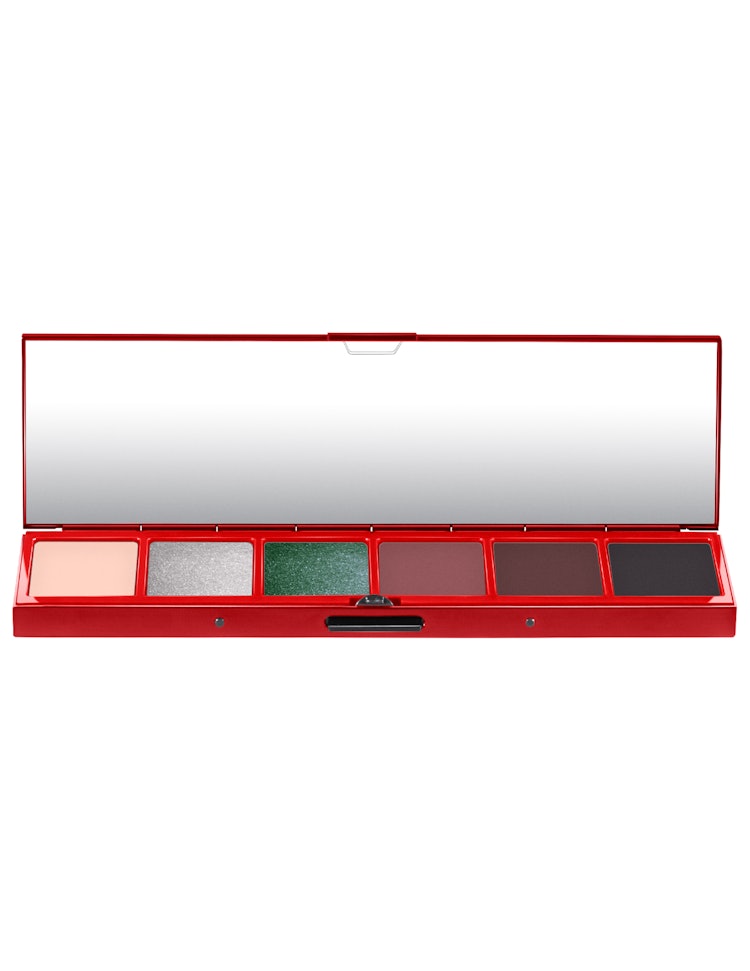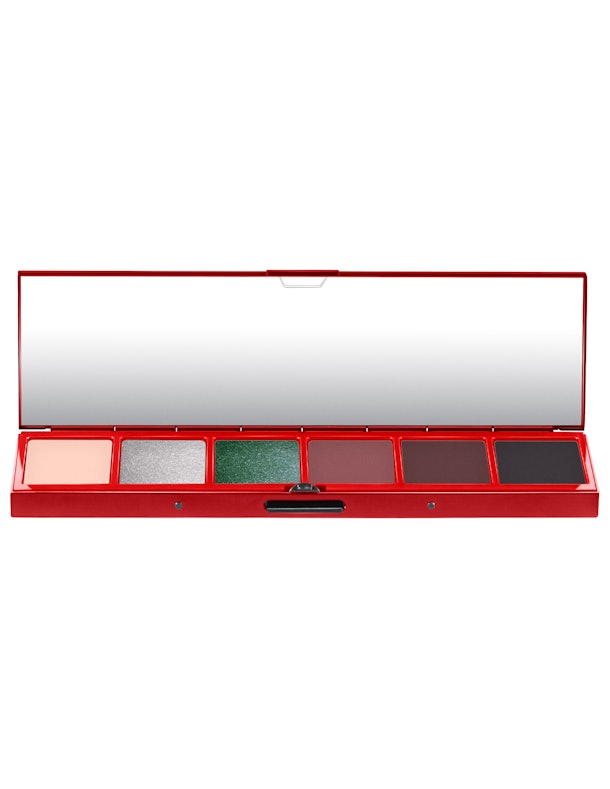 The lipsticks come in varying matte shades called "Peachy Peter," a neutral beige; "Spank Me Santa," a dirty rose; and "Slay Ride," a darker orange-red. (Are you loving these shade names yet? If so, just wait. If not, you're literally lying, goodbye.)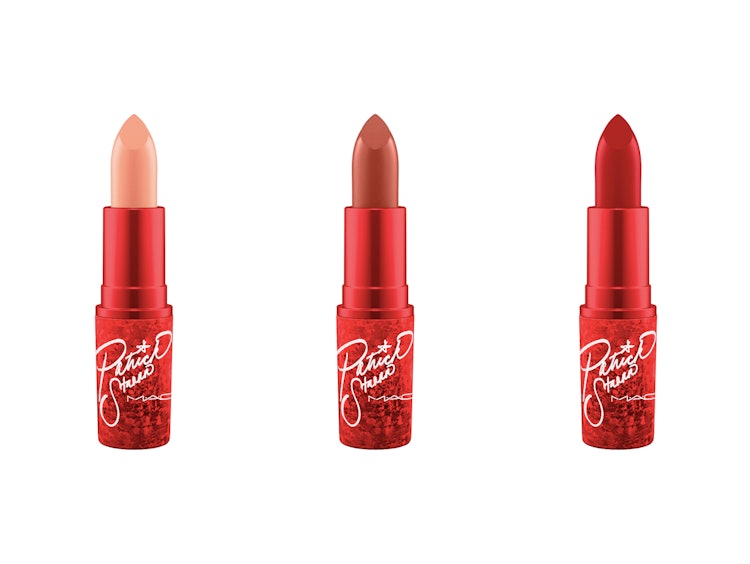 Now, get ready for even more lip love, because Starrr's final collection also features five — count 'em — five MAC Dazzleglasses, glitter lip glosses that can be worn on their own or on top of any lip color you'd like. There's "Hot Coco Bish," a medium brown; "Ride My Sleigh," a bright and bold red; "Santa Got Moneyyy," a shimmering gold; "Silent Night," a stunning deep purple; and "Twerk For Gifts," a peachy gold. (See? What did I tell you about the shade names? I swear to God, you will not catch me without "Twerk For Gifts" on my lips all holiday season long.)
While there are already so many fun lip colors to play around with in this collection, Starrr has a pro-tip to create even more color moments "What's cool about this collection, too, is that the lipsticks [come in] three different colors, but there are also five different Dazzleglasses which can shift," he says. That means a swipe of Dazzleglass on top of a lipstick can result in a whole new color you didn't have before. Bless.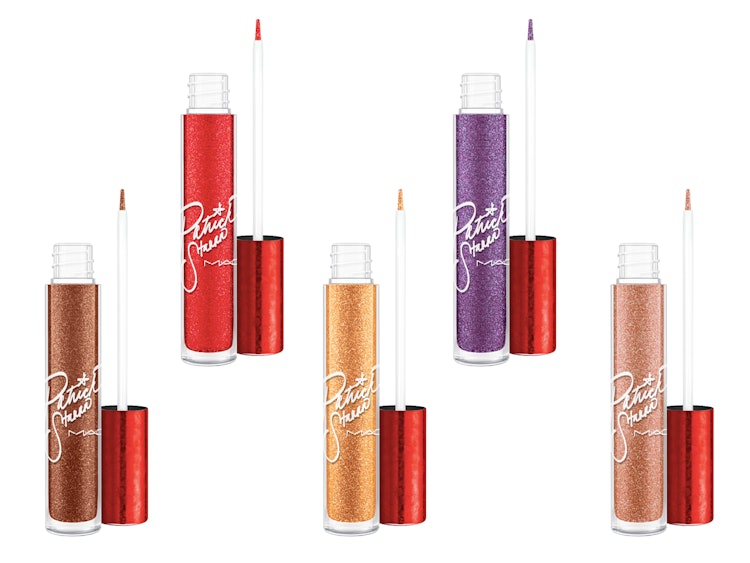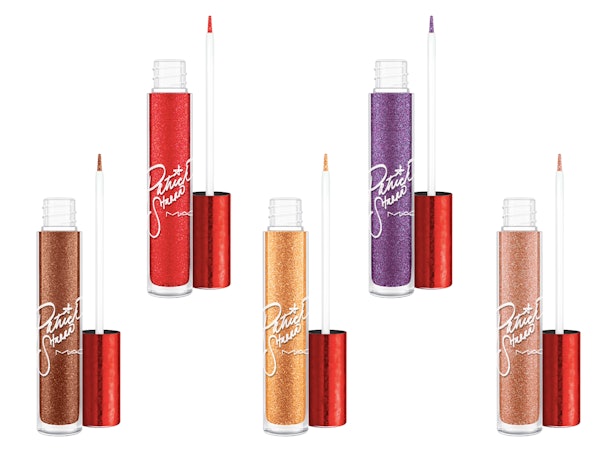 Of course, a sparkle-filled holiday collection would not be complete without some MAC Pigments that promise high color pay-off. Featuring three shades called "Twinkling Lights," a bronze shade; "PatrickStarrr," a coral pink; and "OMIGAUD It's Gold," a sparkling peachy gold, the pigments in this collection, Starrr says, are "multi-use."
He continues that he wants to "inspire the old and the new way of mixing pigments," so instead of just using pigments to create a bold eye look, fans can use these "on their face, on their cheeks, on their lips, on the tip of their nose, [or] on their body." Basically, creativity is key.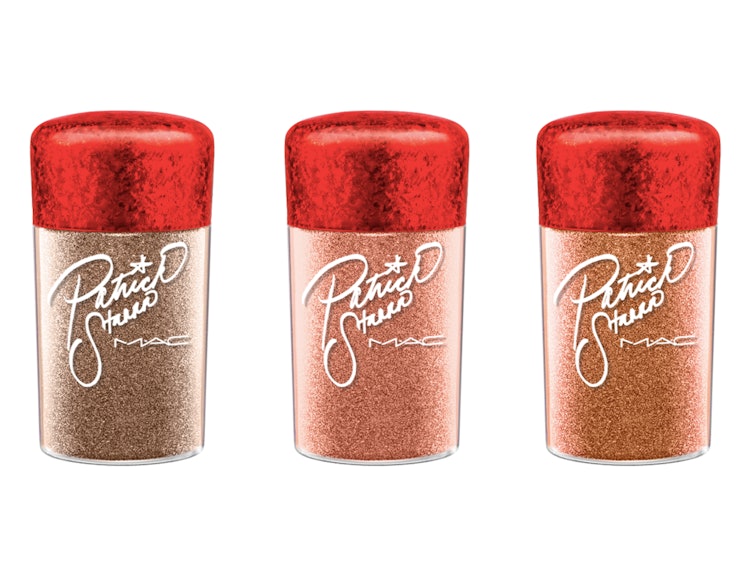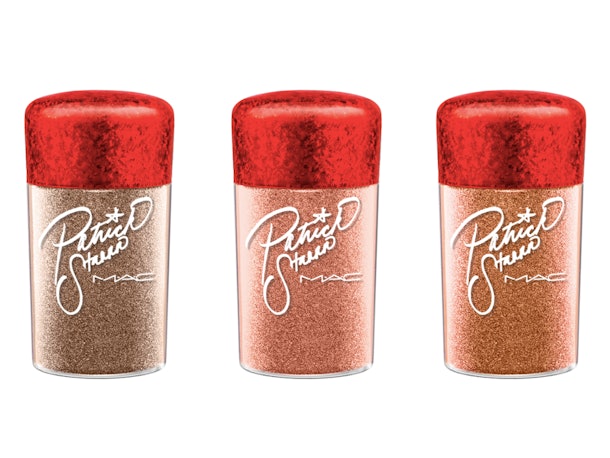 Finally, Starrr has the humongous Mineralize Skinfinish Highlighter in the bronze-gold shade "Baby It's Gold Outside" and the coveted Patrick's Powder setting powder rounding out the collection. Believe it or not, securing a Mineralize Skinfinish Highlighter as large as this one for the collection was a pretty meaningful accomplishment for Starrr, as the product is "hard to get" and "takes so long to make."
"When I first applied at MAC back in 2011 or 2012, I applied when the Wonder Woman collection came out. And that Wonder Woman collection had a large Mineralized Skinfinish like this," he tells me. "When I talked to them [MAC], I said, 'I really want the biggest highlighter you can make that's able to glow the body [and] glow the face,' and they were so happy to oblige [and] give me that same highlighter. So this component that MAC has made is really full circle for me."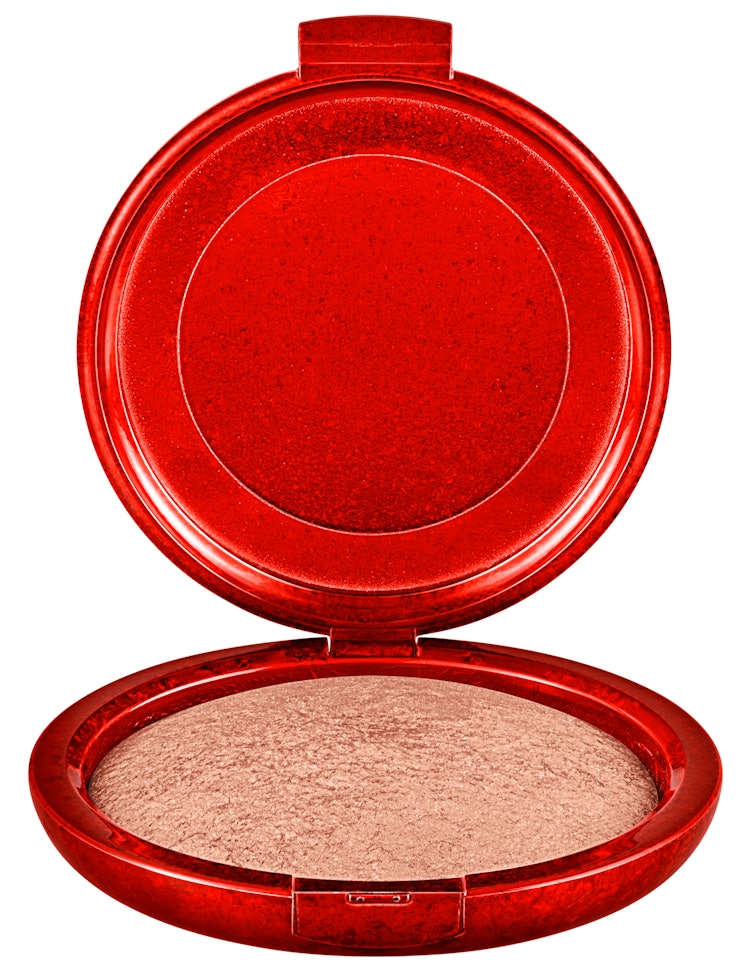 As for Patrick's Powder, well, Starrr is essentially the master of baking your face, and he knew he had to bring his famous powder back for a collection so major. "The kids ask for it every freaking day," he says. "I think it's a staple."
If you've never heard of baking before, it simply involves applying a setting powder to certain areas of your face (usually where you apply concealer) and leaving it on for a few minutes so the heat from your face can absorb some of the powder and set your makeup, making it last all day. After a few minutes, you simply brush away the excess powder, and that's it. You have a full beat that won't go anywhere.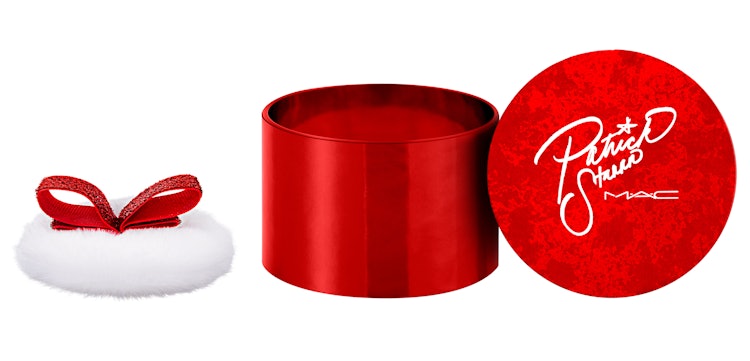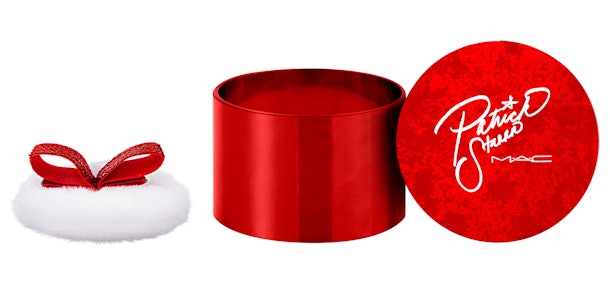 All in all, baking is a trend that Starrr's fans love and one that he hopes never goes away. He even shares that "how to bake" is the advice fans ask him for the most. Of course, that doesn't mean some people don't approach him with reservations.
"I think they're always so scared of baking because I use a lot of powder — it's very intimidating," Starrr says. "I use a setting powder, then I use a foundation powder, then I use a highlighting powder, and then contouring — it's a lot of powder."
However, Starrr assures that there's no single right way to bake your face, and there are ways you can tone the process down a bit. "I think the biggest misconception with baking is that it's too much or too heavy, but … when you're talking about makeup, there are different ways of [baking]," he explains. "It's not necessarily slapping powder on your face for five minutes. I think if you just want to bake lightly with a brush, that's fine. It's simply just setting your makeup."
As you can see, Starrr is finishing his roster of MAC collections with an absolutely bang. When asked his favorite part of developing the line, Starrr gushes about having so much say in ideating "the product, the packaging, and the imagery."
"What's great about MAC is they literally gave me full reign to do whatever I wanted as far as the imagery and the advertising. So the music videos were my own ideas; the campaigns were my own ideas," he says. "I hired my own photographer. I hired my own team. We built the backdrops. We literally filmed all the videos for it."
While fans will surely be mesmerized by the glorious production of this collection, one thing fans may not realize, according to Starrr, is that pretty much "everything imaging-wise" is ultimately crafted from scratch by Starrr and his team. "I will go to Downtown L.A. I will pick the fabric. [I will] go to the store, find the shoe, [and] find the fishnets. We'll build the turban," he says. "It takes a village."
Needless to say, Starrr's village has created a truly unforgettable collection that perfectly encapsulates not only Starrr's personal style, but what he foresees will be a huge trend for holiday glam: SPARKLE.
"I think to the more mature readers out there, I know there's this stigma of not wearing shimmer on the eyes," he says. "Everyone deserves to wear glitter. Everyone deserves to wear sparkle. So that's why I came out with the pigments and shimmer shadows, foiled shadows, the Dazzleglasses, and the huge highlighter."
Yes, beauty lovers, that means that, this holiday season, you should not be afraid to cut your crease and don a bright AF sparkle all over your face if that's what you want. As Starrr says, "You gotta be that girl."
Though this is Starrr's fifth and final collection for MAC Cosmetics, I think it goes without saying that we can obviously continue to expect amazing creations, collabs, and of course, "more fun music videos" and "produced videos," according to Starrr.
And hopefully, one day, we'll even see Starrr's dream celebrity collaboration come to life: one with none other than Oprah. "Girl, we need to get Ms. O on Patrick Starrr's channel," he laughs. "She needs to teach the kids how to be good. The beauty community could use a little bit of Oprah."
Truer words have never been spoken. Oprah, if you're reading this, hit up Patrick Starrr. We need you.
Remember, come Dec. 3, you can purchase Starrr's 2018 MAC Holiday Collection on MAC's website, and come Dec. 6, you can hit up certain MAC stores IRL to swatch and test to your heart's content.
Source: Read Full Article