The 3 Best Women's Shoe Stretchers
Breaking in tight shoes doesn't have to be so painful, thanks to the best women's shoe stretchers. In just 24 hours — though sometimes they work even faster than that! — these miracle devices can transform stiff shoes into pure, personalized comfort. They're especially helpful for anyone with wider feet or anyone who's prone to bunions.
Stretchers generally come in two forms, plastic and wood, and each material has its own benefits. Due to their long-lasting and stiff shape, wood stretchers tend to be slightly pricier than their plastic counterparts. However, plastic stretchers are much lighter and more affordable. But here's a major tip: No matter which material you go with (I've included both kinds in my roundup, below), you'll likely get the most out of your chosen stretcher by pairing it with a shoe stretching liquid.
Without further ado, let's get into Amazon's best shoe stretcher offerings. The ones listed here are easy to use and ergonomically designed to suit any shoe style — yes, even high heels. Take your pick, and prepare to relish in how much better your shoes feel after just one use. (Spoiler: Your feet are already thanking you.) And should you want to add more layers of comfort to your favorite kicks, check out the best expert-recommended insoles next.
1The Overall Best Women's Shoe Stretchers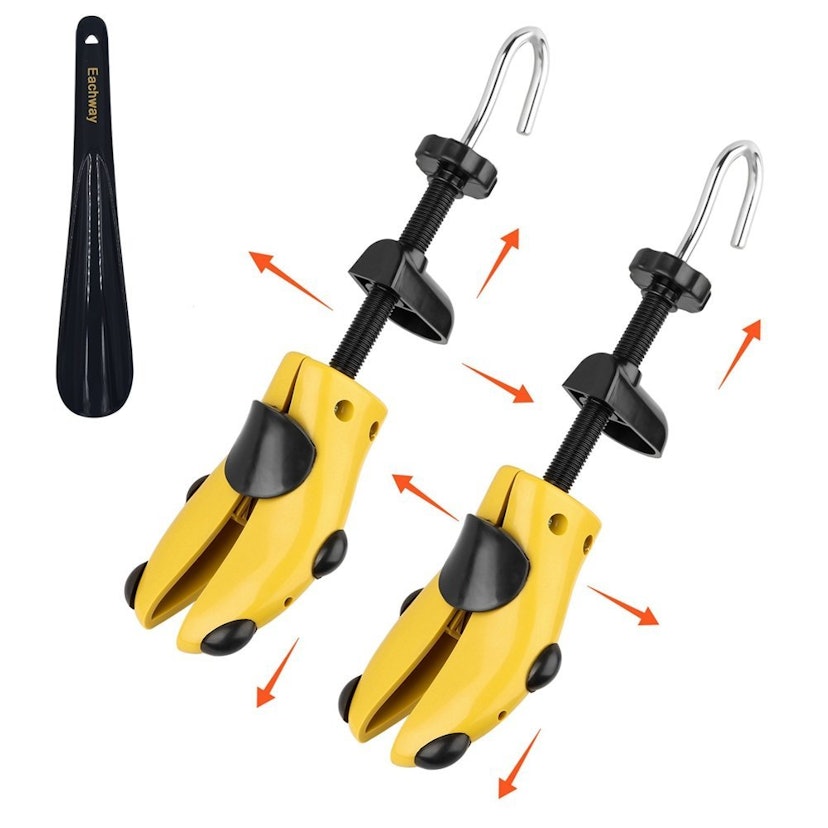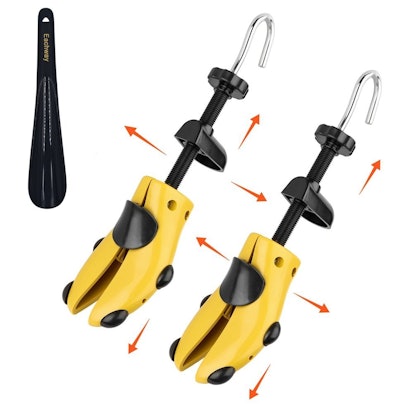 Eachway Plastic Shoe Stretchers (Set Of 2)
$21
Amazon
This pair of ergonomic, two-way stretchers is a great value, all things considered. The stretchers are made of durable polyurethane plastic and a steel shaft that turns clockwise to stretch shoes both length- and width-wise. They can fit in either shoe — right or left — and come in small, medium, and large sizes. What's more, this budget-friendly set also comes with a shoe horn and 10 removable plugs for customized stretching in areas that are prone to pain.
Amazon reviewers give them 4.5 stars, noting that they work well, especially given their low price for two. One person called them "the best shoe stretchers on Amazon," while another offered a useful tip, writing: "They do work, even on non-leather shoes, especially if you warm the shoes with a hair dryer either before or after insertion of the stretchers."
2Also Great: A Durable Wood Stretcher That's Worth The Splurge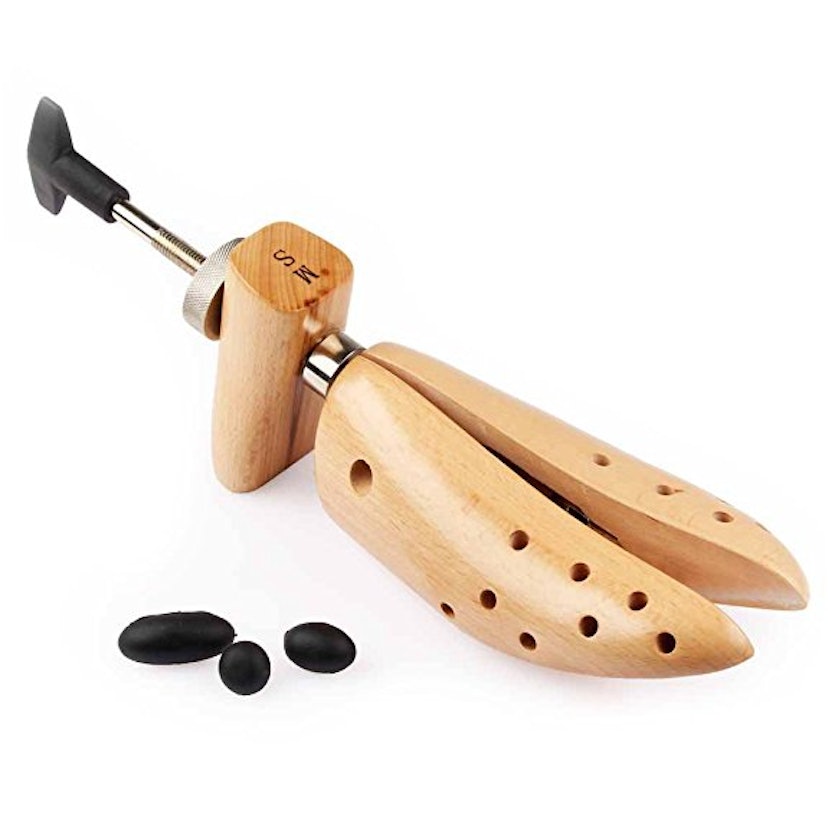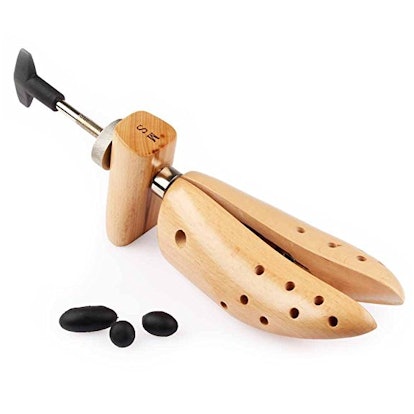 FootFitter Wood Foot Stretcher
$40
Amazon
If you're able to spend a bit more, opt for a wood stretcher like this one from FootFitter. The sturdy beech wood material will last you even longer than its plastic counterparts, but its around-$40 price tag for a single stretcher is significantly steeper. However, like the plastic stretchers above, this two-way one works for either shoe and comes with 16 holes around the toe block for customized pain relief (via three included plugs that can be placed anywhere).
"Totally worth the price and built to last a lifetime," reads a rave Amazon review. Want one (or four)? It's available in small, medium, and large sizes.
3A Set Of Stretchers That's Made For High Heels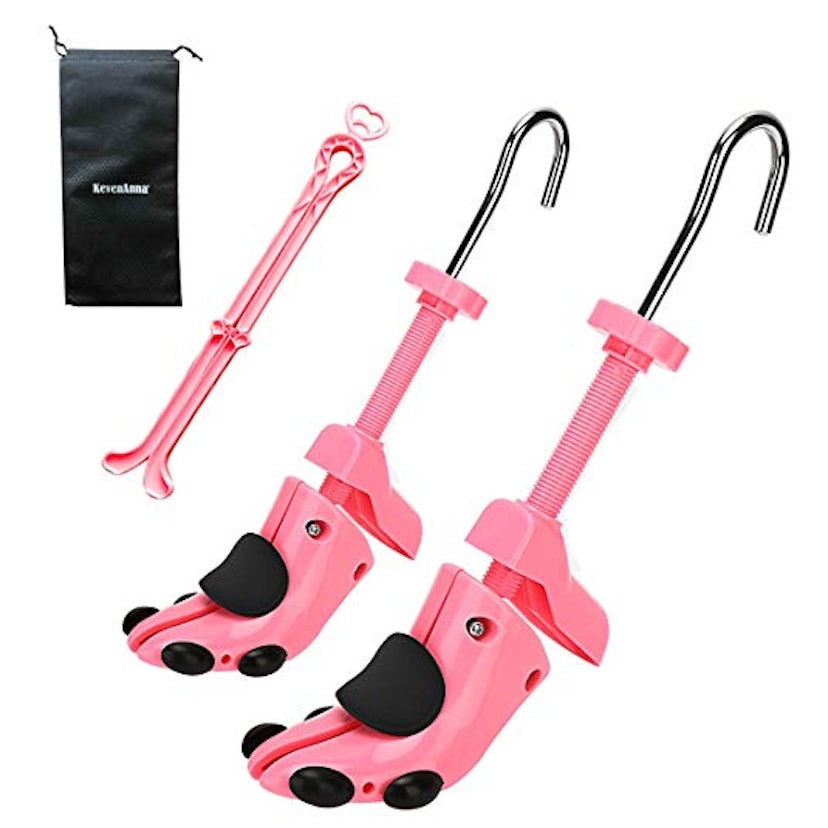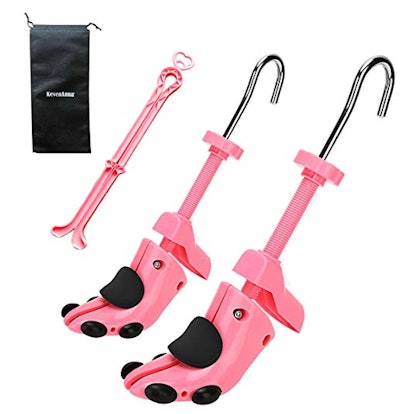 KevenAnna High Heel Stretcher (Set Of 2)
$19
Amazon
Specifically designed to fit into and stretch heeled shoes, this set of plastic stretchers from KevenAnna uses steel shafts to lengthen and widen uncomfortable shoes. The set, which fits a range of women's shoe sizes from 4.5 to 9.5, comes with 12 optional plugs for more targeted stretching in bunion- and corn-prone areas. Complete with a matching pastel pink shoe horn and sleek black carrying bag, it's also the most affordable option on this list.
Since these stretchers are molded to fit into heels, keep in mind that these will be smaller and lighter than other stretchers — but that doesn't mean they're inferior. One high heel wearer on Amazon said they "worked like magic." Begone backup flats!
Elite Daily may receive a portion of sales from products purchased from this article, which was created independently from Elite Daily's editorial and sales departments.
Source: Read Full Article