The 4 Best Snowboard Gloves
When shopping for the best snowboarding gloves to keep your hands warm, there are several things to consider, namely insulation, the outer material of the glove, the liner inside, and how well they block out cold air. I've broken down these four factors, and what you should look out for, below.
Insulation: Great snowboard gloves are insulated with some sort of synthetic loft to keep your hands warm while you're out on the slopes.
Shell: Finding a glove with a durable exterior shell is essential, not only because it prolongs the life of your gloves, but also because it will protect your hands from snow and water as you snowboard. Look for shells made with a blend of polyamide or leather components, and one coated in waterproof, windproof treatment.
Liner: A solid snowboarding glove will also be constructed with liners made from a soft, fleece-like fabric or brushed microfiber. Removable liners are typically preferable because they let you control your temperature and they're easier to clean.
Closure system: Whether they're built with straps, Velcro, or another mechanism, you'll want a pair of gloves that can cinch down tightly to keep them snug on your wrists and protect you from wind, snow, and ice.
On top of these considerations, good snowboard gloves will also have bonus features like palm grips, special pockets, touchscreen compatibility, and wrist leashes. Below, I've gathered some of the best snowboard gloves to keep you cozy all season long.
1The Best Overall, All Things Considered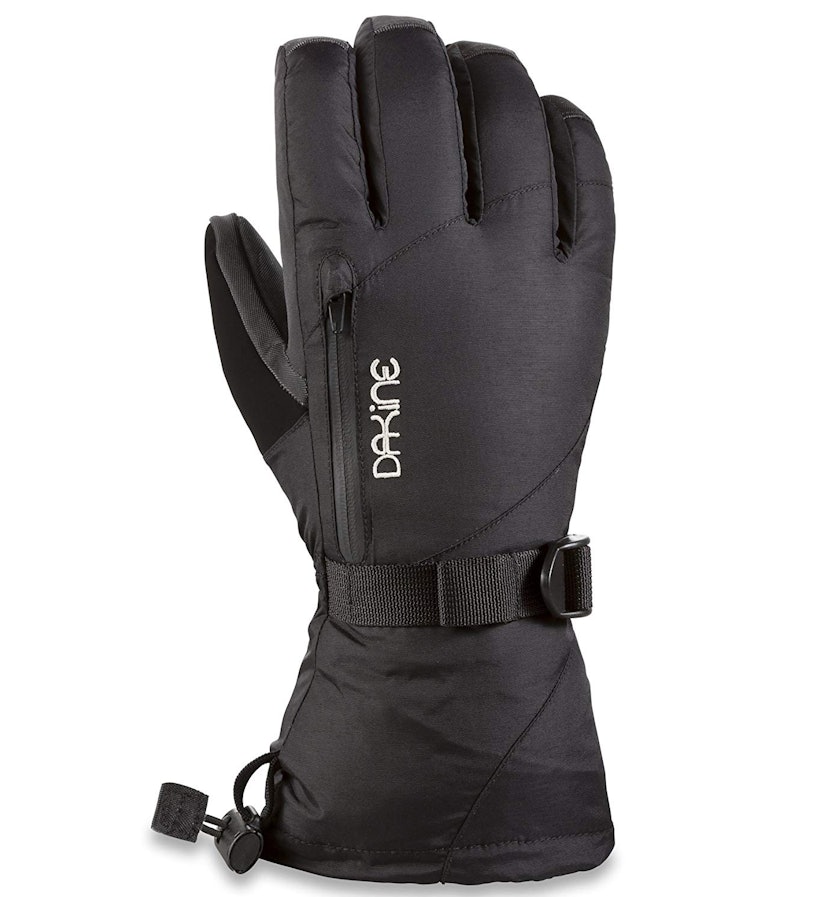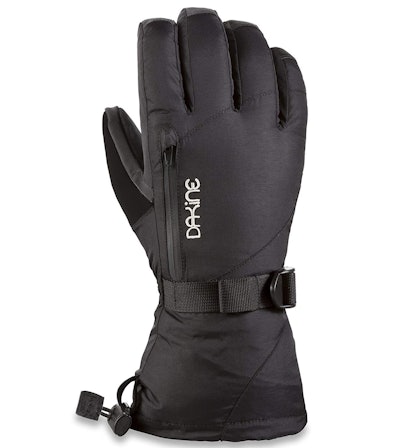 Dakine Women's Sequoia Gloves
$65
Amazon
I've tried lots of Dakine gloves myself and they're some of the best on the market — warm and cozy, fully waterproof, and easy to slip on and off. On a super cold, wintry day, these durable snowboarding gloves will protect you from the elements with real GORE-TEX inserts and a water-repelling, gauntlet-style shell. They have warm storm liners inside that are fully removable as well as touchscreen compatible. The palms feature Rubbertec grip and they have water-resistant zippers to stash small items. Best of all, the gloves are warm without being huge and bulky like so many others. All told, these gloves are a steal for $65.
2The Best Budget Gloves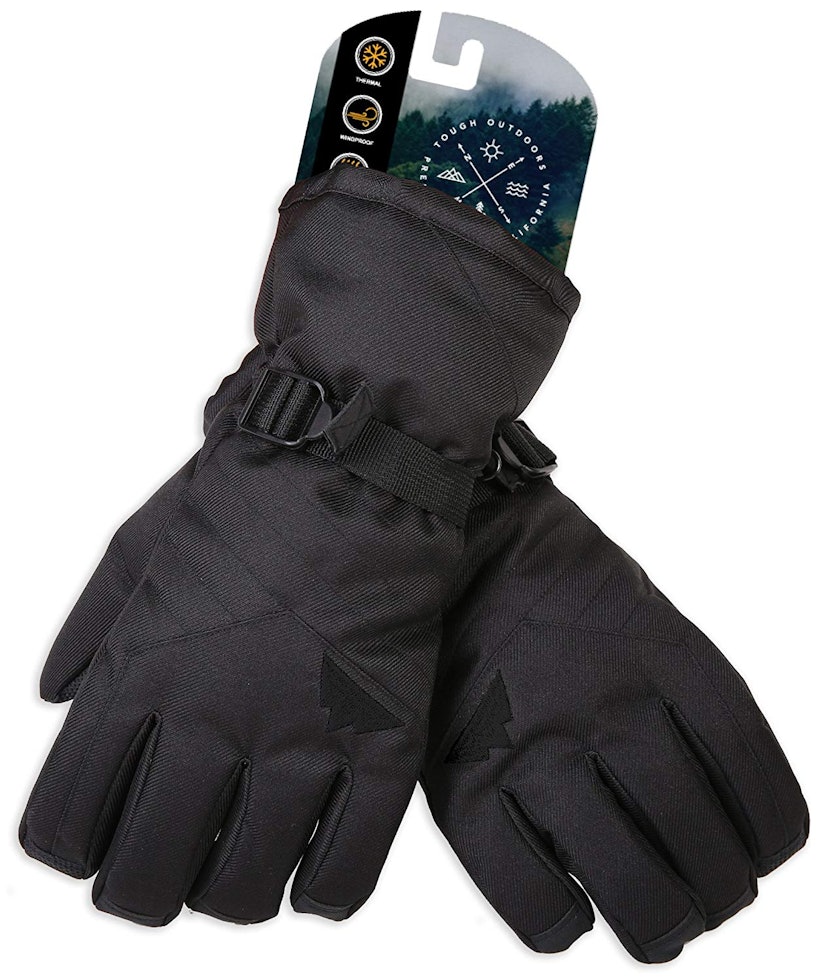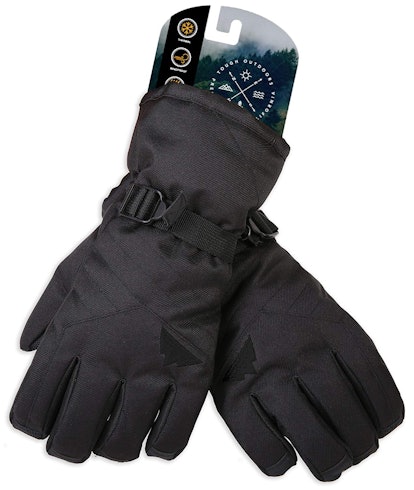 Tough Outdoors Ski And Snowboard Gloves
$20
Amazon
These aren't top-of-the-line gloves (by the end of the day your fingers will probably be a little wet and cold) but if you just want something cheap and simple, these budget snowboarding gloves are a great option. They're built with a tough nylon shell that's sturdy and water-resistant. They also have synthetic leather on the palms for protection and grip, as well as touchscreen-compatible fingers so you don't have to remove them to send texts or snap selfies. "I bought these for my bf and we both really love them," said one happy Amazon user. "(This is) because 1. They are warm, 2. They have a strap which goes around your wrist and prevents the glove from falling down when you take it off."
3The Best Investment Gloves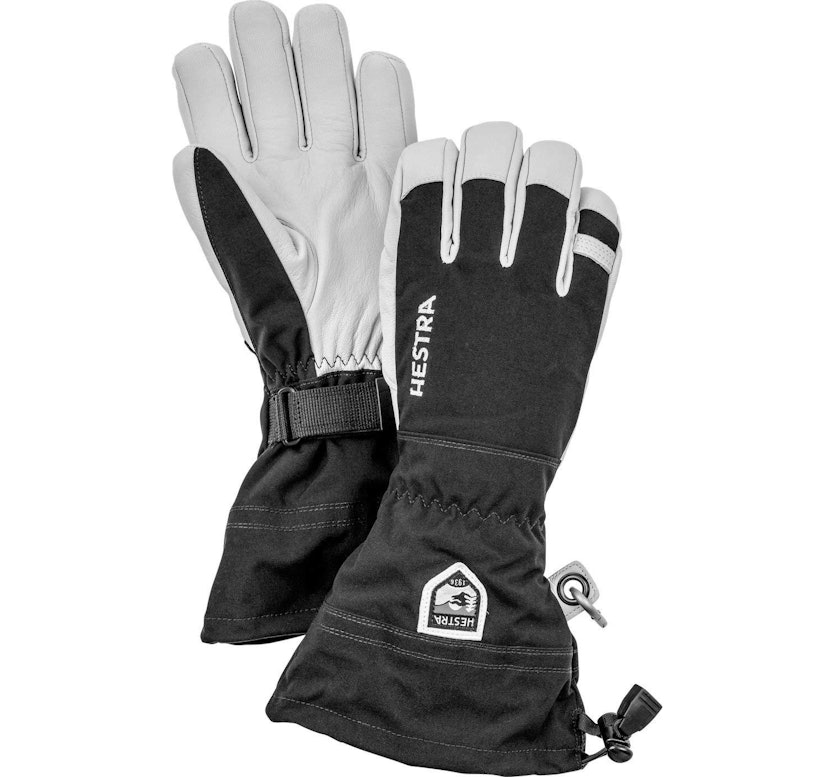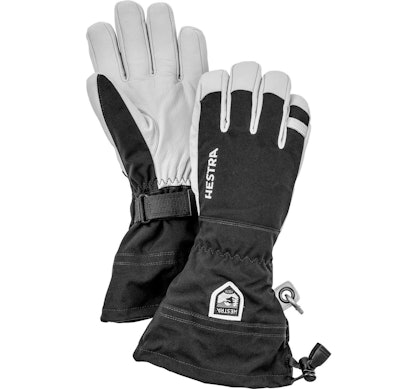 Hestra Army Leather Heli Ski Powder Gloves
$140
Amazon
If you're someone who's hands get freezing on the ski hill and you're willing to pay a little more for the warmest gloves you can find, these high-quality snowboard gloves are a fantastic option. They're made with warm polyester Fiberfill and tough, rugged goat leather that will keep your hands super toasty. They have extra long, gauntlet-style cuffs to protect you when riding in deep powder, as well as fully removable liners. The gloves are 100 percent windproof and waterproof while also being soft and breathable. As a bonus, they have a carabiner loop you can use to attach them to a backpack to let them dry without getting crushed in your bag. Note: If you really want to splurge, try these heated mittens from Seirus that have a touch-button and built-in heat panels.
4The Best Snowboard Mittens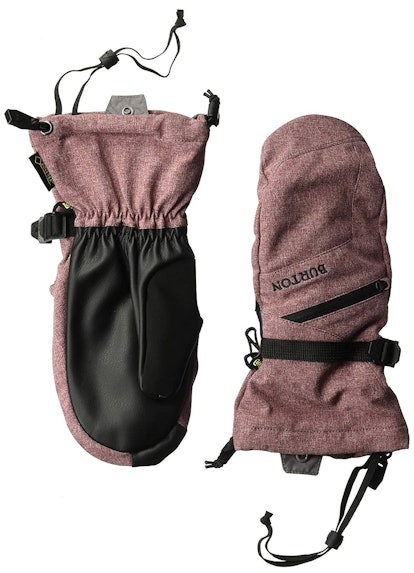 Burton Women's Gore Mittens
$70
Amazon
Mittens are always going to be a touch warmer than gloves because your fingers heat each other up and you retain more body warmth this way. These extra-warm snowboarding mittens are constructed with high-tech Thermacore insulation and real GORE-TEX inside. The inner lining features ultra-soft, brushed microfiber and the shell is built with fully waterproof DRYRIDE double-layer fabric. They have removable liners, a detachable wrist leash, and a secret pocket for storing heat warmers, which can also double as a cooling vent to prevent your hands from getting sweaty.
Elite Daily may receive a portion of sales from products purchased from this article, which was created independently from Elite Daily's editorial and sales departments.
Source: Read Full Article