The 6 Best Shoe Racks For Closets
Walk-in closets might be every person's dream, but they're not every person's reality. So when you need a practical way to store your shoes, the best shoe racks for closets can help you achieve a perfectly organized space.
The best shoe rack will vary depending on the closet and what space is (or isn't) available. The three most common types of shoe racks are:
Below, I've rounded up the best shoe racks in each category, arranged from smallest to largest capacity. And if you've been bitten by the tidying bug, you can also check out these closet organizer accessories.
The Best Hanging Shoe Racks
If you have scarce floor space but a little wiggle room on the closet rod, a hanging shoe rack is the way to go.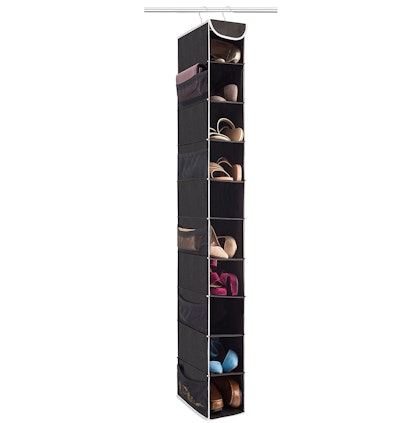 ZOBER 10-Shelf Hanging Shoe Organizer
$14
Amazon
Capacity: 10 pairs
What's great about it: Featuring reinforced seams that help secure its heavy-duty canvas material, this hanging shoe rack is compact but still provides ample storage. It features five mesh pockets on each side, which are great for organizing scarves, belts, jewelry, and even thinner shoes like flip flops. The rack operates on a 360-degree swivel hook, so accessing your belongings couldn't be more convenient.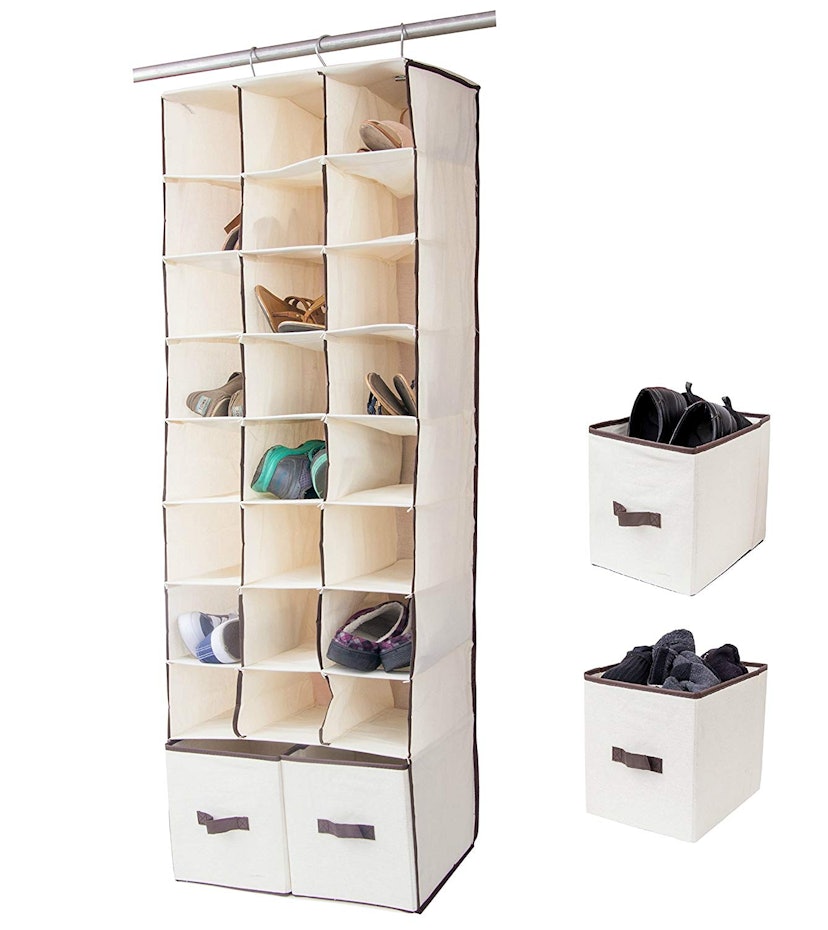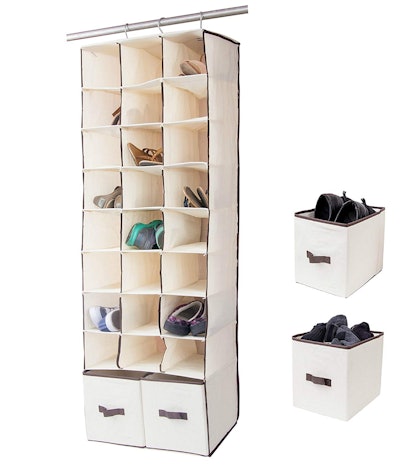 Lovotex Hanging Organizer In Closet
$29
Amazon
Capacity: 24 pairs
What's great about it: This large hanging shoe rack from Lovotex has plenty of cubbies for storing your many shoes. Thanks to the high-quality polyester canvas, this rack is both sturdy and strong. To assemble it, all you have to do is unfold the canvas and hang it in your closet with the hook and loop fastener. In addition to the many shoe pockets, there are also two drawer inserts, giving you some bonus storage space for sweaters, scarves, or more shoes.
The Best Over-The-Door Shoe Racks
When you're working with the least amount of space possible, try an over-the-door shoe rack. Just keep in mind that these aren't ideal for really heavy loads.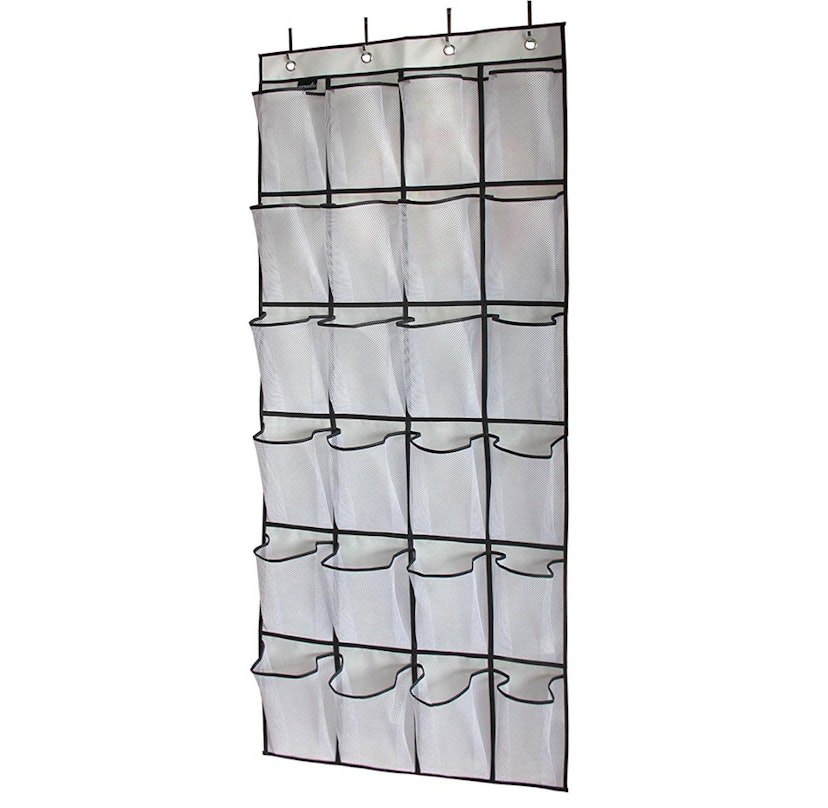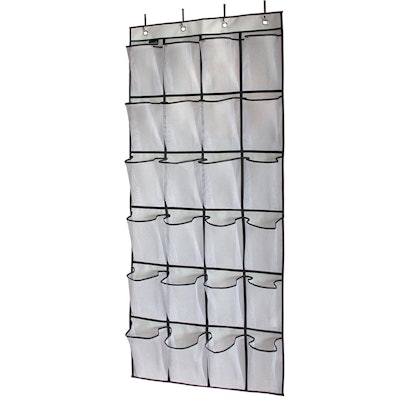 MISSLO Over The Door Shoe Organizer
$14
Amazon
Capacity: 12 pairs
What's great about it: The transparent mesh pockets of this over-the-door shoe organizer make it easy to stay organized — even when you're rushing out the door. Four hooks are included and can fit a door up to 1.67 inches wide, which means you can set this rack up with barely any effort. Skeptical about the durability? One reviewer initially felt the same way, but after purchasing, found it was "good money spent," dubbing it "big and strong."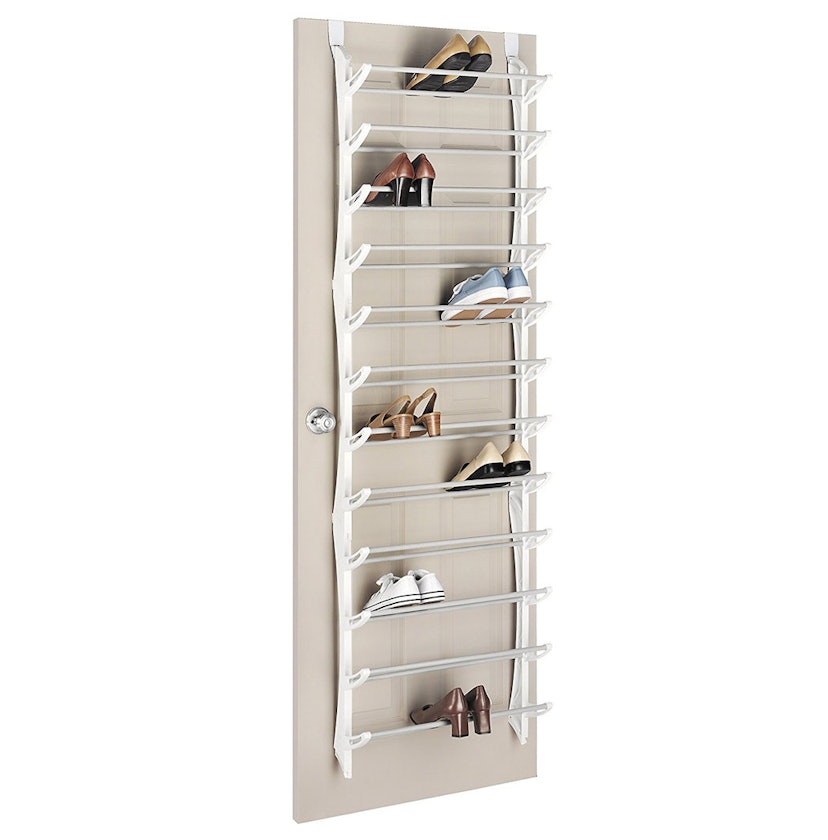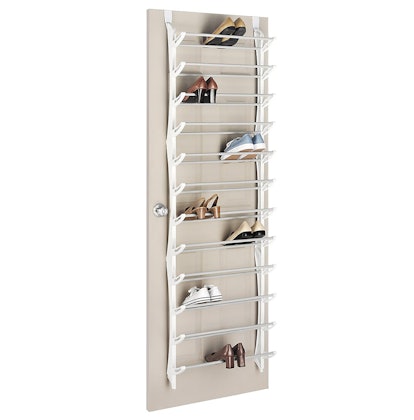 Whitmor Over-The-Door Shoe Rack
$26
Amazon
Capacity: 36 pairs
What's great about it: If you need a little more room, this large capacity over-the-door shoe rack should do the trick. The bars are made from a strong resin material, and they can be folded up to add room for taller boots or heels. It features non-slip pads, ensuring it rests securely against the door, and it requires no tools whatsoever to assemble. One reviewer wrote, "The rack is easy to put together (10 minutes) and sturdy enough to hold all my shoes without them falling off or the rack coming apart."
The Best Standing Shoe Racks
Standing shoe racks are a great strategy if you have the floor space available. The shorter models are compatible with virtually any type of closet, while the tallest models work for walk-in closets or vacant spaces near the closet.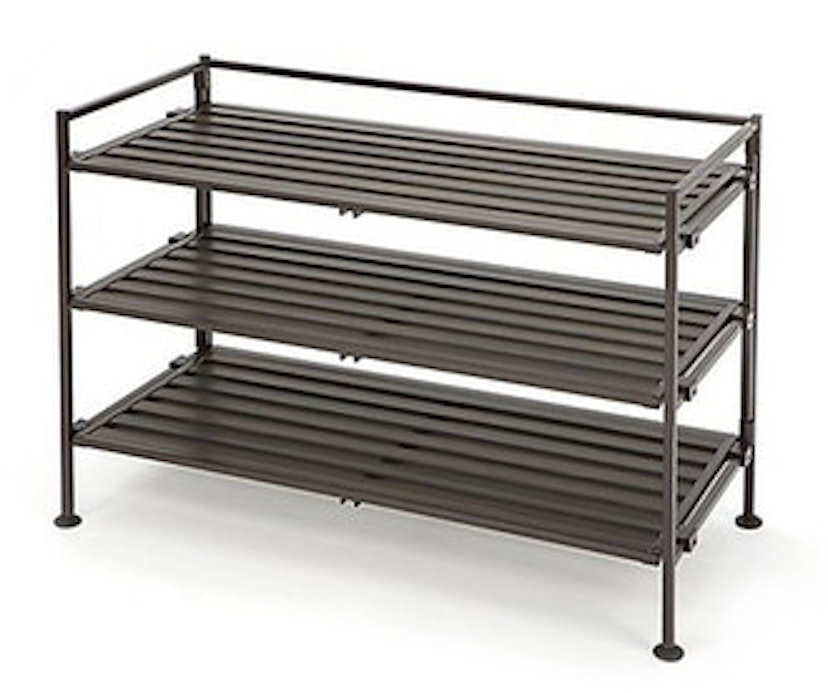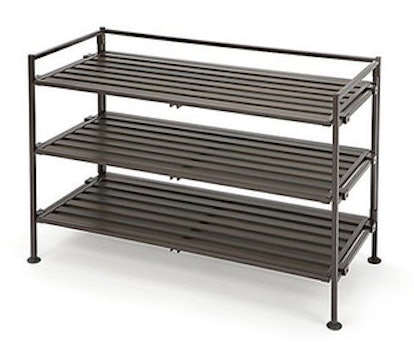 Seville Classics 3-Tier Resin Slat Utility Shoe Rack
$30
Amazon
Capacity: 9 pairs
What's great about it: Each of the resin shelves in this three-tier standing shoe rack can hold up to 30 pounds, so those heavy snow boots won't be a problem. The rack has an espresso finish with built-in corrosion resistance, so it will remain long-lasting. It features an iron frame for additional stability, and it can be folded flat if you ever need to put it into storage. It's also stackable, so you can buy two or more to achieve the capacity you need. Among the more than 6,000 reviews on Amazon, one reviewer loved that it "took me longer to open the box than it did for me to put the shelving together!"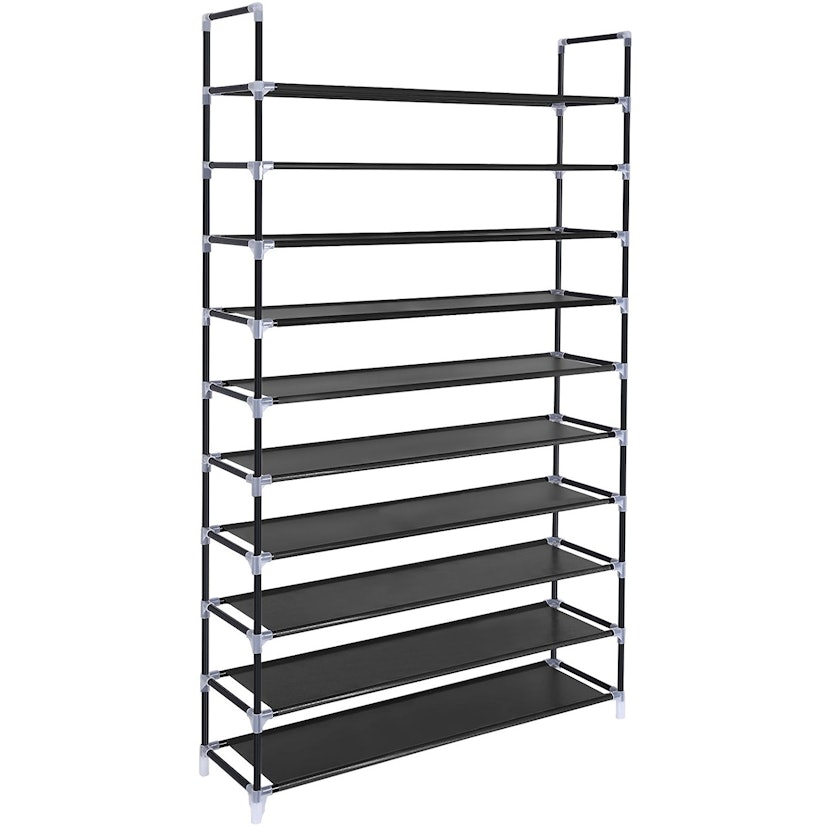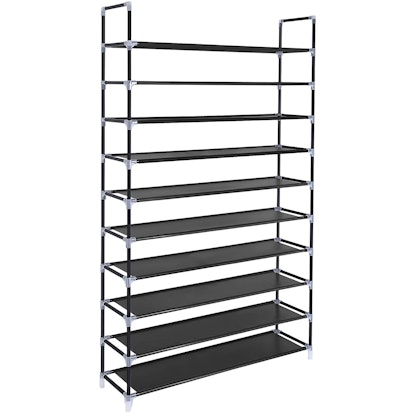 SONGMICS Shoe Tower Organizer
$41
Amazon
Capacity: 50 pairs
What's great about it: This extra-large standing shoe rack is made from heavy-duty iron pipes with a high-quality black finish. It's easy to assemble and requires zero tools to get the job done. If its 10 tiers seem a little overwhelming, rest assured that they can also be split up into multiple racks of varying tier levels. Pro tip: You can also remove a layer to fit boots, high heels, and other taller shoes.
Elite Daily may receive a portion of sales from products purchased from this article, which was created independently from Elite Daily's editorial and sales departments.
Source: Read Full Article