What It's Really Like Being A Runner In New York City
Running's changed. It's no longer just a hobby, an activity—something to suffer through to shed a few pounds. Spurred by a few visionaries in cities around the globe, our sport has become a culture. A lifestyle. A gathering place that celebrates diversity and strength. In this series, in partnership with Jaybird, we speak with some of those visionaries to find out why the best way to tap into the rhythm of a city is on two feet. In this edition, we hear from Knox Robinson. The former editor-in-chief of FADER magazine and current DJ, writer, and mindfulness expert founded Black Roses Run—one of New York City's most influential running crews—in Here, in their own words, is what it's like to run in their world.
* * *
Some people may find it hard to believe, but I wasn't trying to "do" anything when my partner and I created the idea of a non-traditional running group, Black Roses NYC.
For me, I wanted to serve the new runners who joined the boom in 2011 and 2012. There was this surge of runners from unexpected backgrounds, and Black Roses gives those runners a chance to share their ideas of running and culture with New York City.
I want Black Roses to serve as a mirror to the greatest city on the planet, always pursuing that moment of beauty and transcendence.
"Things change, and people change. It's important to seize each moment—seize each run."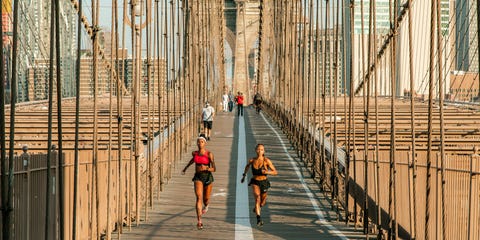 Courtesy of Jaybird
The Sights
As a runner, an active person in New York City, you have to participate and communicate with the city as if it's a living being. It might sound silly, but we pick running routes that have a certain latent energy. We run along the waterways every chance we get. For safety and vibe levels, we'll avoid vehicular traffic—even if it'd be cool to jump over cars. We really commune with the city—both the human dimension and natural world.
View this post on Instagram
ROCK HARD: Shoutout to all the folks who came to rock at our " OPEN SESSIONS "—six weeks of standing invitations for the community, fresh faces and strangers to link up @blackrosesNYC as we shared the leftfield ideas and practices that form the basis of our efforts—the culture of our crew. Part of that was a handful of workback approaches to racing the mile as an unlock for all manner of distance running exploits. And tomorrow's the day! We're lacing up and racing down Kent Ave at the Brooklyn Mile. Of course, that's easier said than done: it's hard to run a hard mile hard! How could/would you do it, exactly? Which is why our final " OPEN SESSION " focused on a 1200m all out time trial based on an incredibly insightful interview with champion metric miler and 2008 Oly 1500m gold medalist Asbel Kiprop, who, when asked by a journo why he didn't run even splits in his races responded simply, "Going [out hard] that way is the best way to go…then a little bit relaxed on the second lap will enable you run a fast third lap. If you try to balance them, it's not possible." (On the fourth and final lap, presumably, you're bringing it on home.) This simple advice was like getting hit with sudden enlightenment…We've been training to run on feel, so that plan made sense to us—we could dig it—400m HARD, 400m RELAXED, 400m FAST…we put it in play last Thursday night as the sun set over the city and tomorrow morning we'll add a final piece: a fight to the finish. Thanks to @brooklynrunningco for hosting + thanks @nikerunning for inviting our " OPEN SESSIONS " guests. See you at the afterparty @aftermiles! Foto by @chase_pellerin for @gearpatrol, The Upside Down 20 Feb 2018 #runningculture #blackrosesNYC
A post shared by @ firstrun on
That's one reason we love running on The High Line, an old railroad line that runs along the west side. It makes us think about the permanence of what we're doing. The native trees and the grass that have been replanted on The High Line were once all over Manhattan. The High Line was this industrial railroad, and now it's a park. Things change, and people change. It's important to seize each moment—seize each run.
"The city is musical, thanks to its culture."
Courtesy of Jaybird
The Sounds
I come from music; I was the editor-in-chief at the FADER. The city is musical, thanks to its culture. It's an incredible hotbed of all sorts of music, from jazz and hip hop to salsa and Afro-Cuban music to amazing Indian classical music.
I don't always listen to music on a run. There are times, like during a hard tempo run, I tune out immediate concerns of heart rate and pace and steps per minute and plug into, literally, the frequency of the city, and I get energy from that.
I've only recently started listening to music while I run, thanks to the improving technology. I have two types of music I'll listen to: a Jay Electronica mixtape, or one from Mos Def where he's rapping over Marvin Gaye tracks. That stuff and then I have a playlist of spiritual vibes and astral jazz, sax with sitars and harp—Coltrane, Pharaoh Sanders, Carlos Santana. Basically, it could either be spiritual jazz or low BPM stuff like trap music. I've created a playlist in partnership with Jaybird that reflects my experience running through the city.
The Tastes
We use two guiding principles to plan our routes: We want the runs to have texture—a gritty surface to wake up the feet, like the Brooklyn Navy Yard or the off-hours of a construction site; and we want to end our runs at a really amazing restaurant that's also a stone's throw away from a record shop.
View this post on Instagram
ON A MOVE: In these NYC streets reconnoitering the route for this Wednesday's MOVEMENT: BLACK AUGUST—our culture based, community paced 3mi+ run around Diaspora heritage sites at the southern tip of the island known to the Lenni Lenape as Manahata ie island of many hills. # Our route begins and ends at the James Brown House—not THAT James Brown!—originally owned by Revolutionary War vet and Gen George Washington confidante (spy?)—the black dude in the famous painting "Washington Crossing the Delaware" is probably him—and now as Ear Inn is one of NYC's oldest bars, having also served as a boarding house, brothel, restaurant speakeasy and a smugglers den over the years. # From this meetup spot we'll touch a number of places marked by our collective history here, from an abolitionist reading room and Underground Railroad "station" where Frederick Douglass once hid in his bid for freedom to the African Burial Ground, where up to 20,000 black folks—New Yorkers—were once interred even as colossal structures devoted to law, government and finance now tower atop the grave site. # August is a time for us to meditate on freedom and movement and what that means to us as a people past, present and future. MOVEMENT: BLACK AUGUST is obviously inspired by #BlackLivesMatter and the collective framing of Black August historical events as well as the efforts of Londrelle Hall and Ray Mills, who ran 540mi from Atlanta to Ferguson in 2014. # ALL RUNNERS WELCOME—ALL FACES + PACES HAVE SPACES—LET'S MOVE TOGETHER + BREAK BLACK AUGUST FAST TO FOLLOW. See you this Wednesday 31 August 7pm / Ear Inn 326 Spring St / bag check in full effect / Tag a friend + tell somebody! DM with Qs + more fiyah vibes @movementblackaugust #runningculture #movementblackaugust
A post shared by @ firstrun on
So the runs are really an excuse to get that amazing fuel and to jump in a record shop and maybe pick up some new music.
"Running the New York City Marathon instantly makes you a New Yorker."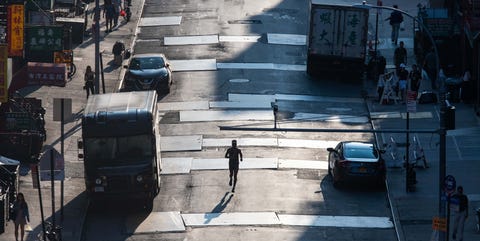 Courtesy of Jaybird
The Race
I've run the New York City Marathon nine times. Running the marathon—the biggest in the world with more than 50,000 runners—instantly makes you a New Yorker. You feel this communion with the city, and not just physically. Running New York is this incredible experience, which may be on par with witnessing the birth of one's children.
The weeks leading up to race day, the entire city starts to check in with the marathon. The city reaches out and salutes you. Once, finishing up a training run, this taxi cab pulled up to me, he rolls down the window, keeps my pace, and says, "Lookin' good."
View this post on Instagram
PECULIAR MATHEMATICS: Ran my fastest NYC Marathon yesterday, a clocking good for 78th slot among the men at the largest participatory sporting event on the planet, an improvement in both time and ranking over the 100th place PR I hustled back in 2011 and the fourth fastest marathon of the 24 I've lined up for in the past 13 years (now totaling nine in NYC), one that felt like a savage calculus of relentless forward motion following my fastest race ever in Berlin six weeks ago. Lifetimes. None of that was in mind as I flowed through the boroughs on the day. Not much was in my mind at all, actually; I spent the first 16 miles watching events unfold in front and around me from "behind the eyes" as is sometimes suggested in mindfulness practice. In the marathon you have only have one or two opportunities to make a move—that's why planning, preparation and execution are crucial: at all levels the penalty for mistakes is severe. (And here it must be said that a plans and levels can range from "break two hours" to "finish smiling"—or both!) Yesterday I did something new, coming off the Queensboro Bridge and charging up First Avenue rather than defaulting to struggle as I have in years past. In those miles I felt like I was finally running the NYC Marathon I'd envisioned since the first one 13 years ago—but if it worked out well enough, still it was not good enough. The feeling faded. I finished. Today I woke early, plotting how to move around a couple set pieces and unlock a few final stages of the race, reflecting on the peculiar mathematics of it all, to be enraptured by something we only have a chance to try our hand at once every 12 months. And thinking, Next year. Next year. NYCM17 foto by @notafraid2fail, 1229p 5 Nov 2017 #runningculture #blackrosesNYC
A post shared by @ firstrun on
New York City and New Yorkers respect you during marathon season. It doesn't mean cyclists or cabbies won't try to run you over, or your coworkers aren't sick of hearing about your training, but you've got random citizens hailing you up and letting you know you're doing an okay job and you're going to be fine on race day.
* * *
Read more as Runner's World and Jaybird explore visionaries in Tokyo, London, and Chamonix, and how their communities are evolving the sport.
From: Runner's World US
Source: Read Full Article