Adele Hilariously Reacts to Fan Using Face Filter With Heavy Makeup on Her
The 'Easy on Me' hitmaker looks shocked after a female fan at her Las Vegas residency at Caesars Palace uses a face filter with heavy makeup to record a video with her.
AceShowbiz –Adele is apparently not a fan of face filters. The "Easy on Me" hitmaker has hilarious reaction after a female fan applied a face camera filter with heavy makeup to film a video with her.
In footage that has since gone viral on social media, the chart-topping artist could be seen interacting with a female fan who wanted to take a photo with her during her Las Vegas residency on Sunday, November 27 at Caesars Palace. At one moment, the pop star realized that the fan turned on the face filter.
Adele was shocked as she apparently couldn't recognize herself. The "Turning Tables" hitmaker then hilariously asked the fan, "Oh my god, what have you done to my face??" She later asked the woman, "Get that filter off of my face!" before saying, "We don't look like that darling."
Adele's fans found her reaction funny after the video made its way out on social media. "that girl was like having an emotional breakdown and adele is like that one silly happy friend that is just too curious about everything. i love her [laughing with tears emojis]," one person tweeted. Another said, "Oh i love Adele…and my new fave meme," adding a photo of Adele looking shocked with the heavy makeup filter on her face.
A third remarked, "And then saying it all into the microphone for everyone to hear sksksksksks, she's so messy." Someone else added, "Just can't stop laughing watching this video, her reaction to seeing the filter [laughing with tears emojis]."
The face filter wasn't the only thing that made headlines from her show. Adele freaked out over Shania Twain who came to see her. Making use of her Instagram Story, the "Someone Like You" singer uploaded a photo of herself performing in front of Shania.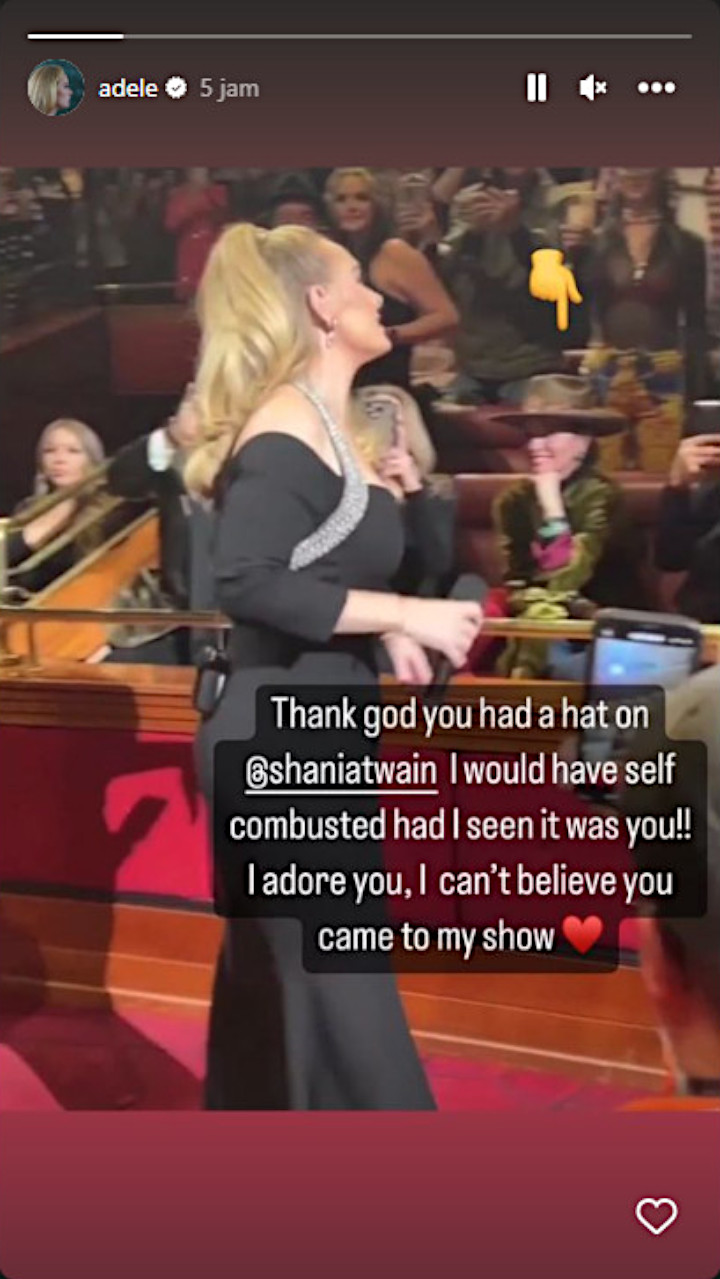 Adele freaked out after noticing Shania Twain attended her Las Vegas residency.
"Thank god you had a hat on @shaniatwain. I would have self combusted had I seen it was you!!" Adele wrote over the snapshot. She then gushed, "I adore you, I can't believe you came to my show [red heart emoji]."
You can share this post!
Source: Read Full Article