Ariana Grande Whipped By Critics Over Her Non-Vegan Starbucks Drink
Ariana Grande has gotten into some hot water — or, in this case, steamed milk — over her new partnership with Starbucks.
As we reported, the 7 rings songstress teamed up with the coffee chain to become the face of her very own drink called the Cloud Macchiato. Many were ecstatic over the pairing that finally allowed Grande to live up to her namesake.
But some fans felt the need to call Ariana out. Why? Because the Cloud Macchiato contains egg whites in its foam and condensed milk in its caramel drizzle — which is a problem, since Ari has claimed to be a vegan since 2013!
Video: Ariana Shows Up To Sing On 2 Chainz's 'Rule The World'
Fans immediately voiced their concerns on Twitter, with many calling the 26-year-old a vegan fraud:
Others pointed out that the Cloud Macchiato comes in four versions, two of which are made with soy milk:
But critics argued that even if customers order the soy version, the "cloud powder" in the drink is made with dehydrated egg whites — and, therefore, definitely not vegan friendly.
Ariana has yet to address this Grande-sized controversy.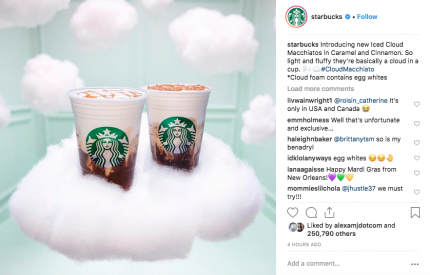 Do U think this makes her a vegan fraud, or are people overreacting?
Source: Read Full Article