Blac Chyna Speaks Out After Being Accused of Child Neglect
Believe it or not, that feud with Rob Kardashian has not been the most dramatic part of Blac Chyna's week. The Los Angeles Police Department confirmed to People that police were called to Chyna's home twice over the last few days.
The outlet reports that the first time was over the weekend, when they responded to a call about a disturbance and did not find evidence of a crime. TMZ alleges that the caller claimed Chyna was drunk and unable to care for her daughter, 2-year-old Dream, whom she shares with Rob Kardashian.
View this post on Instagram
Happy Birthday to my beloved son and the best big brother ever to your sister Dream. You are the most loving and by far the most intelligent and Minecraft expert ever!! Being your mom has been one of the greatest and proudest accomplishments of my life. Again Happy Birthday King and know that I love you to the moon and back!!!
A post shared by Blac Chyna (@blacchyna) on
The second call to police was Monday, when officers responded to a call regarding "civil standby," which means they were called to "keep the peace."
Now, Chyna's speaking out for herself about what went down. In a statement to People through her attorney Lisa Bloom, Chyna reassured fans that 6-year-old King Cairo and 2-year-old Dream are totally fine, and neither have been neglected.
"Chyna's children, King Cairo and Dream Renée, are both healthy and doing very well. They were never in any danger and any reports to the contrary are entirely false," the statement read.
"I remind the public that anyone who submits a knowingly false report to Child Protective Services may be subject to criminal and civil liability."
There is no official word on what prompted the callers to phone LAPD in the first place, but TMZ claims that officers were called the second time to stop an alleged dispute between Chyna and her makeup artist.
Until we hear it straight from Chyna though (or Keeping Up With the Kardashians, either/or), it's best not to speculate.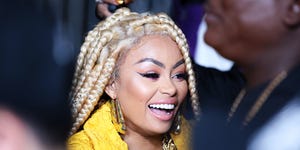 Source: Read Full Article