Cardi B Insists Her Beautiful Hair Is Not in the Genes Following Criticism Over Natural Tresses
As many seem to assume her long sleek locks are given due to her Latino ancestry, the 'WAP' hitmaker shows that her hair wasn't always like this when she was younger.
AceShowbiz –Cardi B has once again stressed that it took a lot of efforts to get her natural beautiful hair. As many seemed to assume that her long sleek locks are given due to her Latino ancestry, the raptress has pointed out that her hair wasn't always like this when she was younger.
Responding to the criticism, the Bronx femcee took to Twitter, which has been rebranded to X, to share throwback pictures that highlighted her hair evolution. In the first photo, little Cardi had curly locks. The second one showed teen Cardi with sleek, but short and thin hair.
A third snap was taken in 2017 and showed her with thick shoulder-length hair which was styled in big waves. The most recent one featured her with waist-length sleek hair, which she attributed to her homemade hair oil.
"This is me as a child.. this is me as a teenager.. this is me in my early 20's…and NOW," the 30-year-old star explained the photos. "Everyone wants to blame my hair growing on genetics but where was the genetics when I was in school??"
She then claimed, "The facts are you need hair products and good care that works for you to maintain it and keep it healthy.. sometimes it's not even just about growth it's about keeping it HEALTHY and the growth comes."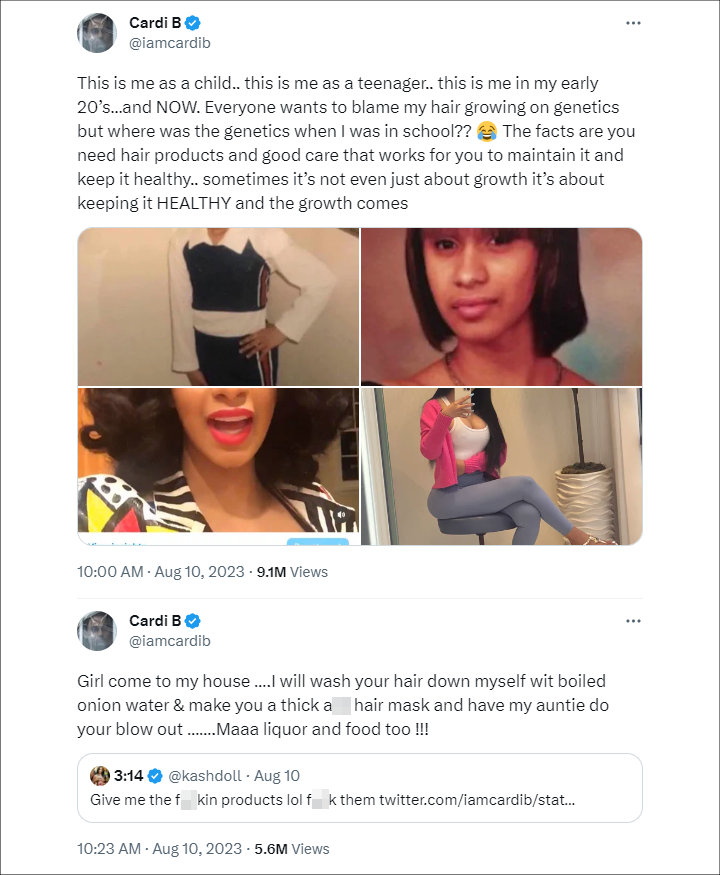 Cardi B insisted her long sleek hair is not in the genes as she spilled her DIY hair treatment.
Cardi previously received mixed responses after unveiling her natural hair on Tuesday, August 8. "My hair has grown sooooo much!!!" the mother of two excitedly wrote in the caption. She added, "Let me know if y'all want a video my my HOMEMADE hair oil… handmade by ME!"
One person, however, accused her of deceptive advertising. "Y'all really don't see how a LATINA selling 'hair growth oil' to BLACK women could be misleading? A bunch of fried eggs," the said person wrote.
The "Bodak Yellow" hitmaker furiously wrote back, "IM NOT EVEN SELLIN ANYTHING YOU DUMBA** B***H…I been showing my hair growth journey to my fans since 2016!"
Many others, meanwhile, asked Cardi to spill the secret. "Please send some my waaaay! My edges thank you in advance," singer Victoria Monet begged. Kash Doll similarly demanded while firing back at the critics, "Give me the f**kin products lol f**k them."
Responding to Kash's tweet, Cardi invited her fellow raptress to her house for some hair treatment. "Girl come to my house ….I will wash your hair down myself wit boiled onion water & make you a thick a** hair mask and have my auntie do your blow out," the Grammy winner wrote, before offering, "Maaa liquor and food too !!!"
You can share this post!
Source: Read Full Article