Donald Trump Jr.'s Most Bizarre Behavior Since His Dad Left Office
The following article mentions allegations of racism and transphobia.
From seemingly mocking a disabled reporter to falsely suggesting that disinfectant is a viable tool in the fight against coronavirus, Donald Trump has no shortage of bizarre behavior to his name. Trump may have turned professional trolldom into a presidential stint, but the apple doesn't fall too far from the tree.
Ever since Donald Trump left office — admittedly while kicking and screaming in an attempt to halt the democratic process — his son, Donald Trump Jr., has been engaging in increasingly odd behavior.
Although Ivanka Trump is generally regarded as the former President's favorite child, it's Trump's namesake who is living in his shadow, trying to outdo his dad at every opportunity. As The Atlantic posited, "Ivanka was always Trump's favorite. But Don Jr. is emerging as his natural successor." Having parroted his father's distinctive mannerisms and speech patterns, Trump Jr. could very well be seeking a presidential run of his own.
If engaging in diversionary behavior is what it takes to be the next Republican leader, then Trump Jr. has it down to a fine science. Let's rundown his strangest, most eye-catching non sequiturs on his rise to viral fame.
Donald Trump Jr. claims that his father emancipated conservatives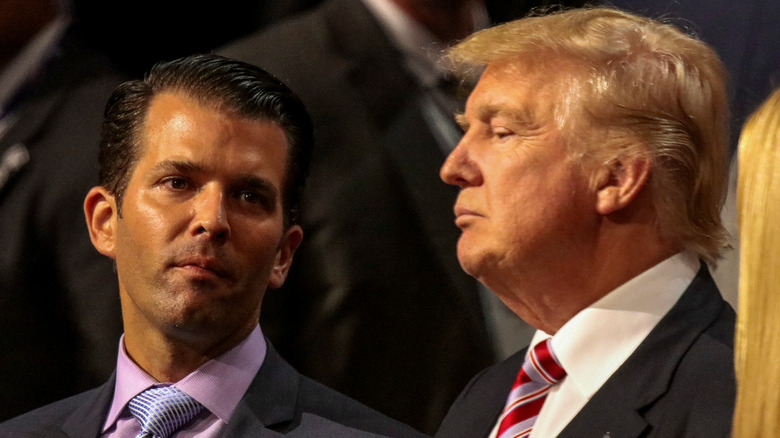 The assertion that conservatives are being bullied and silenced by liberals is frequently propagated by the right. Accusations of "cancel culture" were levied against the left long before the term entered the cultural lexicon.
During an appearance on "Hannity" in February 2021, Donald Trump Jr. made some sweeping protestations, suggesting that conservatives had been oppressed for decades until his father, the supposed emancipator, became president. In the wake of the failed impeachment against the elder Trump, Trump Jr. claimed that his dad "taught Republicans and Conservatives that they don't need to be steamrolled, that they can push back, that they don't have to just roll over and die because the other side would like them to. That's the difference between Donald Trump and Republican leadership for the last few decades, which has done nothing but cede ground to the radical left."
In actuality, Republicans have been vociferously voicing their opposition to the left for decades, a far cry from the meek, pre-President Trump conservatives that Trump Jr. seeks to portray. "This belief in a broad liberal conspiracy is standard in the highest echelons of the conservative establishment," explains Washington Monthly, adding, "This did not begin with Donald Trump. … Since its very beginning, in the 1950s, members of the modern conservative movement have justified bad behavior by convincing themselves that the other side is worse."
Prince Harry and Meghan Markle are among Donald Trump Jr.'s targets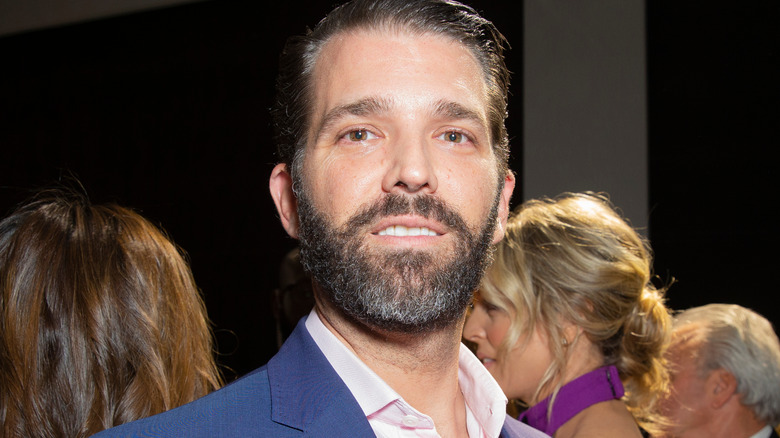 There is no shortage of individuals who rouse the ire of Donald Trump Jr., and Prince Harry and Meghan Markle are frequent targets of the right. Markle, in particular, has been attacked by various Trump allies (and Donald Trump himself). "Meghan not knowing what she was getting into marrying Prince Harry is 'evangelicals' for Biden not knowing what they were getting into voting Democrat. No one believes you," tweeted former Trump lawyer Jenna Ellis in a dog-whistle invective against Markle.
It should come as little surprise that Trump Jr. is following in his father's footsteps and taking aim at Prince Harry and Meghan Markle. Trump Jr. branded Prince Harry "a dude in a hostage video" during a Facebook rant against the Duke and Duchess of Sussex's Oprah interview. He claimed that Markle "was looking for all of this attention," a criticism routinely posited by the right.
Salon argued that the rant was "part of his continuing efforts to remain relevant." The truth is, Markle has been open about her ongoing issues with depression and suicidal ideation, so branding her as an attention-seeker may be regarded as callous, to say the least.
If you or someone you know is having suicidal thoughts, please call the National Suicide Prevention Lifeline at 1-800-273-TALK (8255) or text HOME to the Crisis Text Line at 741741.
At $500 a pop, he's become the latest MAGA Cameo star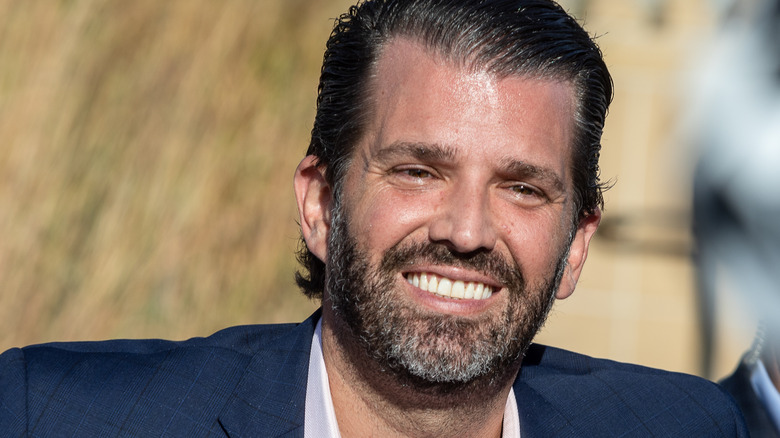 Cameo isn't merely the place where fans can get a personalized, feline-focused shoutout from Joe Exotic's greatest nemesis, Carole Baskin. The video-sharing platform has now become a haven for MAGA celebrities to earn extra cash.
Along with his girlfriend Kimberly Guilfoyle, who charges over $200 for shoutouts, Donald Trump Jr. has become the latest MAGA celeb to join Cameo. For the princely sum of $500, users can receive a personalized video message from Mr. Trump Jr. himself.
Mimicking his father's mannerisms, Trump Jr. greeted an Australian fan and inexplicably took it as an opportunity to attack CNN. "Don't worry about it if your wife's mad at you for saying that election night 2016 is the happiest night of your life. … Thanks for helping us out and supporting us in going after the liberals and the crazies on CNN," he enthused.
As noted by The Guardian, "Trump's move into the world of personalized videos for cash reward comes after he complained about the 'millions' the Trump family has sustained in legal bills due to ongoing criminal investigations into the Trump Organization." The publication went on to disclose that the cash-strapped Trump Jr. had recently "bought a mansion in south Florida for $9.7m" with Guilfoyle.
That 'Don't hack McDonald's' rant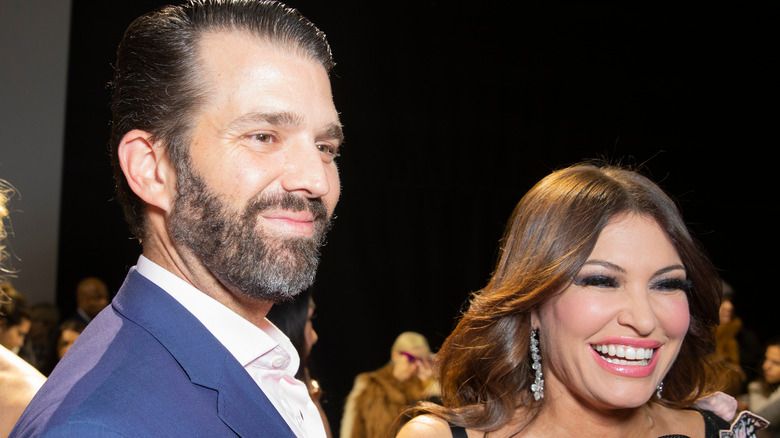 Sometimes, Donald Trump Jr.'s rants make very little sense, an approach that he seemingly learned from his notoriously contentious father. In an incident of "covfefe" proportions, Trump Jr. went viral for all the wrong reasons in June 2021.
Originally published on Rumble, a social media platform popular among Trump supporters, the Independent obtained a "bizarre video" of Trump Jr. haranguing Joe Biden over his negotiations with Russian officials. "I don't think Joe is smart enough to be like, 'Hey, let's send them off the trail — uh, don't hack the McDonald's on DC,'" he remarked in an unhinged and meandering tirade, adding, "What's the list? Don't hack, one — Joe's basement. Two — Hunter's businesses. Three — Hunter's laptop."
That wasn't the only time Don Jr. launched a wholly incoherent rant against Hunter Biden. Just one month later, he mocked Hunter Biden during his speech at the Conservative Political Action Conference; in particular, he took aim at Biden's artwork, declaring, "I'll do some Don Jr. artwork. I'll put up a nice little piece of paper. Maybe I'll break out my AR, I'll shoot a smiley face into it, and I'll sell it [for] half a million dollars to people in China who are probably influencing our government. You know, 'cause that's probably what's happening, right? How do we get what we want in the Democrat party? Just buy Hunter's art."
He asked for donations to help fund his dad's lawsuits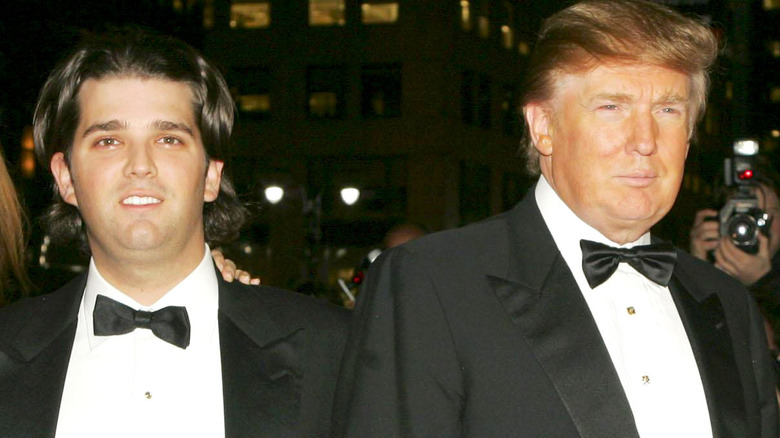 Following his ban from Twitter and Facebook, Donald Trump Sr. brought legal action against the companies' respective CEOs, Jack Dorsey and Mark Zuckerberg. In a press conference (via CNN Business), he declared that he sought "an immediate halt to social media companies' illegal, shameful censorship of the American people."
In screenshots obtained by the Daily Mail, Trump Jr. used social media platform Telegram to plead with his fans for donations in his father's legal fight against Zuckerberg and Dorsey. "Guys my dad is suing big tech!!! I'd [sic] you can click to link to donate to his PAC to help out!!!" he wrote in a grammatically-challenged post. 
Considering that his father is a billionaire and Trump Jr. is pretty wealthy himself, the call to action was strange, to say the least. A 2019 analysis by Forbes estimated that Trump Jr. was worth around $25 million, a figure which likely increased due to his momentum within the alt-right movement.
A lukewarm response greets Donald Trump Jr.'s attempt at stand-up comedy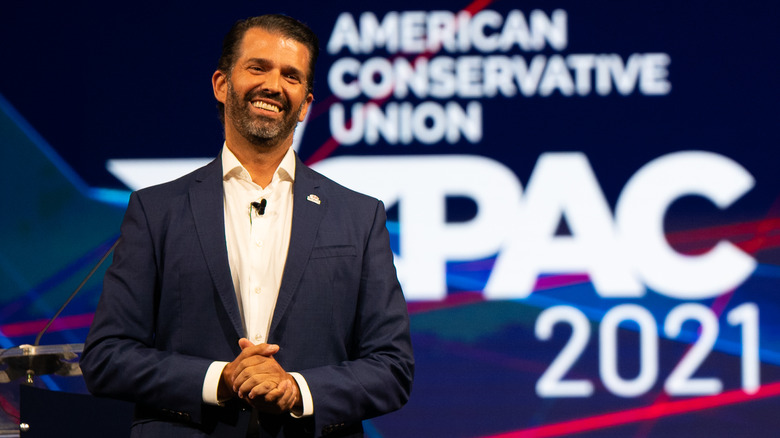 Donald Trump Jr. is many things: President's son, activist, and now…budding stand-up comedian? After being introduced by his partner Kimberly Guilfoyle, who declared him "a true warrior and the embodiment of the America First movement," Trump Jr. took the stage at the Conservative Political Action Conference in July 2021. 
He saw the event as an opportunity to flex his comedic skills. "It's great to see it. Texas has always led the charge. Well, 'til about like a couple of months ago and then Austin sort of took over," he joked, to a lukewarm response. "Like, I don't know guys. Like, Texas was leading the charge. You're still top 25," he quipped awkwardly, as the tumbleweeds passed by. He continued in this vein throughout his speech, much to the palpable ennui of an audience of his peers.
Lambasting Trump Jr.'s failed attempts at humor, Seth Meyers quipped, "Don Jr. looked like he just walked into a scene in a student improv show and blanked."
Right-wing attempts at blending Left-bashing with laughs is nothing new. Trump Jr. follows an increasingly long line of conservative commentators that have merged comedy with politics, including Greg Gutfeld and the original comedian turned conservative pundit, Dave Rubin.
Donald Trump Jr., the schoolyard bully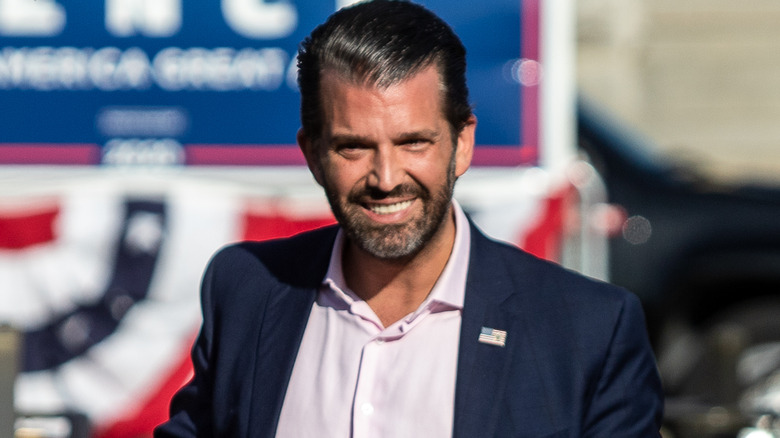 If there's one thing that Donald Trump Jr. excels at, it's resorting to invective onslaughts on anyone with whom he disagrees, much like his father did throughout his presidency. When an Instagram user confronted Fox News host Tucker Carlson and emotively branded him "the worst human being known to mankind" in July 2021 (via The Wrap), Trump Jr. took the remark to heart.
Venting his outrage on Twitter, Trump Jr. castigated the individual, who has since deleted the video, for heckling his pal. Throwing some transphobia into the mix, he tweeted, "Is the loser who went out of his way to have someone video him harassing Tucker in public for some viral content the model for the new Pregnant Male Emoji? The likeness is uncanny!" His use of personal jibes and an exclamation mark eerily echoed his own father's idiosyncratic tweets, leading one user to brand Trump Jr. a "school yard bully."
Aside from the fact that Trump Jr.'s tweet makes little sense, it further highlights his employment of politically incorrect insults to appease the "anti-woke" cohort. The man is so anti-political correctness that he wrote a whole book about it.
If you or a loved one has experienced a hate crime, contact the VictimConnect Hotline by phone at 1-855-4-VICTIM or by chat for more information or assistance in locating services to help. If you or a loved one are in immediate danger, call 911.
He claims social media platforms are suppressing him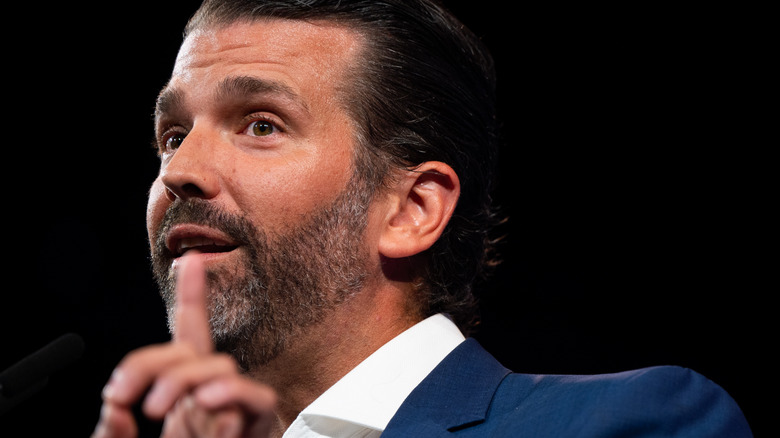 Donald Trump Sr. may be suspended from Instagram, but his son's account is thriving. Ever since his dad left office, Donald Trump Jr.'s Instagram feed has become steadily more incendiary, with a heavy reliance on memes. Indeed, in his bio he refers to himself as "General in the Meme Wars," which is an extension of the perceived culture wars between conservative and liberal partygoers.
Subsequently, Trump Jr.'s Instagram account is littered with right-wing memes and propaganda. Among the memes he shares with his 4.9 million (and counting) followers are a morph-face of Joe Biden and Barack Obama above the portmanteau "Jobama," numerous arguably racist and ageist images of Kamala Harris and Biden, as well as various favorably doctored images of his dad which critics say exemplifies his reliance on his father's fame to propel his own career.
Despite his vast following, Trump Jr. has claimed that the Instagram algorithm is suppressing his account. As highlighted by The Atlantic, "He interprets his father's style of populism by framing likes, comments, and followers as another set of privileges that have been wrested away from regular people and hoarded by liberals and elites." In reality, Instagram analytics show that Trump Jr.'s engagement is remarkably high.
Instead of supporting U.S. athletes at the Olympics, Donald Trump Jr. attacked them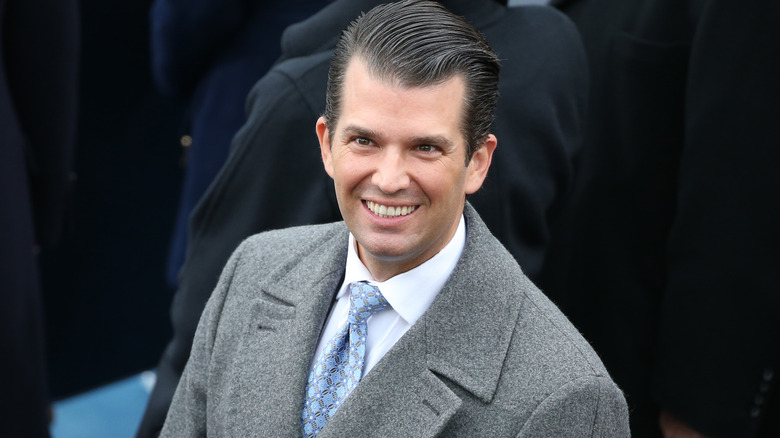 While he may claim to be a passionate patriot, Donald Trump Jr.'s love for America slams to a grinding halt when it comes to supporting certain female athletes. At the Tokyo 2020 Olympic Games, the U.S. women's soccer team lost 3-0 to Sweden. Star player Megan Rapinoe doesn't hide from that fact. "I always welcome the criticism," she explained, per Yahoo! Sports. "For women's sports, criticism in the media still needs to get better."
But Trump Jr. practically gloated in Rapinoe's defeat at the Olympics. In response to Rapinoe's criticism of the media's antiquated depiction of female athletes, Trump Jr. tweeted, "Hey Megan… maybe its [sic] you!" His sentiments mirrored those of his father, who claimed that the U.S. women's national team's loss was somehow linked to "wokeism," as reported by the Independent. During a rally, the elder Trump claimed, "Wokeism makes you lose, ruins your mind and ruins you as a person. You become warped. You become demented." He added, "The U.S. women's soccer team is a very good example of what's going on."
It should be noted that the team went on to win 6-1 against New Zealand, disproving the outlandish claims made by the Trump family.
Donald Trump Jr. suggested that people who refuse vaccines would be waterboarded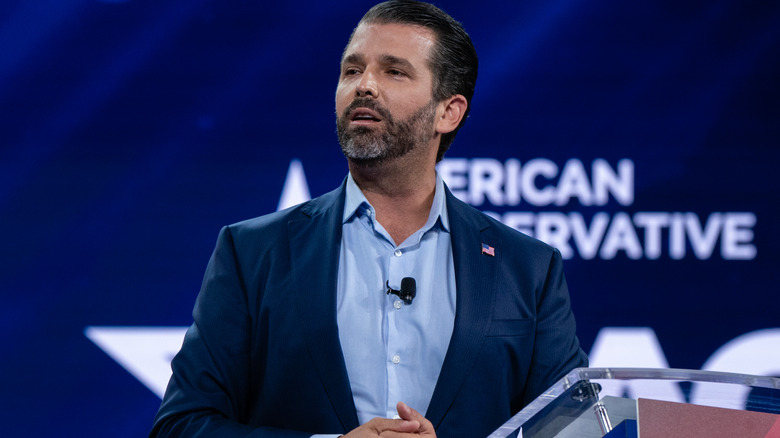 Coronavirus vaccines are proving to be a vital weapon in the continued fight against Covid-19. A study by the Centers for Disease Control and Prevention reported, "In a multistate network of U.S. hospitals during January–March 2021, receipt of Pfizer-BioNTech or Moderna COVID-19 vaccines was 94% effective against COVID-19 hospitalization among fully vaccinated adults and 64% effective among partially vaccinated adults aged ≥65 years." Despite these promising outcomes, vaccine misinformation continues to be propagated online.
Donald Trump Jr. has become one of the most vocal opponents of coronavirus vaccine mandates. Despite having been diagnosed with Covid-19 in 2020, Trump Jr. seems to be fighting against wide-ranging government vaccine mandates on the public, which as of this writing, do not exist. Accordingly, he tweeted, "Next they're going to waterboard you till you get vaccinated, though there's no way that would be worse than watching this!!!" This was in reference to the White House enlisting TikTok star Benny Drama to encourage people to get vaccinated.
In spite of Trump Jr.'s preposterous assertion, the U.S. government is not forcing citizens to get vaccinated. As law professor and public health expert James Hodge told Wisconsin Public Radio, "The reality is, legally, no, you can't be forced to take a vaccine. You're not going to be physically restrained and given a vaccine by any legitimate public health authority in the U.S. at the federal, state, tribal and local levels."
He implied that he agrees with the Taliban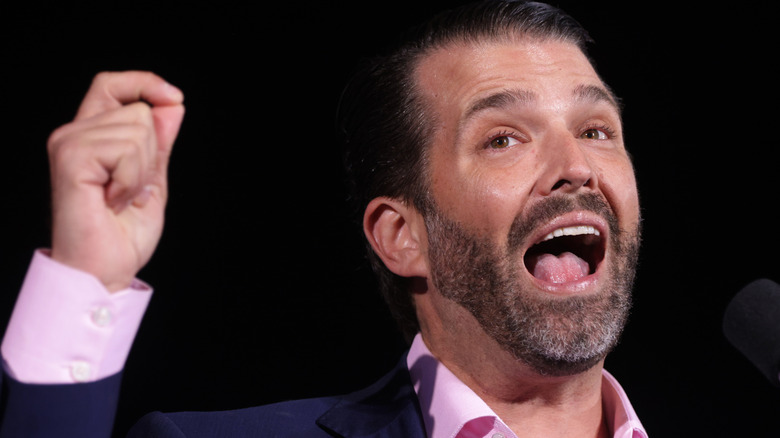 In August 2021, the Taliban seized control of Afghanistan two decades after the U.S.'s military intervention in the country. This takeover appalled even the most contrarian orators. But Donald Trump Jr. managed to find some common ground with the hostile insurgents.
In a press conference, Taliban spokesman Zabihullah Mujahid was queried about freedom of speech under the organization's rule. Mujahid diverted the question towards the Taliban's ban on Facebook, replying, "This question should be asked to those people who are claiming to be promoters of freedom of speech. Do not allow publication of all information, news, I can ask Facebook company. This question should be asked to them," as per the press conference transcript published by Al Jazeera.
Consequently, Trump Jr. tweeted that Zabihullah Mujahid is "not wrong" when it comes to Facebook allegedly censoring free speech. Indeed, Mujahid's statement worryingly echoes Trump Jr.'s past remarks regarding Facebook supposedly censoring his posts. In March 2021, he wrote on Instagram, which is owned by Facebook, that "like many conservatives I've seen a huge unexplained drop in engagement over the past few months on here and numerous people have told me they no longer see my posts in their feeds." However, The Washington Post previously reported that Facebook admitted to removing suppression of Trump Jr.'s Instagram account over fact-checking issues, thereby disputing his ongoing tirade against social media censorship.
Pronouns and critical race theory are behind the crisis in Afghanistan?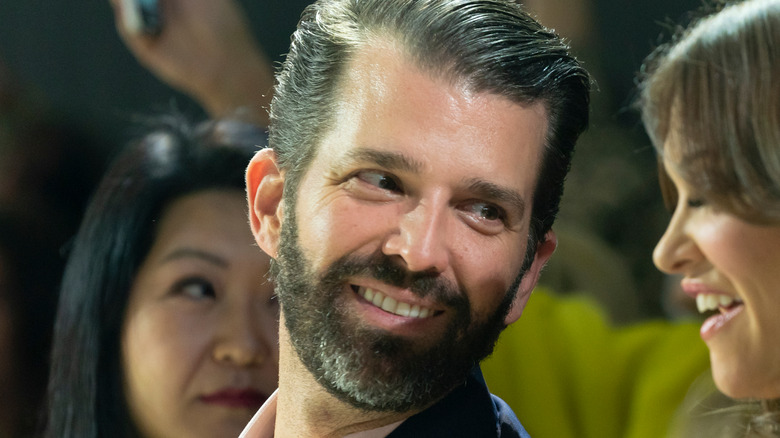 When the Talbian seized control of Afghanistan, Donald Trump Jr. engaged in bizarre diversionary tactics. Conflating the crisis in Afghanistan with so-called "woke" culture, he went on a rambling rant against critical race theory, inclusive language, and pronouns. In a nonsensical tweet, he declared, "I can only assume that General Milley was too busy reading the latest CRT literature and learning about the 97 genders along with their requisite pronouns to pay much attention to such trivial matters."
This is not the first time Trump Jr. has voiced his contempt for critical race theory, a right-wing wedge issue defined by NPR producer Barbara Sprunt as "an academic approach that examines American institutions and laws through the lens of race and racism." Trump Jr. seems to find critical race theory threatening, so much so that he wrote an ominous email for the conservative political action committee "1776 Project PAC." Obtained by Salon, Trump Jr. wrote in the email, "The most dangerous threats to our republic aren't hiding in caves — they're hiding in plain sight in our K-12 classrooms. They're training the next generation to hate our country, hate our freedom and hate our Constitution."
Subsequently, Salon accused the conservative movement of "creating, manipulating and directing the fears of their public, where the goal is to keep the latter in a state of constant fear." The publication argues that the Taliban-led takeover "is only the most recent and therefore most convenient way of keeping the right-wing public in a constant state of fear arousal."
Donald Trump Jr. directed this ageist ad hominem towards Joe Biden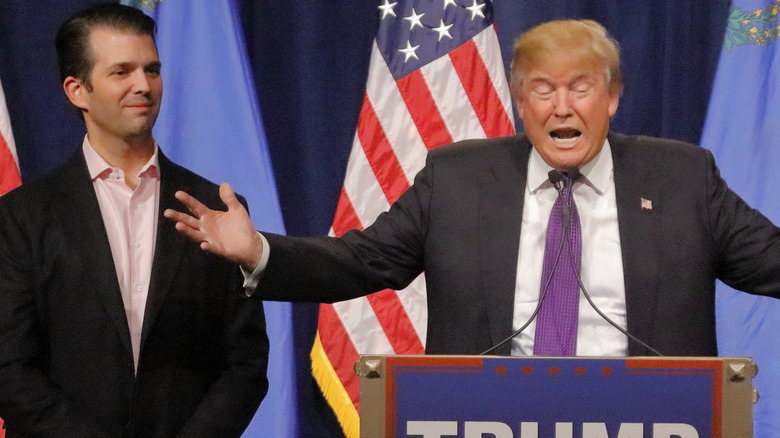 Aged 78 when he took the oath, Joe Biden is the oldest person to have ever been sworn in as U.S. president. But he's actually not the first septuagenarian to be appointed president. There is just one other man who was in his 70s upon becoming POTUS. That man is none other than Donald Trump, who was aged 70 at the time of his inauguration. In fact, had Trump served two terms, he would have been 78 by the end of his presidency.
This fact doesn't seem to matter much to Trump Jr., who has resorted to progressively odd ageist invectives against Joe Biden.
In an interview on Newsmax's "Chris Salcedo Show" in August 2021, Trump Jr. referred to Biden as "an old man on his last legs, a man that can't walk up a flight of stairs, an empty suit who can't complete a sentence." This isn't the first time he has attacked Biden on baseless accusations rooted in deeply offensive personal attacks, having previously propagated the wholly unsubstantiated conspiracy theory that Joe Biden is a pedophile.
He claimed that Joe Biden has 'mashed potatoes for brains'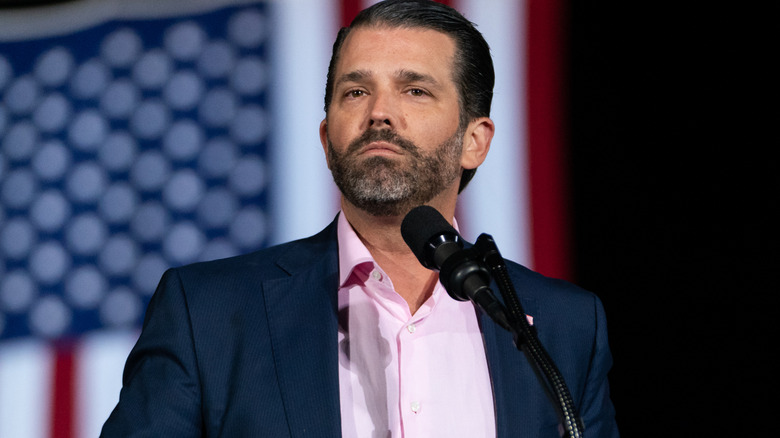 Donald Trump Jr. can conjure a metaphor of Shakespearean proportions when he needs to. During an appearance on the Full Send podcast, he said, "between the media sort of functioning as a cheerleader for the other side and going to such great lengths to simply protect Joe Biden and the democrats, I mean, this guy has, like, mashed potatoes for brains."
Trump Jr.'s juvenile insult aside, the notion that the media is heavily pro-democrat and fervent in its bias against conservatives is habitually promoted by the right. However, studies show that purported widespread media bias against conservatives is a fallacy. Marjorie Hershey, Professor of Political Science at Indiana University, argues in The Conversation, "Research shows that Republicans and Democrats spot bias only in articles that clearly favor the other party. If an article tilts in favor of their own party, they tend to see it as unbiased. Many people, then, define 'bias' as 'anything that doesn't agree with me.'" As Hershey elucidates, "There are hundreds of thousands of media outlets in the U.S… If you want a very conservative news site, it is not hard to find one, and the same with a very liberal news site."
Source: Read Full Article