How rumors of a bigger name than Robert Kraft being busted for solicitation got started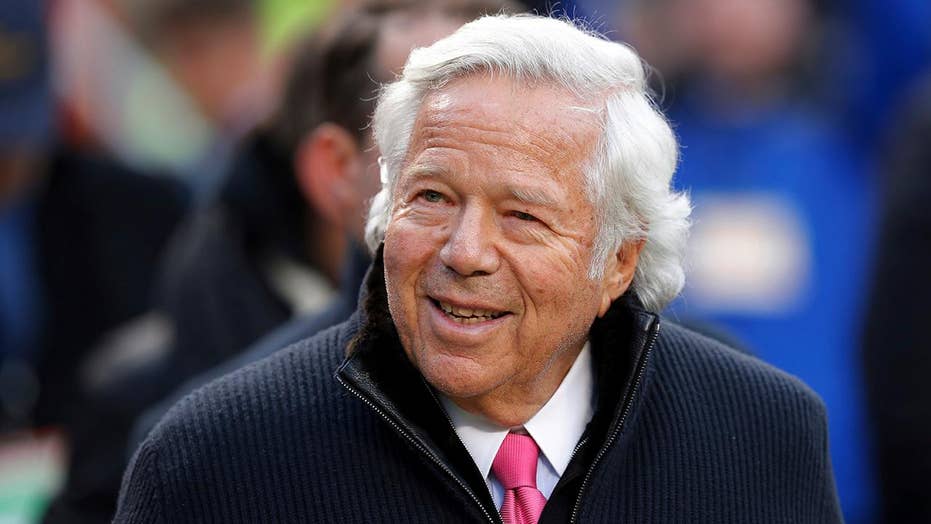 Prostitution sting: What legal jeopardy does Robert Kraft face?
Arraignment for NFL owner Robert Kraft is set for April 24; insight from Kim Wehle, former assistant U.S. attorney.
New England Patriots owner Robert Kraft is facing two counts of soliciting a prostitute at a Florida spa — but an unconfirmed morsel by ESPN NFL insider Adam Schefter resulted in speculation that an even bigger name was involved, and illustrated how quickly rumors can spread in our digital age.
Kraft, 77, is one of almost 200 men charged in a crackdown on prostitution occurring in massage parlors between Palm Beach and Orlando. But when the story first broke on Friday afternoon, Schefter called in to the network's flagship "SportsCenter" to provide extra details.
MEDIA BAD BOY BARSTOOL SPORTS THRIVING IN POLITICALLY CORRECT CLIMATE: 'WE'RE PRETTY RARE'
"I'm also told that Robert Kraft is not the biggest name involved," Schefter said without elaborating.
The claim has since been shot down by a state attorney, but Schefter, who has earned a reputation as one of the most plugged-in reporters in the sports industry, piqued curiosity with the tidbit. Social media sleuths have been endlessly speculating on who the alleged mystery culprit could be, searching for celebrities who live in the area and dreaming up all sorts of scenarios.
The response to Schefter's comment illustrates how quickly rumors can spread on social media and talk radio. Instead of focusing on Kraft – who is a huge name in the sports landscape – people were hungry for someone even more scandalous to be caught up in the sting. Everyone from Tiger Woods to President Trump were mentioned simply because they own homes within driving distance to the Orchids of Asia Day Spa in Jupiter, where Kraft was allegedly captured on surveillance video.
SYRACUSE RESTAURANT SLAMMED FOR 'ROBERT KRAFT' SANDWICH: REPORT
Shortly after Schefter's vague statement, however, he appeared on sports radio station WEEI and appeared to backtrack.
"There are 175 more names coming," Schefter told the Boston-based station. "Some will just be regular people, whose names we don't know but there could be other names we do know."
But his juicy rumor floated on "SportsCenter" is the one that spawned headlines, while everyone ignored the radio hit.
NBC's Pro Football Talk wrote, "Report: Robert Kraft is not the biggest name involved in prostitution case," while the Daily Mail asked, "Is there an even bigger name than Robert Kraft in the Florida sex sting?"
KRAFT ALLEGEDLY VISITED FLORIDA SPA FOR SEX ACTS ON DAY OF AFC CHAMPIONSHIP GAME
Some publications took Schefter's comment as an absolute fact and countless theories bubbled up on social media, seemingly confusing law enforcement in the process.
"Nobody around here has any idea what [Schefter] is referring to," a spokesman for the state attorney's office told Deadspin.
ESPN declined comment when reached by Fox News.
A source close to Schefter told Fox News that the NFL insider probably should have said "other big names," as opposed to stating that a "bigger name" is involved. This subtle change would have quelled the controversy, as ex-Citigroup president John Havens has also been tied to the probe.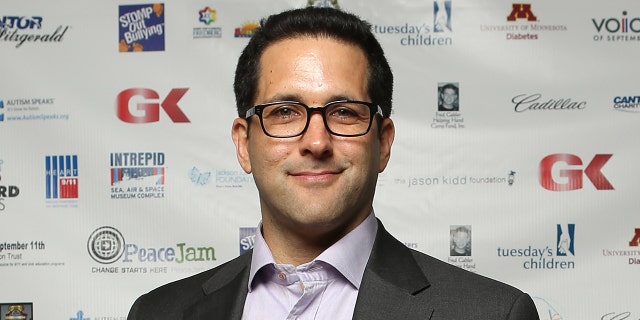 ESPN NFL insider Adam Schefter had internet gumshoes pondering who else could be tied up in the scandal surrounding Robert Kraft. (Photo by Mike McGregor/Getty Images for Cantor Fitzgerald)
New York Post columnist Andrew Marchand took Schefter to task in a scathing piece that notes the ESPN star is "probably the most prolific reporter in the NFL" before questioning why he would float that someone more famous than Kraft could be in hot water. Marchand pointed out that ESPN didn't give the comment any attention after Schefter's one on-air mention.
PATRIOTS OWNER ROBERT KRAFT FACES LEAGUE DISCIPLINE AFTER PROSTITUTE ALLEGATIONS
"There are a lot of problems with Schefter's story, and it seems apparent ESPN's editors realized it in the aftermath, which is why they acted as if it didn't exist," Marchand wrote. "The first issue with the story is Schefter is leaving all the meat on the bone. If there is a bigger name, then the real story is: Who is it? Go find that out."
"If there is a bigger name, then the real story is: Who is it? Go find that out."
Marchand wrote that if the mysterious bigger name isn't a sports figure, then Schefter could have tipped off an ABC News reporter, as both organizations fall under Disney's corporate umbrella.
"By reporting the information without the actual name, Schefter comes across as if he is doing Kraft and/or the NFL a favor by diverting attention. That may not have been his motivation, but it sure feels that way," Marchand wrote. "If he misspeaks on 'SportsCenter' — which is another possible explanation for what happened Friday — then he and ESPN need to address it quickly to quell his words as they race around the internet."
NFL PLAYERS REACT TO PATRIOTS OWNER ROBERT KRAFT'S SOLICITATION CHARGES
The rumors weren't strictly confined to the internet and Palm Beach County state attorney Dave Aronberg said during a press conference on Monday that all the names of defendants have already been released – essentially refuting Schefter's comment without naming him.
"It's hard for me to talk about rumors, especially false ones."
"I was asked earlier today about rumors of bigger fish, and I said that would be news to me," Aronberg said. "It's hard for me to talk about rumors, especially false ones."
Kraft was charged with two misdemeanor counts of soliciting prostitution and will be issued a summons similar to a traffic ticket and assigned a day to appear in court. No human trafficking charges have been filed against Kraft or any of the other defendants connected to the massage parlors.
Fox News' Nicole Darrah contributed to this report.
Source: Read Full Article