Inside 'And Just Like That…' Star Nicole Ari Parker's New York City Home
Nicole Ari Parker has been acting in TV and movies since the early '90s. Some of her film credits include Boogie Nights, Blue Streak, Remember the Titans, and Brown Sugar. She has also starred in and had reoccuring roles on the shows Soul Food, Empire, and Chicago P.D.
In late 2021, Parker starred in the Sex and the City revival titled And Just Like That… on HBO Max. Something viewers raved about in that show was Parker's stunning Park Avenue apartment, so of course many have wondered where she really resides in the Big Apple. Here's a look inside Parker's New York City home she shares with her husband, producer and fellow actor Boris Kodjoe.
Viewers really liked Parker's character and Park Avenue home in 'AJLT'
While AJLT got mixed reviews from viewers and critics, many fans are in agreement that Parker was a great addition to the cast and gave her high marks for playing Lisa Todd Wexley. They also loved her character's Park Avenue abode.
One appreciation post on Reddit read: "I'm really loving her character, plus — THAT is the type of fashion I like to see! So chic and such a fun sense of style. Amazing artwork in her home as well."
Another said: "I like her style and her home. I also like how she sticks up for Charlotte, and how she is protective of her children … I like how she shows vulnerability with her MIL relationship. I enjoy that she seems like a genuine friend to Charlotte like Miranda's professor or even Seema for Carrie."
Parker was living in LA but wanted to move back to NYC
Parker has been married to Kodjoe since 2005. They have two children together and reside in Los Angeles meaning Parker stayed in hotels and had to fly from coast to coast during filming to see her family. But the City That Never Sleeps where she lived during college always had a special place in her heart.
"Part of our plan was to get back to New York eventually, maybe when the kids go to college, but then I got this great job that took me back pretty much half of the year," Parker told Architectural Digest. "I was there so much that Boris and I were like, should we just start looking for an apartment? And we found the most incredible apartment right on Central Park West."
Inside Parker and Kodjoe's beautiful Manhattan apartment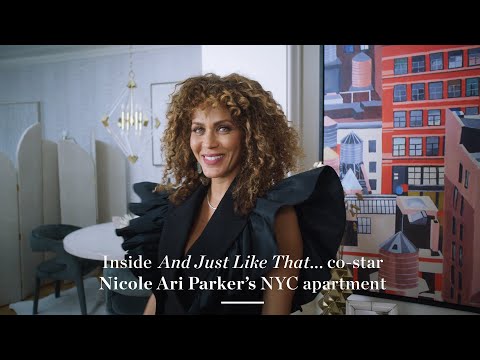 When Parker moved into her Manhattan pied-à-terre, she enlisted the help of her friend and member of the One Kings Lane trade program designer Nikki Chu.
Chu reveled that Parker was the inspiration for the decor. "Nicole is not afraid of color or pattern; actually, more is more when it comes to her taste," Chu stated. "But, with this home, we went with a more muted palette, one that fit the energy of NYC." There are tribal patterns and geometric shapes incorporated, and the pops of color come from the art."
Kodjoe chimed in: "We love modern African art as accessories to our European design sensibility mixed with American comfort. Big couches and classic furniture, framed family portraits, rugs, and big pieces of art on the walls. Eclectic, but also timeless." Before his wife added: "At first glance, you don't know how that goes together, but it perfectly goes together, which is kind of how I am and kinda how my character on And Just Like That… is."
Source: Read Full Article