Josh Hawley cries about the First Amendment after his book deal was cancelled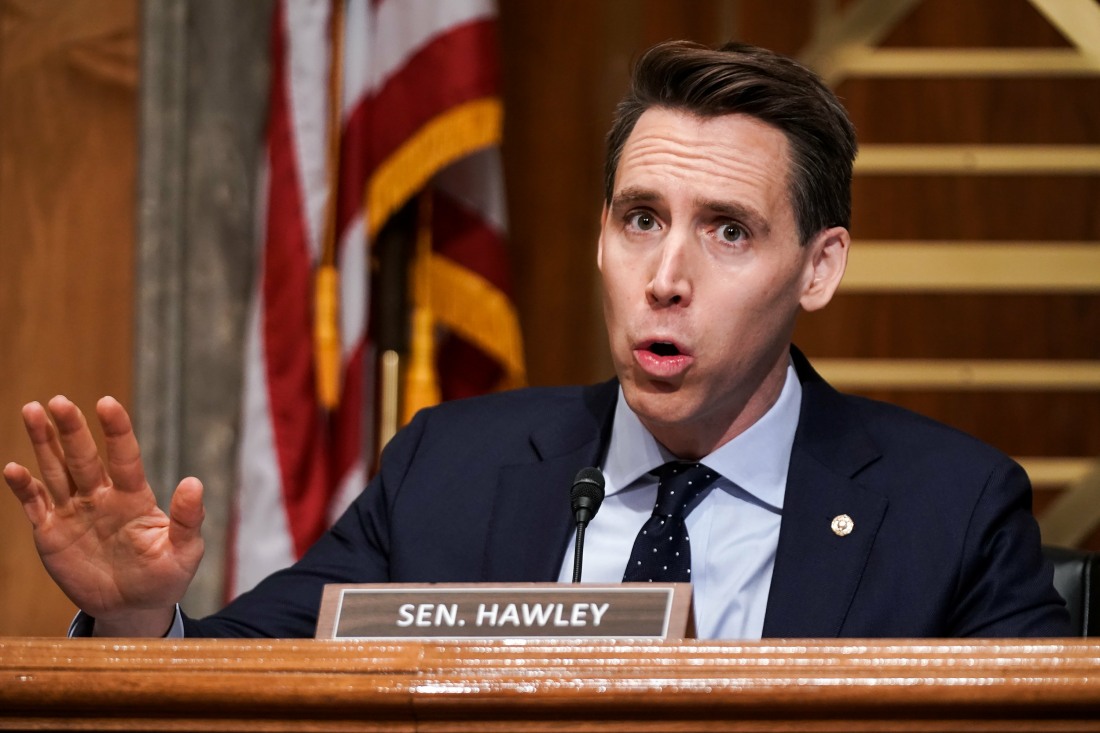 Josh Hawley, the seditious senator from Missouri, thinks he can get away with it. He was the main organizer of the plot to "challenge" the ratification of Joe Biden's victory on January 6th. Hawley's intention was to do Trump's seditious dirty work, to incite violence in the Trump cult, to position himself as Trump's political heir, and to cast doubt on Biden's victory. As an act of political theater, it blew up in his face as MAGA terrorists laid siege to the Capitol. There are calls to force Hawley to resign as senator, for Hawley to be formally condemned by Congress, or to face some kind of punishment. Personally, I would like to see him charged with sedition and inciting terrorism. But while we wait for that, Hawley's book deal has been cancelled:
Simon & Schuster said on Thursday that it would cancel the publication of an upcoming book by Senator Josh Hawley, one of several members of Congress who tried to overturn the results of the presidential election.

Mr. Hawley, a Missouri Republican and Trump ally, has been criticized for challenging the results and accused of helping incite the mob that stormed the Capitol on Wednesday. His book, "The Tyranny of Big Tech," was scheduled to be published in June.

"We did not come to this decision lightly," Simon & Schuster said in a statement. "As a publisher it will always be our mission to amplify a variety of voices and viewpoints: At the same time we take seriously our larger public responsibility as citizens, and cannot support Senator Hawley after his role in what became a dangerous threat."
[From The NY Times]
This is a no-brainer from Simon & Schuster's point of view: why continue to get in bed with a terrorist and traitor to democracy? And the publishing house likely has all kinds of stuff built into their contracts, and their legal counsel has apparently assured them that they are fine from a contractual-law perspective. But that didn't stop this pissbaby senator from issuing a hilarious self-own:
— Josh Hawley (@HawleyMO) January 7, 2021
Crymore, sh-tbird. It's pathetic that a graduate of Yale Law would be this ignorant of how the First Amendment works. The First Amendment isn't some blanket guarantee that every dumbf–k traitor gets a book deal. The First Amendment doesn't say "you get to commit acts of sedition and incite a violent assault on democracy AND you get to publish a book with a major publishing house." This is literally capitalism at work – a private business deciding it would affect their profits and their reputation by upholding a contract with a traitor. These were my favorite jokes:
— Rita Meade (@ScrewyDecimal) January 8, 2021
— Ashley Nicole Black (@ashleyn1cole) January 8, 2021
— Justin Amash (@justinamash) January 8, 2021
Embed from Getty Images
Photos courtesy of Avalon Red, Getty.
Source: Read Full Article