Just a Highly Thirsty Look at Harry Styles' Complete Dating History, Don't Even Worry About It
As you may or may not be acutely aware: Harry Styles has a girlfriend and it's neither you, nor me, nor Kendall Jenner on a yacht. It's Olivia Wilde, and she and Harry are getting serious. But please be advised that this is hardly the first high-profile relationship that Harry's been in. The former One Direction star and his hair coif have dated some major A-list celebrities—including Kendall Jenner and Taylor Swift—and the time has come to look back at his dating history because truly, what else is there to do during the winter of our discontent, ya know?
Olivia Wilde: 2021
If you want a full timeline of Olivia and Harry's whole thing, we've got you covered, but the highlights go a lil something like this:
So yeah, they are officially an established couple at this point, and will likely continue to be as they promote Don't Worry Darling in the months to come. And speaking of promotions, look at this sweet post Olivia wrote about Harry, meep:
https://www.instagram.com/p/CLUy-huHjLK/?utm_source=ig_embed&utm_campaign=loading
A post shared by Olivia Wilde (@oliviawilde)
Kiko Mizuhara: 2019
https://www.instagram.com/p/CLJ7MvfB7ns/?utm_source=ig_embed&utm_campaign=loading
A post shared by i_am_kiko (@i_am_kiko)
Harry and model Kiko Mizuhara were linked in April 2019, but honestly? Evidence of a relationship between these two is iffy at best. And by that I mean…the Daily Mail reported they were dating based on a mutual Instagram follow. Which on the one hand makes sense because if Harry Styles followed me I'd also assume we were dating, but on the other hand is objectively outrageous????
Either way, Kiko shut sh*t down in a series of tweets, writing, "It has been reported that Harry Styles and I have been in a relationship with him, but I have no relationship with him, and I have never met him…People believe what they want to believe rather than questioning reality."
Camille Rowe: 2017-2018
https://www.instagram.com/p/B2zq0Oen6Le/?utm_source=ig_embed&utm_campaign=loading
A post shared by Camille Rowe -Bel (@fingermonkey)
Harry and model Camille Rowe dated for an entire year before splitting up in summer 2018, but clearly their relationship had a big impact on Harry because he used a voicemail Camille left him on the song "Cherry." The translation?
"Hello! Are you asleep? Oh, I'm sorry…."
"Well, no…nope, it's not important…."
"Well then…we went to the beach and now we—"
"Perfect! Harry—"
Harry spoke about using said voicemail to Apple's Zane Lowe, saying, "When we listened back to the album, I asked her to add it in. I wanted ['Cherry'] to reflect how I felt then. I was feeling not great. It's all about being not great. Because you get petty when things don't go the way you want it. There's parts that's so pathetic."
Tess Ward: 2017
https://www.instagram.com/p/CKN-Sa7A3yq/?utm_source=ig_embed&utm_campaign=loading
A post shared by Tess Ward (@tessward)
Harry dated food writer Tess Ward in spring 2017, and a source told Page Six that "They really bonded over their mutual love of quirky fashion and food—and things turned romantic quickly." Oh, and "This really seems different to Harry's past relationships as Harry genuinely is besotted with Tess and doesn't want to risk messing this one up."
Plot twist: they broke up by summer.
Kendall Jenner: 2013-2016 (on and off!)

Kendall and Harry have been hooking up on and off for literally ever, including that legendary time they were photographed making out on a boat. These two have serious chemistry, and if you don't believe me, I have evidence.
Exhibit A: Kendall and Harry vibing at the Met Gala: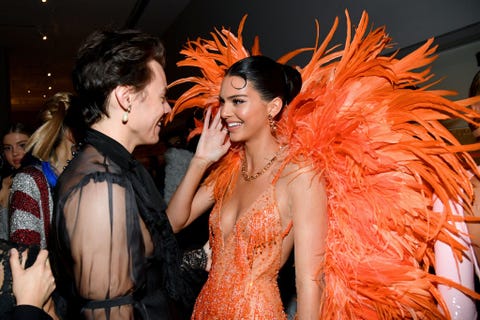 Exhibit B: Harry interviewing Kendall on The Late Late Show, where the tension is simply off the charts.
Georgia Fowler: 2015
Harry briefly dated model Georgia Fowler in 2015, and fans are convinced he wrote "Kiwi" about her.
Source: Read Full Article