Kaia Gerber covers Vogue, talks about college dreams, tattoos & her acting career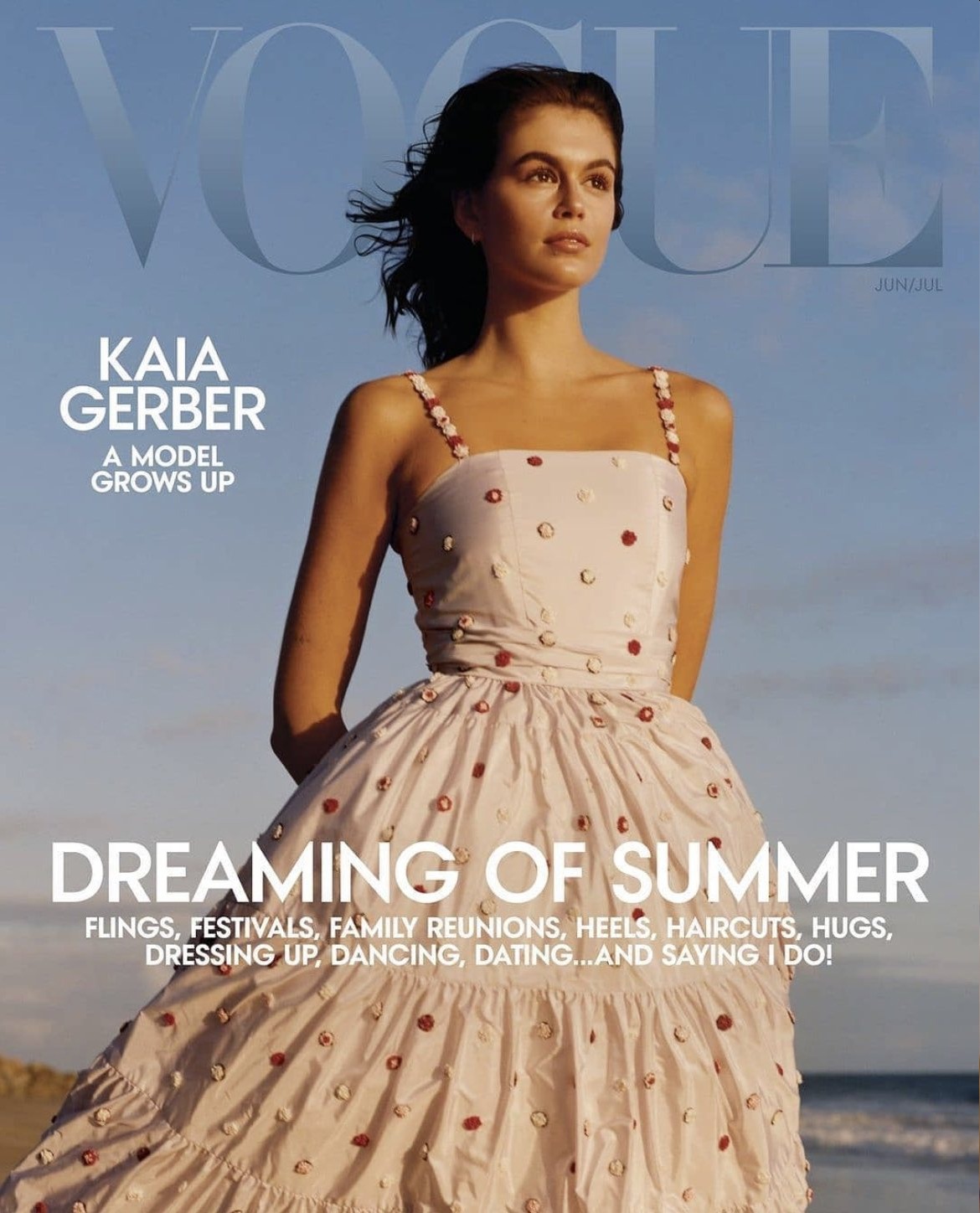 Kaia Gerber is 19 years old and she just scored her very first solo American Vogue cover. She's been getting magazine covers since she was what? Fifteen, sixteen years old. She even had a previous American Vogue cover, but she shared it with other models. It's a big deal for her to get a solo cover, and Vogue gave her a full-blown cover profile. The piece is surprisingly lengthy, especially given that Kaia is really young and kind of boring. I'm saying that in a nice way – she seems pretty well-adjusted (considering her mom nepotized her into modeling at such a young age) and she does normal sh-t for her age, like get dumb tattoos, read "important books," and have normal rich-girl friends. My point? I guess that Kaia is still unformed and somewhat uninformed, so why the lengthy cover profile? You can read the full piece here. Some highlights:
Learning how to use her voice: "For a long time, I thought my face and my body had more to say than I did, because that's what people thought of me. I always wanted to be good and easy, not to make trouble, but when you do that, you sometimes end up losing your voice."

Her pandemic year was spent in Malibu: "We have a sort of compound with a garden, and a big lawn, and the beach that we could go to every day. I'm not blind to the fact that we've been incredibly blessed."

Working as a model when she was so young: "My dad would call me when I'd be in Paris and be like, 'Do you want to come home?' At the time I thought I was fine, but now I look back to 16-year-old Kaia and I'm like, 'Come home!' And I found myself in situations where I was, like, I actually don't have the life experience that I need to handle this. It could be something as small as knowing how to take the bus from the flight to the terminal. Or, I remember, when I started traveling alone, in Paris, my driver had to check me into my hotel room—I couldn't even do it on my own."

Her relationship with 23-year-old Jacob Elordi: "Being able to be with someone I trust, where we don't want anything from each other, having a safe, steady relationship like that, has really opened my eyes to the possibilities of love and what it feels like to love without conditions. Lust is touching other people or wanting them, but love is really seeing someone."

Dream of college: "I was one of those kids in preschool who thought they'd go to Columbia one day"—but she's not worried about missing out. "I can always go. I have no problem with being a 50-year-old in college."

Getting political: "In the past, I stayed away from getting political because I didn't want to speak about things I wasn't knowledgeable about. But this year, I really had an opportunity to learn… I want moms to be happy that their daughters look up to me, but being a real role model means also being a real human."

She's scored a role on American Horror Story: "I wanted to be an actress really bad when I was growing up. I was into musical theater. My poor family, they had to come to so many productions. They came to five shows of The Wizard of Oz where I only played a tree, bless their hearts." When I ask her about Ryan Murphy's show, Gerber admits that she's "terrified. But so excited too. It's a new chapter. And I can still do modeling, which I love."
[From Vogue]
It struck me as I read this piece that she's branding herself like a Gen Z version of her mom. Cindy Crawford's brand was mostly wholesome too – sure, Cindy had an edge and she did sexy photoshoots, but Cindy and Christy Turlington were absolutely "the good girls" of that supermodel era, the good students who showed up on time and were easy to work with. I feel like Kaia is kind of adopting that persona too, or maybe that's just who she is. Anyway, this profile would have been much more at home in Teen Vogue, Seventeen or even old-school Jane Magazine (rip). Also: Kaia's stories about being on her own in Paris when she was, like, 16 years old? Holy sh-t, what were Rande and Cindy thinking. My God.
https://www.instagram.com/p/CPBS1mkpHxx/
A post shared by Vogue (@voguemagazine)
Cover & IG courtesy of Vogue.
Source: Read Full Article