Kathy Hilton Defends Herself After Being Labeled 'Racist' for Mistaking Lizzo for Gabourey Sidibe
The 'Real Housewives of Beverly Hills' star has been facing heavy backlash on social media after she failed to recognize the 'About Damn Time' hitmaker during an awkward 'Watch What Happens Live' moment.
AceShowbiz –Kathy Hilton is defending herself after facing intense backlash on social media. "The Real Housewives of Beverly Hills" star has explained why she failed to recognize Lizzo and mistook her for "Precious: Based on the Novel PUSH by Sapphire" actress Gabourey Sidibe.
Hopping on Instagram on Thursday, August 11, the Bravolebrity blamed her "terrible" eyesight for awkwardly confusing Lizzo for Gabourey. "My vision is awful, the screen was so far away that I couldn't even recognize Justin Timberlake or Melissa Etheridge was," the 63-year-old responded to fans who commented on @queensofbravo's Instagram post, noting that Lizzo wasn't the only Hollywood star she failed to recognize during the show.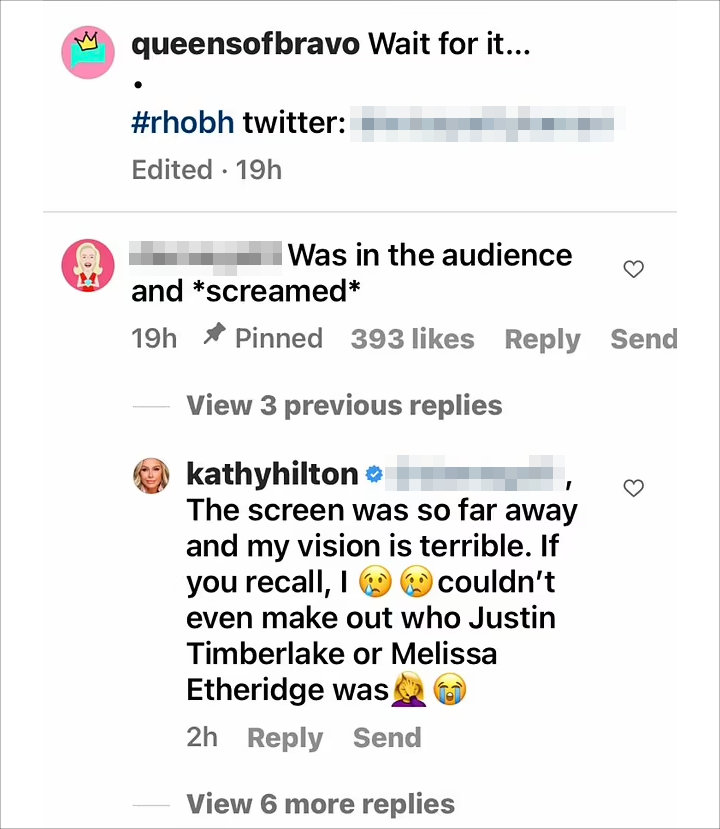 Kathy Hilton defended herself after facing intense backlash for mistaking Lizzo for Gabourey Sidibe.
The flub happened while Kathy and co-star Crystal Kung Minkoff were playing the game "Will Kathy Know Them?" during the Wednesday, August 10 episode of "Watch What Happens Live". During the segment, host Andy Cohen showed them pictures of celebrities and the Bravo stars had to guess who the celebs were.
At one point, Kathy was shown an image of Lizzo. When asked if she knew the Grammy-winning artist's name, a confused Kathy replied, "I feel like I do…'Precious'?" seemingly referring to Gabourey's starring role in the 2009 drama, which earned the actress Golden Globe and Academy Award nominations.
The answer prompted Andy and Crystal to burst into laughter. In an attempt to make the moment less awkward, Kathy's "RHOBH" co-star said, "She is precious though, Lizzo is precious."
"That's what I call her," Kathy, who was also unable to identify Dwayne "The Rock" Johnson, added. The mother of Paris Hilton further gushed over Lizzo as saying, "Her nickname is Precious to me."
Kathy's failed attempt to recognize the "About Damn Time" hitmaker apparently doesn't sit well with critics. On Twitter, Kathy was labeled racist. "If Kathy Hilton thought Lizzo was Precious (a fictional character from a movie which was adapted from a book by the same name) then she's either: 1. A liar. 2. A lying idiot 3. Racist. 4. A lying, racist, idiot," one person fumed.
"It doesn't matter if she didn't know who she was nor if her intention was 'harmless,' calling a plus size Black woman 'Precious' is an insult. She still decided to comment on her weight [eye roll emoji]," another fired. Someone else said, "This was so problematic and not funny at all. Also Lizzo is more famous than anyone in the Hilton family…whatever Kathy."
Not stopping there, Lizzo's fans also criticized Kathy on Instagram. "Not sure why the ignorant comment about Lizzo was looked at as funny? Typical behavior from the clueless I guess…," one person wrote in the comment section of the latest post of "WWHL" Instagram account. Another asked the program, "why would y'all even air this ??"
Someone else pointed out that "all black women we have stick together they don't respect us over the years all the blatantly disrespect to black women on this show on wives of Atlanta." The said person further said, "Let a black woman disrespect the white woman on the show and see what happens live lol."
Source: Read Full Article