Noel Gallagher Divorcing Sara MacDonald After 22 Years Together, Asking Fans to 'Respect' Privacy
According to reports, the separation may spark Oasis reunion with brother Liam Gallagher as it's rumored that Sara was blocking a reunion for the rock band.
AceShowbiz –Noel Gallagher and Sara MacDonald are set to divorce. The 55-year-old musician, who has been married to Sara since 2011, has moved out of their Hampshire mansion and is said to be currently living in North London.
A source told The Sun newspaper, "It is a great shame but they are trying to keep it civilized." Noel met the 51-year-old publicist in 2000 and they tied the knot 11 years later.
However, they haven't been seen together in public in recent times and they're now headed for a divorce. A spokesman for the former couple, who have Sonny, 12, and Donovan, 15, together, said, "Noel and Sara will continue to look after their children who remain the priority. They ask the media to respect their privacy and that of our family at this time."
Noel, who also has Anais, 22, from his marriage to Meg Mathews, and Sara are said to be "working everything out steadily to minimize the disruption." The former couple are determined to ensure that their split remains as "civilized" as possible.
The insider explained, "Noel has moved out, but in time Sara might want to move back to London. They're working everything out steadily to minimize the disruption."
Meanwhile, Liam Gallagher, Noel's younger brother and former bandmate, has been openly critical of Sara in the past. The outspoken star even suggested on social media that Sara was blocking an Oasis reunion.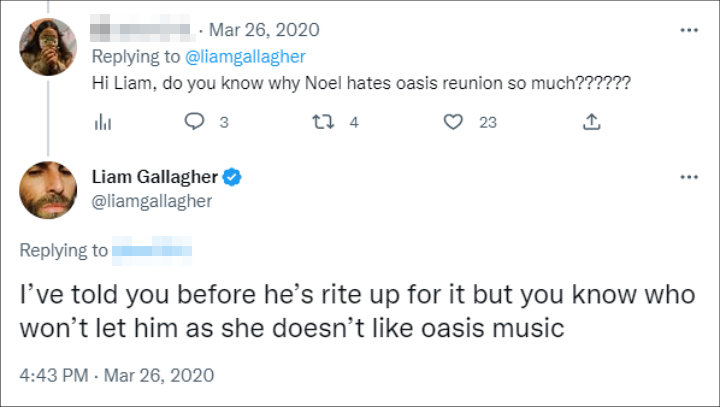 Liam Gallagher hinted that Noel Gallagher's wife Sara MacDonald was blocking an Oasis reunion.
A fan asked him on Twitter, "Hi Liam, do you know why Noel hates oasis reunion so much?????? (sic)." And in response, Liam said, "I've told you before he's rite up for it but you know who won't let him as she doesn't like oasis music (sic)."
You can share this post!
Source: Read Full Article