Of All Of Mariah Carey's Looks – This Stands Above The Rest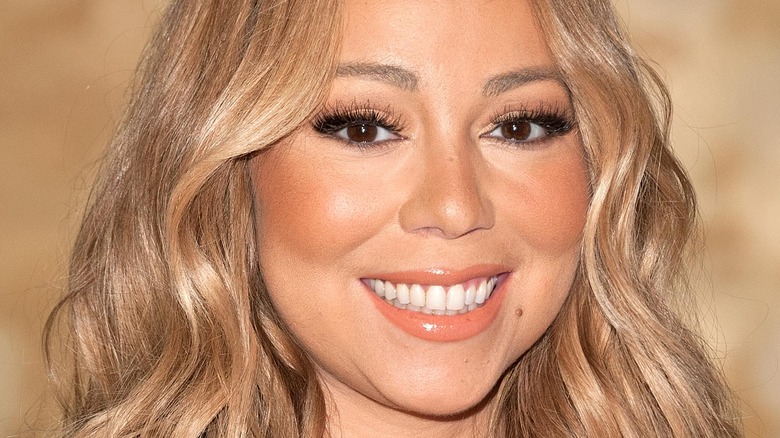 D Dipasupil/Getty Images
By Mike Nied/Sept. 13, 2021 12:32 pm EDT
No one does it like Mariah Carey. Others dabble in luxury; she epitomizes it. Her propensity toward evening gowns, dazzling jewels, and full glam — seen on Instagram and in real life every time she steps out of the house — makes her a certified style icon. That defining look has evolved over the years, but the diva's been in a league of her own since she debuted in the '90s. Grazia noted that some of her peers embraced a less-is-more mentality back then, but not this chanteuse.
Carey put her miles-long legs on full display in glam mini-dresses, looked effortlessly cool in crop tops, and had an eye for accessorizing. Her extra-in-all-the-right-ways aesthetic carried over to the early aughts and became a model pop acts emulate to this day. Of course, her style of the era is particularly relevant as turn-of-the-century and early millennium trends return to the forefront of fashion mags.
If anything, Carey's fashion game has become more extravagant over time. Seriously, she may be the only human being to ever bling out a sling (via The Cut). Considering her penchant for stunting out, it should be difficult to settle on the living legend's most enduring look. However, there is one time of the year when her style game is just the slightest bit more elevated than usual. 
Spoiler alert: It's the most wonderful time of the year. That's when she's given us her absolute best.
Mariah Carey is the queen of Christmas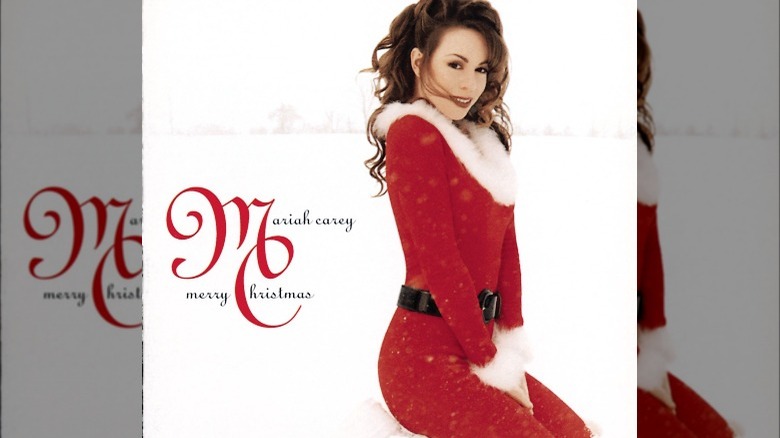 Anyone who has ever turned on the radio in the winter knows Mariah Carey is the crowned queen of Christmas. The "#Beautiful" siren comes into her peak powers once the clock strikes midnight on Halloween — it's the best clip (via Twitter). As autumn's weather freezes over, "All I Want for Christmas Is You" — arguably the singer's most recognizable song — enters heavy rotation. The inescapable anthem became Carey's 19th to top the Billboard Hot 100 when it reached the pinnacle position in 2019, an impressive 25 years after its initial release (via Billboard).
Billboard announced that doing so made her the first artist to land chart-toppers in four decades. Pretty legendary, if you ask us. Her reign over the season is so inevitable that no one questioned if the decades-old song would pull off the feat again in 2020. It did, in case you somehow doubted (via Billboard). Why does this keep happening? Carey's dominance over the beloved holiday can be traced back to 1994 when she released "Merry Christmas." 
Everything about the album remains iconic. Especially the cover art, which finds the hitmaker serving a sweet Mrs. Claus impression in a red jumpsuit with black belt and white fur trim. Believe it or not, Carey pulled out an even more impressive take on the look for the "All I Want for Christmas Is You" music video (via YouTube). Since then, it has been a recurring motif in her holiday promos.
Beware, Mrs. Claus — Mariah Carey is coming for your fashion game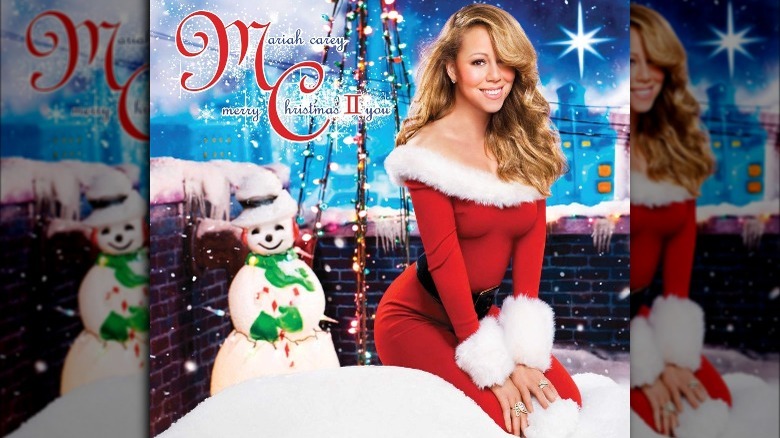 i-D dubbed Mariah Carey's Mrs. Claus-inspired 'fit on her "Merry Christmas" album one of her most iconic looks of all time. Considering how instantly recognizable it is, you likely won't be surprised to learn that it became a frequently revisited motif in Mimi's holiday fashion. The ultimate diva sported an off-the-shoulder version of the look on the cover of 2010's "Merry Christmas II You" (via Rolling Stone). She pulled out a flirty red mini-dress with a fur-lined, flared hem and a white bedazzled collar in the music video for the album's "Oh Santa" (via YouTube).
On the single's cover, she rocked a sequined dress with black pumps (via Idolator). The end result isn't a direct nod to Santa's wife; however, it's hard not to draw comparisons. And once you start comparing the two, it's easy to see that the "We Belong Together" hitmaker beats her out for the title of best dressed. Billboard noted that these are not the only instances of Carey channeling Mrs. Claus around Christmastime. Since red is arguably one of the most popular colors for the jolliest time of the year, you won't be surprised to learn that it's become a staple in her wardrobe during live performances, appearances, and photo or video shoots.
Her dominance over holiday fashion is as assured as her solid-gold vocals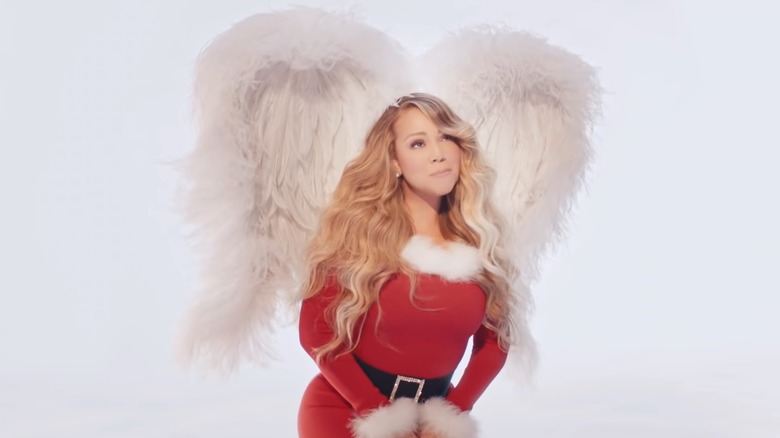 Mariah Carey shows no signs of letting up her control of the holiday season anytime soon. In 2019, she dropped a deluxe edition of her original Christmas album, which was accompanied by new material, including an updated "All I Want for Christmas Is You" music video (via YouTube) and a duet with John Legend. That came alongside archival video and audio footage from a 1994 holiday concert (via Idolator). Basically, that means the Lambily (what Carey calls her devoted fans) were treated to vintage and new-age Carey holiday fashion, and obviously, another Mrs. Claus look. This one is arguably her chicest to date.
The "Oh Santa" siren upped the ante with a holiday special in 2020. Vogue provided an up close and personal look at some of the fashion from the event. While there was no direct nod to Santa's wife in the article, it's easy to imagine a glammed-out version of Mrs. Claus rocking some of the more spectacular evening gowns. That being said, we already know Mariah Carey can rock her look. However, it remains to be seen if the real Mrs. Claus could pull off some of the diva's iconic fashion.
Source: Read Full Article