Pete Davidson is ok after posting a possible suicide note and deleting Instagram
Embed from Getty Images
Pete Davidson posted two disturbing messages to Instagram earlier today and then he deleted his account entirely. The last one, which appeared to be a suicide note, was posted at about 1:15 pm EST on Saturday. A little bit before 2:00 pm, his page on Instagram was gone. Before that, Nicki Minaj had responded with a bunch of hearts and Pete's friend Travis Mills responded "DM" and that's it. Many, many people were telling Travis to get to Pete immediately and check on him. There were also some horrible comments on that post (what is wrong with people?) but the majority were supportive.
This is Pete's last post before he deleted his Instagram.
— celebitchy (@celebitchy) December 15, 2018
Prior to that, Pete expressed support for Kanye. Apparently, Ariana Grande made a joke Friday on Twitter about men fighting. She wrote, in part "Guys, I know there are grown men arguing online rn but Miley and I dropping our beautiful, new songs tonight." Kanye responded to her this morning and she apologized. You can read the full context on E! Online and also on Page Six. Kanye said, in part, "People will no longer take mental health for a joke" and "All of this foolishness weighed on my mental health." Ariana responded "it was a joke which i understand now was probably insensitive. i apologize if i was in any way triggering and hope u feel well today."
In another tweet she posted "last thing. stop weaponizing mental health. everyone." (Around 2:30 pm that tweet was deleted.) Then Pete Instagrammed this (below) and followed up with the Instagram above saying he doesn't want to be on this earth anymore and doesn't know how much longer he can last, which has so many people genuinely worried about him. (In the post below he meant to write that Kanye was supporting mental health, not that he was against it, he just phrased that part wrong.)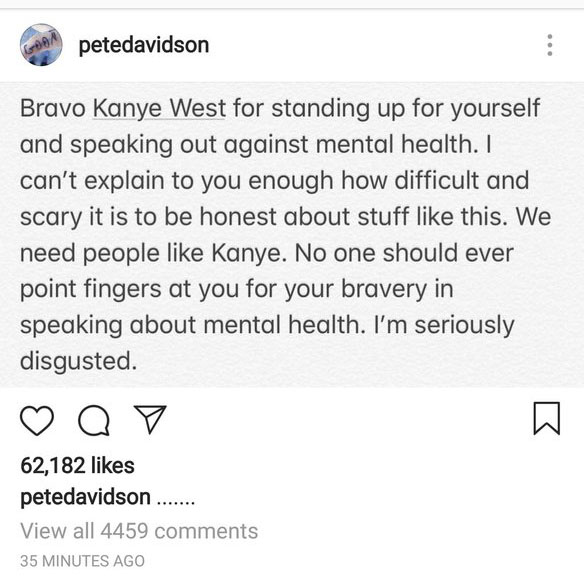 I was so concerned about Pete but apparently he's ok and has a lot of people around him, thank goodness. Jon Cryer wrote that Pete was at SNL. Another friend of his, Machine Gun Kelly, wrote that he was flying to see him, and Ariana Grande also offered support.
These are the two things Ariana tweeted and deleted about a half hour afterwards:


Here are the tweets from Jon Cryer and Machine Gun Kelly.
We are thinking of you, Pete.
You are loved.
(And just a heads up, when you finally turn on your cell, it's gonna go apeshit for a little while) https://t.co/erUaTcPSdw
— Jon Cryer (@MrJonCryer) December 15, 2018
— colson (@machinegunkelly) December 15, 2018
So many people are offering support and love.
— Jada Pinkett Smith (@jadapsmith) December 15, 2018
— John Ross Bowie (@JohnRossBowie) December 15, 2018
My gosh people. We're better than this. Wishing you health and a long life, Pete Davidson. ❤️ https://t.co/vFIyjunMJv
— Bryan Behar (@bryanbehar) December 15, 2018
Source: Read Full Article