R. Kelly's Explosive Interview With Gayle King — Twitter Reacts!
On Wednesday morning, CBS aired the highly-anticipated interview between Gayle King and R. Kelly that was teased on Tuesday evening.
This interview was the first with the R&B singer since he turned himself over to Chicago authorities last month on 10 counts of aggravated criminal sexual abuse. Following his arrest, he was ordered to not have contact with anyone under the age of 18 and to surrender his passport.
He has continued to maintain his innocence against all allegations that were made in the documentary Surviving R. Kelly, and pleaded not guilty in court on February 25. If convicted of all charges, he could face up to 70 years in prison. Previously, he was acquitted of child pornography charges in 2008.
Currently he is out on bond.
Following the interview, the parents of 23-year-old Joycelyn Savage, one of the young women currently living with the singer in Chicago, held a press conference from their home in Decatur, Georgia (watch it HERE), maintaining their claim that their daughter has been brainwashed. In his piece with Gayle, the 52-year-old singer that Joycelyn and 21-year-old Azriel Clary are his "girlfriends" and were "absolutely" handed over to him by their parents at concerts.
Naturally, people on Twitter had a lot to say about the interview.
See some of the best reactions (below)!
Contents
Gayle's Composure
Despite the antics often put on by the disgraced singer during the 80-minute filming of the interview, the host maintained her composure, and received plenty of praise for it.
Let's not forget that her bestie Oprah Winfrey knows how to give a killer interview, too, as she recently interviewed Michael Jackson's accusers following the premiere of Leaving Neverland. The media mogul was equally as impressed as we were with her BFF for staying unfazed during the interview:
R. Kelly's Behavior
During the interview, the I Believe I Can Fly singer continued to maintain his innocence, often raising his voice, speaking in circles, and even standing up at a point.
Catching Heat
While the subject of the interview isn't funny, if you need a good laugh, Twitter (obviously) has you covered.
THAT Picture
It you haven't already seen the image (below) circulating, the CBS This Morning host sits calmly while the Ignition singer loses his cool and is held back by his publicist during an outburst.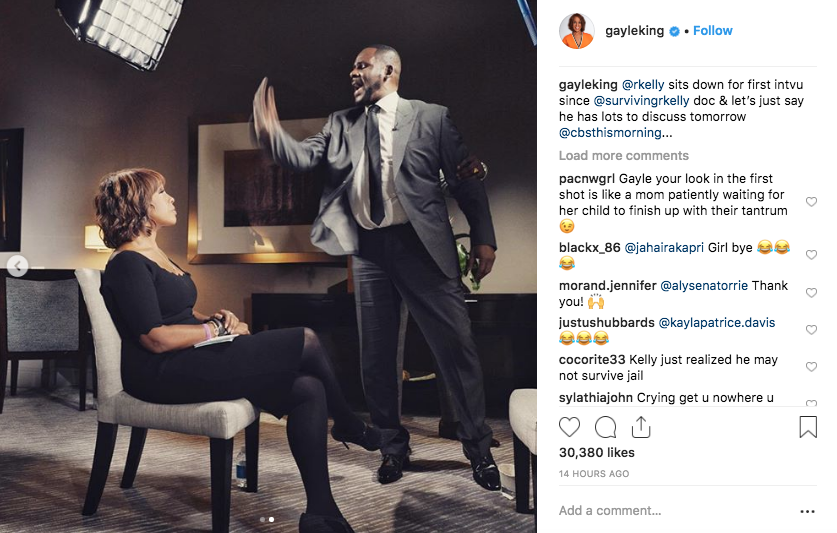 And social media users went WILD for it:
Source: Read Full Article