'Rick and Morty' Hid a Secret Cameo in the Season 4 Finale
Rick and Morty season four finale spoilers follow.
Rick and Morty isn't exactly the most sentimental show in the world. Between those slut dragons and whatever Jerry actually saw in the Talking Cat's mind, season four hasn't held back from hammering home the show's nihilist outlook.
A god even died in the penultimate episode, but that didn't stop season four's finale from finally switching things up by tapping into some major feels.
Long story short, Rick lost the respect of his entire family across the course of that last episode. The Smiths (including Space Beth) seem extremely capable of looking after themselves now following Rick's meddling with that whole clone ordeal.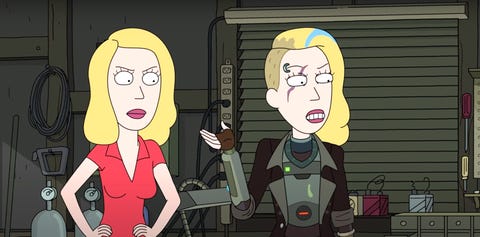 Adult Swim
When we last see Rick at the end of season four, he's basically alone in the garage, with only a disembodied (and extremely angry) Phoenix Person to keep him company. An uncharacteristically sad song plays over the scene as Rick ruminates on all of the mistakes he's made.
There's no punchline before the credits roll, just sadness. However, the season as a whole ends on a more upbeat note when Jerry accidentally creates an invisible garbage truck in the obligatory post-credits sequence.
While this is just as hilarious as you might expect, there's also a heartwarming moment nestled away in the background which only die-hard fans might have spotted.
If you look closely at the street Jerry drives down at one point, you'll see a surprise appearance from producer J. Michael "Mike" Mendel in the background.
No episódio 4×10 de Rick & Morty que estreou ontem teve mais uma homenagem ai o produtor Mike Mendel que morreu ano passado. pic.twitter.com/NU8rExyUL8
This isn't the first time that an animated version of Mike (or his dog) has appeared on the show. Back when season four first returned in 2019, a short animated video paid homage to his memory at the end of the premiere before the credits rolled.
In the clip, an animated version of the producer appears with his dog alongside the caption: "In loving memory of Mike Mendel."
Tragically, Mike died of natural causes on September 22, 2019, two days before his 55th birthday. Seeing his animated self appear again in the season four finale just rams home exactly how important Mendel was to the Rick and Morty show.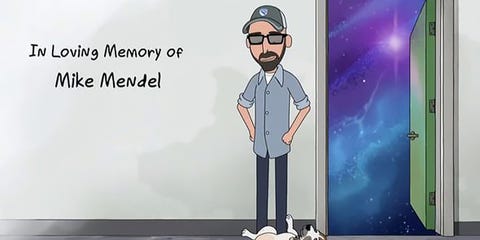 Adult Swim
After learning of his death, the Adult Swim network released a statement back in 2019 which beautifully sums up Mike's extraordinary legacy:
"All of us at Adult Swim are devastated by the untimely passing of Mike Mendel. Mike was the heart of the Rick and Morty production family, his fantastic talent and wit will be sorely missed.
"Mike was a universally respected Emmy-winning producer with over 25 years in the industry, who guided and supported a generation of artists, writers and creators and his absence will be felt by the entire community.
"Our deepest condolences go out to his family, friends and colleagues during this difficult time."
My friend, partner, and line producer Mike Mendel passed away. I am devastated. My heart breaks for his family. I don't know what I'm going to do without you by my side Mike. I'm destroyed.
Rick and Morty co-creator Justin Roiland also shared a statement of his own on social media, saying: "I don't know what I'm going to do without you by my side Mike. I'm destroyed."
Before joining Rick and Morty at its inception in 2013, Mendel worked as a producer on The Simpsons for over ten years, providing valuable input in what many would go on to perceive as the show's golden era.
R.I.P. to Mike Mendel
He was the producer of both The Simpsons and Rick & Morty. He will forever be missed. #TheSimpsons #RickAndMorty pic.twitter.com/MNRJmNY6u7
Mendel won three Emmys working with Springfield's Finest between 1995-1998, and would go on to receive another nomination producing The PJs in 2000 as well. Almost twenty years later, the Emmys awarded Mendel again, this time for his work on the classic Rick and Morty episode 'Pickle Rick' in 2018.
Across three decades, Mendel helped shape American animation as we know it today, so it's only fitting that Rick and Morty would pay tribute to him again in the season four finale.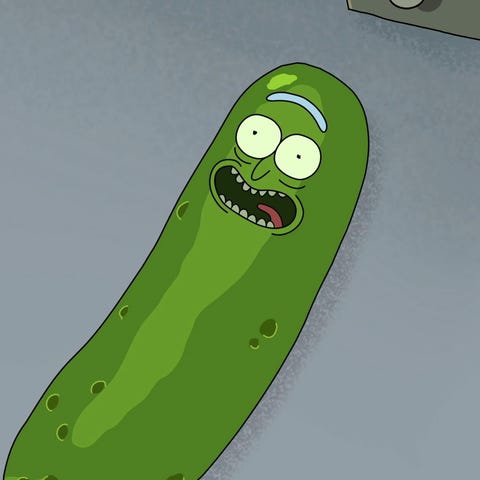 Adult SwimChannel 4
What the future holds in store for Rick and Morty remains unclear following that game-changing finale. What we do know though is that Mendel's talent and extraordinary legacy will continue to be felt in the next sixty episodes and beyond.
From: Digital Spy
Source: Read Full Article