Simone Ashley: 'I don't want the colour of my skin to ever stop me'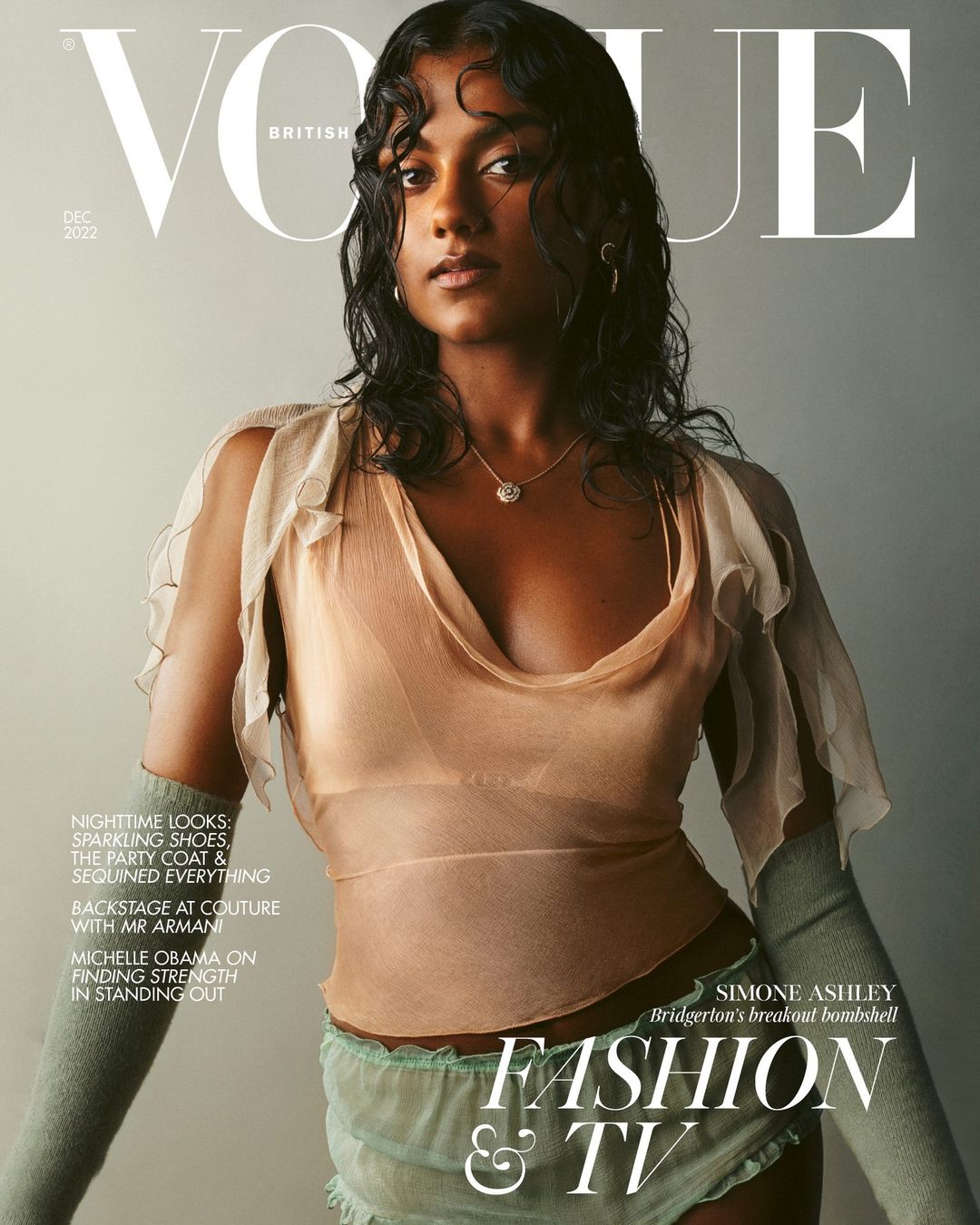 Simone Ashley is only 27 years old, but she has the boldness and confidence of a much older woman. She's one of the December covers for British Vogue, and this is more of a victory lap than a specific promotion for a project. She was the romantic lead in Bridgerton's Season 2, playing Kate Sharma, who eventually falls in love with Anthony Bridgerton. It was a great love story and Simone had an insane amount of chemistry with Jonathan Bailey. You could tell that they really adored each other and they were having fun with it. Season 2 ended up being even more successful than the first season, and Simone will return – in a smaller part – in Season 3. Most of the interview is about Bridgerton and how it changed her life and her career. Some highlights:
As a teenager, she would write letters to herself. "I was a bit of a rebel. I went to a predominantly white all-girls school. I didn't fit in, there was bullying and I was wishing my life away. I would tell myself, 'You'll move away from this place, you'll find your people and you'll do whatever you want.'"

Filming Bridgerton: "During filming, I was working six days a week and I didn't get a chance to process anything," Ashley admits. Her costar Jonathan Bailey "would be like, 'Are you ready for your life to change?' I was in denial. Later on, I remember bumping into Regé-Jean Page [the show's former leading man] at the Vanity Fair Oscar party, and he said, 'Give it three to five months. You'll notice a difference.' He was right."

Being a British Indian actress: "I didn't have the traditional entry into this industry that a lot of my white peers had, that of being a thespian, and I've always found that a bit isolating. But, I don't want the colour of my skin to ever stop me."

Whether she felt like her skin color restricted her career: "I'm sure it was restrictive. Things have taken me longer than other young actors who maybe don't have the same restrictions. But, I never surrendered to it. I remember being a kid and people saying certain things that make you really aware of the colour of your skin. I remember seeing those Fair & Lovely [lightening] creams – they smelt so good, like baby powder, but I didn't understand what they were. Now I'm like, 'Wow. That's messed up.' But, I adore the colour of my skin. I always have."

She works with hair & makeup people who understand her skin & hair: "I get emotional talking about this. They understand my skin and the texture of my hair, and when getting ready for events, we find the joy within it. And it's not a superficial thing – it's about normalising dark skin and curly hair for girls who need to see that normalised." Ultimately, she'd like to create a beauty line for those young women. "I want them to be like, 'Yes, I've got exactly the right products for me.'"

She left home early: "Looking back, I think leaving home that young was the best thing I could've done. I'm so deeply proud of my culture, but, if I'm very honest, I was raised in one where men had more of a voice than women. I always pushed against that – I wanted to get my driver's licence, I wanted to do sports, I wanted to wear whatever I wanted. [My parents] just never had any control over it. I was like, 'This is what I want to do and, trust me, I'll be safe and financially stable.' And I made the decision to do it on my own. I didn't want anyone else's opinion."

What we can expect from Kate & Anthony in Season 3: "We're filming a dance this week and tonally, it's so different – sweet, endearing and light, compared to the heaviness of their story last season," she says. We will also see Kate settle into the role of viscountess. "Even though she comes across as fierce, people like that are sometimes the softest on the inside. They develop that skin because they're vulnerable. You see her insecurities and fears. She's f**king nervous and I think there's strength in admitting that."
[From British Vogue]
She also mentions that she has a boyfriend but they haven't gone public yet and he's not in the industry? Or he's not an actor. Hm. As for this: "I'm sure it was restrictive. Things have taken me longer than other young actors who maybe don't have the same restrictions." Yep, and that's especially true of British film and television productions too, especially since there is such a big emphasis on historical dramas and period pieces, you know, stuff for only white actors overwhelmingly. Not that it's much better in Hollywood, I'm sure, but I've always thought that Hollywood treats Indian actors specifically like they can "play" a range of ethnicities. I'm sure she's far more likely to be cast as a "racially neutral" character in Hollywood.
https://www.instagram.com/p/CkdjqZjDp4L/
Cover & IG courtesy of British Vogue.
Source: Read Full Article