The Stunning Transformation Of Elisabeth Moss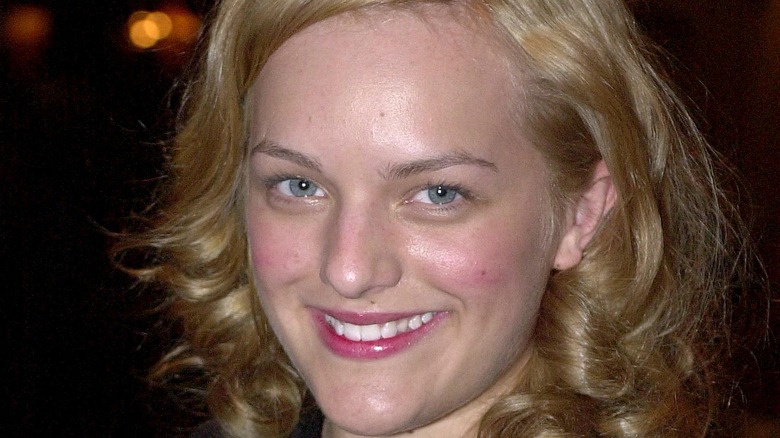 Elisabeth Moss navigates the raucous male gaze on and off-screen like no other. Her role as a defiant secretary to the lawless "Mad Men" is eerily similar to June Osborne's trajectory in the dystopian world of "The Handmaid's Tale." Both characters tackle pervasive misogyny through powerful performances, earning Moss a few Golden Globes, an Emmy, a Screen Actors Guild Award (via AMC) and the title "Queen of Peak TV" by New York Magazine.
Since then, Moss has become the face of unlikely feminist heroes on the big and small screens, taking on roles like the quick-witted horror writer Shirley Jackson in "Shirley" and the spiraling punk musician Becky Something in "Her Smell" (via IndieWire). Each character also finds themselves in Moss' own psyche, and transforms as she does. It can be hard to separate the two, as Moss has become synonymous with dark and intense roles. Unsurprisingly, Moss has been taking difficult roles even before she entered her teens (via Mic); the roles she plays thereafter are only amped up in their volatility.
Moss was six when she started acting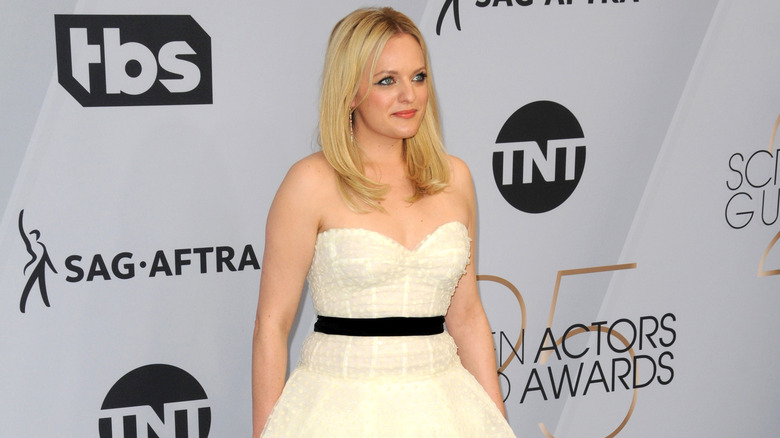 On an appearance on "Live with Kelly and Ryan," Moss talks about her first role as a six-year-old on the TV mini-series "Lucky Chances." "I really started on the dark path kind of early," she laughs. "One of my scenes was I had to find my mother, Sandra Bullock, dead in the pool." The award-winning actress continued working alongside names like Bette Midler in "Gypsy" and Angelina Jolie in "Girl, Interrupted" until she bagged the recurring role of the Martin Sheen's daughter in "The West Wing" (Via Mic).
All the while, Moss juggled her acting career with homeschool lessons and ballet, she tells The Daily Beast. "I was already acting, so for me, I stopped dancing when I was 15 or 16 — you had to go either way at that point, and if I went with ballet I knew I wouldn't be able to act, and if I acted I could still possibly dance — so I went with the acting."
Moss believes Peggy was a feminist icon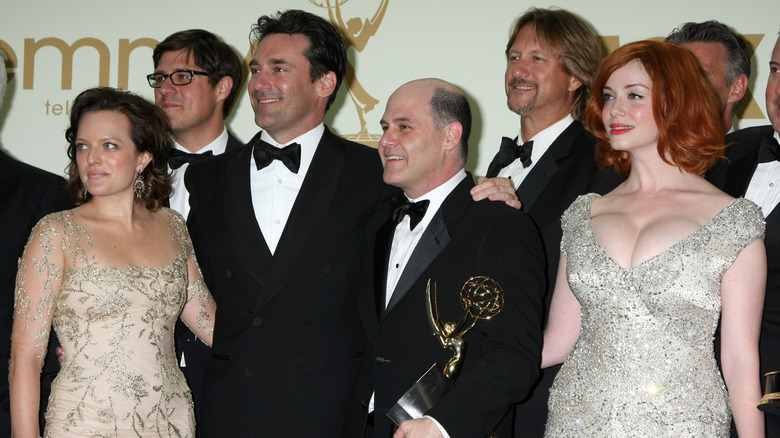 While you can still watch her twerk and belly dance on "The Ellen Show," watching her play out one of her most infamous roles as Peggy Olson confirms that she made the right decision choosing acting. She tells Vogue, about playing Peggy: "I felt like I could see Peggy. She was the unwitting feminist, the one that wasn't burning bras or marching, who didn't know the phrase glass ceiling but was banging her head up against it."
Despite the rampant sexism and harassment in the show, Moss asserts that the show was inherently feminist, in an interview with The Daily Beast. "I think 'Mad Men' lines up perfectly with the #MeToo movement and Time's Up because it's a feminist show, and if you watch the entire thing, Don starts out as the hero, the sex symbol, the guy on top, the guy you want to be, and near the end, he's broken, he's alone and he's miserable. And it's Peggy who has it all." The badass Peggy Olson strut (via YouTube) in the last season proves her point and the fact that Peggy is truly one of TV's biggest feminist icons. 
Moss' controversial religion and The Handmaid's Tale intersect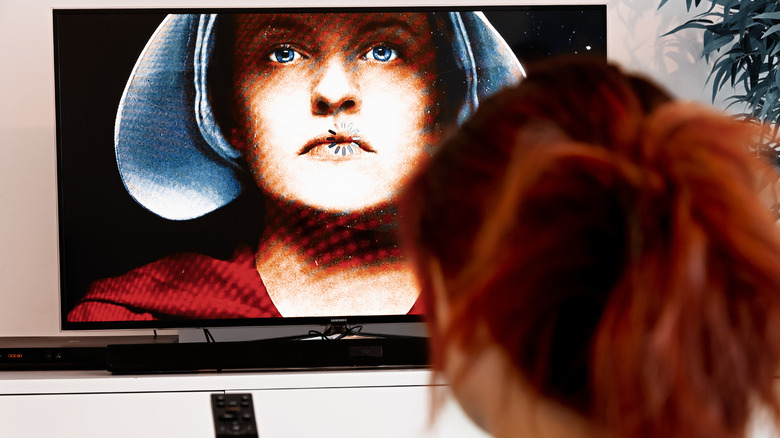 However, Moss' role as June Osbourne in "The Handmaid's Tale," a woman fighting for basic human rights in the nightmarish land of Gilead gives Peggy stiff competition.  "I think we grew up assuming that things like Roe v. Wade were just the way things were — a given," she tells Vogue. "June is a heroine like you are and I am and my mom is," she says. "She's a mother. She's a wife. She's a woman. She's human. I think that's really interesting — the question of, How would you act in her position? What would you do? What kind of hero would you become?"
The show also reflects Elisabeth's own beliefs, including the practice of Scientology, she tells The Daily Beast: "'The Handmaid's Tale' lines up so perfectly parallel with my own beliefs in freedom of speech, freedom of religion, and the things that this country was actually built on." She continues, "When you start to say 'you can't think that,' 'you can't believe that,' 'you can't say that,' then you get into trouble. Then you get into Gilead. So whatever happens, I'm never going to take away your right to talk about something or believe something, and you can't take away mine."
Elisabeth Moss relates to most of her characters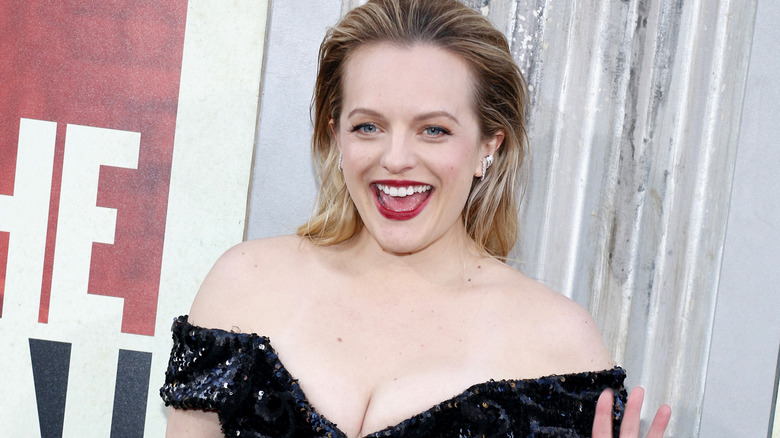 The actress also finds parts of herself in other characters she plays. Moss as Shirley Jackson felt natural to her, as she explains to Sky News: "I didn't know much about Shirley, but I loved this woman who was so smart and so complicated and so honest." She continues, "And I felt like there was this big part of her that I felt was inside of me as well, and inside of all women as well."
The role also inspired her to stay true to herself as a woman in the workplace. "Sometimes I feel like we as women are so afraid to be in a bad mood or not like something and be vocal about it," she says, "And [playing Shirley] did make me a bit braver."
"Her Smell," however, is a little different. She tells Vulture in an interview, "It was one of the only characters where I didn't love playing her at every moment. I wanted to shake her off and didn't want to be her anymore. She'd exhaust me, because I pushed myself so much. But I remember thinking, The only thing I'll regret is if I didn't go far enough with this."
Moss wants to do romantic comedies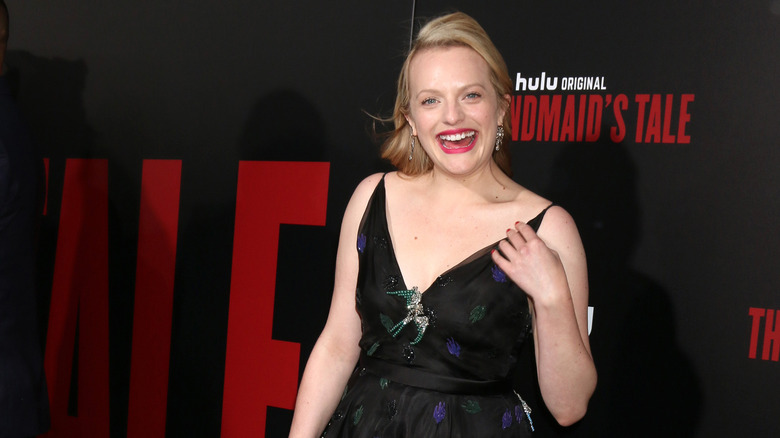 And while Moss seems to enjoy drawing in audiences with intense stares, she's admitted to The Telegraph that she'd like to take on light-hearted roles too: "I would love to do a romantic comedy for like, nine months. Nobody wants me to do it! They only want me to do this like, sick, challenging shit. And I get it — I do love that — but I would love to do a really smart comedic show."
Her segue into comedy may have begun with a minor part in Wes Anderson's "The French Dispatch," per IMDb, but viewers are more likely to find Moss' predisposition for comedy in her interviews, where Moss is truly herself. She tells Vogue, "People meet me and they're thrown because they expect me to be more serious, intense. I'm just so not." Her prowess at separating herself from the dark roles she plays isn't up for debate, but we're optimistic about seeing Moss play herself soon (hopefully, in a rom-com).
Source: Read Full Article