The Untold Truth Of Jordan Chiles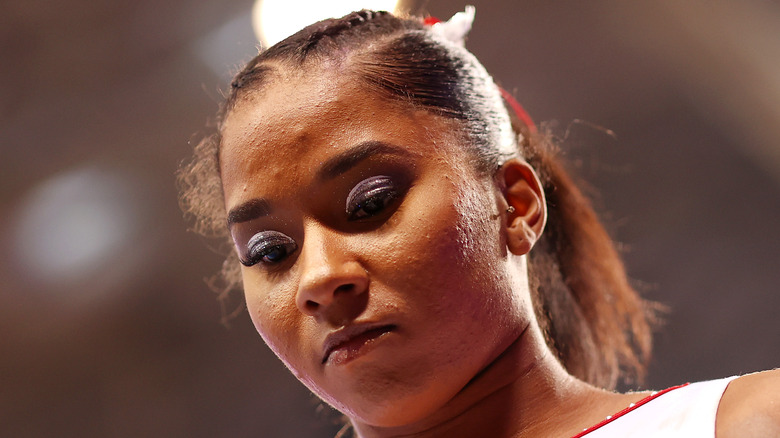 There are some pretty spectacular duos that so many of us have looked up to: there's Batman and Robin (a classic), and Thelma and Louise (who have inspired many female friendships), for example. But what if we told you that there was a superhero-level duo inspiring people young and old in the real world? We're pleased to tell you that the pair in question is Simone Biles and Jordan Chiles, the two gymnasts who are taking the Olympics by storm.
You'd have to be living under a rock to not know who Biles is, but up and coming — right by her side — is Chiles, the 20-year-old gymnastics powerhouse who is headed to the 2020 Tokyo Olympics. Chiles seemed like a bit of a newcomer to those not super familiar with the sport, despite having been on the senior circuit since 2013, but she is now making some serious waves thanks to her impressive performance at the Olympic trials. So much is still unknown about the young woman that we're sure will dominate the games, so we did some digging to see what her life has been like, where her career has taken her, and what challenges she's faced as an athlete along the way. So strap in, because this is the untold truth of Jordan Chiles.
Jordan Chiles has been on the gymnastics scene since 2013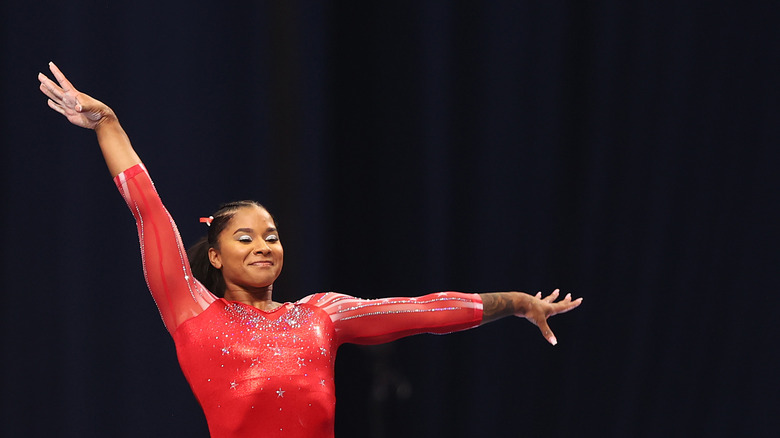 Jordan Chiles was born in Tualatin, Oregon on April 15, 2001. Unlike some young girls who get into gymnastics as soon as they can crawl, Jordan was a little late to the game. As noted by ESPN, Jordan didn't join the sport until she was 7 years old, which is considered a bit old (which is just wild). 
Jordan debuted on the gymnastics elite stage in 2013 at the American Classic, where she took home a bronze medal in the all-around competition and a silver medal for the vault discipline. She then took to the senior stage in 2017 at the American Classic yet again, where she placed fifth in the balance beam discipline and fourth in the uneven bars discipline. 
When asked what inspired them to enroll Jordan in gymnastics, her parents Gina and Tim Chiles shared that close friends and family encouraged them to place their daughter in classes given that she would "use any flat space to perform a cartwheel or handstand." "We thought we were just going to let her burn off some of that energy," her father told The Columbian. If only they knew what was to come next for the athlete's career.
This was the moment that changed Jordan Chiles' life as an athlete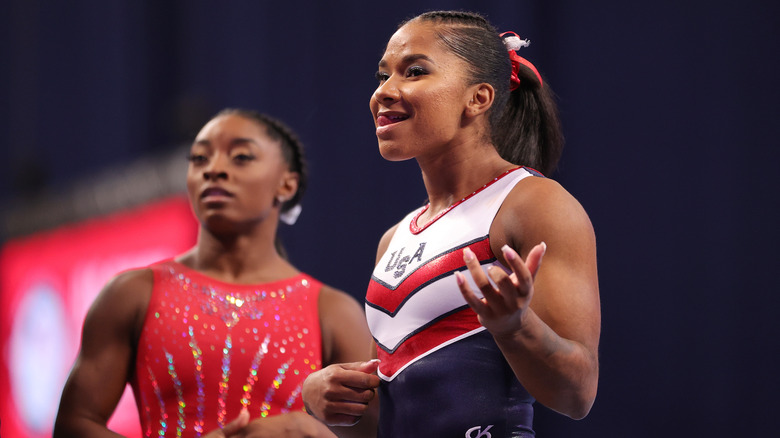 Where an athlete trains and who they train with can make or break their career, and that's something that Jordan Chiles knows all too well. We'll get into the specifics later on, but what you should know is that Simone Biles had a huge hand in encouraging Chiles to switch gyms and coaches. According to ESPN, the two gymnasts were roommates in October 2018, as they were both competing in the world championship team trials. 
What started out as a joke — as in Chiles talking about switching gyms and joining Biles at the World Champions Centre in Spring, Texas — turned into a serious conversation very quickly, and Biles made it clear that if the young protégé was serious, she should take the plunge and move. At the time, Chiles was training at Naydenov Gymnastics in Vancouver, Washington, but as ESPN revealed, she "felt like she was on the outside, looking in at an Olympic team spot" — not exactly the ideal position. But it was that moment with Biles that changed Chiles' trajectory, and as we know, the decision to move gyms paid off in a big way.
This is how Jordan Chiles described her Olympic qualifying experience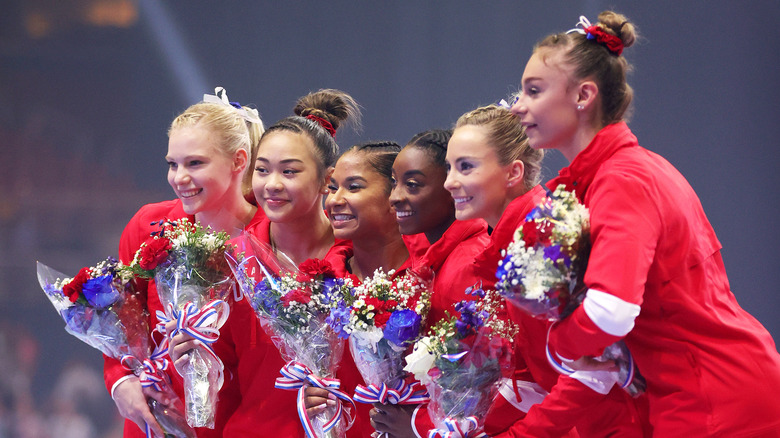 If you're a fan of gymnastics, chances are you were glued to the screen during the Olympic trials — there is something remarkable about watching these athletes perform. The agility, the grace, the athleticism — it's all there. But we can't even begin to imagine just how nerve-wracking of an experience the Olympic trials are. After all, athletes wait for years to qualify for what can be a once-in-a-lifetime opportunity. 
When Jordan Chiles made the Olympic team and received a now viral embrace from Simone Biles, she knew that the moment was life changing. In an interview with NBC's Today, Chiles shared that qualifying for the 2020 Olympic team was "honestly the most amazing feeling" she'd ever experienced, and revealed that she started "tearing up" before the competition even started. "I didn't know what the outcome was going to be, so I just wanted to go out there and really show everybody who I am as a person," Chiles shared. "And having [Biles] by my side 24/7 and giving me encouraging words every day definitely helped and it was very motivational." We can't wait to see what the games bring her.
Jordan Chiles will face this hardship during the Tokyo Olympics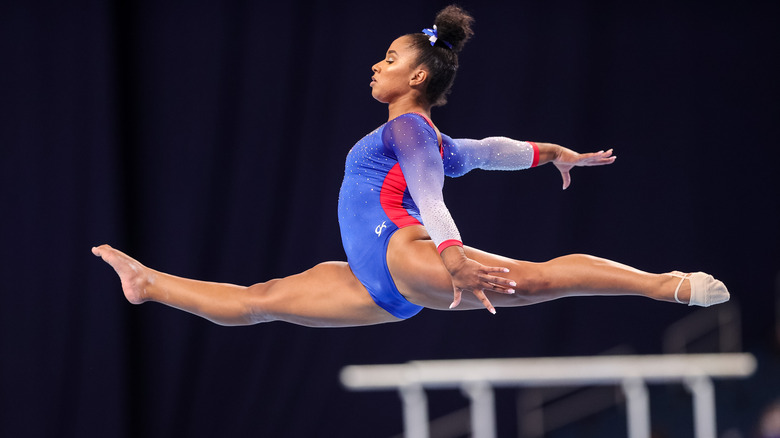 The Olympics stage is huge, and we can't even begin to imagine the pressure. But of course, the pressures for athletes don't contain themselves to the gym, and unfortunately, Jordan Chiles' family will be going through a difficult process while she is competing in Tokyo. As noted by the Orange County Register, Jordan's mom, Gina Chiles, is set to report to the United States Bureau of Prisons the same day as the all-around gymnastics final — she is set to commence a one year and one day prison sentence for wire fraud. Yes, we're not kidding and no, we can't even begin to process what this might feel like for the Chiles family. 
So here are the details. In March 2020, Jordan's mom agreed to the plea deal after she was found guilty of "defraud[ing] clients" of Inspire Vision Property Management LLC, a property management business she ran. From 2014 to 2018, she "devised and intended to devise a material scheme to defraud clients … and to obtain money and property by means of materially false and fraudulent pretenses," according to the U.S. Attorney's office. Jordan's mom is also required to pay over $1.2 million in restitution. Talk about bad timing.
Jordan Chiles has these amazing wins under her belt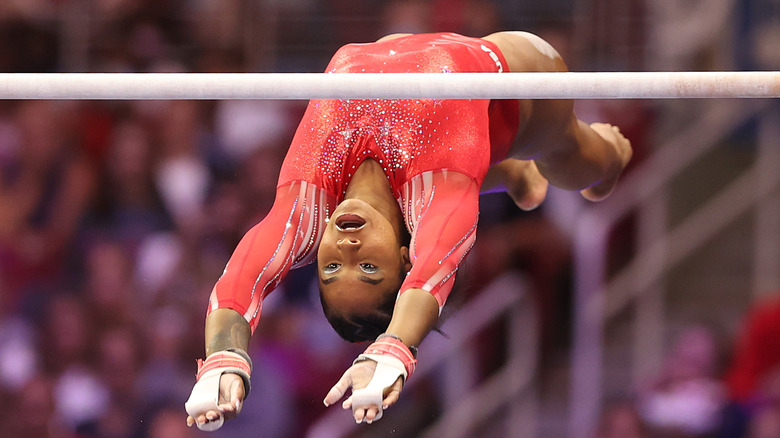 When you really want to get to know an athlete, you have to look at their stats — and it's safe to say that Jordan Chiles impresses. After she started training with Simone Biles and the coaches at the World Champions Centre in Texas, she began raking up win after win. 
First and foremost, let's start with Chiles' performance at the Winter Cup, which took place in February of 2021. As per ESPN, it was the first national gymnastics competition since the start of the COVID-19 pandemic, and it was Chiles' opportunity to really stand out. As recorded by NBC Olympics, Chiles "skirted past" the competition and came in first with a 1.95 point gap. She also nabbed the biggest scores of the competition on the floor and vault disciplines. Talk about a debut. 
Shortly after, Chiles competed at the U.S. Classic alongside her training partner, Biles. Biles and Chiles took the number one and two spots respectively, and as noted by NBC Olympics, the performance proved that Chiles' "recent success was not a fluke." It's safe to say that she is certainly the athlete to watch in the 2020 Olympic games.
This is what the early days of Jordan Chiles' gymnastic career looked like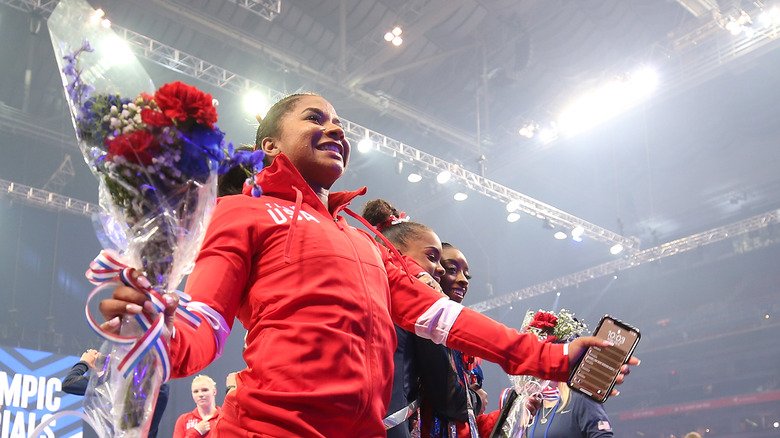 Gymnastics gives the impression of discipline, and while the athletes dedicate their lives to the sport, it doesn't always look like they're having a ton of fun. But for Jordan Chiles, she approached the sport in a far more casual way in her early years. As noted by ESPN, Chiles "didn't exactly understand what she was seeing" when she stepped into a gym for the first time. "I thought it was just like a trampoline park," Chiles confessed. "All the girls were doing flips and stuff, and I thought it looked like fun." 
Of course, the stakes of the sport clicked for Chiles once she observed the 2008 Olympics — for many athletes, watching the games as young kids stirs confidence and determination. Shortly thereafter, she attended her very first national team camp, ranking as a junior gymnast at the time. "I didn't really fully understand what elite even was until that point," she continued. "When I walked in and saw Kyla [Ross] and Aly [Raisman], I was just like, 'Oh my goodness, I'm with the big girls. What am I doing here? Am I going to the Olympics? This is crazy.'"
This storied gymnast inspired Jordan Chiles when she was a child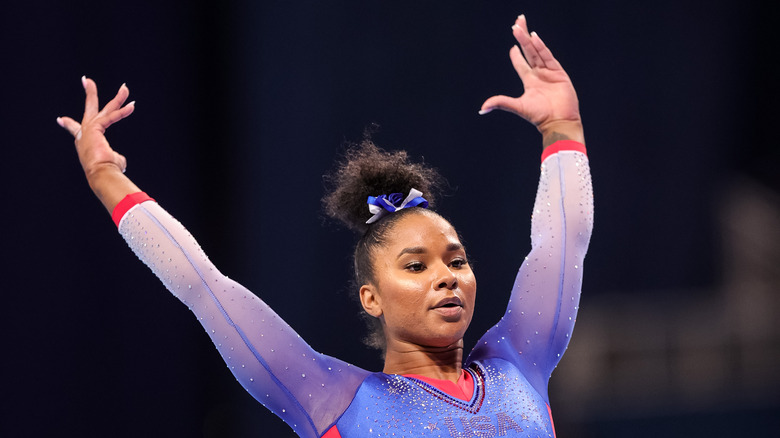 The world of elite gymnastics seems fairly small, and the sport holds some household names. Chances are you've heard of Gabby Douglas, Aly Raisman, and Nastia Liukin. Oh and you should add Shawn Johnson to that list, because the storied gymnast who had a memorable performance at the 2008 Olympics in Beijing directly inspired Jordan Chiles to pursue the sport they both love. 
Johnson married football player Andrew East, and the two welcomed their first child in March 2021. Chiles took to Twitter to express her well wishes for the new parents, and accompanied her words with a photo of herself and Johnson from over a decade prior. "11 years ago I waited in line as a little girl to meet you. One day your baby girl will know how much you inspired girls like me," Chiles wrote to Johnson. 
The message was so sweet, and very well received by Johnson, who publicly responded with an encouraging message of her own. "Jordan … YOU along side the other girls are now the inspiration. My daughter may learn of my career but she will grow up chanting YOUR name," Johnson tweeted. Love to see it.
Jordan Chiles faced a huge point of discouragement during her athletic career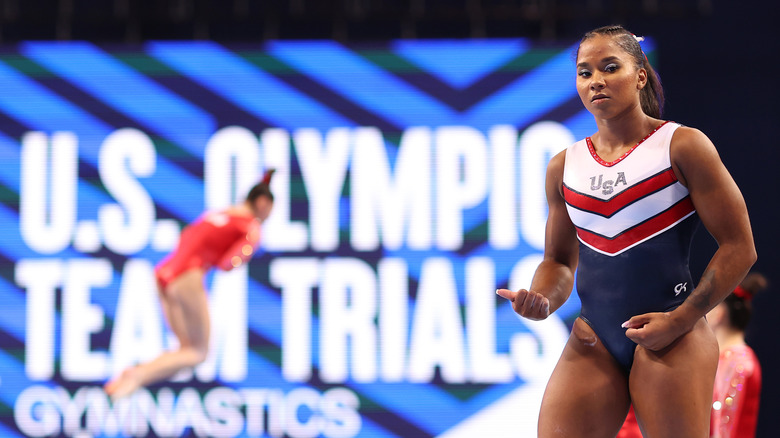 Every athlete suffers setbacks, but Jordan Chiles had a really rough go of it. According to The New York Times, Chiles failed to make the U.S. gymnastic team that was headed to Montreal for the world championships. "I didn't think the sport wanted me anymore," Chiles said of the experience. "So I went in the opposite direction." The setback prompted Chiles to "check out from the sport," and she started adopting habits that had been off-limits to her. 
Gone were the days of calorie counting and eating "only soup." Chiles embraced the life of sweets and Starbucks, went to parties without thinking of her next day workout, and all but abandoned the discipline that gymnastics is known for. But the experience as a whole took its toll; Chiles placed 11th in the all-around competition at the national competition in 2018, and saw the performance as a sign that her time was done. "I guess this sport is coming to an end for me because things just aren't working out for me at all whatsoever," Chiles added. "I just wanted to finish high school and go off to college."
Jordan Chiles is the subject of a children's book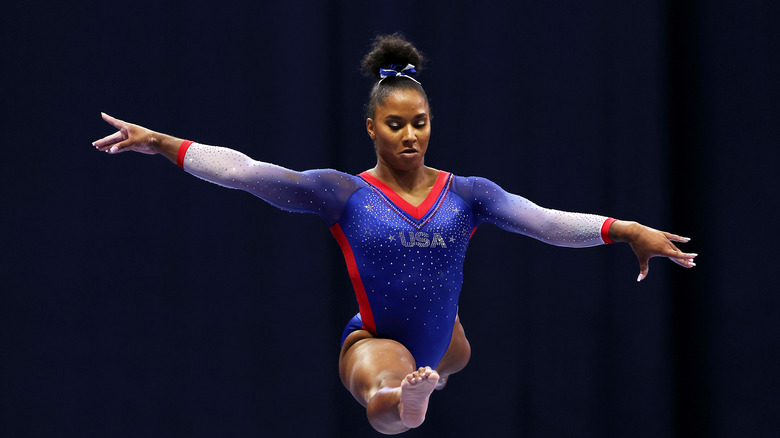 It's always incredible to watch an athlete excel, but Jordan Chiles' path throughout her career has paid off in a touching way. Her mom, Gina Chiles, took the opportunity in 2018 to write a children's book inspired by her daughter; it was published in February 2020 and is entitled, "Dream Big Little Chick," as noted by NBC Sports. What is even more touching about the book is that it was illustrated by Jordan's sister-in-law. 
Jordan's mom is not only a parent, but a grandparent to six grandchildren; when asked what motivated her to write the book, she shared that she wanted something to read to her grandkids — and a book that she had written herself. "It was based on Jordan, but I was really thinking of little kids that had their own dream," Gina explained. "Especially when things didn't always seem like it could happen." 
In addition to the book being based on Jordan, the front cover includes a phrase that is meaningful to the athlete: "Believe in the power of your dreams." When Jordan heard about the project, she was "flattered," and her mom cried the first time she read the story aloud.
Jordan Chiles made headlines for this head-turning look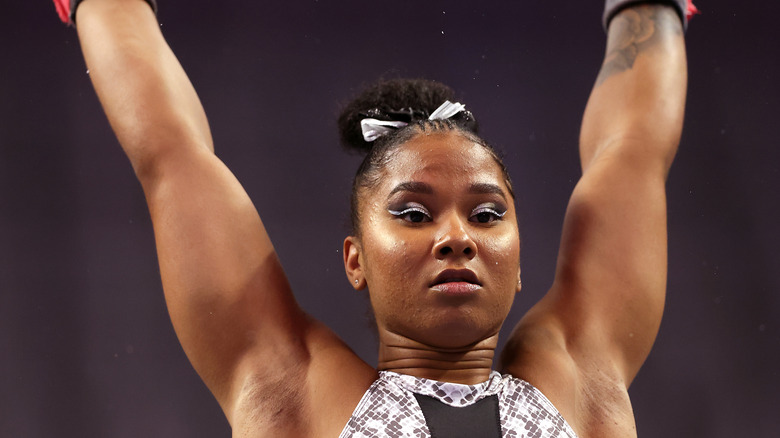 Gymnastics certainly seems like the most vivacious sport in the Olympics, and the leotards are stunning and often include sparkling details. And while the athletes typically keep their hair tightly pulled back, a lot of creativity is expressed through their makeup looks. Jordan Chiles certainly got the memo about bold makeup designs, and after the Olympic trials, she made headlines for her head-turning eyeliner and metallic eyeshadows. Notably, Chiles implored the floating liner look, which is very on-trend thanks to the looks created for the likes of Ariana Grande and Lady Gaga. 
As per PopSugar, recreating Chiles' eye makeup look takes certain products, but it might be easier to get the star's looks than you might think. To recreate her white winged eyeliner, try the NYX Professional Makeup Epic Wear Waterproof Liquid Liner. If eyeshadow is more your thing and you want to rock Chiles' metallic look, opt for the Nars Cosmetics Duo Eyeshadow. And if you really want to be bold and go for the same floating eyeliner look that caught so many eyes, go for the Anastasia Beverly Hills Norvina Pro Pigment Palette Vol. 5. You'll be rocking Chiles' looks in no time.
This moment served as a turning point in Jordan Chiles' career as a gymnast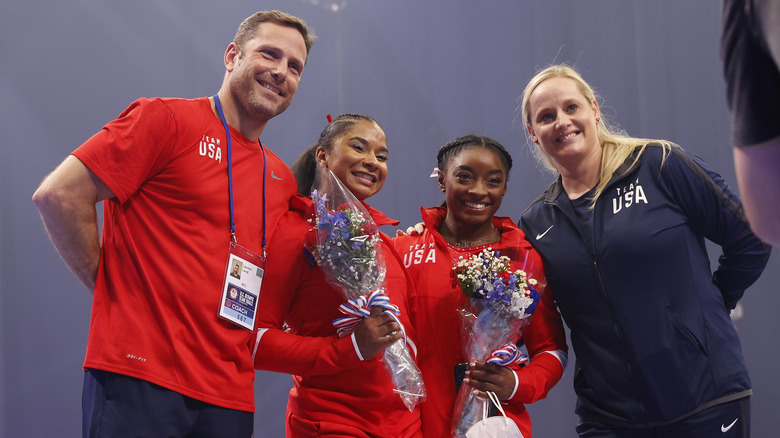 Jordan Chiles had a significant rough patch in her gymnastics career, and Simone Biles talked to the rising star about switching gyms. But Chiles actually did it — she moved to Texas to train at the World Champions Centre with coaches Laurent and Cecile Landi. The move marked a huge turning point in Chiles' career, and set her on a trajectory that has taken her to the Olympic level. 
Chiles recounted her experience to The New York Times, and spoke about her new coaches' approach. They were described as "tough, meticulous and knowledgeable," yet supportive of their athletes maintaining healthy lives outside of the gym, too. Their value scale — of allowing the gymnasts time to balance their schedules — was a needed change for Chiles, and she benefited because of it. Chiles stepped into the gym, and as noted by The New York Times, her new coaches were immediately taken by her skill. "We always knew she was super talented, but I remember seeing her at Classic and being shocked at how good she looked," Cecile gushed. "Laurent and I were like, 'Wait, hold on, wow, this is just the beginning.'"
This is Jordan Chiles' estimated net worth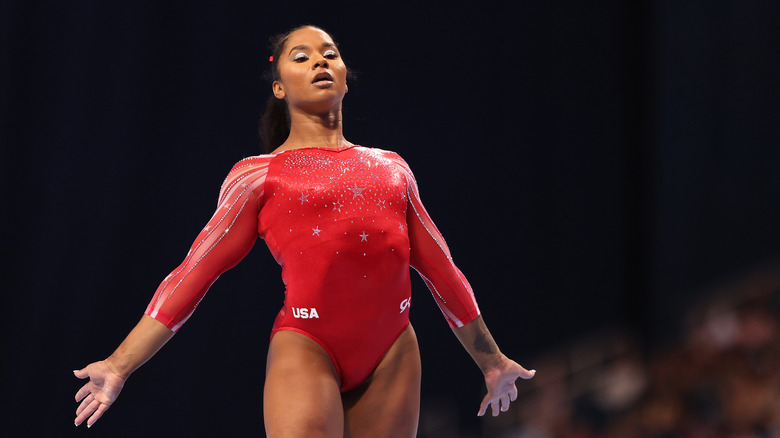 A life in the gymnastics spotlight has certainly earned Jordan Chiles notoriety, but it's also come with some lucrative perks. From the likes of her performances at the American Classic, the Stuttgart World Cup, the Winter Cup, and of course as a member of the Olympic gymnastics teams, Chiles has quite an enviable net worth. According to Exact Net Worth, the budding star of the gymnastics world is already worth $1.5 million, and it's likely that her income will grow from here. The U.S. gives its Olympic athletes some monetary perks if they place — specifically $15,000 for bronze winners, $22,500 for silver winners, and $37,500 for gold winners (via CNBC). If Chiles performs at her best (which we know she will) at the Olympics and places, she could add quite a nice sum of money to her coffers. 
In addition to her life as an athlete, Chiles is also an entrepreneur. As noted by The New York Times, she founded the Melanin Drip Clothing Co. during the pandemic. The line sells clothing, most notably being hooded sweatshirts that say, "Beautiful, Black & Brilliant" on them. All of that has added up nicely for the athlete.
The postponement of the Tokyo Olympics helped Jordan Chiles prepare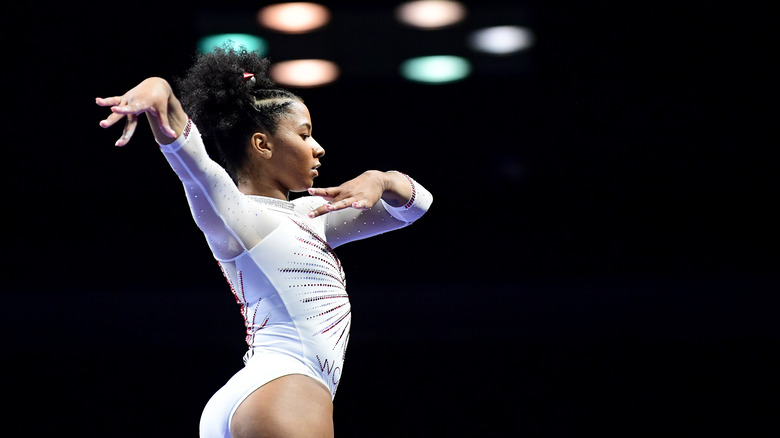 2020 was the year of cancellations — canceled weddings, canceled graduations, and yes, canceled Olympics. The Olympics were supposed to be held in July of 2020, but got pushed a year forward given the COVID-19 pandemic. While the pandemic was (and still is) such a disruption, the added time did give Jordan Chiles a little bit of wiggle room. Cecile Landi, one of Chiles' coaches, told The New York Times that trying to train Chiles in time for the 2020 Olympics was "a race against time." 
But Chiles and her coaches got to pump the brakes a tad when it was announced that the games had been postponed until the following year. It also didn't help the situation, at the time, that Chiles had undergone wrist surgery. The extra time allowed her to heal both physically and emotionally — and the extra calendar year allowed Chiles to find a new appreciation for her sport. "I discovered that gymnastics doesn't always have to be about strictness and being so hard on yourself and having so much doubt," she revealed. What helped Chiles with this realization? Watching her training partner, Simone Biles, compete and watching her smile while doing so.
After the Olympics, Jordan Chiles will be committed to the UCLA gymnastics team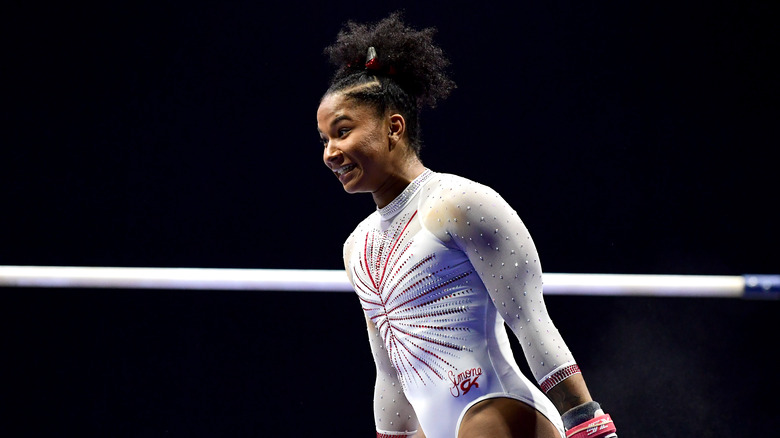 If there is one gymnastics team that rivals the U.S. Olympic team, it's the UCLA crew. UCLA's gymnastics team has been at the peak of collegiate athletics for years, in part due to the amazing leadership of head coach Valorie Kondos Field. Viral moments and amazing floor routines have projected the women's team into the spotlight, and once Jordan Chiles has competed at the Olympics, she'll be joining the storied collegiate group. According to UCLA's newspaper, The Daily Bruin, Chiles is an incoming freshman, as is Emma Malabuyo, who scored a spot on the U.S. Olympic team as an alternate. 
Of course, Chiles will be joining a team that has seen the likes of Olympians including Kyla Ross, who spoke to ESPN about Miss Val and the experience she had after competing in the Olympics herself. "I knew that if I came here, I would really have a fun and exciting new experience, and I think that was something I really needed, especially after a long, hard elite career," Ross said. We can't wait to see what the Olympics, and her time coming at UCLA, has in store for Chiles.
Source: Read Full Article