There's "Anxiety" on Set of 'The Crown' and Creatives Are "On Edge" Over Diana Scenes
The Crown's upcoming fifth season is already causing a lot of controversy thanks to claims that portions of the show are inaccurate, and Deadline reports that there's tension on set ahead of filming scenes surrounding Princess Diana's tragic death.
Deadline reports that there's been "anxiety" on the set of season six, with creatives and producers "on edge" ahead of filming the "fateful moments that led to the death of Princess Diana in a car crash in Paris twenty-five years ago."
"We've been dreading getting to this point," a source told Deadline on October 12. "The countdown is two weeks and while we're calmly carrying on it's fair to acknowledge that there's a certain anxiety; a palpable sense of being slightly on edge. I mean, there's bombshell sensitivity surrounding this one."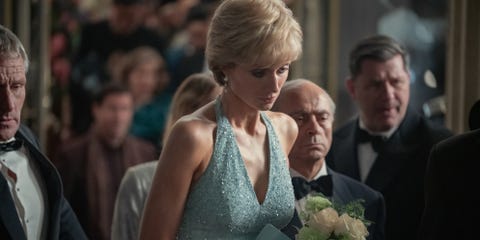 While the crash itself will not be filmed, Deadline reports that the season six episode that covers the tragic accident will see then-Prince Charles "arriving on a royal flight to collect Diana's body" and scenes of Mohamad Al-Fayed and "the casual racism he endured from French authorities after he took possession of the casket containing his son."
Meanwhile, Elizabeth Debicki (who plays Diana) was just asked about concerns that the Princess of Wales' death won't be handled with enough sensitivity.
"Well, I don't really know about those concerns," she told Entertainment Weekly, adding "I'll say that Peter and the entire crew of this job do their utmost to really handle everything with such sensitivity and truth and complexity, as do actors. The amount of research and care and conversations and dialogue that happen over, from a viewer's perspective, something probably that you would never ever notice is just immense. From that very first meeting [with] Peter, I knew that I'd entered into this space where this was taken seriously [in] a deeply caring way. So that's my experience of the show."
Source: Read Full Article