This Is Who Tried To Steal Antonio Banderas From Melanie Griffith
Antonio Banderas made a name for himself alongside iconic Spanish filmmaker Pedro Almodóvar in the 1980s, but he didn't capture the hearts of Americans until the following decade. In the 1990s, the handsome Spaniard made a splash in Hollywood when he starred in a series of popular films, like "Interview with the Vampire" (1994), "Assassins" (1995), "Evita" (1996), and "The Mask of Zorro" (1998). In all of those movies, Banderas shared the screen with some of Hollywood's biggest names, including Tom Cruise, Brad Pitt, Sylvester Stallone, Anthony Hopkins, Catherine Zeta-Jones, and Madonna.
It was during those exciting years in his career that Banderas divorced his first wife, Ana Leza, in 1996. That same year, Banderas married American actor Melanie Griffith, who co-starred with him in the film "Too Much," according to ABC News. As E! News pointed out, Banderas was still married to Leza when he and Griffith began dating, but the couple was already separated. 
Even though Banderas fell in love with Griffith while filming the 1995 rom-com, he admitted being struck by her years earlier, when he saw her at the 1989 Academy Awards, according to a separate ABC News report. Maybe theirs was a relationship that was meant to happen. And they lived it intensely for 18 years, with Griffith filing for divorce in 2014. Banderas and Griffith went through plenty of adversities, including health scares, addiction, and even a famous woman trying to steal him from her. Read on to learn just who it was. 
Madonna tried to hook up with Antonio Banderas in the 1990s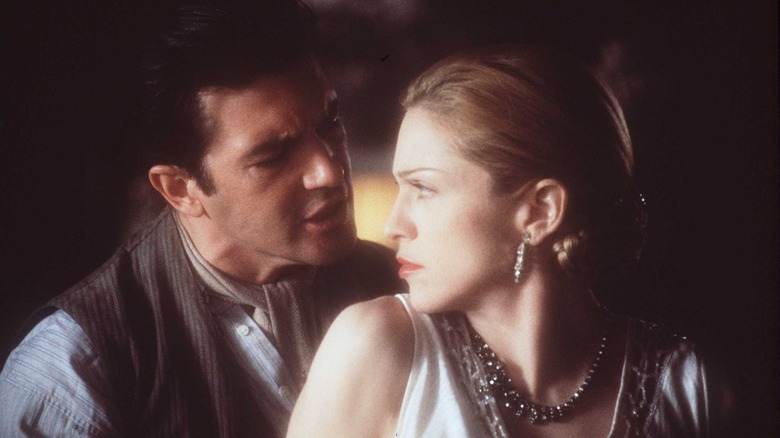 Antonio Banderas and Melanie Griffith's marriage survived many hardships, and one of them included seduction at the hands of The Queen of Pop herself. That's right. In the 1991 documentary "Madonna: Truth or Dare" (via E! News), Madonna admitted she had a crush on Banderas and tried to hook up with him. 
We don't know exactly how she tried to convey her feelings for the Spaniard, but her methods can't have been very good. In fact, Banderas had no idea Madonna was attracted to him until she called and told him about his segment on the documentary, he said on "The Jess Cagle Show" in 2019. "I thought somebody was making a joke at me because I picked up my phone in my hotel room and it was Madonna," he said.
That rather public admission didn't elude Griffith. When Banderas and Madonna were cast in "Evita," Bandera's wife was very much present but denies Madonna was the reason. Speaking on "Larry King Live" in 2002, Griffith said she was going to the set so often because she was pregnant. "Madonna was after him publicly… I had just gotten pregnant, and I went with him. So the press made a big thing about how Melanie's watching over Antonio… because she's afraid that Madonna's going to… steal him. And it really wasn't the case," she said. Regardless of whether that was the case, Griffith was barred from the set, she said.
Despite her crush, Madonna and Antonio Banderas never dated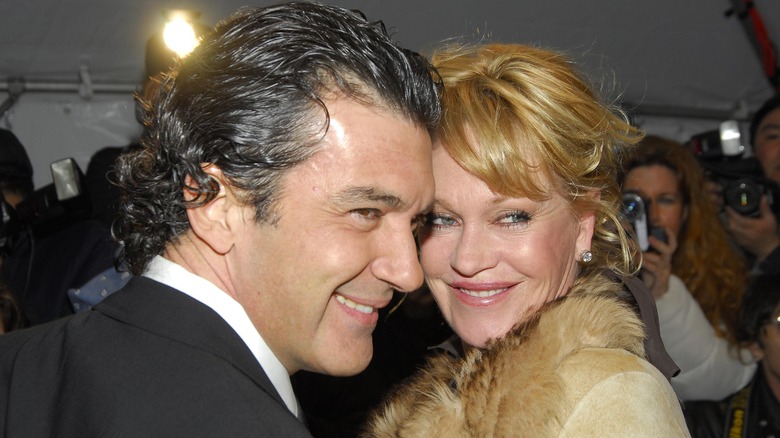 Madonna never hid the fact she was attracted to Antonio Banderas. In 2015, she confirmed on "The Howard Stern Show" that she would have dated the Spanish actor if given the opportunity. "He's hot. I had a big crush on him," she said, but added that the two never hooked up because "he was with Melanie Griffith. I wished." According to Yahoo!, Madonna argued that Griffith "never left his side." 
Madonna wasn't the only one who thought Griffith was a bit overbearing. Per Yahoo!, Banderas' "Evita" co-workers turned against Griffith after the media made a big deal about her reportedly being jealous of Madonna. "They didn't let me go on the set," Griffith said on "Larry King Live," adding she was "hurt." According to MTV, Madonna remained respectful of the couple and even skipped the afterparty. 
It wasn't the first time a relationship prevented Madonna from making a pass at Banderas. As Pedro Almodóvar wrote in a 2020 diary entry published in English by IndieWire, Madonna attended a party thrown by the filmmaker in 1990 so she could meet Banderas. But she wasn't expecting him to show up with Ana Leza, his first wife. "Ana dared to get close to our table and told the divine blonde sarcastically, 'I see you like my husband, it doesn't surprise me, all women like him, but I don't mind because I am very modern.' To which Madonna replied: 'Get lost,'" Almodóvar recalled.
Source: Read Full Article