Tom Cruise's Salary Is Just as Ridiculously High as You'd Expect, TBH
Tom Cruise has been famous for pretty much our entire lives, so yeah: the dude is rich. And not just normal ~celebrity millionaire~ rich. Tom is worth over half a billion dollars thanks to his lengthy career as a permanent A-lister. This man has been in some of the highest grossing films quite simply ever, which is his main source of income since obviously he's not out here doing spon-con. Let's break it down movie by movie and vaguely spiral about his wealth, shall we?
Tom Cruise's Movie Earnings
Credit to Celebrity Net Worth for this truly wild information, and please note we're going to be breaking out the Mission Impossible movies into their own category because Tom's earnings on them are bananas.
Risky Business (1983)
$75,000 (Note: this was Tom's breakout role, so his salary was on the lower side for an A-lister.)
Legend (1985)
$500,000
Top Gun (1986)
$2 million
Cocktail (1988)
$3 million
Days of Thunder (1990)
$9 million
Far and Away (1992)
$13 million
A Few Good Men (1992)
$12 million
The Firm (1993)
$12 million
Interview with the Vampire (1994)
$15 million
What Did Tom Cruise Make for Mission Impossible?
You simply are not ready. Tom made a reported $70 million for the first Mission Impossible movie and $75 million for Mission Impossible 3, mostly thanks to producer credits. But his most profitable film sandwiched in between them: Mission Impossible 2. Tom apparently earned $100 million for this movie thanks to backend deals and earned the same for 2005's War of the Worlds.
Here are some of Tom's musings to Forbes on all those sequels, by the way:
Cool but speaking of sequels…
What Did Tom Cruise Make for Top Gun: Maverick?
Tom's new Top Gun movie is about to hit theaters, and he's already made millions. Variety reports that he made $13 million upfront for the film and is expected to earn millions more on the backend if it does well (which it doubtless will).
His Total Career Earnings Between 1983 and 2019?
That'd be a reported $745 million. Also, according to CinemaBlend he makes $7,091 per word of dialogue. No wonder Forbes has listed him as one of the richest actors in the world 😵‍💫.
How Much Does He Pay in Child Support?
If you want to get supremely nosy, yes: there are details about Tom Cruise and Katie Holmes's financial settlement to go over! Back in 2012, TMZ reported that Tom was required to pay Katie $400,000 a year in child support until their daughter Suri turned 18 (which ends up being a total of $4.8 million…literally a teeny drop in Tom's net worth bucket). Katie didn't get spousal support, but Tom agreed to pay for Suri's "medical, dental, insurance, education, college and extracurricular costs."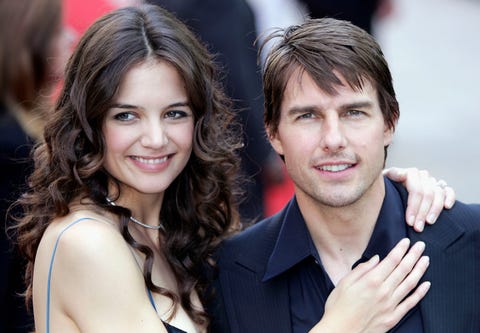 Tom Cruise's Real Estate Is Worth a Fortune
Much like Scott Disick of the critically acclaimed Flip It Like a Disick, Tom Cruise buys and sells a lot of homes. He's flipped a ton of properties over the years, but his most recent one was a Telluride home that Forbes reports he sold for $39.5 million. He famously filmed an Oprah interview in this house, and there's an extremely blurry video of the home tour for us to watch together, yay:
What Is Tom Cruise's Total Net Worth?
According to Celebrity Net Worth, it is $600 million, and considering his average salary is $50 million a year, expect it to keep going up!
Source: Read Full Article