"I've Always Wanted to Design Other Things": Bianca Saunders on her Debut Furniture Collection
Bianca Saunders is one of the most successful designers to have emerged from the London fashion scene in recent years. From her studio in the city's Sarabande Foundation – the creative complex founded by the late Lee Alexander McQueen – she has been crafting intentionally timeless menswear pieces that have won the acclaim of the likes of Pheobe Philo, Ye, and Alessandro Michele (to name a few).
Now, she is turning her attention and talents to furniture and has developed a series of home objects and accessories alongside leather brand ECCO, under its new creative exchange named AT.KOLLEKTIVE. One of five designers invited to create pieces for the first drop, Saunders has worked alongside the team of in-house experts at ECCO to create pieces that extend far beyond her usual menswear practice, but remain rooted in her signature aesthetic.
Going off-piste and into new design territories brought about a sense of nostalgia for Saunders, but also an opportunity that came right in the nick of time. "When I was at the RCA doing fashion, I wanted to design other things," she says, describing the school's reputation to push its students' experimental sensibilities. "But now, doing every season, and having more collections, I haven't been able to do as much as I have hoped to do – so this was the perfect opportunity."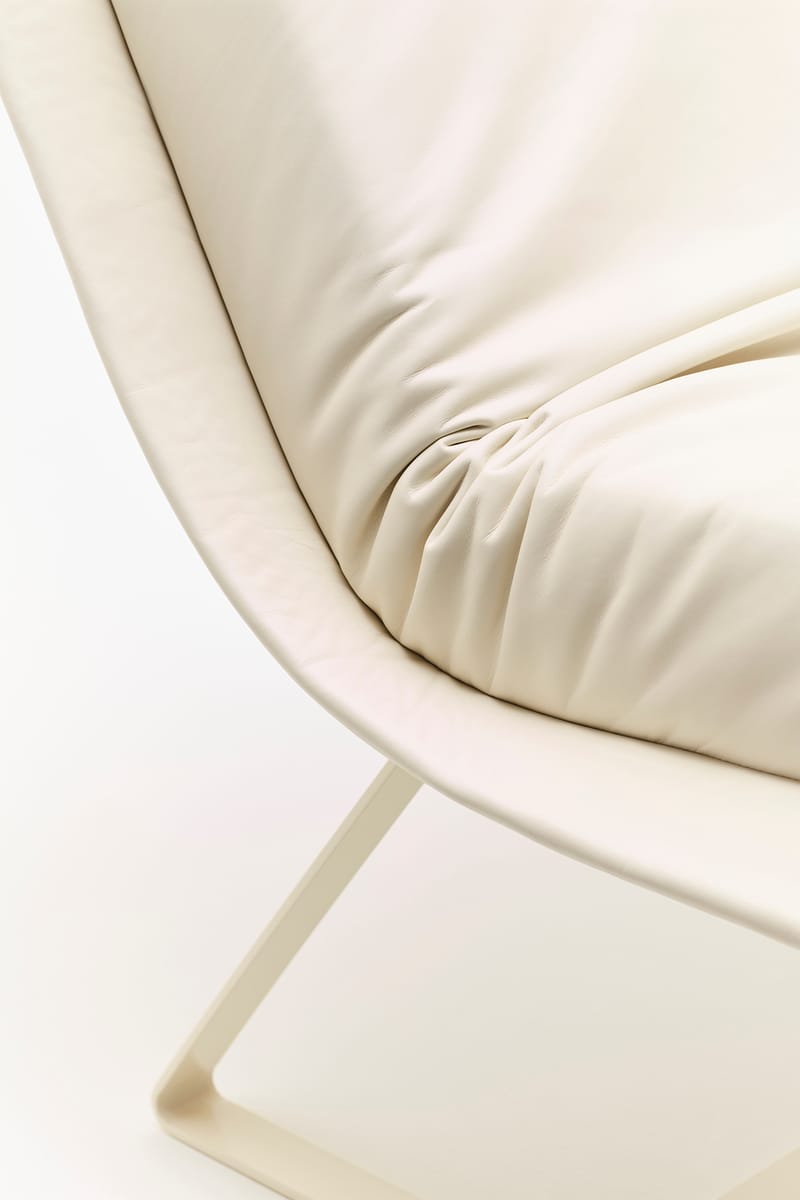 At.kollektive
It all began when the ECCO team reached out to Saunders, to ask if she'd be interested in working alongside them and the rest of the collaborators on this new venture. As someone who tries to be material focused through her fashion design, she saw it as an opportunity to learn from the company's vast network of experts. "I split my attention across multiple fabrications, so it really appealed to me that this was just leather and that I could really master and study intently," she explained. Following that were visits to tanneries, and back and forth conversations about what leathers would be right for the different ideas she had. It turns out it's a lot more complex than you may think – "they have hundreds of leathers [at ECCO], and certain things work better for furniture, while others work better for footwear," she says.
The idea behind Saunders' showstopper piece comes in the form of a so-called "floor seat", – "I want the user to be able to lift the chair's seat off the frame and onto the floor so that it becomes almost like a bed," she elaborates. Her inspiration came mainly from the properties of the leather itself, and how it molds and changes with use over time – forming to the shape of the wearer (or in this case, the sitter). Across the other pieces she has created, this inspiration is evident, too, from her multisized, malleable bags which can be shaped via the wire in their seams, to a series of chic, streamlined footwear.
"The colors aided the shapes and the sense of structure"
When it came to colors, it was the works of English painter Francis Bacon that the designer turned to. "A lot of Francis Bacon [came up], especially 'Study for a Portrait on Folding Bed' (1963) – there are lots of punchy colors, anchored by dark colors," she says. "I was trying to find colors that felt new and felt unexpected, without too obvious associations. I think that the colors aided the shapes, and the sense of structure, and add to the sense of it being a special object that you'll take care of."1 of 3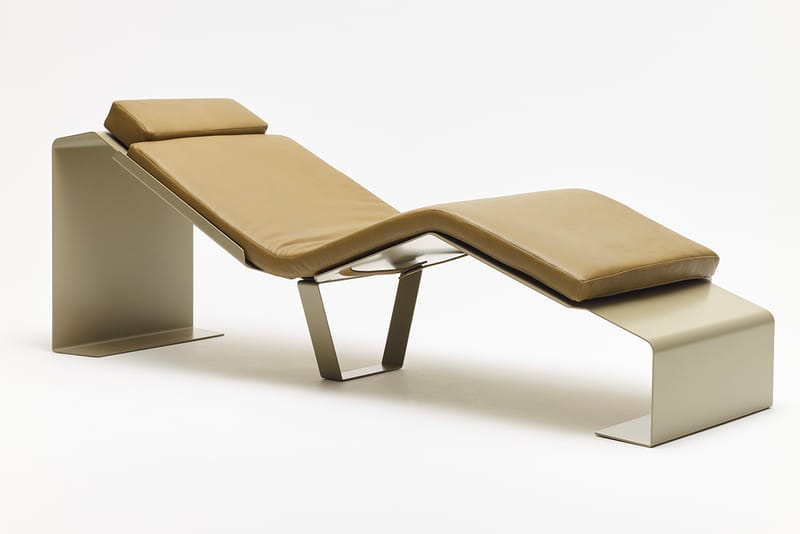 Lounge chair by Issac ReinaAt.kollektive2 of 3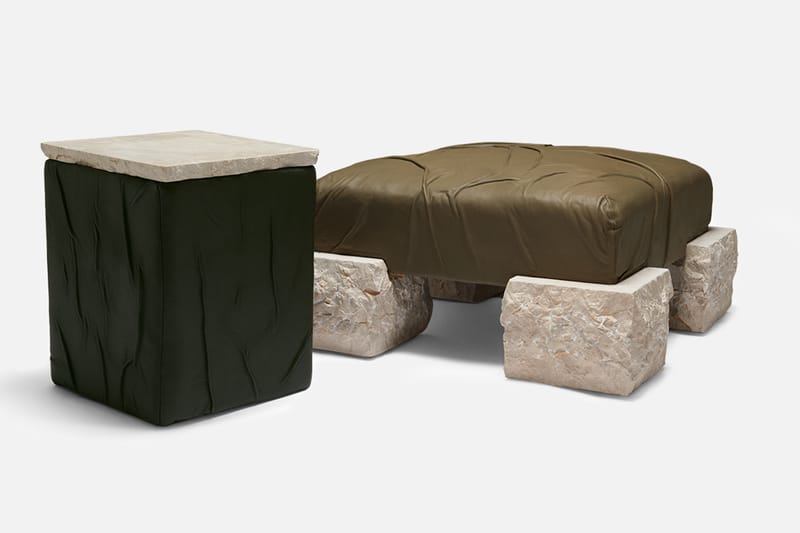 Furniture by Natacha Ramsay-LeviFashion Anthology3 of 3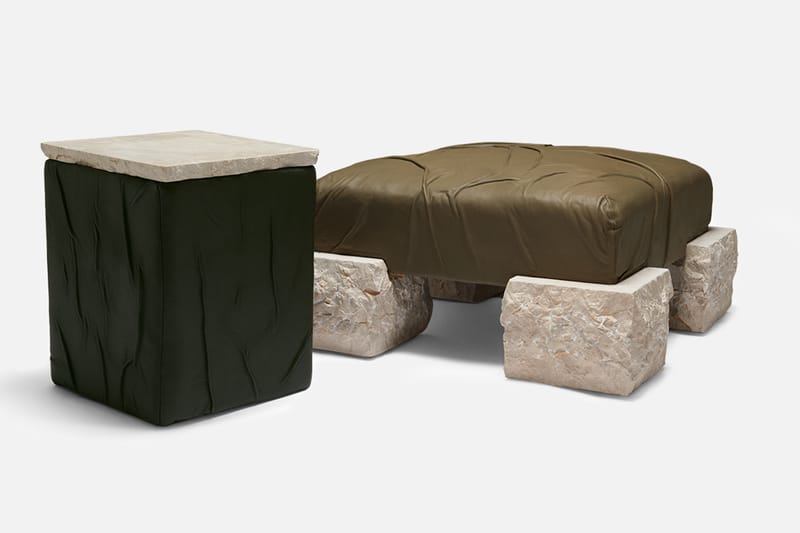 Bags by Kostas MurkudisFashion Anthology
In her late twenties, Saunders is the youngest of the designers on the AT.KOLLEKTIVE roster. She says that being in this position enabled her to learn extensively from the experience of the other participants: Natacha Ramsay-Levi; Isaac Reina; Kostas Murkudis; and Bernard Dubois. "I'm the most emerging out of the other designers, and they've worked for loads of companies that I really admire," she says. "It was great to hear their stories and see how they worked – I live in my own bubble, so it was good to get out of it."
Saunders' collection with AT.KOLLEKTIVE will launch to market in January and will be made to order for £4,800 (approximately $5,361 USD).
Source: Read Full Article