The U.K.'s Fashion Moments to Watch Out For in 2023
London is often coined the baby of the big four fashion capitals. But while it's small in stature, it's mighty in influence. It might not have the glamor of Paris, the luxury of Milan, or the expense of New York, but what makes the British capital so special is its status as the hub of bespoke, brave, and bold creativity. 
The late Dame Vivienne Westwood spearheaded such attitudes. Her angst and rebellion, coupled with activism, exemplified what made occasions like London Fashion Week so special. Then came pioneers like Lee Alexander McQueen with his Spring/Summer 1999 show, using robots to paint Shalom Harlow's white dress black, simultaneously proving that LFW should be seen as the major player. 
Aside from London's high fashion heritage, the U.K. is also known for birthing the new stars of streetwear. Think Palace's rise to the top, collaborating with Gucci, or more current arrivals like Corteiz and its chokehold on the youth of today with viral moments like the Bolo Exchange. Such names have not only dictated how Brits dress, but influenced the wider world with their irreverence and ingenuity alike.
We're only a week into 2023 and the U.K. is already gearing up for some big moments – within our homeland and further afield. With household names taking over institutional events and others dominating on an international scale, to global Houses recognizing the importance of London Fashion Week and British streetwear stepping into its next phrase of cultural domination, Hypebeast details the occasions we are looking forward to from the triumphant British fashion community this year. 
Martine Rose at Pitti Uomo 103
1 of 2
Martine Rose/Vogue Runway2 of 2
Martine Rose/Vogue Runway
We've known that London designer Martine Rose is "probably the best designer in the world" for a minute – and you best believe Rose will be in full bloom once again in Florence, at this year's Pitti Uomo 103. Concluding the three-day menswear spectacle, Rose presents her upcoming collection at the institutional event – something which is sure to set her apart from her peers this season. 
That's because Pitti Uomo is less a "Fashion Week," but rather a trade showcase with accompanying presentations. Closely geared towards buyers and stylists (as opposed to the press and influencers), Pitti acts as a way for household names and newcomers to put their work on a pedestal outside of the traditional calendar. For Rose, departing from her London base means her close-to-home brand enters a grander, global sphere. 
While her eponymous label is already well-known and loved, Pitti should offer the designer a chance to envision her work in a different spotlight, simultaneously reflecting her subversive approaches back onto the conventions of Pitti and its sartorial crowd. 
As Pitti Uomo 103's Guest Designer, Rose is likely to offer her most awe-inspiring collection to date. Set in a 16th-century loggia, the show could see her sexy sportswear and penchant for collaborations combine with the opulent backdrops of Florence, or, it could turn Pitti on its head with a gritty Londoner's sensibility. 
Daniel Lee for Burberry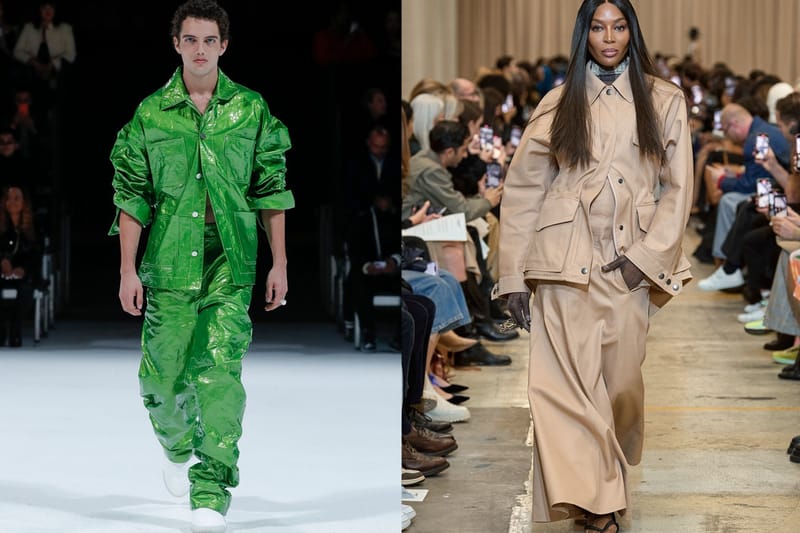 Bottega Veneta/Burberry
Burberry's heritage is one of compelling, British lore. Founded in 1856 by Thomas Burberry as a brand designed to protect Brits from the isles' harsh weather, the House exploded into realms of military, terrace culture, and luxury – before its reputation was muddied in the 2000s by the British press, branding it "chavtastic" following moments such as Eastenders soap actress Danniella Westbrook's full Nova Check ensemble. 
Fast forward to 2009 – with Christopher Bailey at the reigns – and Burberry was back on form. Nova Checks went hand-in-hand with '90s nostalgia, sensual womenswear tailoring, streetwear undertones, and plenty more that gave Riccardo Tisci, his successor, the blueprint for success. 
However, as Vogue notes, "Tisci's Burberry failed to reach lift-off the way the LVMH-owned Givenchy did when he helmed that brand. The timing was hard, but Tisci was also playing against type." Sure, he was battling against COVID-19 and Brexit, but unwelcomed additions like the "TB" logomania didn't hit the audience as the brand had hoped.
This is where ex-Bottega Veneta head Daniel Lee comes in. His uncompromising expertise in breathing new life into a House is undeniable, and his influence on Bottega Veneta has been indelible. Now, the industry hopes that Lee can inject the same renaissance effect into Burberry. 
His inaugural show for the House will take place during London Fashion Week, and all eyes are on him to deliver. We imagine a design language embedded in historical codes, color palettes and motifs informed by the years gone by, but cuts and undertones of modernity that lift Burberry back up to its formal, elegant past, bolstered by well-documented subcultural undertones fit for a brand revival to remember.
Maximilian Davis for Ferragamo
1 of 2
Ferragamo2 of 2
Ferragamo
26-year-old Manchester-born, London College of Fashion alumni Maximilian Davis was brought in to sex-up the House of Salvatore Ferragamo. Now known as Ferragamo, Davis' debut was one steeped in anticipation: could he do it?
Indeed, he did. Hypebeast deemed his show "closed out Milan Fashion Week with a house rebrand that ticked all the boxes," almost as if the young designer had started a brand from scratch. 
The result was a collection that championed Davis' vision through and through. Revealing organza met drapey fabrics and billowing tailoring for a sense of ease and a contemporary outlook, all while not fussing over anything. This serves as the springboard for what Davis will deliver next. 
His vision is clear – simple and refined; but don't mistake it for boring. With the contrast of leather hot pants on men, technical gear in white nylon nodding to his British design roots, and ability to perfectly balance masculine and feminine references in one look, Davis' Ferragamo is anything but antiquated. 
Speaking on his appointment in 2022, he said, "Ferragamo represents a dedication to timeless elegance and sophistication that I find incredibly inspiring. I'm looking forward to articulating my vision, elevated by the codes of Italian craftsmanship, quality and innovation."
It is this that gets the world excited for his sophomore collection, one that's sure to double down on teaching an old dog new tricks. 
Moncler Genius for LFW
Moncler Genius
Remo Ruffini's Moncler Genius does exactly what it says on the tin. From Craig Green's architectural masterpieces to Palm Angels' glitzy winter warmers, the creative output has seen designers small and large take your average Monclizzy and give it a fashion-forward twist. 
Now, Moncler Genius is heading to London Fashion Week. While the collaborative designers are yet to be announced, the showcase is sure to be nothing short of monumental. For its 70th anniversary, Moncler took over Milan with thousands of models and onlookers participating in its celebratory show, while other occasions have seen the outerwear specialists host digital presentations that were screened across the world simultaneously. 
London Fashion Week has always been a time for new designers to make their mark, often focusing on creativity. Houses, on the other hand, opt for grand displays – combined, it could be a landmark moment for Moncler Genius this season. 
Emerging Designers at London Fashion Week
1 of 2
Chopova Lowena/Chet Lo/Fillipo Fior/Isidore Montag/Gorunway.com2 of 2
Chopova Lowena/Chet Lo/Fillipo Fior/Isidore Montag/Gorunway.com
Reflect deeper on the aforementioned phrase "time for new designers to make their mark." London Fashion Week is the home of emerging talent, and if Spring/Summer 2023 was anything to go by we could be in for even more fashion month domination come Fall/Winter 2023. 
From Chopova Lowena's angsty debut to S.S.DALEY's poetic grandeur, Chet Lo's standing ovation-inducing runway to NOKI's intimate rave, SS23 brought smaller names to the forefront of every showgoer's mind. Such designers, including BMUET(TE), 16Arlington, FEBEN, Edward Crutchley, HARRI, and many others were the topic of conversation as the glitterati traipsed from one location to the next, and it's somewhat of a given that the same should occur for FW23. 
Considering what last season's newcomers were up against – Raf Simons, Burberry, Christopher Kane, JW Anderson – the presence of such greats did not dampen the emerging light. Instead, we got an LFW of two halves, working harmoniously together to showcase the best in British fashion. FW23 must continue to champion the next generation for LFW in order to thrive, as it did for years prior to its demise during and around the pandemic.  
Punk's Legacy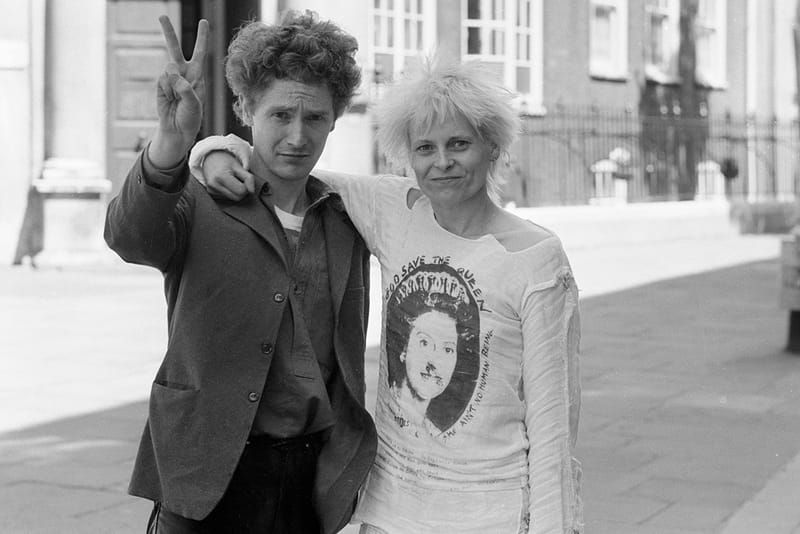 Daily Mirror/Bill Kennedy/Mirrorpix/Mirrorpix Via Getty Images
While much of the above details the movers and shakers that will ignite the fashion industry with creativity, there's a theme that could take the crown in 2023 – and that's punk. 
Following the death of Dame Vivienne Westwood in December, it'll be up to those she inspired to carry her torch this year. Andreas Kronthaler for Vivienne Westwood will undoubtedly deliver (as it always does), but the likes of Daniel W. Fletcher, Chopova Lowena, PRONOUNCE, and perhaps some Fashion East students, all of whom have previously presented their own visions of punk, should lead the way this year now the Queen of Punk is no longer with us. 
There's also a Gen-Z movement that's championing the punk wave. With its roots in DIY and upcycling, today's social media savvy have created "Thrift-Flip"-toks, accumulated hundreds of millions of hits on sewing videos, and have seen their efforts become a reality with the opening of new shops (such as Waste Store in London) that cater for the punk revivalists. With this in mind and plenty of political uncertainty in the air, 2023 may be the year punk manifests in it's truest form for decades. 
The Return of IYKYK Streetwear
1 of 2
Corteiz/Soho Yacht Club2 of 2
Corteiz/Soho Yacht Club
Clints, Corteiz, A1 Denim, Soho Yacht Club, AELIZA, HYO-ISAK… the list goes on. Such names dominated last year's U.K. streetwear scene; most of which continued to grow in stature by being unapologetically themselves. Some were new on the block, others used the year to hone their craft, but all captured the needs and desires of the culture and community that run Great British trends. 
If it felt like 2022 was the year of everyone starting a streetwear brand – for better or for worse – 2023 is the year that these brands continue to take a hold of the general consumer over the devout followings each label has built up from scratch.
Why? Because U.K. streetwear brands are capturng the energy of the next generation like never before. Viral marketing stunts, cleverly-executed campaigns and idiosyncratic ethoses have helped nurture wholescale communities who are deeply aligned to each brand's identity. Labels like Corteiz see its logo bear the chests of thousands across London and around the world. And now that the world's foremost Anglophile, Drake, has posted up in it, it's clear U.K. streetwear is taking over the world.
Source: Read Full Article