12 Rising Fashion Brands to Know (and Shop) in 2019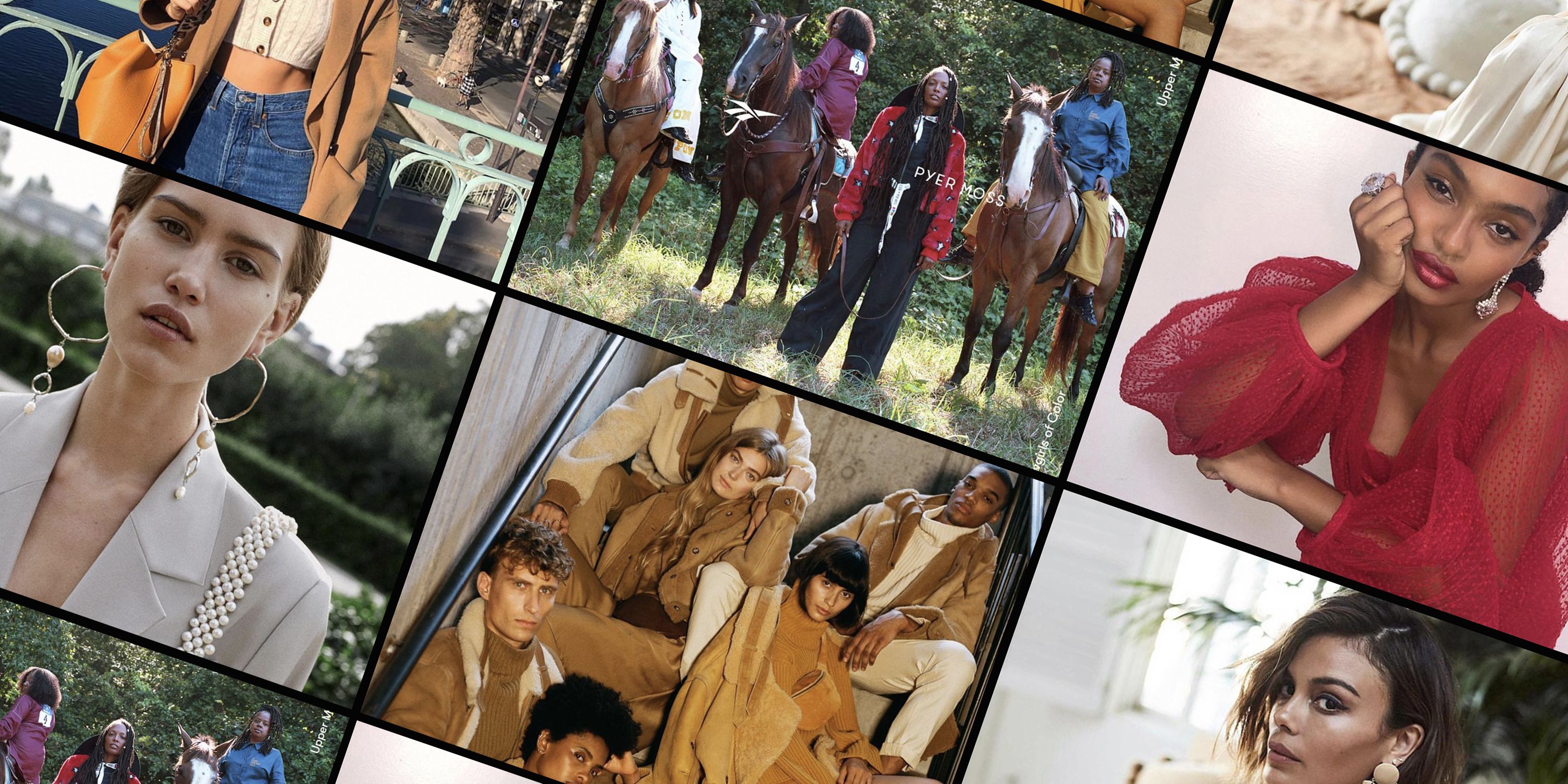 New Year, new crop of brands to add to your closet. Whether you're stuck in a style rut or simply looking to add some fresh finds to your wardrobe, there are plenty of up-and-coming designers to put on your radar in 2019. From '80s-inspired designs to unique takes on knitwear and unexpected details, these are the emerging brands to watch (and shop!) this year.
With '80s-ready dresses and bold silhouettes, it's no surprise this Copenhagen-based brand is quickly becoming a favorite amongst the fashion set. Launched by Danish influencers Jeanette Madsen and Thora Valdimars, Rotate only debuted its first collection in Fall 2018, but its playful party dresses have already taken over Instagram. We'll be watching for what this brand has up it's dramatic puff sleeves next.
SHOP ROTATE
After a breakout year on the runway, you've likely already heard of Kerby Jean-Raymond's Pyer Moss. The brand captured the attention of those in and out of the fashion industry with its stunning New York Fashion Week show that celebrated black culture in September. Merging activism and important social conversation with a new take on streetwear, Pyer Moss is ushering a much-needed perspective into the fashion world—one that celebrates and advocates for black culture in an unapologetic way.
Despite the fact that the brand was founded in 2013, this year will likely be one of tremendous growth and importance for Jean-Raymond, who was just named the winner of 2018's CFDA/Vogue Fashion Fund Award.
SHOP PYER MOSS
A mashup of menswear meets womenswear, this budding Ukrainian brand is one to watch. From pretty pearl bralettes to must-have trench coats and reimagined suiting, Chakshyn's pieces are a breath of fresh air in a world ruled by Instagram trends. Helmed by Dima Chayun and Anton Yakshyn, the brand offers up a modern, art-inspired take on femininity and masculinity—plus a stunning collection of pearl jewelry and statement tees.
SHOP CHAKSHYN
With just one collection under its belt, Bande Noir has already reeled us in. Under the creative direction of former editor and stylist Mayte Allende, the brand brings forth a mix of '80s and '90s silhouettes defined by their delicate detailing. From open-back turtlenecks to sheer puff-sleeved blouses, the play on femininity and unexpected details has us waiting for more from this newbie.
SHOP BANDE NOIR
Sequin suiting, feathered trim, crystal-embellished denim: maximalism meets minimalism in this recently-launched UK brand. Already a favorite on the red carpet, 16Arlington is putting the fun back in fashion with playfully glamorous designs. After dressing several attendees (including Jourdan Dunn, Adut Akech, and Edie Campbell) at the 2018 British Fashion Awards, expect to see the label become a new favorite amongst A-listers and the fashion crowd.
SHOP 16ARLINGTON
Offering both menswear and womenswear, Arjé is breathing new life into the luxury fashion world. A see-now, buy-now brand helmed by husband-and-wife duo Bessie Afnaim Corral and Oliver Corra, the label launches three collections a year, each of which are available to shop two weeks after their debut. With luxe shearling coats, chunky knits, and wardrobe essentials, Arjé is bringing forth a new wave of classics for your closet.
SHOP ARJÉ
Chances are you've already scrolled by Tach Clothing's beloved cropped cardigan on your Instagram feed—but that's just the beginning of the small brand's winning pieces. From vintage-inspired blouses to the coolest of jackets, there are several unique gems to add to your wardrobe from this rising brand. Designed and hand-made in Uruguay, Tach is currently an undiscovered secret amongst the fashion set—but not for long.
SHOP TACH CLOTHING
In just one year, this Parisian-based designer's e-shop already sells out every week—and for good reason. With the prettiest handmade blouses and dresses, Aurore Van Milhem brings a new range of delicate and feminine pieces that will feel extra special in any woman's closet. The designer, who frequently models her own creations on Instagram, is one to watch as her social media influence is sure to skyrocket in 2019.
SHOP AURORE VAN MILHEM
Based in Brooklyn, Kelsey Randall's custom made-to-order pieces redefine the couture scene for a younger, cooler crowd of consumers. Proving she's got the range, Randall's designs include romantic babydoll dresses, music festival-ready ensembles (many a Coachella looks waiting to happen), bridal gowns, mermaid-inspired bralettes, and even a rhinestone cowboy hat thrown in for good measure. Though her designs have already been worn on-stage by Lorde, we're betting the Brooklyn designer's bespoke creations will gain more momentum in the next year.
SHOP KELSEY RANDALL
You've most likely already seen, screenshotted, and saved this brand's highly-coveted silk, open back blouse on Instagram. Offering a range of seasonless pieces, Orseund Iris' designs have quickly become a favorite for just about every cool girl looking for some new wardrobe essentials. Expect to see more of the New York brand's must-have blouses and suiting take over in the New Year.
SHOP ORSEUND IRIS
If your jaw dropped at Yara Shahidi's Grownish Season 2 promo look, meet Kalmanovich: the brand behind those sheer red puff sleeves. With ruffled tulle, sequin embellishments, and party-ready dresses, this newly-launched brand brings the drama (and fun) in a series of evening-ready pieces that will make you want to go out.
SHOP KALMANOVICH
Scouted by Net-A-Porter's The Vanguard (a design program that supports a new wave of fashion designers), this emerging brand is guaranteed to become a favorite on the street style scene. Its romantic, floral prairie dresses make for year-round wardrobe MVPs that can be styled an endless amount of ways.
SHOP LES RÊVERIES
Source: Read Full Article