5 Best Solo Things To Do In NYC That Every True Traveler Needs To Know About
The City That Never Sleeps is the ultimate destination for solo travelers. Whether you want to visit all the museums, eat your way through Little Italy, have a picnic in Central Park, check out the trendy shops in SoHo, or hit up a wine bar on the Upper East Side, you'll truly never get bored. There are endless opportunities to explore and sites to see, which makes it the perfect place to try your hand at solo travel. Let's just say, you'll have a blast with or without someone by your side. Needless to say, here are the best solo things to do in NYC that every true traveler needs to know about.
Solo travel is trending right now, and it's easy to see why. It can be difficult to align budgets, schedules, and even travel interests with the people in your life. You could miss out on so much by waiting for others to get on board. So, why not go alone? It may be a bit intimidating at first, but you'll learn so much about yourself and the world along the way.
Once you've decided to take a solo trip, you've gotta decide where to go. Some destinations were literally made for solo travel, and New York City is definitely one of them.
1See A Rooftop Movie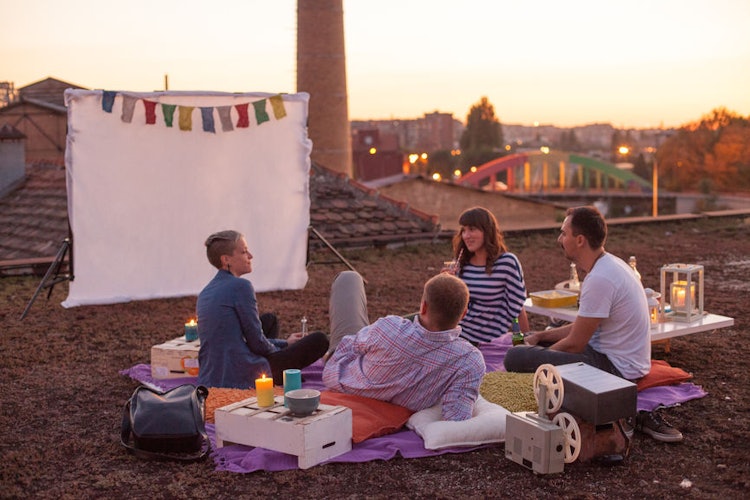 Movie fanatics will love checking out New York's rooftop cinema club in the summer. This isn't your typical movie theatre setup, either. You'll be able to join others as you watch iconic movies on a rooftop with the gorgeous skyline serving as your backdrop. You'll be given wireless headphones as you sit in a comfy chair under the stars. This is a movie experience you'll never forget.
2Channel Audrey Hepburn By Eating Breakfast At Tiffany's
You'll get the full New York City experience at The Blue Box Cafe, which is located at Tiffany's New York flagship store. You can actually dine in a Tiffany blue-colored restaurant, and eat the cutest treats you've ever seen. Every dish is specialized with that personal Tiffany's touch, so be sure to arrive with an empty stomach, and your camera in hand. Now, what would Holly Golightly eat?
3Create Your Own Lipstick
Have you ever wanted to create your own lipstick? Well, you can visit the Lip Lab at Bite Beauty to make your own lipstick from scratch. You'll be able to choose a shade, finish, and flavor from a personalized menu. Walk-ins are allowed, but they advise making an appointment. This sounds like the perfect activity for every beauty lover.
4Get Nostalgic With The Adult Version Of Capri Sun
Thursday Kitchen specializes in "New Korean" food with a blend of cuisines from around the world. You can enjoy brunch or dinner, then finish off your meal with a "Capri Thursday" cocktail (if you're 21 or over).
That's right, you can get nostalgic with a tasty adult spin on your favorite drink from when you were growing up. There are a variety of flavors to choose from, including pure strawberry and lemonie.
5Relax At SoJo Spa
Every solo trip needs a bit of self-care, so why not treat yourself to a relaxing spa day? SoJo Spa Club is a modern Korean bath house with elements of different cultures from across the globe.
You can go for a swim in their gorgeous infinity pool, sweat it out in the sauna, or take a dip in their specialty bath. The spa is actually located in Edgewater, New Jersey, so you can visit by taking their complimentary shuttle from Manhattan. Let's just say, you're in for a treat.
Source: Read Full Article