Hailey Baldwin's Cozy Outfit Is for Netflix and Chillin'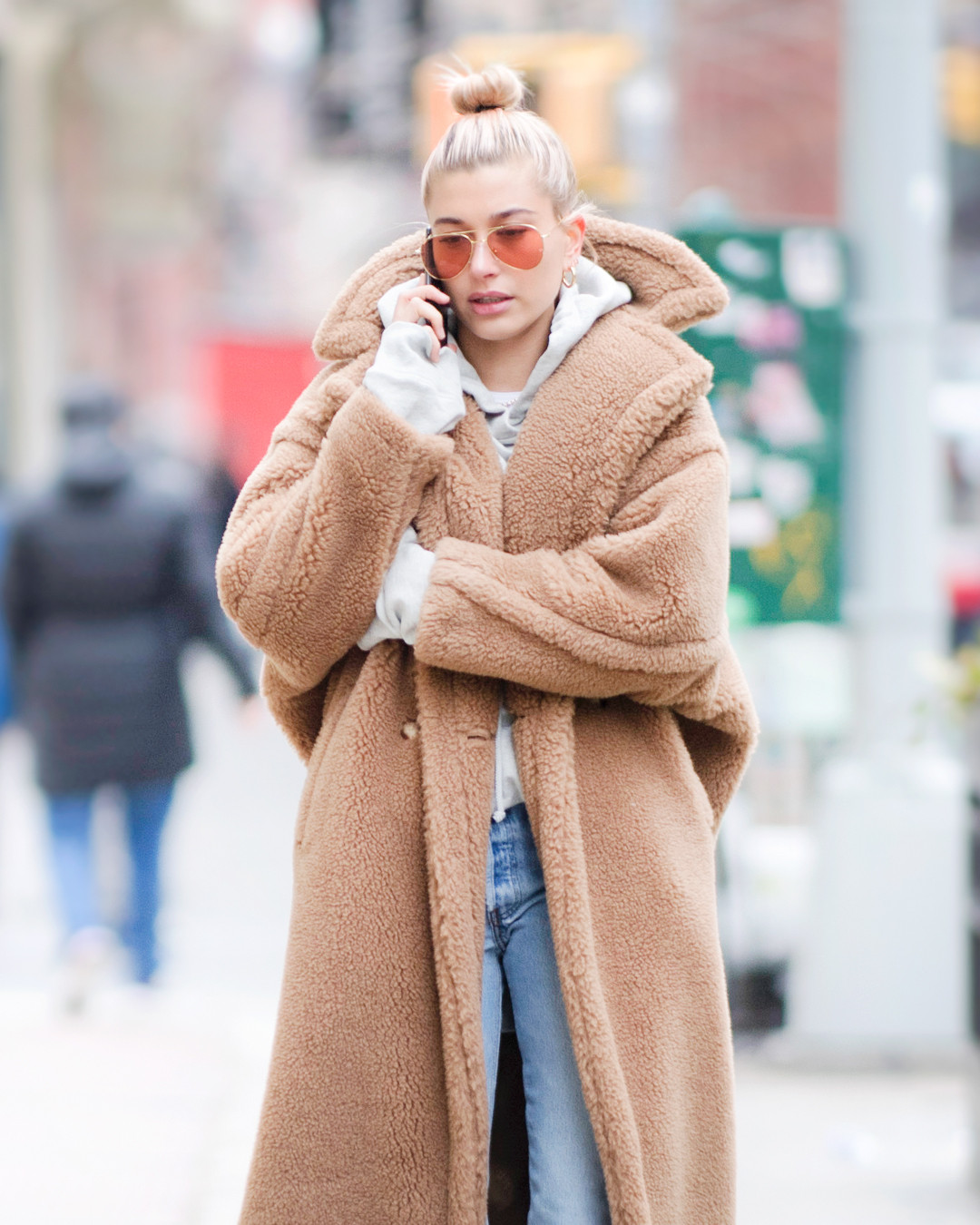 Timur Emek/GC Images
Although the chill may be driving everyone inside, you don't have to closet your style.
When celebrities aren't on the red carpet or runway, dazzling the world in designer clothes, their style is surprisingly relatable. Like everyone else, their off-duty looks center on comfort, featuring soft, cozy fabrics, cloud-like footwear and non-constricting garments (See: Hailey Baldwin's teddy bear-level comfort). They aren't the most luxurious outfits, but what they lack style in luxury, they make up for in versatility. You can wear them anywhere, and you'll want to.
A-listers also have a way of making casual styles look sexy (wearing casual clothes doesn't stop the paparazzi from taking photos of them). Thus, your date nights spent indoors (attn: Hailey and Justin Bieber) usually require an outfit that says "I'm not trying too hard," but also reads "I'm hot and confident." We're here to tell you that you can do both by following the casual style of celebrities.
6 Celeb Fall Sweater Trends to Try ASAP
Check out the best Netflix and Chill-worthy outfits below, then shop your favorite!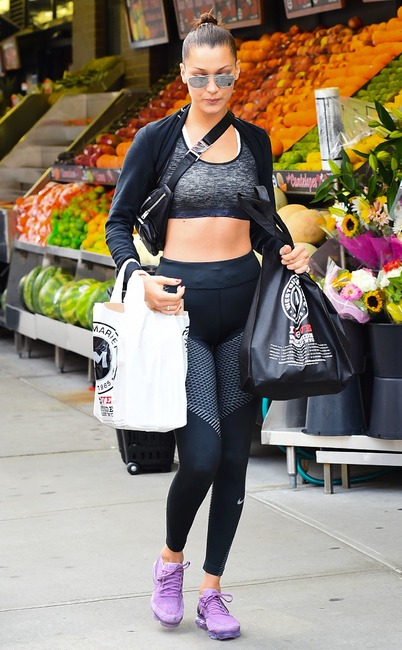 Raymond Hall/GC Images
Bella Hadid's Errand Ensemble

According to this star, home is where your athleisure is. The supermodel makes run to the grocery store wearing form-fitting gym outfit, including the leggings from Australian sports brand, Casall. To recreate her style, which is perfect for weekend errands and productive days made inside, simply find leggings and a matching sports bra and pair with bright, attention-grabbing sneakers.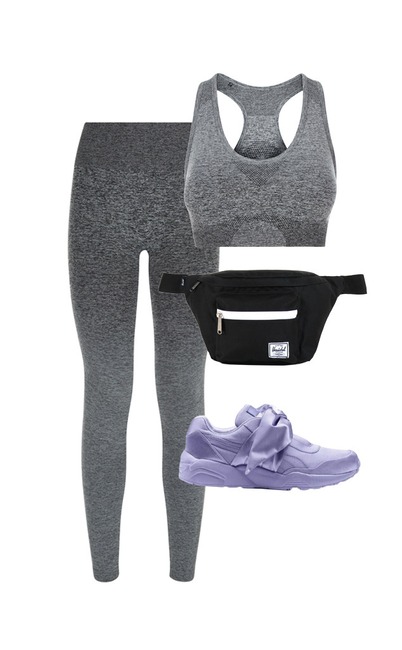 Shop Bella's Style

Gymshark Ombre Seamless Leggings, $50; Gymshark Ombre Seamless Sports Bra, $38; FENTY PUMA by Rihanna Bow Sneaker, Now $96; Herschel Supply Co. Convertible Belt Bag, $30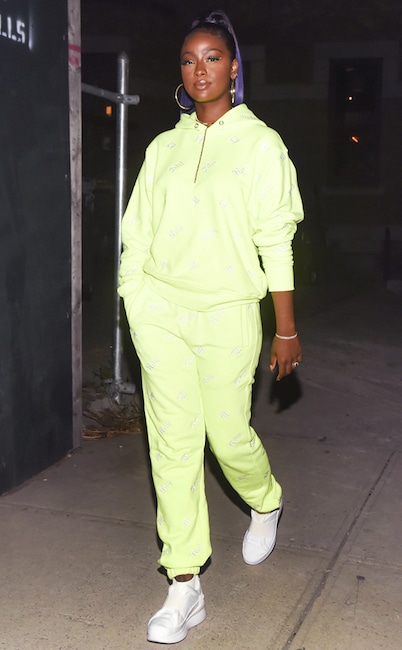 Daniel Zuchnik/WireImage
Justine Skye's Neon Comfort

Sweatsuits are the must-have when you want to warm and cozy. To jazz up the traditional grey sweats, the singer opts a very bright hue, then completes her photo-ready look with white sneakers.
Article continues below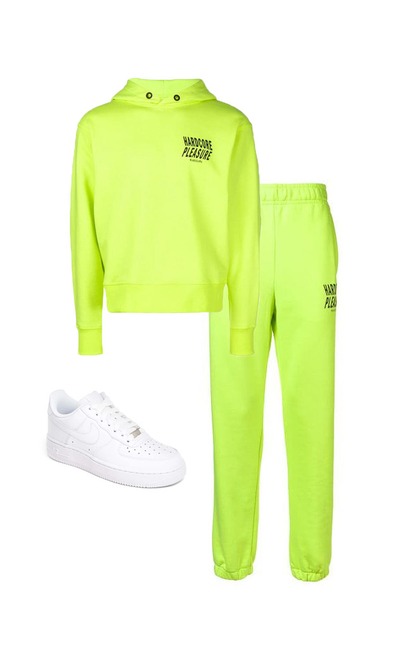 Shop Justine's Style

MISBHV Hardcore Pleasure Track Pants, $170; MISBHV Hardcore Pleasure Hoodie, $227; Nike Air Force 1 Basketball Sneaker, $90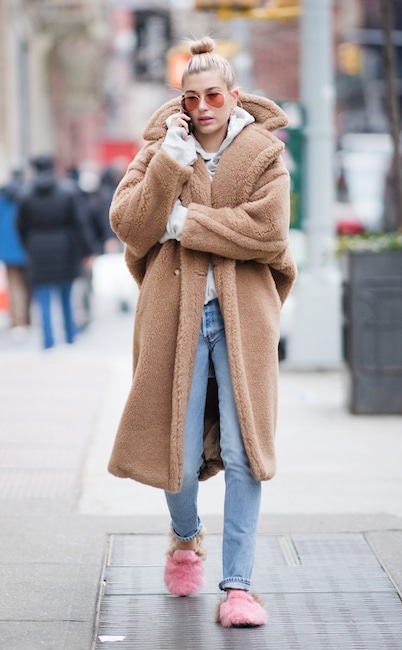 Timur Emek/GC Images
Hailey Baldwin's Teddy Bear-Level Coziness

Although the model may taking important calls, she demonstrated how chic comfort can be with a teddy jacket, grey hoodies, relaxed denim and furry slippers. To elevate her comfort for flashing cameras, she added large silver hoops and pink-tinted glasses.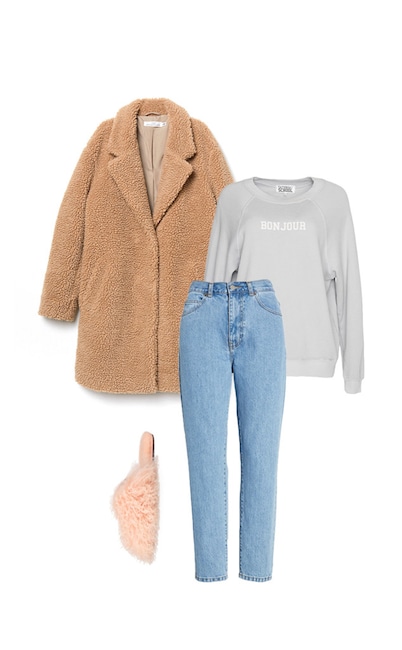 Shop Hailey's Style

H&M Short Pile Coat, $80; Saturday School Hello Goodbye Paris Sweatshirt, $88; UGG Fluff Momma Mongolian Clog, Now $75; Dr. Denim Supply Co Nora Mom Jeans, Now $40
Article continues below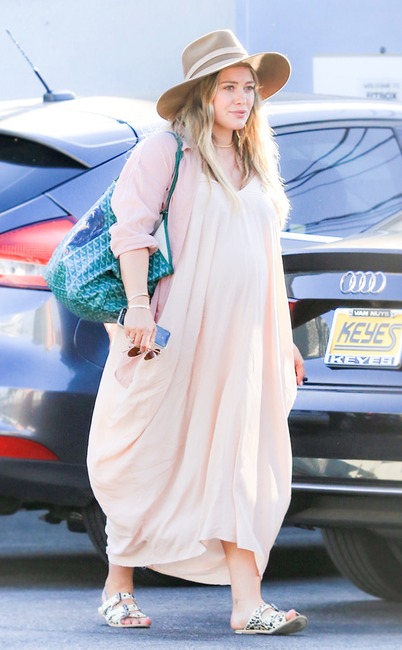 BG005/Bauer-Griffin/GC Images
Hilary Duff's Maternity Style

Pregnant or not, the Younger star's fall outfit provides enough comfort and style to be a must-have for the season. Whether you're shopping for pumpkins or heading to a family dinner, a maxi dress, long sweater and wool hat are staples for the season. For colder climates, swap the star's sandals for ankle boots and you're ready for a warm fire or the paparazzi.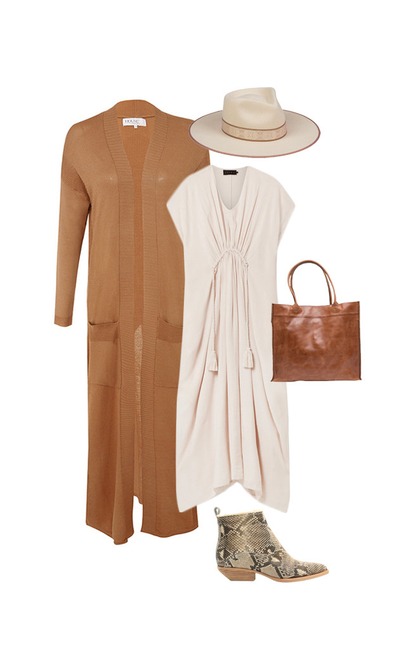 Shop Hilary's Style

House of CB Caramel Longline Knitted Duster, $89; Hatch Neema Gathered Cotton-Blend Voile Dress, $260; Lack of Color Ivory Rancher Special, $159; Dolce Vita Unity Booties, Now $101; Raven + Lily Mara Tote, $288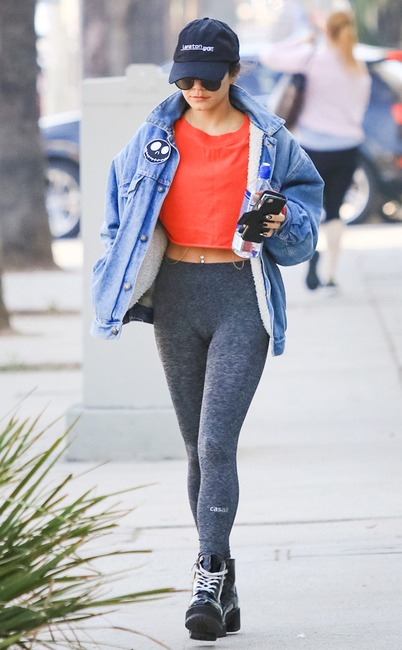 BG005/Bauer-Griffin/GC Images
Vanessa Hudgens' Denim Daze

While this may be the triple threat's day off, her style is on point for a comfort-seeking fashionista. She wears Casall leggings, a crop top, denim hat, shearling-lined denim coat and edgy boots, an appealing choice when seeking to look effortless.
Article continues below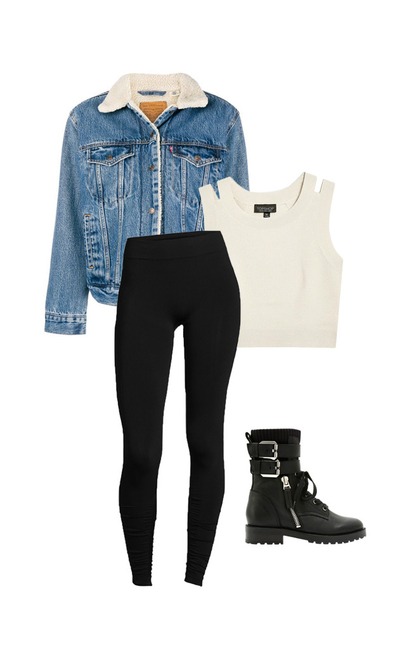 Shop Vanessa's Style

Levi's Shearling Denim Jacket, $128; Casall Seamless Rib Tights, $91; Dolce Vita Willie Boots, $200; Topshop Strap Detail Crop Top, $40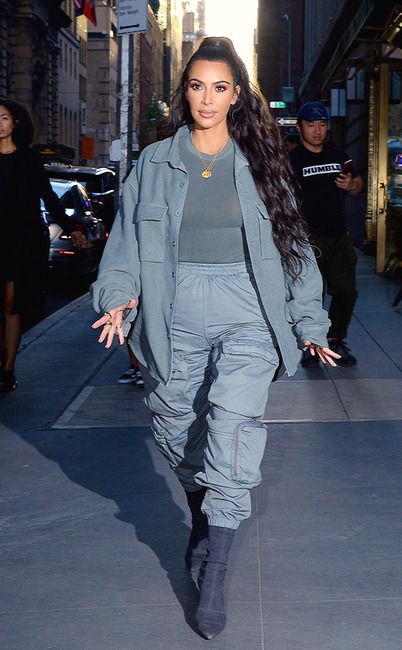 BG005/Bauer-Griffin/GC Images
Kim Kardashian's Cargo Joggers

The Keeping Up With the Kardashians star is the master of high fashion comfort. Decked out her Yeezy, the reality star created a monochrome look, completed by sock boots and joggers. If you want to add heels to your atheleisure for casual date night, try on on the beauty mogul's look.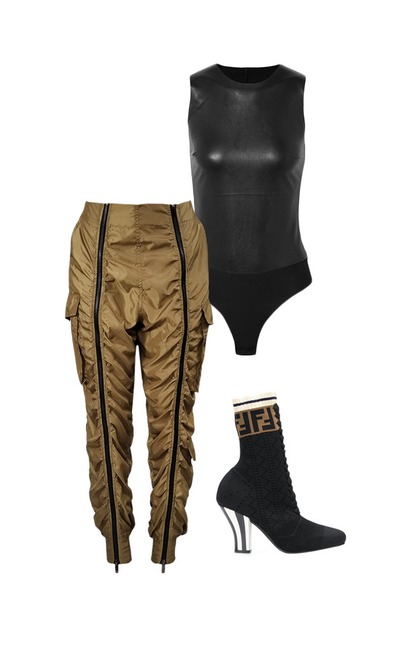 Shop Kim's Style

Commando Faux Stretch-Leather and Stretch-Jersey Bodysuit, $98; Beyoncé Flight Trousers, $230; Fendi Logo Sock Boots, $990
Article continues below
Source: Read Full Article