The Affordable Lululemon Dupes Trending On TikTok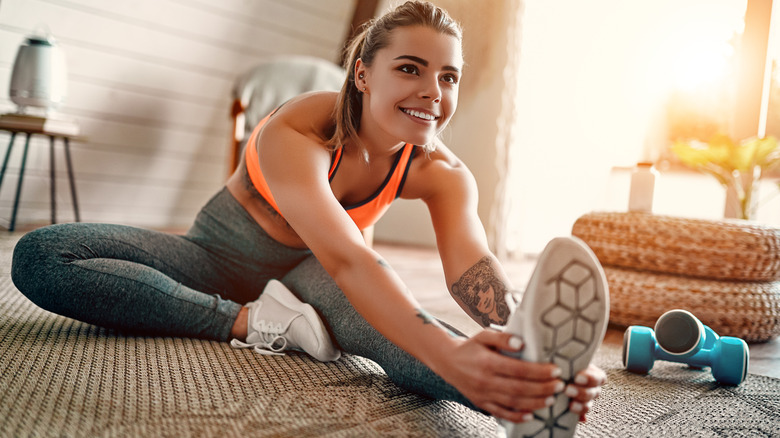 Lululemon is a standby for a reason: The athletic brand is known for its superior quality, gorgeous shades, and super-stylish cuts. And it's not just for the gym-obsessed: Nowadays, we're wearing our leggings all the time, from work-at-home days to cozy nights in. Workout-inspired clothes are the comfiest, after all, and pair perfectly with knit sweaters and gold necklaces à la Hailey Bieber — or you know, for actual exercise. 
While Lululemon is an industry fave, soaring in popularity with more of us opting for athleisure on a daily basis, some TikTokers are questioning if you have to pay that much for quality leggings in the first place. Turns out, there are tons of Lululemon dupes that are just as incredible, coming in at a fraction of the price on Amazon.
As ET uncovered, TikTok's #lululemondupe hashtag is ripe with amazing alternatives to the brand's $98 Align Leggings or all those $50-and-over sports bras and shorts. It's no wonder the hashtag has a whopping 32.5 million views, with droves of users sharing their much-cheaper Amazon finds. Take one user, who compared her Lululemon Energy Long Line bra to an Amazon dupe she says has an even better material for half the price, or another TikToker, who shows how her cherry-red Amazon leggings put Lululemon anything to shame. Convinced yet? As the hashtag grows and grows, we're rethinking our own athletic wear strategy, and you better believe we're digging for all the best dupes. Here are the best Lululemon lookalikes to buy on Amazon right now.
From comfy staples to supportive sports bras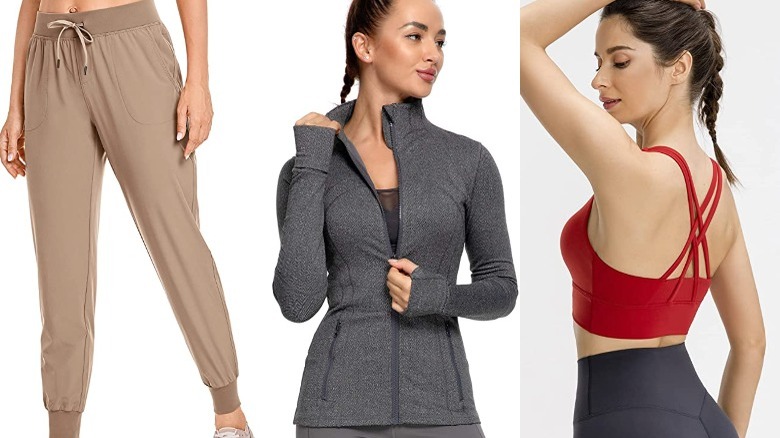 You know those Lululemon Stretch High-Rise Jogger pants in that comfy material you just want to live in forever? Made of the signature Lululemon Luxtreme fabric, they come with tons of features, including a card sleeve. That being said, they're $89 (on sale), which is a lot more than we're looking to spend on sweatpants. As per ET, the perfect TikTok-approved dupes for these are the CRZ YOGA Women's Lightweight Jogger Pants, which sit pretty at $30. The polyester-spandex-blend pants have 8,000+ reviewers raving about how "comfortable," "flattering," and "ultralight" they are. Plus, as ET explains, they "work just as well as workout leggings."
Looking for the perfect exercise jacket? You know the one: the wear-over-anything basic you can take to the supermarket in case you get cold or wear for jogs in the fall. While you can always opt for the $118 Lululemon Define Jacket, this Queenieke Women's Sports Jacket is just as good (or better!) for $42.99. This TikToker is obsessed with hers in a lilac hue, while another user proves that even the workout tops from this brand are absolutely amazing, particularly this strappy-back Queenieke Yoga Top for $26.99. And, if you're seeking the perfect Lululemon Energy Bra dupe, try this much cheaper, high-quality Lavento Sports Bra. Ranging from $19.99 to $22.99, it's super-supportive and gorgeous to boot, with this TikToker saying it is "so similar" to the $52 Energy Bra and that she has it in a "bunch of colors."
Sorry, Lululemon Align leggings — this low-cost pair is just as good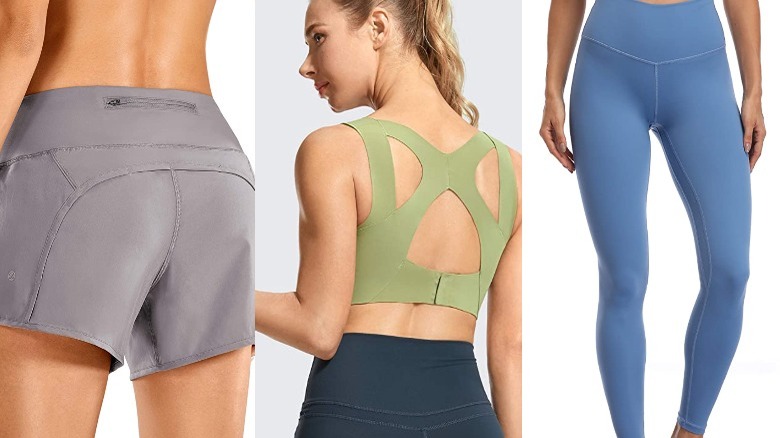 During the summer, you might prefer a pair of loose, lightweight shorts over constricting leggings. If that's the case, you might be debating Lululemon's Speed Up Shorts, rounding out at $58. While the pockets, signature Swift fabric, and sprint-approved design are seriously amazing, these CRZ Yoga Quick-Dry Workout Shorts are absolutely identical at $28 to $30. They also come with a zippered back pocket for your credit card, keys, or other small essentials, and the "feather"-like material will keep you cool. One TikToker shows off her aqua pair, calling these "an exact" Lululemon dupe.
You can never have enough sports bras, and this SYROKAN Women's High Impact Seamless Racerback Running Bra, ranging from $40 to $42, is a perfect lookalike for the pricey $108 Lululemon Enlite Bra. While the price difference is huge, the Amazon find is just as high quality: ET says this is a true "Lululemon lookalike," while this TikToker is admittedly obsessed with the great support of these bras. 
And, if you're on the hunt for the perfect pair of leggings, forget about Lululemon's legendary Align Leggings and go for something cheaper and just as effective. As per ET, these $22.99 Colorfulkoala Women's Buttery Soft Yoga Pants are all over TikTok and are officially the best Lululemon leggings dupe of all time. This user says they're "the closest thing" you'll ever find to Align leggings and is "actually obsessed" with her burgundy pair. Seamless, smooth, and in 15 gorgeous shades? We're sold.
Wear-everywhere Lululemon dupes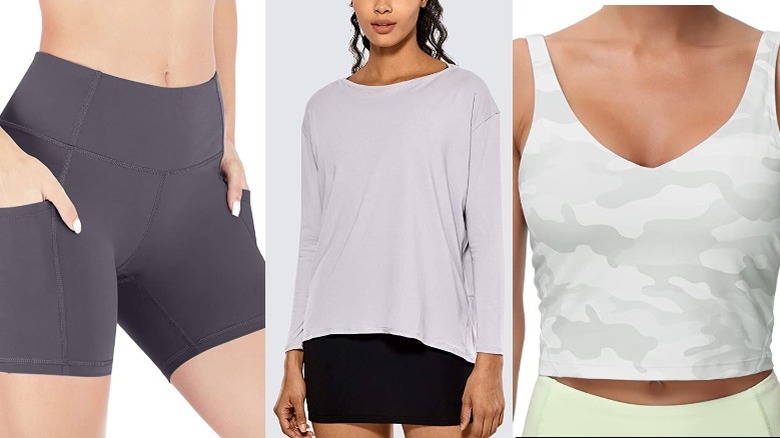 If you prefer tight-fitting bike shorts for your morning runs instead of loose shorts or full-length leggings, try these Heathyoga Biker Shorts. Costing $13.95 to $15.95, this pair is one of the biggest athleisure steals we've seen and is the perfect dupe for Lululemon's $58 Align Shorts. Sure, the pricier shorts are "weightless and buttery soft," but these Amazon dupes feature side pockets, four-way stretch, and tummy control with a thicker waistband. More than 6,000 reviewers say these are "literally amazing," so take it from them!
If you want a staple top you can pull over absolutely any workout outfit, you might be considering Lululemon's Back in Action Long Sleeve Shirt. A classic for a reason, this $58 tee comes in super-soft pima cotton and has a scooped back hem for extra coverage. Sounds perfect — but the price is a bit too steep for our taste. That's where CRZ Yoga's Long Sleeve Workout Shirt comes in: At just $26, it's also made of sumptuous pima cotton, is "super light" and "cozy," and features a longer hem with a gorgeous fit. This TikToker has both shirts, and she's just as obsessed with Amazon's version — and, now, we are, too. Moreover, if you love longer sports bras but don't want to pay $58 for Lululemon's Align Tank Top, go for the wallet-friendly The Gym People's Longline Sports Bra for $22.99. With tons of talk about it being the perfect dupe in the hundreds of reviews, we're convinced — and we also love the camo print.
These athleisure basics are seriously cute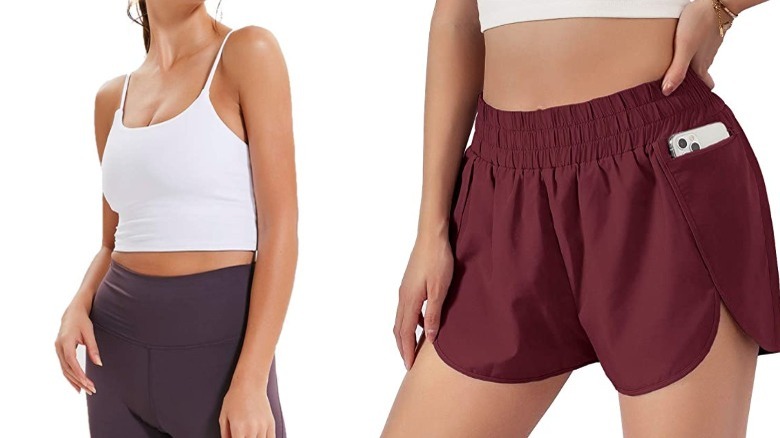 We love a good light-support sports bra for work-from-home days or weekend brunches, especially in pretty hues and flattering fits. Not just for workout wear, these longline styles work with mini skirts, Levi's shorts, printed flare pants … the list is endless. While you can always go for the $48 Lululemon Flow Y Nulu Light Support Bra, with its 11 gorgeous colorways and "weightless" fabric, there's an Amazon option that might be even better (via ET). This TikTok-approved Lemedy Padded Sports Bra is everything we ever wanted in a comfy workout top, at just $23.99. This tank is perfect for yoga or any low-impact workout, comes with removable pads, and offers a whopping 23 colors to choose from. Listen to the 38,000+ reviewers who say this top is "amazing for the gym" and "super flattering," or this TikToker, who proudly owns it in every color under the sun.
Up next, there's an Amazon dupe for Lululemon's $58 Tracker Short that's setting TikTok ablaze. These Blooming Jelly Womens Quick-Dry Running Shorts range from $23.49 to $25.99 and might be the best running shorts we've seen. An elastic waistband and loose fit make these ideal for jogging, and the zipper pocket is great for stashing your phone, credit card, or keys. One reviewer describes them as having "the perfect lightweight, sweat resistant material, and a good length," while this TikToker can't stop recommending her rainbow pair to all her followers. Yeah, we're sold!
Source: Read Full Article