The Best Tracksuits That Are Not Only Trendy, But Also Sustainable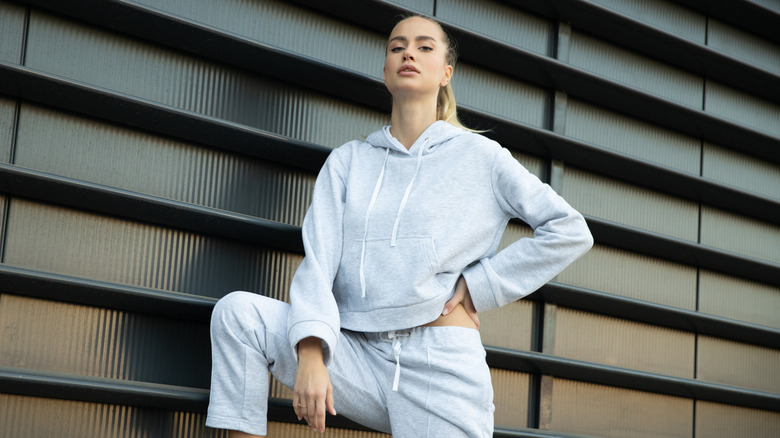 Whether it's due to quarantine or third-wave feminism, a focus on comfort in fashion has been sweeping clothing stores and runways in 2021. According to Vogue, yoga pants, bike shorts, and tracksuits are the new must-have clothing items for any "it girl." Even back in 2003, David Wolfe, creative director at the Doneger Group fashion-trend tracking firm, called tracksuits "'the love child of casual and comfort wear" and "a crescendo in the casualization of the nation" (via New York Times). 
We couldn't have said it better ourselves. And now, almost 20 years later, tracksuits are here to stay. With a number of fabrics to choose from, including early aughts velour, comfy cotton or terrycloth, and water-resistant polyester, tracksuits can offer a unique versatility to your wardrobe. But with so many different companies, brands, and celebrities glomming onto the comfy-chic trend, choosing where to purchase your set can be difficult.
As tempting as it may be to scoop up some cheap fast-fashion suits, we recommend checking out these unique, sustainable, fair-trade options that will leave you looking good and feeling good about your carbon footprint.
Adidas' Primeblue fabric is made from ocean plastic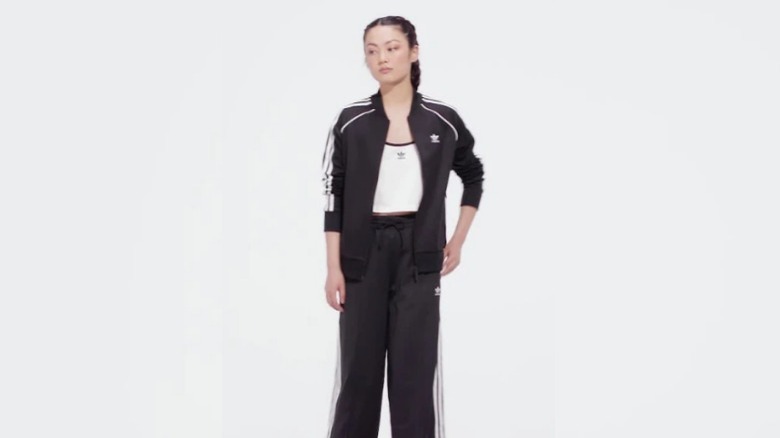 The 21st-century version of recycling goes beyond paper and plastic. Achieve clothing sustainability with the Adidas Primeblue relaxed wide-leg joggers (via Metro). The joggers are made up of Primeblue fabric, which is created from recycled marine waste and ECONYL® regenerated yarn. Adidas' commitment to sustainability comes from its longtime partnership with Parley for the Oceans, an environmental organization determined to develop "alternative business models and ecologically sensible products" (via Parley).
Adidas' Vice President of Brand Strategy, James Carnes, told Forbes, "We are doing something with Parley beyond putting the raw material into our product. We are getting people to realize this is a bigger topic we need to address." Other sustainability efforts made by the brand include incorporating Primegreen recycled materials, vegan animal-free alternatives, better cotton farming practices, and eliminating virgin materials (via Adidas). 
"If you want to get rid of plastic waste, we need to recycle everything," Carnes stated. "We are looking at every plastic polymer we use and finding substitutes" (via Forbes). A noble (and stylish) effort we can certainly get behind!
Ninety Percent donates 90% of their profits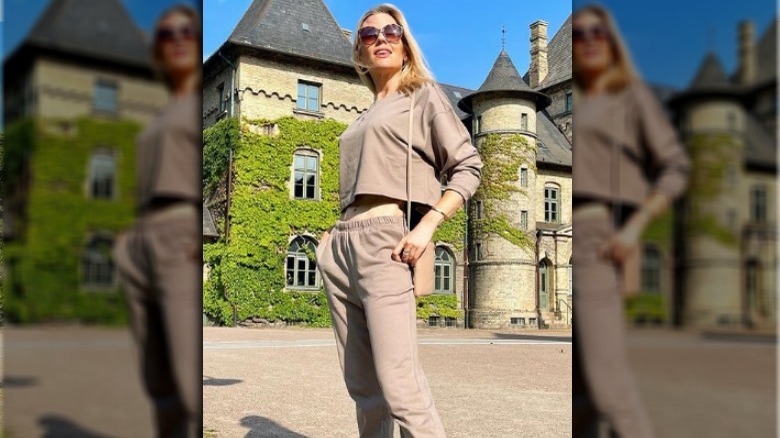 It's all in the title. Ninety Percent guarantees that 90% of their profits go toward charities and the people who make their clothing (via Metro). Costumers even get a say in where they want their money to go. With a clear mission statement and adorable Organic cotton two-tone sweatpants that make you feel like a fashion-forward jester, you'd be crazy not to offer this sustainable company your business.
Ninety Percent also lists their entire Responsible Brand Commitment on their website, but the highlights include focusing on low-impact, renewable, and certified organic raw materials, respectful working environments, and garment longevity (via Ninety Percent). The brand's adherence to transparency and traceability, along with its luxuriously chic clothes, make shopping here a win-win. 
While some clothing items may seem a bit pricey for tracksuits, remember, Juicy Sweats used to sell at Henri Bendel, Saks Fifth Avenue, and Bloomingdale's (via New York Times). At least with Ninety Percent, you're shelling out dough to not just dress better, but also do better.
Girlfriend Collective leggings are made of water bottles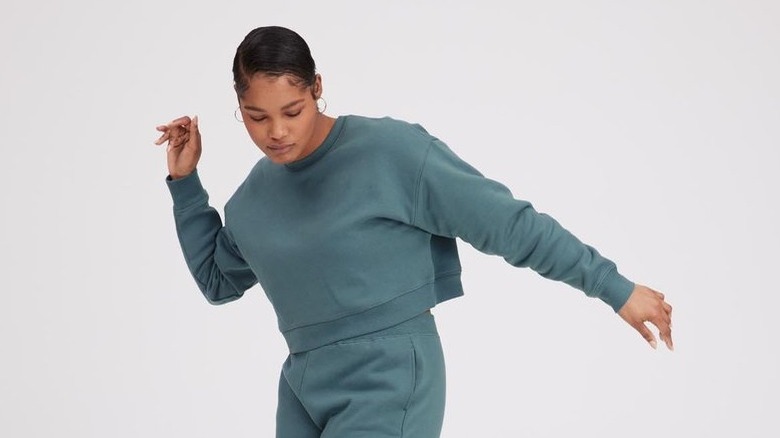 Girlfriend Collective has run the gambit on sustainable athleisure clothing since its 2016 launch, thanks to the brand's wide array of colors and styles. Co-founder Quang Dinh told Vogue, "There wasn't a lifestyle brand for a person who likes to casually work out and has a feminine aesthetic but doesn't want to wear leopard and galaxy prints" (via The Sports Edit). You wouldn't guess by looking at the brands' sleek designs, but each pair of Girlfriend Collective leggings is made up of 25 recycled water bottles.
As of 2019, the brand recycled over 8 million water bottles, 12,462 pounds of fishing nets, and 844,465 pounds of CO2 (via The Sports Edit). Many companies claim to be "doing the work" to achieve sustainability, but Girlfriend Collective proves it (via Girlfriend Collective). The clothing brand's website even includes an explanation and video of how they create clothing from plastic (hint: it involves crushing a lot of water bottles).
The brand's clothing items include sports bras, sweat suits, bodysuits, even dresses. Sustainability withstanding, Girlfriend Collective items are made with impeccable quality and accessibility for all. That means inclusive sizing from XXS to 6XL in leggings and XS to 3XL in bras (via The Sports Edit). Whatever your size, you'll be sure to find a tracksuit that suits your style and sustainability goals.
Source: Read Full Article