The Best Way to Dress Is Like Your 5-Year-Old Self
The Best Way to Dress Is Like Your 5-Year-Old Self

At the risk of sounding like I'm really feeling myself, I've got to tell you: I'm dressing better than ever. I'm, like, on another plane of my own personal style. And, now that I'm 34, age has been the deciding factor when it comes to my revised approach to dressing. But if you think I'm about to regurgitate that boring conventional wisdom that the older we get, the more we just know what we like and what looks good on us, and our fashion sense just gets sharper . . . I'm not. That's because my new fashion philosophy is this: the absolute best way to dress is like your 5-year-old self.
Think about it. By the time we're in kindergarten, most of our basic and most enduring aesthetic tastes have been hardwired into our very mitochondria. (Pause while I google whether DNA is even present in mitochondria. OK. It is.) For me, this means I will always have a soft spot for shoulder pads, teal, leopard print, and terracotta. I was raised in Southwest Texas in the late 1980s, after all. But beyond that, children take a devil-may-care attitude to — and a fierce pride in — getting dressed. It's at that age that we start to discover our own identity. It's at that age when most of us start dressing ourselves in the morning; if not for school, on the weekends, at least. When we're still too young to do much of anything autonomously, style is an easy and obvious way for kids to express their rudimentary sense of self. And they have fun doing it. Coincidentally, while I was on my second draft of this story, a fellow writer tweeted this truism after hanging out with her niece:
— Pixie Casey (@pixie_casey) November 9, 2018
Clearly, this is a widely agreed upon fact. So, if we already collectively admire the way 5-year-old girls dress, why not just take it one step further and emulate it? Over the last few months, I've been doing just that. To put this style ethos into practice yourself, just follow these few simple suggestions — because no 5-year-old or evolved, modern woman enjoys following rules.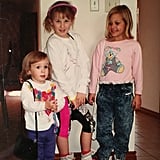 Source: Read Full Article