The Top Friendsgiving Essentials, According To Etsy, Are Officially Here
If you're celebrating Friendsgiving this year, it might be difficult to figure out where to start. The food is really just the beginning. You also have to think about decor and ambiance, and you have to put on the most welcoming hostess face, even if you're stressing out. To help you out a little bit, the top Friendsgiving essentials, according to Etsy, are officially here.
Etsy knows that Thanksgiving — and therefore Friendsgiving — is quickly approaching, so it rounded up the essentials you need to have an unforgettable Friendsgiving. It has got you covered with the trendiest pieces, from place settings, to serving dishes, to invitations, decor, and beyond. The best part about Etsy is that all of its sellers make really unique items, so you know your guests are getting an experience that's completely specific to your special Friendsgiving.
Spending this monumental holiday with your chosen family is such a blessing, and these tips and tricks will help you out to pull everything off without a hitch. So take a deep breath, stick your turkey in the oven, and have the best Friendsgiving ever.
Make sure your friends get their hands on the hottest invite this holiday season.
First impressions are everything, so you'll want to make sure that your Friendsgiving invites seriously stand out. Check out these Etsy-approved options to ensure that no one RSVPs "no" to your shindig.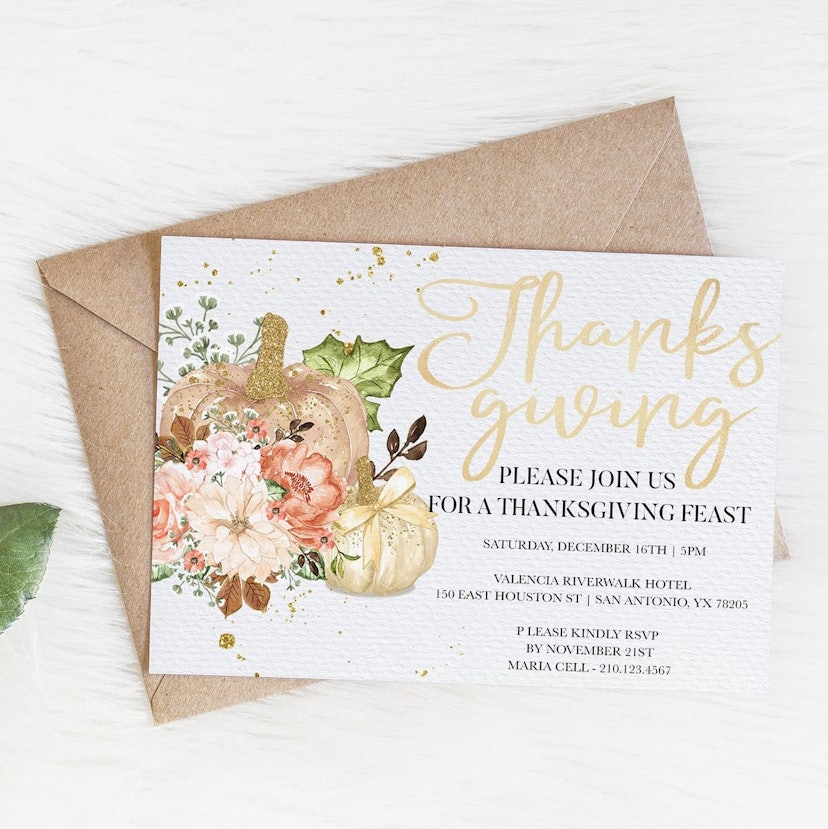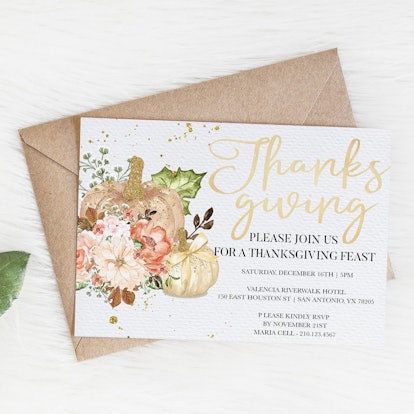 Thanksgiving Invitation Template
$7.99
IttyBittyPaperie / Etsy
This beautiful handmade template is the perfect way to invite guests into your home. The pretty pastels mixed with glittery gold is eye-catching and will leave a great impression. Download the template and fill in your own details in Adobe Reader.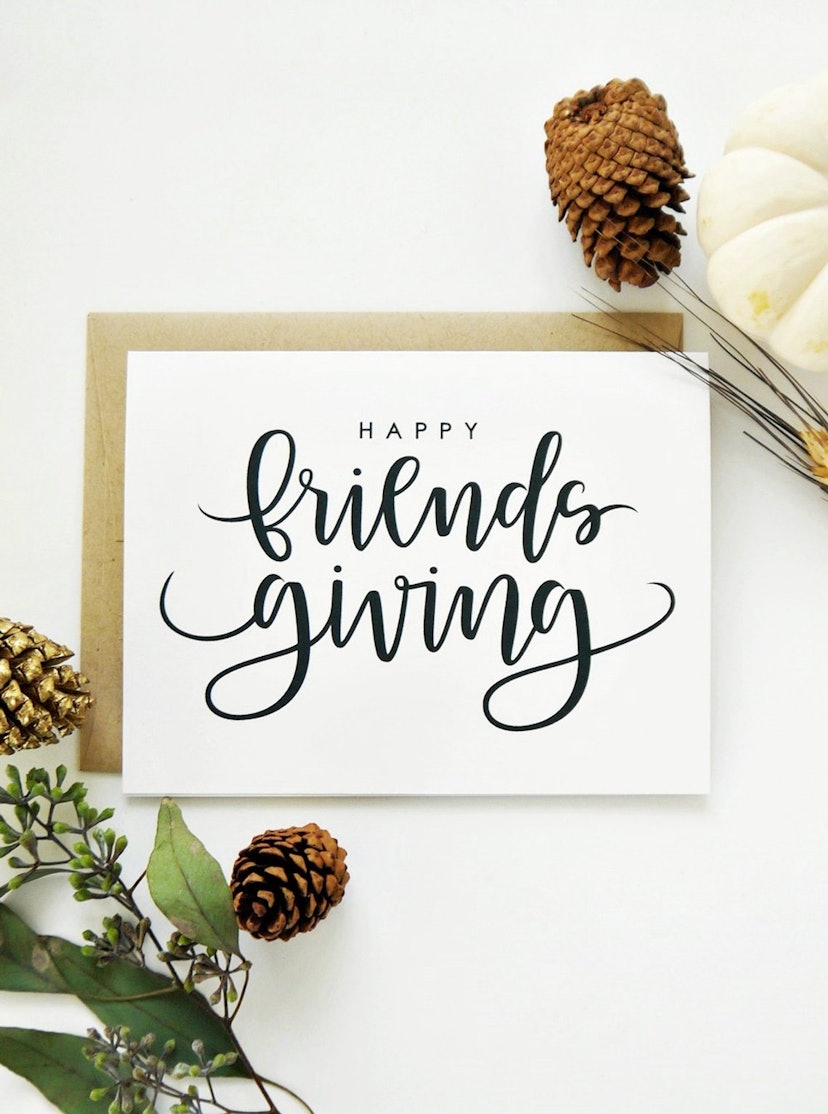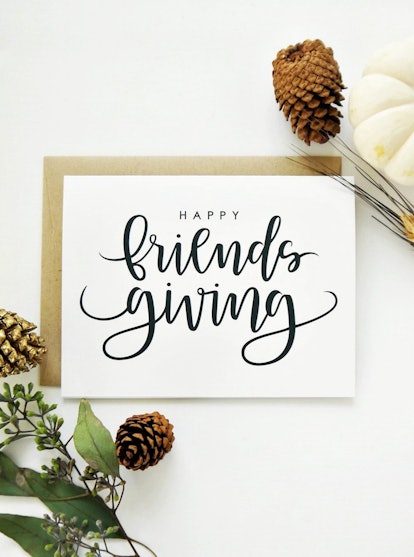 Happy Friendsgiving Card
$5
Atiliay / Etsy
This simple card is totally customizable. The handwritten lettering on the front of the card is beautiful enough as-is, but you can also add in your own personalized message inside. (The card is totally blank.)
Your guests will feel right at home with your trendy place settings and homey decor.
From unique place cards to fun decoration ideas, Etsy has everything you need to make your guests feel welcome in your home. (Even if it's a New York City apartment the size of a shoebox.) While you can DIY a ton of these items, the sellers at Etsy have beautiful handmade designs that you can use year after year.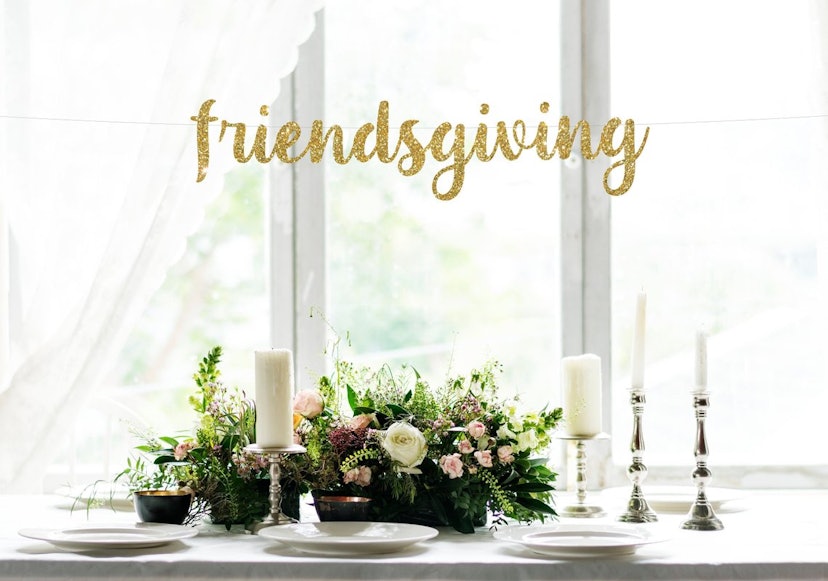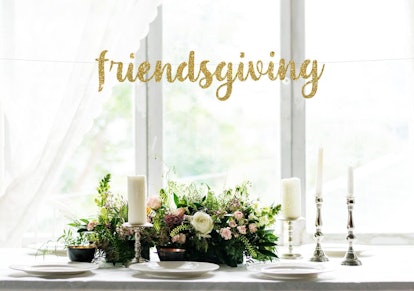 Friendsgiving Cursive Glitter Banner
$11.65
SparklyGallery / Etsy
Immediately welcome guests into your home with this fun glittery Friendsgiving banner. It's available in a ton of colors to match every color scheme and decoration. Hang it over your potluck table, or hang it above your entryway so your friends notice it as soon as they walk in.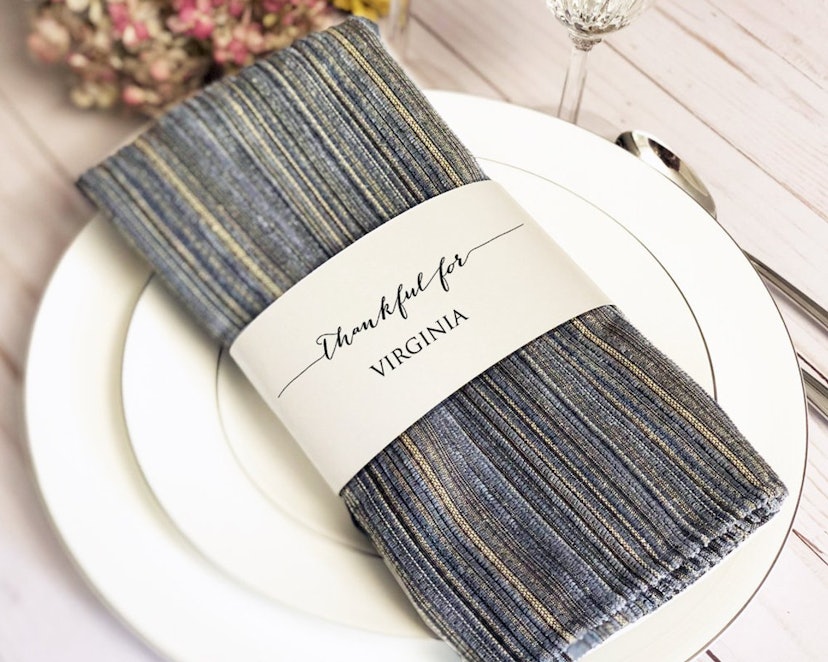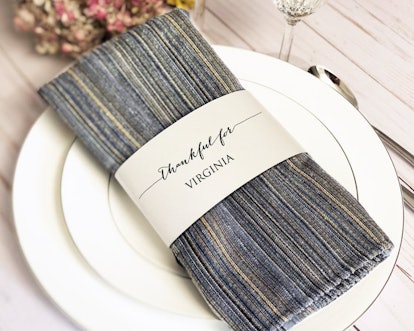 Napkin Wrap Place Card
$5.85
CrossvineDesigns / Etsy
If you're breaking out the cloth napkins for a bougie Friendsgiving, you'll want to get your hands on these customizable place cards. They wrap around your napkin for a chic and effortless look, and it's that extra bit of effort that will seriously impress your guests.
If you're attending a Friendsgiving, you shouldn't show up empty-handed.
Guests of a Friendsgiving should always show up with a gift for the guest. After all, they are letting you into their house, and the clean-up afterward is sure to take a while. A decent bottle of wine or thoughtful gift will go a long way.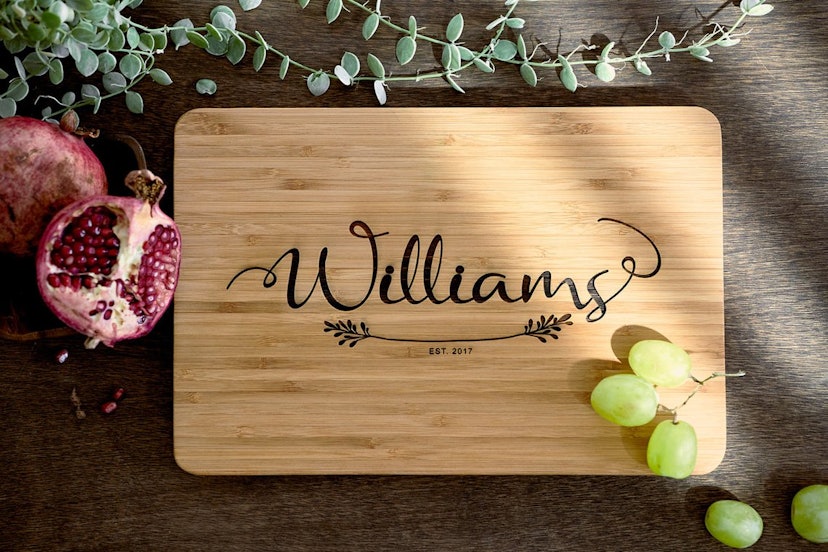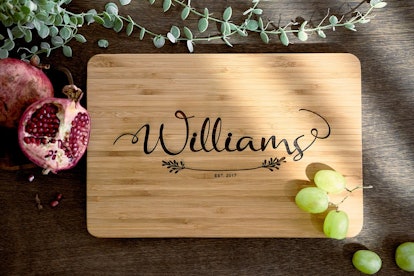 Personalized Cutting Board
$8.99
TpcDesignStudio / Etsy
Personalized gifts always go a long way, and this customizable cutting board will surely make a lasting impression on your host. You know they'll get a lot of use out of it since they enjoy cooking. The thoughtfulness of this gift ensures that you'll get invited to the next gathering!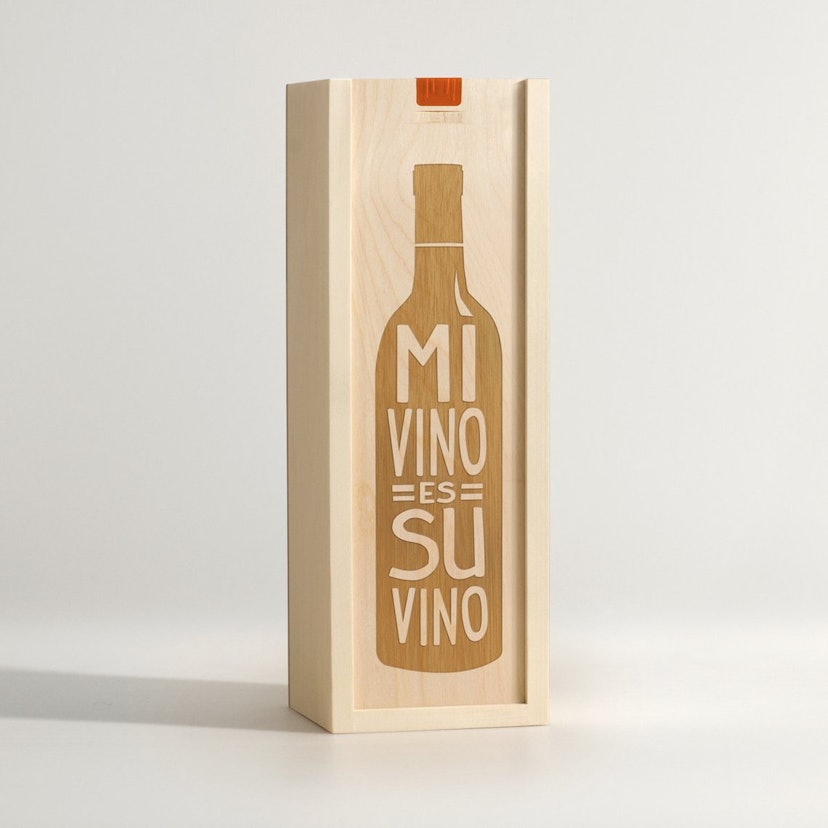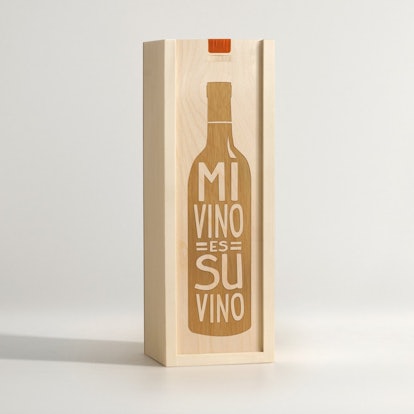 Wine Box — Mi Vino Su Vino
$65
ArtificerWoodWorks / Etsy
This gift is perfect for the host who is always willing to share their wine with you. Even though this gift is a little pricey, it'll surely put a smile on your friend's face.
Dress up your pie with stunningly chic serving dishes.
Every good host knows that your food is only as good as the dish it's served on, and you definitely want to leave an amazing impression on your guests. Check out these beautiful options to present your food like you're a pro chef.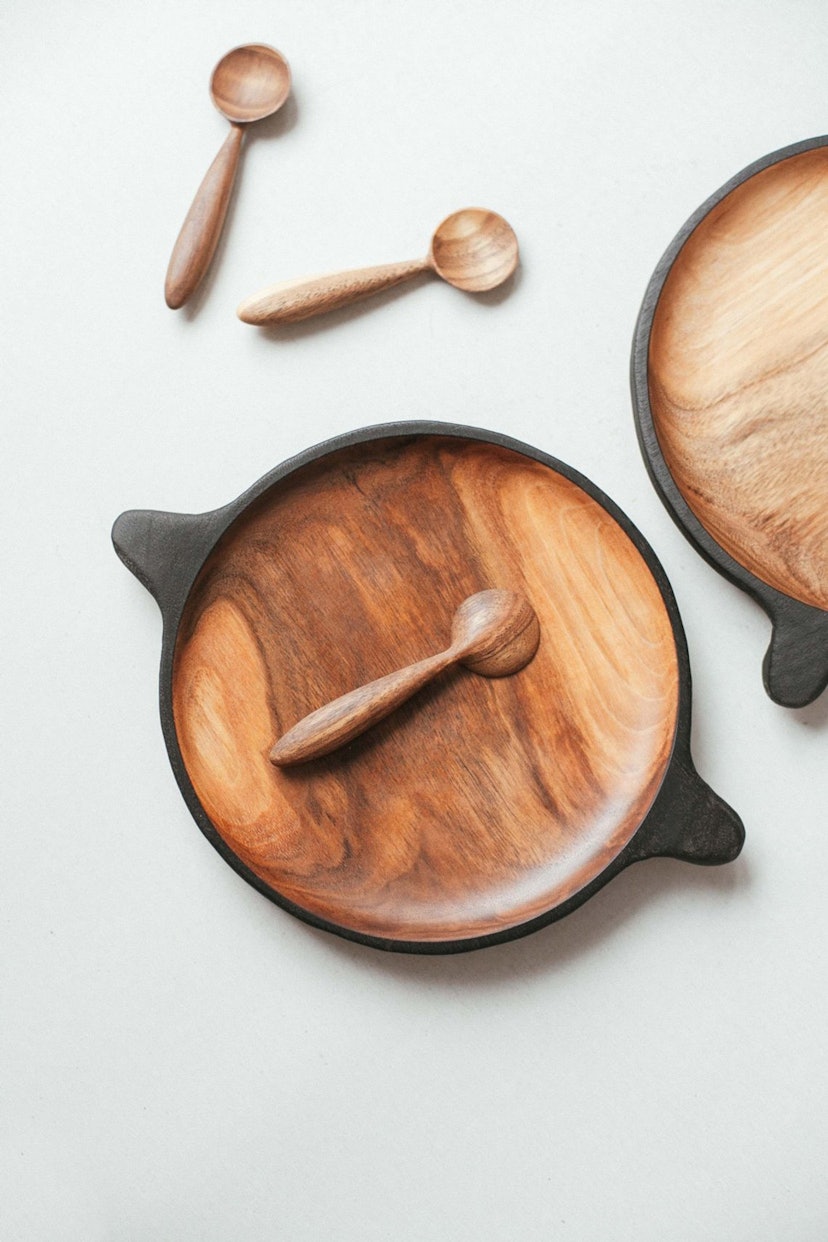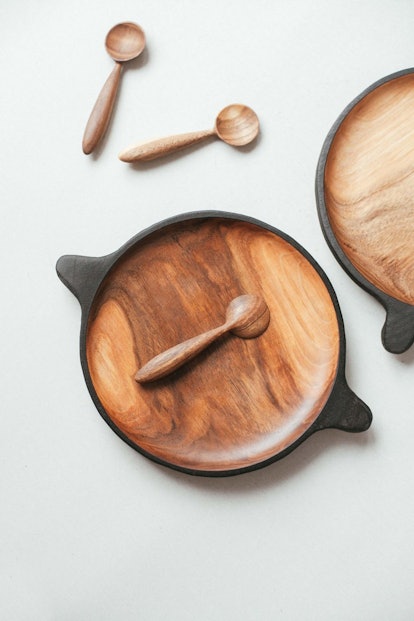 Wooden serving plate
$89
belayahvoya / Etsy
Amp your app dish with this beautiful wooden plate. Made with walnut wood, the rich brown color will really showcase your 'Top Chef'-worthy dishes to their fullest potential. Pro hosting tip: Add wooden serving utensils so the whole set matches.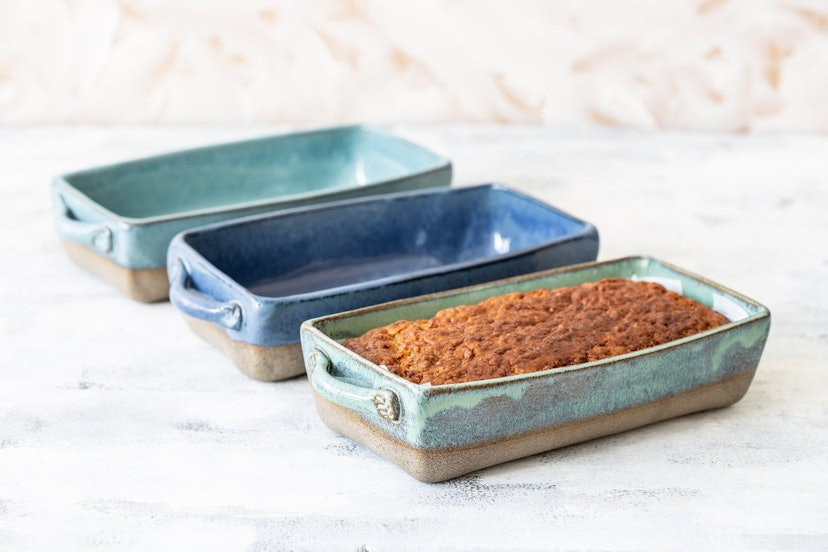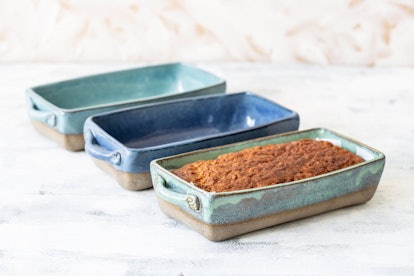 Handmade English Cake Dish
$72
NoraPotteryArt / Etsy
Breaking out Grandma's casserole recipe? You'll want a beautiful dish to serve it in. This handmade ceramic one will certainly dress it up, and you can use it for everything from cakes to casseroles.
Leave a lasting impression on your guests with cute goodie bags.
Saying farewell to your guests is never fun, especially when you all had a great time over some delicious food and drink. But you can make sure that they'll always want to come back if you leave them with a little parting gift. These handmade souvenirs are a great way to let your guests know that you're thankful they chose to celebrate with you.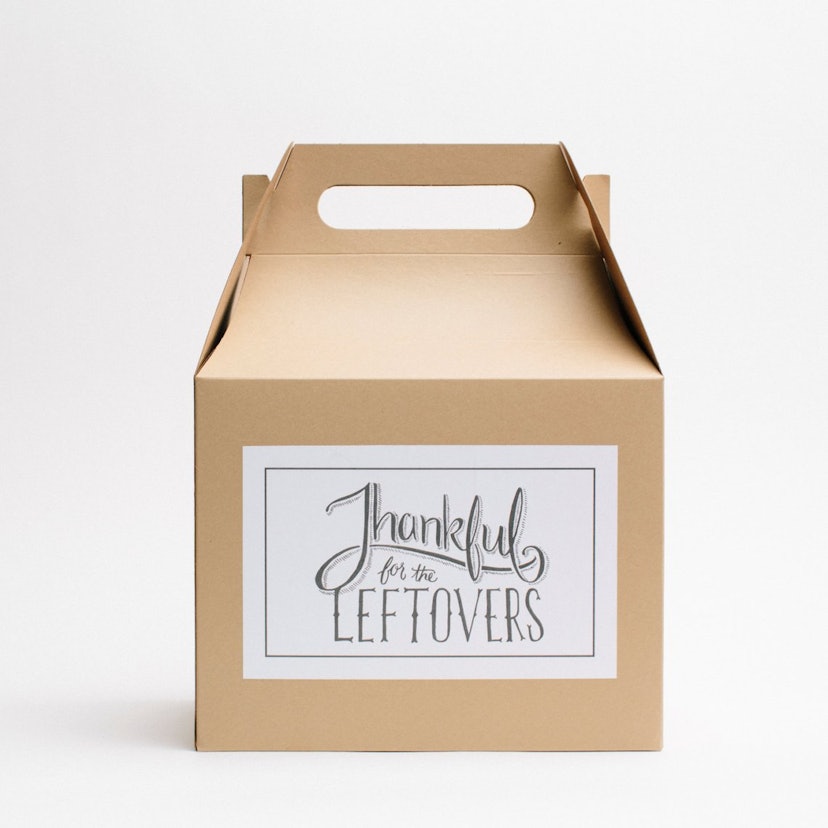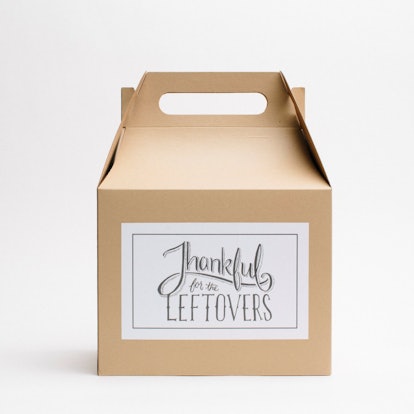 Thanksgiving Take Home Box
$3.90
PressedCotton / Etsy
These adorable takeout boxes will help you in so many ways: You'll have less cleaning up to do, you can cut down the amount of leftovers you'll have crowding up the fridge, and your guests will get to take home a piece of this special day with them. I know that leftovers are often the best part of a Thanksgiving meal (who doesn't want to make themselves a leftover turkey sandwich on Black Friday?), but this is a great way to get rid of extras that you might not get to.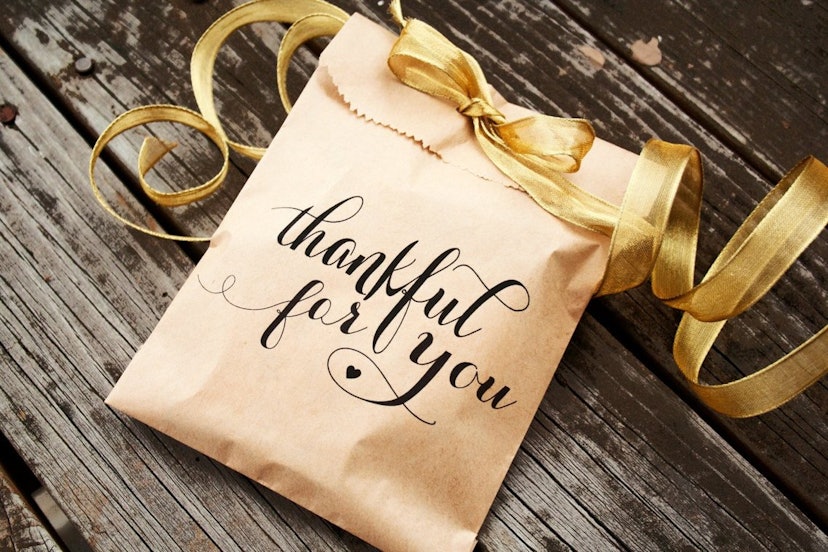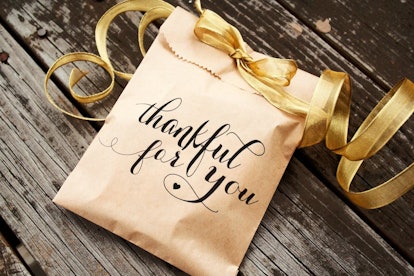 Thankful for You Favor Bags
$3
mavora / Etsy
These bags are perfect to give your guests any takeaways you can think of. They're small enough for things like trail mix or chocolates, but also big enough for something like a small candle or bath bomb.
Source: Read Full Article