Celebrate Summer With This Protein-Packed Grilled Lobster Recipe
If you really want to celebrate summer, there's no better feast than lobster tail cooked over an open flame. The high-protein, muscle-building meal needs little else, save for a gut-filling, fiber- rich side or two.
Is lobster slightly pricier than chicken breast? Yes, but it tastes infinitely more awesome than chicken breast. One eight-ounce lobster tail contains 25 grams of protein.
When you head to your local grocery store or fish market, check the package or ask the person behind the fish counter for the ocean of origin: You want cold-water North American lobster. The farther north you go (Maine, Nova Scotia), the richer and meatier the lobster. Lobster tail tends to be a bit more expensive than whole live lobster, but that's because it's already grill-and-go.

The Protein: Grilled Lobster with Charred Onions
What You'll Need
1 Tbsp smoked paprika
1 tsp garlic powder
1 tsp dried oregano
1 tsp ground cumin
1 tsp sugar
Dash ground cayenne
4 lobster tails (8 to 10 oz each), thawed
4 bamboo skewers (8 inches long), soaked in water
1⁄4 cup grape-seed oil
1 large Vidalia onion, peeled and sliced into 1/2-inch slice
Juice from 1 lime
Nutrition per serving: 353 calories, 35g protein, 8g carbs (1g fiber), 19g fat
How to Make It
1. Preheat your grill to medium. In a small
bowl, mix the smoked paprika, garlic powder, oregano, cumin, 1 tsp kosher salt, sugar, and cayenne. Set aside.
2. Using a chef's knife, cut about halfway through the center of each lobster tail length- wise. Insert a soaked bamboo skewer length- wise through the middle of the lobster meat. (This will prevent it from curling on the grill.)
3. Brush the lobster and onions with the grape- seed oil and season with the reserved spice mixture. Place the lobster on the grill, meat side down, and add the onions next to it. Grill every- thing until slightly charred, 5 to 6 minutes. Flip it all; continue to grill the onions until tender, about 2 more minutes, and the lobster until just cooked through, about 5 more minutes.
4. In a small bowl, add the onions and lime juice, then season to taste with salt. Serve the onions with the lobster. Feeds 4
The Fiber
Choose either of these sides to reach the 10-gram fiber threshold you need to stay full until your next 30/10 meal.
Broccoli-Quinoa Salad with Sriracha-Buttermilk Dressing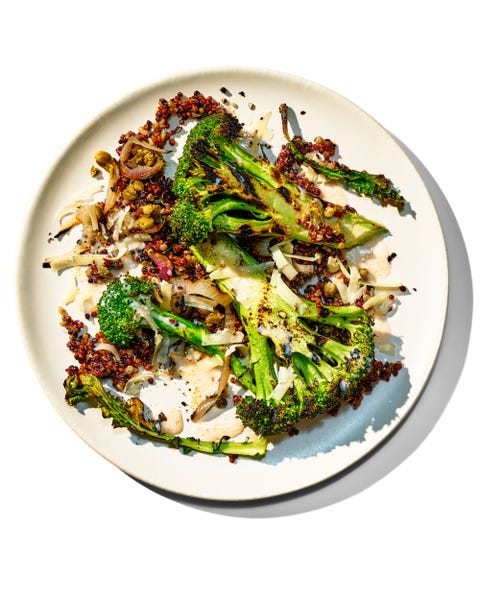 Preheat your grill to high. In a medium bowl, whisk 1⁄2 cup buttermilk, 11⁄2 Tbsp grape-seed oil, 1 Tbsp Sriracha, 1⁄2 Tbsp lemon juice, and 1⁄2 tsp rice vinegar. Season to taste. Cook 1 cup quinoa, toss it with 2 Tbsp dressing, and allow it to cool. In a separate bowl, toss 2 medium broccoli crowns (cut into large pieces and grilled) with 1 small shallot (thinly sliced), 1 Tbsp capers (chopped), and the remaining dressing. In a serving bowl, add the quinoa and then the broccoli mixture, top everything with 2 Tbsp shredded aged cheddar, and serve. Feeds 4
Nutrition per serving: 324 calories, 15g protein, 48g carbs (9g fiber), 10g fat
Grilled Peach-and-Arugula Salad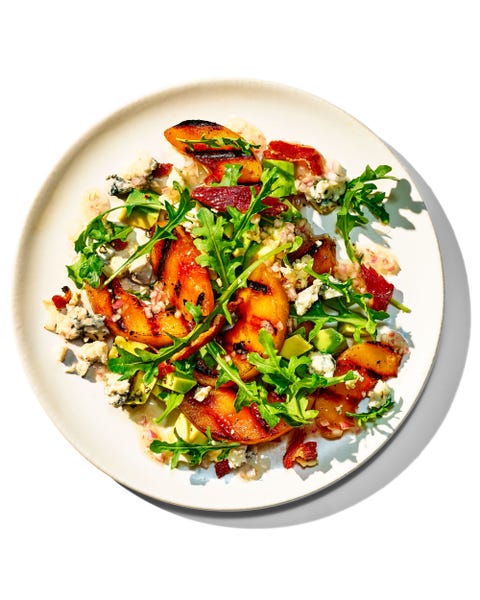 In a small bowl, combine 1 Tbsp white-wine vinegar, 1 small shallot (minced), and 1 tsp honey. Whisk in 3 Tbsp grape-seed oil and set aside. In a large serving bowl, add 8 cups baby arugula, 3 slices cooked bacon (crumbled into bite-sized pieces),
2 avocados (cubed), and 6 peaches (grilled and quartered). Pour on the vinegar dressing and top with 1 Tbsp Gorgonzola crumbles. Feeds 4
Nutrition per serving: 358 calories, 8g protein, 34g carbs (9g fiber), 24g fat
A version of this article originally appeared in the July/August 2021 issue of Men's Health.
Source: Read Full Article