New York coffee shop fined $300 by Sanitation Department for sign announcing how many cups they've kept out of landfill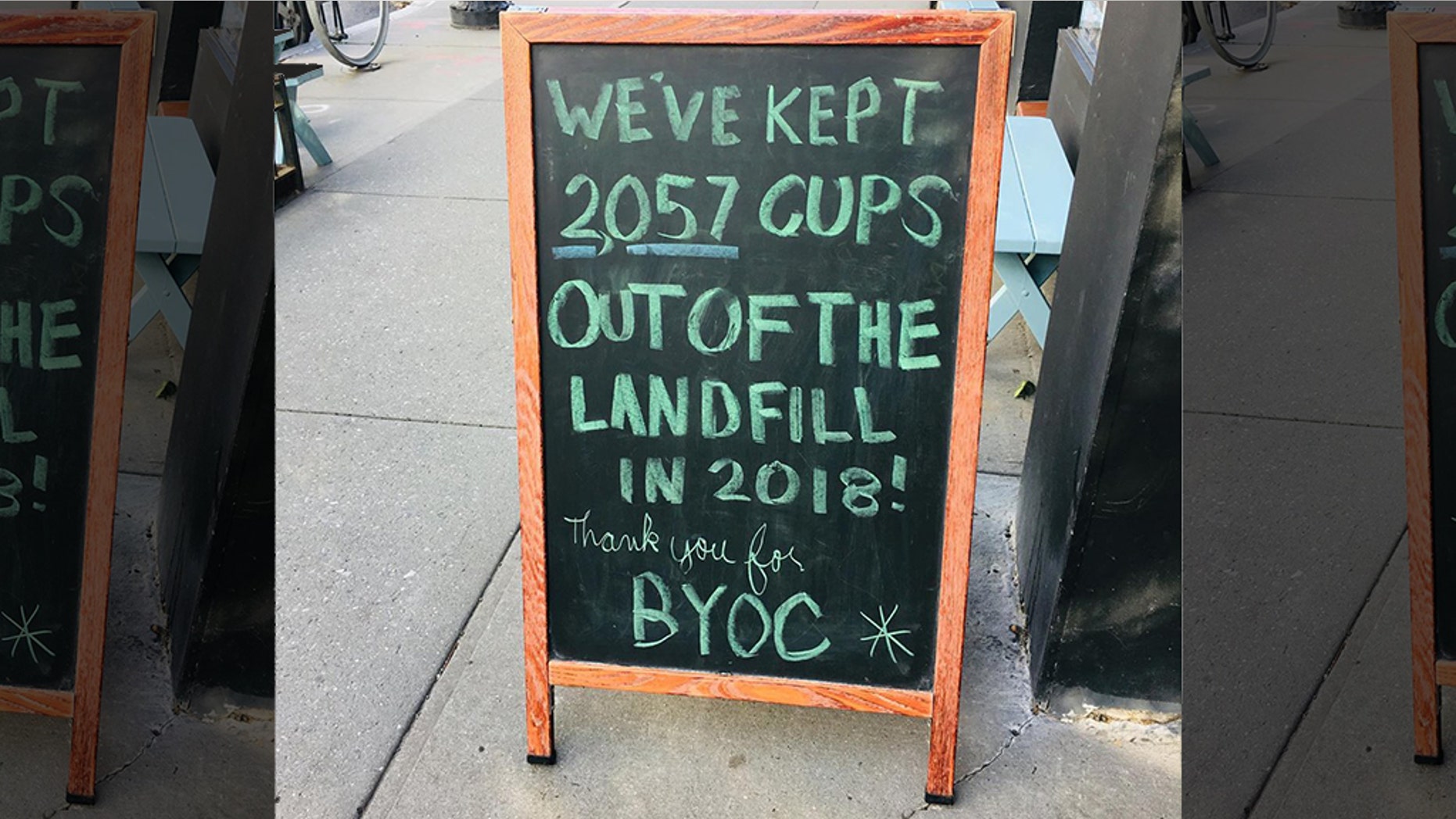 The Sanitation Department fined a coffee shop $300 for a sign that says how many cups they've kept out of the landfill.
(Courtesy of Smith Canteen)
A coffee shop in New York was allegedly fined $300 by the Department of Sanitation for a misplaced sandwich board on the sidewalk, which announced that the business had kept over 2,000 cups out of the landfill in 2018.
Smith Canteen's owner, Kerry Diamond, posted about the ironic incident on Facebook, claiming the sign has been in the same spot for the past seven years.
"I've been spending a lot of money and time trying to figure out waste reduction, composting, and single-use plastic alternatives at the Canteen, so this really burns me," she wrote.
AMERICAN AIRLINES PASSENGER WHO CLAIMED SUITCASE WAS 'ROBBED' HAD ACTUALLY GRABBED THE WRONG BAG
Diamond's business, in Carroll Gardens, Brooklyn, encourages customers to bring their own cup in order to reduce single-use options and earn a 10 percent discount for doing so.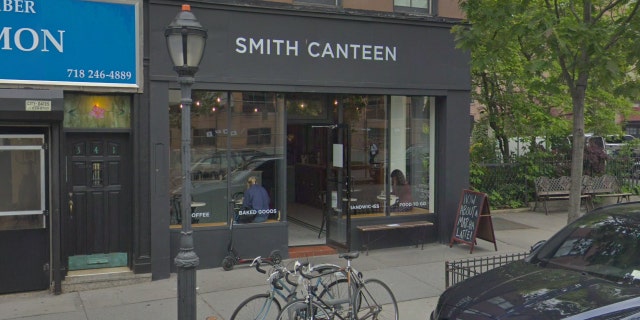 Diamond said her business does their part to keep the street in front o0f the shop free of litter.
(Google)
She also said they do their part to help keep the street in front of their shop clean. "We keep our corner storefront as tidy as possible, sweep regularly, clean up all the litter that blows down the street, and take care of our tree pit like good citizens," Diamond wrote.
"We try so hard to be good and then to get kind of smacked down that way, it's just kind of a bummer," she told the New York Daily News.
Diamond is encouraging the city to do more to help keep the street free of trash.
"It would be really wonderful if you had programs to help small businesses become greener and if you kept Smith Street clean instead of the mess of litter and overflowing garbage cans that it's been all year," she wrote.
Others on Facebook agree with Diamond, arguing that city officials need to worry about more important things.
"Smith Street is disgusting these days. Talk about wrong priorities," one person wrote.
"As if you are the problem and not the obvious solution!" someone else commented.
"Major props for keeping your business so tidy and responsible. Smith Street is a horror show and you all are a bright spot!" another person wrote.
FOLLOW US ON FACEBOOK FOR MORE FOX LIFESTYLE NEWS
The New York Sanitation Department has since withdrawn the fine, according to the Daily News, though Diamond had planned to fight it.
"We've investigated the incident and have determined that we will withdraw the action on this notice of violation because it appears as if the sign is within the legal three-foot limit, the street is not a zero-tolerance block and there is ample pedestrian access to the sidewalk," spokesman Vito Turso said. "We encourage the shopkeeper to continue helping to keep cups out of landfills by all legal means."
Source: Read Full Article