Shake Shack (and Other Restaurants) Are Giving Voters Free Food Tomorrow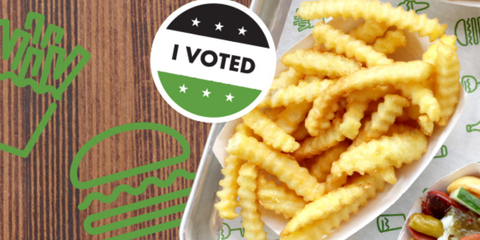 Election Day is finally upon us. Once you have fulfilled your civic duty (yay!), you'll be able to score some great deals—and even some free food—just by showing that you voted. Check out these deals at participating locations and enjoy some free fries knowing that you did your part.
Start with a perfectly patriotic Election Day snack.
Get the recipe from Delish.
View this post on Instagram
Beauty comes in every shape + size. 💚 #shakeshack
A post shared by SHAKE SHACK (@shakeshack) on
Shake Shake, in keeping with its mission to Stand For Something Good, encourages you to "stand for something" and vote. Afterward, you can score free fries with any purchase.
Just add Crinkle Cuts to your order and use the code "ivoted" on the Shack app. You can also show your "I Voted" sticker to a team member in-store.
View this post on Instagram
Endless cupcakes, endless possibilities 🙌✨🌈👻 #infinity #cupcakes #somanyflavors #bakedbymelissa
A post shared by Baked by Melissa (@bakedbymelissa) on
Pop into a Baked by Melissa store and show your "I Voted" sticker for a free cupcake! If you lost your sticker, voted absentee, or just really want a free cupcake, the cupcake store will honor your request.
View this post on Instagram
Pile o' happiness.
A post shared by Potbelly Sandwich Shop (@potbellysandwichshop) on
On Election Day and the day after, Potbelly will give customers a free cookie (with any purchase) when they show their "I Voted" sticker. Voting is sweet, indeed!
View this post on Instagram
See a line? Let us know with the tag #pizzatothepolls and we'll try and get a pizza to those people pronto
A post shared by Pizza to the Polls (@pizzatothepolls) on
If you're waiting in a long line to vote, let Pizza to the Polls know. They'll deliver free pizzas to your polling place to enjoy while you wait.
View this post on Instagram
Tomorrow is the big day – make sure you get to the polls to be heard. (There might be a long line… so don't forget your snacks). #GetOatTheVote #GOTV #IAmAVoter #MakeYourVoiceHeard
A post shared by Bobo's (@eatbobos) on
Share that you voted on social media, tag @eatbobos, use the hashtag #GetOatTheVote, and Bobo's will mail you a coupon for a free bar.
If you're in New York, head to Times Square after you vote, where members of HeadCount will also be handing out free Bobo bars from 11 a.m. to 1 p.m.
View this post on Instagram
It's a hot one! Make sure to head to the App Store or Google Play to grab the brand new Blaze Pizza app update! Link in bio. 📱🔥🍕
A post shared by Blaze Pizza (@blazepizza) on
When you order Blaze Pizza online or through the Blaze Pizza app, you'll get your order delivered for free by DoorDash. God bless AmeriZA!
View this post on Instagram
No tricks here… just treats! 🍬 At Chameleon, we are focused on brewing sustainably sourced, organic coffee with no scary ingredients. ⠀⠀⠀⠀⠀⠀⠀⠀⠀ #HappyHalloween from Chameleon Cold-Brew! 🎃✨ Enjoy the spookiest of brews today and find recipe inspiration on our website (#LinkInBio ☕️)
A post shared by Chameleon Cold-Brew (@chameleoncoldbrew) on
Take a selfie with your "I Voted" sticker, and post it on Instagram. Tag @chameleoncoldbrew and use #FuelTheVote to win a VIP voucher for a free 10 oz. Chameleon Cold Brew. Coffee always wins!
View this post on Instagram
#WednesdayMorning with a #ColdBrew a #Donut and some #GoodCompany . . . . . . . . . . #BirchLovesYou #NYC #Coffee #WomenAndCoffee #CaffeineDaily #WindowLight #CoffeeshopCorners #CSOTW #PrettyCityNewYork #Humpday #HumpdayMotivation #QuietMoments #MomentsOfMine #NaturalLight #socality #ThisIsMyCommunity #CoffeeCommunity #BaristaDaily #NewYorkCoffee #ColumbusCircle #9th #9thAve #CoffeeShopVibes @oatly #oatmilk #swirl #LadyInRed
A post shared by Birch Coffee (@birchcoffee) on
If you're in NYC and need a mid-day caffeine boost after voting, head to Birch Coffee. When you show your "I Voted" sticker, you'll get a free drip coffee.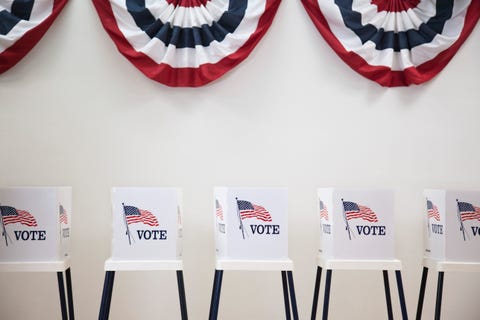 Per this federal law, it's illegal for anyone to offer freebies just for voting, even though this is a pretty commonplace thing retailers do these days.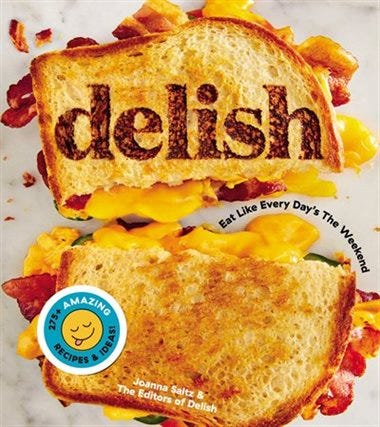 From: Delish
Source: Read Full Article