The 5 Healthiest Green Juices You Can Buy, According to a Nutritionist
Store-bought juices can be a great way to squeeze in some extra produce between meals. But they can also be a great way to take in a ton of sugar and calories along with little to no fiber. To make sure the juices you're downing are of the former camp, we chatted with nutritionist and diet coach Alexandra Caspero, R.D., owner of Delicious Knowledge. Here are her picks of the healthiest grab-n-go juices money can buy.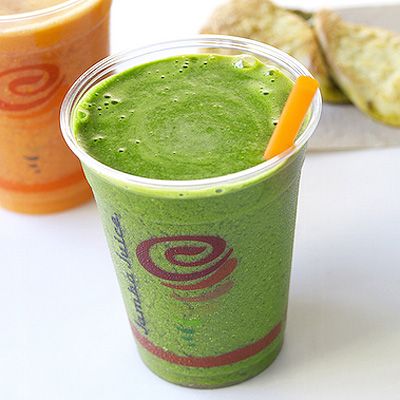 Jamba Juice
Jamba Juice: Great Greens
"Whenever I look for a juice, I look straight the greens," says Caspero. "The more greens, the better." This smoothie (opt for a small) contains three servings of veggies—including cucumber, kale, and spinach—along with half a serving of fruit to guarantee you're taking in the most phytonutrients and the lowest amount of sugar possible, she says. Plus, it also contains three grams of protein and two grams of fiber—way more than many juices. Thank you, chia seeds.
RELATED: 3 Amazing Juices for Weight Loss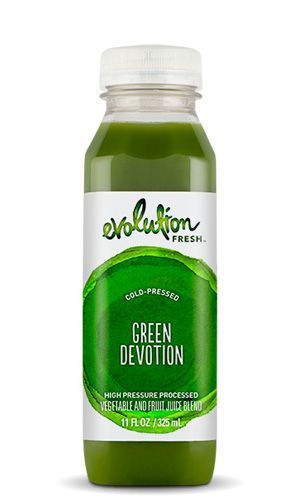 Starbucks
Starbucks: Green Devotion Evolution Juices
With the lowest amount of sugar—just eight grams in an 11-ounce bottle—this is the clear winner of all of the cold-pressed Evolution Juices lining Starbucks' counter, says Caspero. It's also packed with greens, including celery, cucumber, spinach, romaine lettuce, and kale, and is finished with lemon and parsley, providing tons of potassium and vitamin K.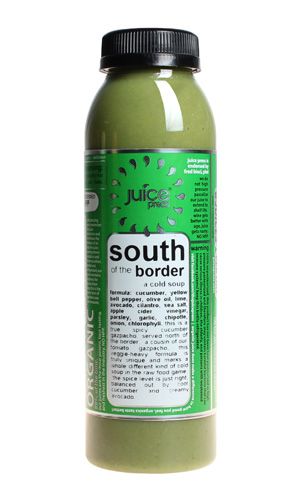 Juice Press
Juice Press: South of the Border
"This juice is like a meal in a glass," says Caspero. "It feels more like a creamy, cold gazpacho than a juice." A combination of cucumber, onion, bell pepper, and avocado, it contains a generous helping of protein, fiber, and monounsaturated fats. Don't live in the NYC area? Juice Press ships nationwide.
RELATED: 4 Juicing Mistakes You Might Be Making (and How to Fix Them!)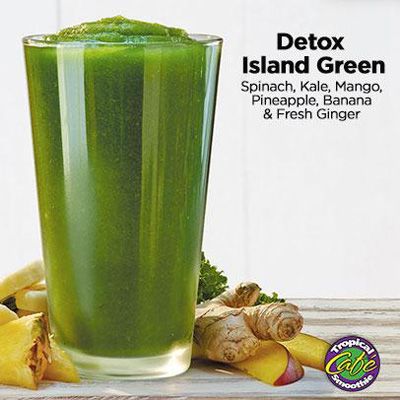 Tropical Smoothie
Tropical Smoothie Café: Detox Island Green
Okay, it's not technically a juice, but it's a perfect pick if you're craving greens, says Caspero. "This smoothie contains only 182 calories in a whopping 24-ounce serving and is packed with healthy greens, like spinach and kale," she says. Plus, since it's naturally sweetened with (not too much!) mango, pineapple, banana, and ginger, you won't find any added sugar floating in this smoothie.
RELATED: 7 Drinking Habits That Are Making You Gain Weight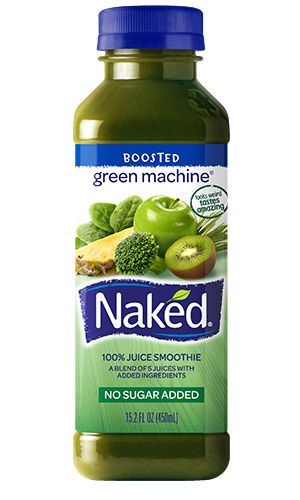 Naked
Coffee Shops, Convenience Stores, and Cafés: Green Machine Naked Juice
You'll be hard-pressed not to walk past a Naked Juice display at some point during your day, making them one of the most popular packaged juices out there. While they all contain a lot of fruit, this one also packs spirulina, barley grass, broccoli, spinach, blue green algae, and other veggie boosters, making it a solid option wherever you go, says Caspero.
Source: Read Full Article