The Homesick x Dunkin' Candle Collection Is Something You Donut Want To Miss
What's more inviting than the aroma of donuts and freshly-brewed coffee in the morning? If you're a "but first, coffee" kind of person, there's probably nothing better than enjoying a cup of Joe when you wake up. You could break out your coffee maker, but now, your space can smell like Dunkin' all day, every day with the Homesick x Dunkin' candle collection.
Just in time for the holidays, Dunkin' and Homesick are bringing back some fan-favorite candles. Dunkin' stans might remember the collection first launched in 2019, with three limited-edition candles inspired by some of Dunkin's most popular menu items: Original Blend Coffee, Peppermint Mocha Flavored Coffee, and Old Fashioned Donuts. If you can't tell by the names, the candle scents were made feature all the things you love to experience on a Dunkin' run. Dunkin' announced the return of two of these flavors on Nov. 23. Sadly, the Peppermint Mocha candle isn't back.
OK, back to the candles that are returning: Original Blend and Old Fashioned. According to the press release, this partnership between Dunkin' and Homesick is available for a limited time as of Nov. 23. The candles are $34 each, and new this year is the option to personalize your candle. If you're looking for a present for your coffee loving friend — or even something special to treat yourself to — you should snag one of these candles ASAP. (Last year's collection sold out in just under two weeks, per the brand.)
If you're not familiar with Homesick candles, the company is known for making the iconic state candles that are meant to "tap into your sensory memory through nostalgic scents that can remind you of the place where you grew up," according to their website. If you grew up going on coffee and Munchkins runs with your besties, Dunkin' will always have a special place in your heart — and now you can tap right into that nostalgia just by lighting a candle.
Original Blend Coffee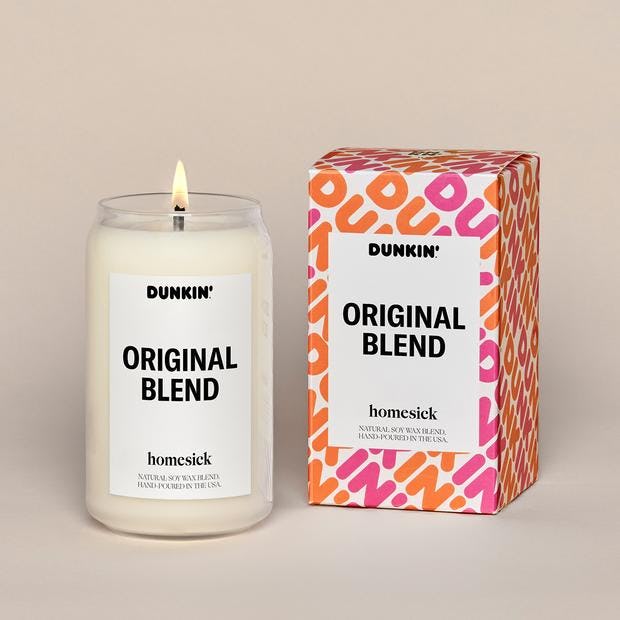 This candle gives off the delicious aroma of Dunkin's signature coffee blend. According to the description, it features top notes of espresso beans and cold brewed coffee with mid notes of caramel and vanilla extract. To finish off the scent, there are base notes of cocoa chips, sugar cane, and a splash of crème. If that description alone doesn't make you want to run out and order a Dunkin' coffee, I don't know what will.
Old Fashioned Donuts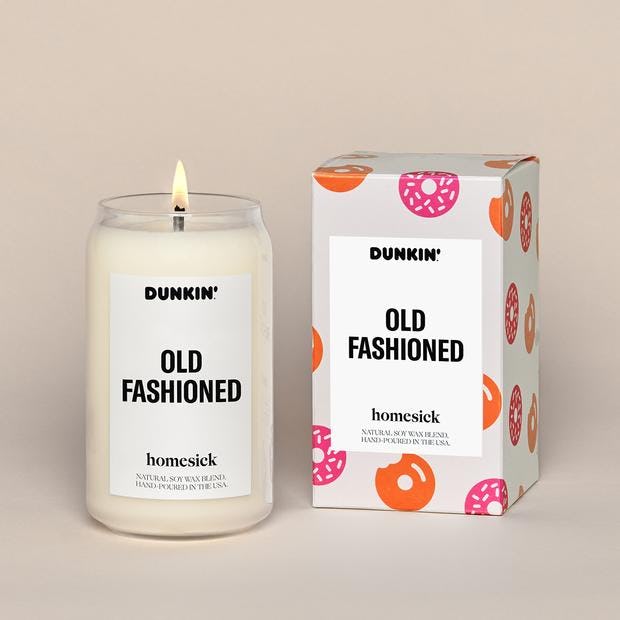 As much as you really enjoy a cup of Dunkin' coffee, you can't deny the donuts have your heart as well. Homesick understands the donut love, which is why they have this Old Fashioned Donuts-flavored candle in their collection.
The aroma of cinnamon sugar, vanilla extract, and nutmeg with oven baked donut, clove, and sugar cane make this candle come full-circle. Just imagine coming home from a long day at work, lighting your Old Fashioned candle, and immediately feeling like you're surrounded by donuts. Now that sounds like a dream come true.
This article was originally published on
Source: Read Full Article