This Is Hands-Down the Best Healthy Frozen Pizza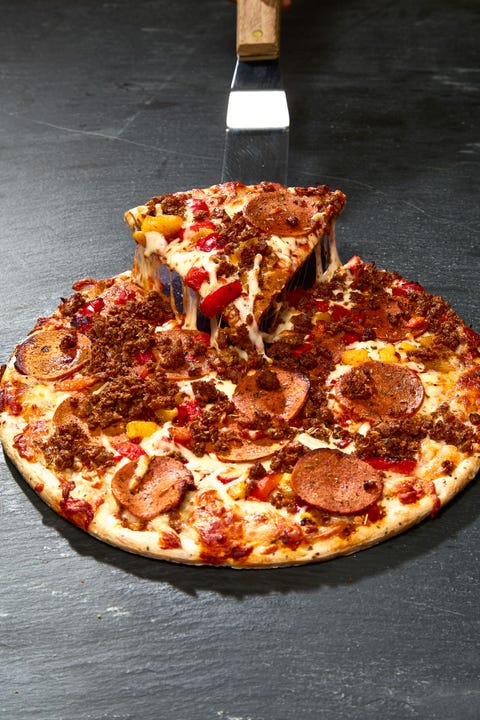 Freezer cases now carry pies that trumpet nutrition claims like "high protein" and "fiber rich." So we put dozens of these supposedly wholesome options to the fire to find out if healthy pizza is actually delicious pizza.
First, your pizza pick should have as close to 30 grams of protein per serving as possible. That's the minimum necessary per meal to build and maintain muscle. If it doesn't have that, add some protein on top or on the side. Second, choose a pizza with five grams of fiber or more per serving. Lastly, value less-processed ingredients (whole grains, olive oil) over highly processed ones (refined flour, soybean oil).
Best Overall
Sweet Earth's Protein Lover's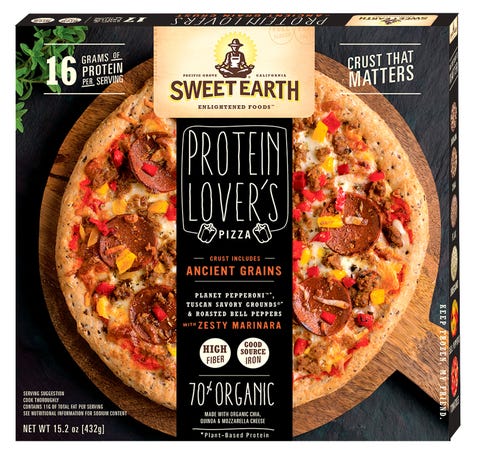 Sweet Earth Foods
This high-fiber pie has a crust studded with chia seeds, quinoa, flaxseed, and psyllium fiber, but it doesn't taste like it. Credit the toppings. "This isn't real meat? You're lying," one of our testers said. The "pepperoni" and "sausage" are made with wheat gluten, but honestly, it's savory and meaty and delicious. Find it at Target and Whole Foods, among other stores.
Per ⅓ pizza: 300 calories, 16g protein, 33g carbohydrates (6g fiber), 11g fat
Best Plain Cheese
Caulipower's Three Cheese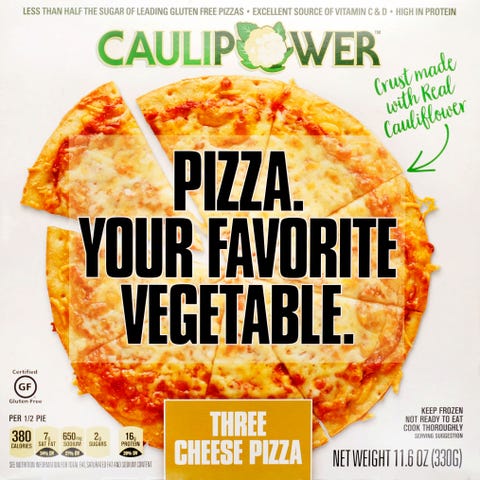 Caulipower
The crust is made with cauliflower, but you'd never know it. Think of it more as cauliflower-reinforced, with brown rice providing the chew. The pie is paleo-approved, if you care, but also a smidge better for you, nutrient-wise, than mass-market options. Big plus: the combo of mozzarella, Parmesan, and cheddar, which delivers cheesiness without going overboard on calories. Most grocery stores carry it.
Per ½ pizza: 380 calories, 16g protein, 37g carbohydrates (3g fiber), 18g fat
Best Postworkout
Realgood Pizza Co.'s The Supreme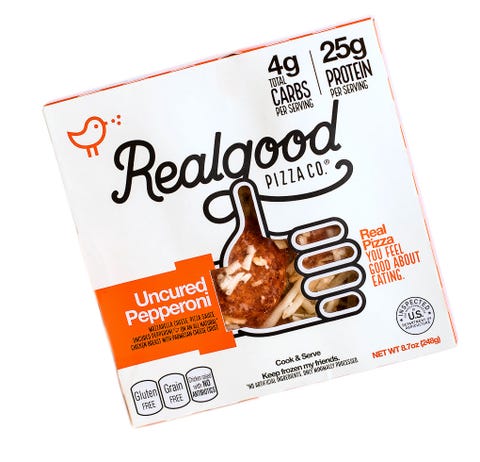 Real Good Foods
Crazy: The crust is chicken and Parmesan. That's how this company keeps carbs minimal and protein high. "It's like a chicken parm/pizza mash-up," one taster said. Watch where you place it in the oven, however: Slide it onto a middle rack or the cheese burns before the crust cooks through. Eat it with a salad to fill your fiber quota. It's available at Walmart, Kroger, and other stores.
Per pizza: 250 calories, 25g protein, 4g carbohydrates (1g fiber), 15g fat
Best Wild Card
California Pizza Kitchen's Organic Chicken Pesto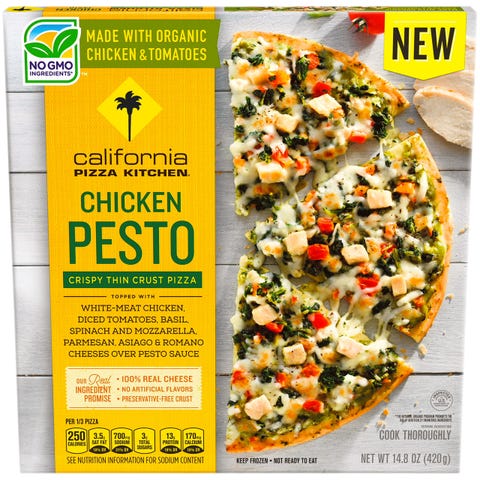 California Pizza Kitchen
It's the freshest-tasting pie we tried. CPK goes easy on the cheese, which allows you to taste more of the pesto. One complaint: "Some of these slices barely have any chicken," said one tester. So instead of making this pizza your meal, cut it into squares and serve as a side to a main course of seared salmon, sauteed shrimp, or roast chicken. Find it at some grocery stores.
Per ⅓ pizza: 250 calories, 13g protein, 32g carbohydrates (2g fiber), 8g fat
With thanks to Brian St. PierrE, R.D., C.S.C.S., director of performance nutrition at Precision Nutrition, and Zach Moore, C.S.C.S., nutrition  coach  at Precision Nutrition
Source: Read Full Article